Noreve Saint-Tropez high quality leather case for Nokia Lumia 1020 in-stock this week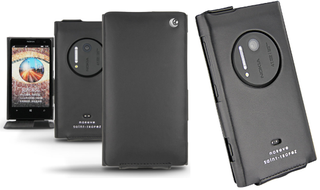 Although we've covered a few cases and shells for the Nokia Lumia 1020, some of you high rollers are holding out for something a bit more premium. In that case, the Noreve leather case is probably up your alley as it runs for $66 (49.99€).
The "hand crafted" leather cases certainly look high quality enough and feature a flip cover to protect the 1020's display while also giving the case a hint of elegance. You can order the case "naked" or with belt clip fasteners to keep the 1020 by your side at all times.
Currently, the noir version will be available for shipping on August 23rd while the other color variants are up for pre-order (there is a massive selection of color choices, should you want to spice things up a bit).
Want to get some expert feedback first? Then stay tuned as Windows Phone Central already has a case on the way. We'll of course give it our full video and high quality photo treatment and let you know what we think. For now though, we're quite excited about this offering as it's the first premium, quality case for the Lumia 1020 and a positive sign of things to come.
Source: Noreve; Thanks Sean and Steve for the tips
Daniel Rubino is the Executive Editor of Windows Central, head reviewer, podcast co-host, and analyst. He has been covering Microsoft here since 2007, back when this site was called WMExperts (and later Windows Phone Central). His interests include Windows, Microsoft Surface, laptops, next-gen computing, and arguing with people on the internet.
No thanks to any clamshell case.

Why is there a cutout for the contacts of the wireless charching shell.

as well as the FFC when you can't even see your screen to take the picture if it is closed...lol

Yes, I just noticed that too when I flipped back to look at the picture again. Did they think the contacts where mics?

My question is why does the front facing camera cutout only show up when the flip cover is closed...the other photo shows that it doesn't go all the way through to the back side. The media people for this company need to step up their game.

I just looked again. That isn't an FFC cutout...I think it is a metal emblem or logo. Maybe a crescent moon around a circle.

I see it now! Haha very misleading. The crescent moon looks like it could be the angle the case is closed, but after taking a better inspection of where the FFC is located and the other side of the cover, it definitely is some sort of logo. Good eye.

The site proudly proclaims "Designed in France" but the photos show a screen with Chinese text. Hmmmm....

It was probably "Designed in France" and "Made in China"

Are you suggesting that having cutouts for the wireless charging contacts is a sensible design decision?

Nope, just making a joke related to your comment that the site says that it is "Designed in France" but the photos shows a phone with Chinese text.

weren't there going to be a bunch of case reviews for the 925? I only saw one =/

I was thinking exactly the same!

They are coming..we've been very busy and short staffed this week. May have one today, if you're nice ;)

Premium case for 920 too?

If you know of a nice one where the wireless cover fits in it too, that would be great!

Still waiting patiently :)

If only it had wireless charging built in!

Exactly my thoughts. If I'm going to buy a case for the 1020 (presuming I GET a 1020 when it finally comes out here), it'll have wireless charging!

Not usually a fan of cases, but damn that looks nice!

I'm looking for something to protect the screen like this while using the wireless charging case and/or the camera shell. Looks like I might have to get one of those plastic screen protectors. Anybody seen any flip cover type cases that also have wireless charging?

For $66 this case better get you lucky!!!

Are we seeing more accessories for the 1020 than usual for a WP device❔

Having all these cases with charging cutouts, is it possible there's a new charging platform in the works that has direct contact? Something to think about....Nokia/at&t is dumping the original for 24.99.

Its open for the possibility but I doubt that Nokia would make a phone specific stand. Third party maybe but not even the Nexus 7, HTC One X or any other phone had successful 3rd party stand created for point connectors. They were never a huge hit.

Remember the 925 has a similar design. The snap on charging covers makes choosing a case of your preference nonexistent.

How can a case for the 1020 that lacks support for wireless charging be called "premium"? :)

:( where is that Nokia leather case!

Bad design. How are you supposed to hold the phone to take a picture with the screen flap hanging out like that? And no, I'm not going to take pictures vertically. A book type case would make more sense, so at least the flap could hang off the left edge while taking pictures.

Hey everybody, I just got a poetic pallete hard snap-on case from amazon that is really nice and cheap ($3.95). Its matte black and offers more protection for corners than the charging shell I was using and is thinner. Only gripe, it lays on the camera lens cover edge like it does without a case. Check it out!

I'm not a flip case guy, but I prefer a slim leather case pouch. I'm still waiting on Sena to possibly make one for the 1020, but after emailing them their response was that their Lumia line of cases has been lukewarm at best in sales. :-/

Will the phone fit with the charging cover attached?

What ever happened to the render that was advertised before the 1020 was released?
Windows Central Newsletter
Get the best of Windows Central in in your inbox, every day!
Thank you for signing up to Windows Central. You will receive a verification email shortly.
There was a problem. Please refresh the page and try again.