Notification mirroring and Universal Dismiss coming to Windows 10, Mobile, and Android [Update with video]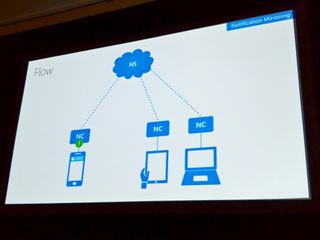 Today at Build it was revealed that Notification Mirroring and Universal Dismiss are coming to Windows 10, Mobile, and Android devices. The service is an upgrade to the Windows Notification Service (WNS) and, for now, will work through Cortana, but later will go through the OS.
The news was revealed in a session entitled 'Notification Futures: Action Center in the Cloud and the Windows Notification Platform' and details about how the Notification Center is moving to a Cortana-MSA mediated system.
The new app feature will let developers add the ability to dismiss a notification across all devices universally. For instance, you could be on a PC and receive a news alert. Using 'universal dismiss' will remove that app notification from your phone and vice versa.
Notification Mirroring (showing notifications from one device on another, e.g., a notification on your phone then shows on your PC) works automatically without any changes to existing apps, and universal dismiss can be added by developers with one line of code. Developers have the choice not to use them, but Microsoft is encouraging developers to enable the feature as obviously it could prove to be very popular.
Likewise, users too can opt in or out of the feature as well as mute notifications through settings in Cortana or within the app itself.
The function only requires a couple of lines of code and is very simple to implement. Since there is not cost either the barrier for developers to enable this feature is super low.
For now, Cortana will be used for a faster deployment, but later Microsoft will hard code the linked notification support in the Windows 10 and Mobile OS.
Microsoft is looking at bringing the feature to iOS too, but it is more difficult due to the OS being more locked down.
Unfortunately, no timeline was revealed and instead is referred to "future versions of Windows." More details will be announced in a blog post following Build.
Update: Microsoft has now posted the video of the Notification panel on the Channel 9 site.
Daniel Rubino is the Editor-in-chief of Windows Central, head reviewer, podcast co-host, and analyst. He has been here covering Microsoft since 2007 when this site was called WMExperts (and later Windows Phone Central). His interests include Windows, Microsoft Surface, laptops, next-gen computing, and for some reason, watches. Before all this tech stuff, he worked on a Ph.D. in linguistics and ran the projectors at movie theaters, which has done absolutely nothing for his career.
Calm down.. Lol. But, this is GREATLY needed. Can't wait to get this up, and running. Hopefully in the next week, or two, MS has some builds with all this new stuff for us to test out.

I'd like to have it deployed soon on Slow Ring and Android, I don't have a Windows Phone. Without Google Play Services also, my phone hasn't these installed (missing space in /system)

You should get a WP for testing purposes... Testing purposes ONLY! ~~~~~~~~~~~~~~~~~~~~~~~~~~~~~
ROJO > ARLINGTON, TX > LUMIA 1520 ≥ 950... WAITING FOR 6.2" SURFACE PHONE

If there is Windows Phone available where I live, I'd already have one.

Yea that's what I did. Since my whole life is really just a big test it works out well for my daily driver. +Lumia 929

Agreed, I picked up a 640 @best buy for $30.

Waiting for a 6.2" Surface Phone?!
You'll be waiting forever for that to materialise!

Most likely, but one can still dream.. I'm a WP fan.. Used to dreaming, and have become pretty good at it.. Lol

Off topic I know, but as per your signature: Why not get the HP Elite X3, Rodders? The screen size is pretty much on par with 1520. FWIW I loved my 1520 till I realised mine had the phantom touch problems, I was gutted. Even after warranty repair it was knackered, and I downgraded to 930 for a bit (best thing I did). I now have a 950XL but will get HP Elite X3 as soon sa it's available here across the pond.

The Elite is definitely on my radar... But, we have to wait, and see what MS brings. MS still might reveal a phone late this year.. Nothing has been officially confirmed yet. So, I'm waiting to see what's coming.. Where's Lenovo? Samsung? HTC? Sony?... We don't know what's coming.

We know that the OnePlus Three is coming...

Nothing confirmed. We need to wait for April 7th for official spec, but knowing it's predecessors, it's probably going to be a "Flagship Killer", like the One had been, because OnePlus wants to compensate for the failed Two :)

Greatly needed... for MS Band.

Can't wait, huh? Strategically placed comma, there! ;)

The future is bright. Windows Central app for Windows 10 Mobile.

Lol.. Damn. Someone is mad because they aren't getting an update for their 1020❓❓❓

Well it also works on W10M this time too (which doesn't make sense at all if it didn't). So gladly it's both!

Ios and W10m. Android? Hah Posted from Windows Central for XL

Very cool. I figured Cortana would be the one driving this especially after yesterday's presentation. But hey, at least they talked Windows 10 Mobile.

I've heard when Terry Myerson isn't around then MSFT employees can actually mentioned Windows mobile and phone. But if he catches you....

I don't like Terry Myerson. Is rather anyone but him. I'm sure he's pissed at me because I posted plenty of comments on his twitter page about his comments to the verge. Posted via Windows Central app for Windows 10!
Proudly rocking my Lumia 1520!

Do *not* poke the bear... O.o
LMAO ;p

And talked W10M... Microsoft's Continuum for phones presentation at BUILD 2016 https://www.youtube.com/watch?v=3tnIlp6YcsI​

Neat! Posted from Windows Central for Windows 10

Considering the comment yesterday about w10m devices being put aside for a while, build does seem to be putting forward what can be done within the WaaS environment, and phone does seem to be included. Let's hope that things do change for the better. Going to be another crazy ride. And the notification changes also include the phone.

"Puttint aside" doesn't imply W10M won't be getting updates and features coming to Windows 10 as a whole...It's not like we're going to be stuck in pre Redstone builds. A lot of people seem to be understanding that.

Yeah, i read a lot of negative comments about that and was just thinking, "Really?, You're surprised?" Mobile is going to take a back burner for the most part till MS can get devs making UWP apps and fill the store. Mobile will never gain traction unless we get those apps and the best way is by building Windows for desktop/laptops/tablets and getting as many user as possible to make the platform viable for devs to invest in.

Exactly. I'd say tablet and desktop/laptop is where its at. The phone will come with that.

Devices aren't the OS... They are devices. So while the devices might be put to the side there hasn't been anything saying W10M as an OS is being put to the side.

Terry said it, where were you? By our side, I don't mean cancelled, but not a past of there focus, but if Microsoft is your one company after all take work together, the mobile branch should be just s important as anything else, but their choosing to treat it like a step child of somehow as if it's on an island by itself which in essence means they haven't really moved away from their old methods of no communications or team work across departments to ensure things work seamlessly. Seams like their still focus on their bread and butter item one again: Windows, office, Xbox, Azure. Posted via Windows Central app for Windows 10!
Proudly rocking my Lumia 1520!

Windows is Windows, 10 makes it change and alter itself to fit the use...the old way of thinking is what he's trying to change. #GetOnIt ;p

They never said w10m... They said they weren't focusing on phones... Posted from Windows Central for XL

On features for phones. It will still come to W10M because it shares a common architecture. And, dur, there's a phone in the graphic.

They need to add a swipe up from the bottom function within the apps to access features like save, delete, print, etc, because it's s Odin reaching up to the hamburger menu for this functions. Posted via Windows Central app for Windows 10!
Proudly rocking my Lumia 1520!

If you press and hold the Windows key it brings it down to you... #Workaround ;p

I left feedback about this just yesterday as i have to dismiss notifications from 5 devices individually at the moment. While it's not that big of a deal it is mildly frustrating so I'm glad that this is being introduced and i hope that all developers will implement it eventually.

Can be a right pain, especially if our office pc's and a couple of mobiles get notifications. Like you say it's not a big deal but it can be a pain in the butt

It should be an OS feature and just how notifications work, not developer implemented. Nothing is more irritating than pulling out my surface and getting a weeks worth of notifications I've already dealt with on my desktop or phone.

Nothing is more irritating? Hmmm, you do realize that one click dismisses them all.

I actually first thought this was going to be the feature in the first windows ten update, good that they finally bring it. But what about us that don't have Cortana yet?

Region limitation will be removed coming Summer update. So anyone anywhere can use Cortana as long as a supported language is installed. Like Cortana coming to English speaking users in The Netherlands.

thats nice! Have any source to that?

If Microsoft keep off loading their services to other platforms rather than keeping it for them selves, their mobile devices sales will never increases because the public will say they don't need a Windows phone to access Microsoft apps. I think Microsoft should rethink what they are doing

I like it being cross platform, if we can get Cortana on Android Wear, means notifications for Windows 10 Mobile on Android Wear without official support from Google via a companion app. A nice little back door hack if you will.

Compare the Galaxy S7 Edge with the Lumia 950, which one will the regulair people take? Compare the feature's of the S7 against the Lumia 950, which one will they take? It's all about beauty and functionality these days, there is the problem, let us not forget the poor marketing Microsoft is known for. There you have a very important answer. I'm not hating on Windows Mobile, i am just being honest and i hope Windows Mobile will get more marketshare but i highly doubt that. Cheers.

I'll give you the advertising part, a lot of people don't even know MS has a Mobile OS. That being said, Android doesn't do anything that my 950XL can't do that I need or care about or could even think of off the top of my head. Top that off with reliability and a secure platform without malware. Most people will go for the S7 purely for the brand name of the device. A lot of users don't even know it's Android, they just know Galaxy S#. I've tried plenty of Android devices and they always suffer from crashing, apps not opening or being extremely agging, the camera app itself crashing. I was inline at a club one day and heard a lady behind complainging about her camera app crashing, turn around and realize it was someone i knew, took my old 1520 out and snapped the pic for her within seconds andthe look on her face was priceless.

Everyone should know MS isn't trying to reach it's devices, it's trying to reach it's users! Where you see giving as a bad thng, I see it as a humble gesture. Don't you think every company should do the same?

Android... Microsoft seems to be too cross platform nowadays for me. Like they don't care about their mobile OS. Yeah, yeah, I know they do. But these make me think the opposite sometimes. P.S.: I deleted, and reinstalled the WC app on my phone, when the site was down, because I thought it was malfunctioning. And now I can't log in... Again... Please, for god's sake, fix the login experience issues finally :D Posted with the Windows Central app for Windows 10 on HP 250 G1 notebook. It is a scary old monster, I think :D

DNS server was down. Not entirely their fault.

Yeah, I know. And it's my fault too, because I didn't check the site before reinstalling the app. But this login failure thing drives me crazy :D Posted with the Windows Central app for Windows 10 on HP 250 G1 notebook. It is a scary old monster, I think :D

It's for W10M too...downvote.

Yeah, and it's good. But if MS is enabling all this stuff on other mobile platforms, than what will be a reason for people to buy a Windows 10 phone? What will awake that "Awwww I want this" feeling, that I felt too before buying my 535? What will catch their attention? I'm a big fan of Microsoft, and their mobile efforts too. But these questions just popped into my head. Posted with the Windows Central app for Windows 10 on HP 250 G1 notebook. It is a scary old monster, I think :D

I will not leave my Android phone for a Windows Mobile phone just to see my phone's notifications on the desktop, i don't care about Continuum since i already have a laptop that doesn't wanna be a desktop. Microsoft knows this and thus making this available for Android and thereafter iOS would only benefit them and most importantly, Windows 10 x86 users :)

Microsoft is flexing their desktop muscle. They're basically getting everyone on to their side ...Windows users, Linux users, Android users. By doing that they're isolating Apple and into their own little corner by themselves. Because you know Apple won't allow things like android notifications on a Mac, and so on. It's smart.

It's a necessity for them to stay relevant. Obviously, their previously 'Windows only' features and apps weren't enough to entice people to switch. So, they release everything to other other platforms, get people to install and use their services/apps/whatever and use them instead of others, then when MS tries the mobile space again, they can say "our OS is built specifically to interact the best with our apps you already use, switch to us for the best experience!" Posted via the Windows Central App for Android

Thought MSFT was getting buddy buddy with Apple? How about a little more access, eh? -Mach 8 Solutions, LLC a software company.
Http://mach8solutions.com

Well it's a good thing that they hardcode it in the OS because there's a lot of people who can't have Cortana. MS seems to forget this, besides making her US-centric, with most features being US-only. If MS cared about everyone having Cortana, they'd do things differently, I guess they would have to put a lot more people working to get localized versions for everyo country. But it's slow as hell. And I do know it's a difficult task, but difficult tasks just require more resources, is not like they're having wine get better by aging it.

They really are very much aware, but they have to hire a lot of people and a lot of people with very specific linguistic and cultural skills to do Cortana right. Also, they can't do English-only in other countries because then the data would cause "noise" in the system e.g. non-native English speakers i