nPerf network speed test arrives for Windows Phone 8.1 and 10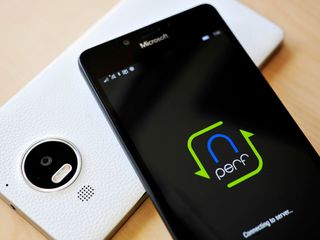 For those on the go or who are just curious about their home networks, speed tests are an invaluable tool for making sure you are getting the data bandwidth you are buying. While there are a few apps already available for Windows Phone users, they now have a new, more robust option with the arrival today of nPerf.
nPerf is one of the most popular bandwidth speed testing sites around (nperf.com), and the company already has apps on iOS and Android with over 500,000 combined downloads. Now, users of Windows Phone 8.1 and Windows 10 Mobile can leverage the power of the nPerf system.
What makes nPerf different from the rest? Here is what you get:
Speed Test + Streaming Test + Browsing Test + coverage map … All in one app!
Optimized and dedicated servers all over the world. (To see the list click here and click on "Server selection" )
More than 6 million collected data for the coverage map in the US.
The speed test is also available on nperf.com, and you can synchronize all your web and app tests with a free account.
Also used by IT companies : Connected Nation, Teleworld solution, Orange, Bolt …
Translated into 13 languages
W10M Compatible with current versions
I've been beta testing the nPerf app for nearly two weeks, and the testing it does is much more involved that other apps. Sure, nPerf does the upload/download/latency thing as you would expect, but it also tests more than that including:
Browsing test
Streaming video test
You can complete a full test (speed, browsing and streaming) or do each one on its own depending on you desire. Other options include letting the app choose the test server automatically or overriding it and picking one yourself.
With nPerf, you can create an account that will keep a history of your tests and synchronize between devices for comparisons. The app is free to use, but there is a small banner ad at the bottom of the display. If you would like to remove the ad, you can pay $1.99 per year to get rid of it. Going this premium route also offers other excellent incentives like
Unlimited history and CSV export feature
Real-time network info and geolocation
Help support for the nPerf project and developers
For those in the US, nPerf can also show you coverage maps for the major carriers like AT&T, T-Mobile, Verizon, and Sprint with breakdowns by 3G, 4G, and 4G+.
Finally, the app also has various settings to please most users like choosing the bitrate unit, setting the default test, choosing background color style and disabling streaming test animations.
Overall, nPerf is a very robust app for diagnosing your network connection speeds and device performance. You can run the test on your PC web browser or your phone now through the app, and if you create an account, all of your data is saved and synced.
As a small bonus nPerf even has a translucent Tile to pin to your Start screen!
Grab the app from the links below and let us know what you think (Note: the app is the same for 8.1 and 10M, but we are providing both the old and new style links for convenience).
Daniel Rubino is the Executive Editor of Windows Central, head reviewer, podcast co-host, and analyst. He has been covering Microsoft here since 2007, back when this site was called WMExperts (and later Windows Phone Central). His interests include Windows, Microsoft Surface, laptops, next-gen computing, and arguing with people on the internet.
It's raining apps!- Akira X.

& I just updated to Windows 10 release preview build!

Very happy to see a new app... And it does look good! But is this a sponsored article?

We don't have sponsored articles and if we did we'd mention it. All I got for posting this article is losing time testing the app and writing it, you're welcome ;)

You do have undisclosed affiliate links though. So in a way, many of your articles are sponsored by Amazon!

Well, that's just add revenue.

"You do have undisclosed affiliate links though"

For one, that's nonsense about "undisclosed". We have a disclaimer at the bottom of each and every article (see here) in which affiliate links appear with our full disclosure policy. So that's just FUD. Second, that's not the same as sponsored. We're sending traffic to Amazon and Microsoft so if there is a sale of their product, we get a small kickback which is totally fair - after all, we're sending

them

business, not the other way around. Third, who do you think is paying for development and support of your free and ad-free universal app for Windows Central? So everything you just implied is off the mark, misinformed, and misguided.

Thanks for your efforts you people deserve to have profits

Just a heads up for you....articles on the mobile app NEVER highlight the use of affiliate links.
Now I have no problem with websites using them...but I absolutely loathe seeing the '5 best laptops in the world today' style articles, or the 'Sandisk 70% off' articles as they are pure clickbait designed so clearly to get people to click through on those revenue links.
Disclose that you are using affiliate links IN the article, and you'd have my respect and support.
(This isn't the first time I've flagged this up).

Dude those articles are for promotion purposes, and as Daniel states, they get a margin of profit for doing this. What's so wrong with that? Some people might find such articles to be useful to them as well. If you don't like it, then ignore it. It's just a way for a site that you and I love to go to for Windows related news to get paid for the work they do.

The conventional approach taken by near enough every other website is to politely invite the readers to shop via the affiliate links.
As I said before, I don't have a problem with the use of such things; but I do have a problem when articles are written purely to generate revenue without informing the reader.
Disclose the affiliate link stuff IN the article and WC will have my respect. As it stands though, I purposefully navigate directly to Amazon rather than clicking via the links.

What's wrong with being informed about a SALE!!??

No issue here with affiliate links. I have an ad free app and if WC does me a service by pointing out a sale on something I'd like, I'm more than happy to see them get a cut. I don't need some disclaimer about that, I want people that offer me a service to do well, not to see them hampered by some misguided, arbitrarily conceived sense of propriety.

Seems from the screen shots a very capable & full featured app. Downloading. Thanks, Daniel! Sent from my 950xl!!

Sounds better than the speed test.net app we have?

Depends. Speedtest.net is a bit more direct/well known, but this app has more 'stuff' in it. Both are good, both are free.

When you do a direct comparison of the apps for Windows Mobile there really is no choice this is better by far and away. Speedtest is such a barebones app for WM (unlike the better featured iOS or Android version) that this app IMO is the current gold standard for network test. Everything from coverage mapping to the differnt test are just beautifully done. As long as support for W10 exist I will give them $1.99 a year to support them... hell it be nice for them to have a donate option :(

Hi ruronirican, thank you very much for your support!

I been searching around within the app I cannot find a link to buy the premium version to remove the ads. Can you direct me to it?

Tap the hamburger menu in the top left and then look at the bottom left of the screen. There'll be an Upgrade to Premium option. Tap it and it'll ask if you want to upgrade.

Thanks for the reply, but there is no such option on my phone L950. I have been searching all over and cannot find the option. I will try to uninstall and then reinstall and hope it then shows up. I cannot bear to look at ads within an app.

Anyone know a sight that can check for quick, temporary drops? My speed is great, but I get one second quick disconnects and I'm in a fight with the cable company about it. Need to try and gather some proof.

If you are fighting with them about dropouts, generally speaking the problem is probably on your end. Your ISP can see dropouts from their end. So if they don't see any, you aren't getting sync drops. Gathering proof will only prove you are getting them on your end which leaves u in the same position

I say this as I actually work for an ISP. Spent 7 years in technical support (3 of them as a manager)

Maybe this app will actually be accurate, unlike the speedtest.net app.

I'm paying 15$ for 2.5/0.35 Mbps..

That's rough. I'm paying 20€ for 250/250 Mbps :|

Don't know where you live but this is reality in Bosnia.

Far far better than network speed test from ms and speedtest.net, but it shows different result than the others apps. Which is more accurate? Hmm

It also depends on the server that the app is connecting to.

Yes, a lot better than speedtest.net by far.

Wish they go universal and make it available for PC too. I'm not particularly fond of the bloated speedtest.net solution.

"You can run the test on your PC web browser or your phone now through the app, and if you create an account, all of your data is saved and synced."

You can use our web based speed test on www.nperf.com. It's ads free!

That is why UWA will fail. There is no reason to create a Windows 10 app since a website is just as powerful and is fully cross platform. Balmer is right. Posted via the Windows Central App for Android

I just tried the browser version and it is not accurate. I have a 1 gbps connection with ATT Gigapower hardwired to my PC and it doesn't go beyond 100mbps. Same test on speedtest or at&t's own speedtest site is much better, but varies wildly from browser to browser. Variation also exists depending on whether antivirus is turned on or not. The PC is plenty fast (Dual Opteron workstation with 32 gigs RAM). I also tried it from an Ubuntu and Windows 7 virtual machine housed in my rack server with similar results. All connections are switched using a Cisco 3750E L3 switch. The hard link to the Rack server is a 10GBPS one based on SFP+ connections. Needless to say, the browser programs are the limitations here. The need for an APP does exist which will run in dedicated test mode without having the limitations of browsers.

The app can't be installed... Just giving error. Posted from Windows Central for Windows 10

Done thank you Posted from Windows Central for Windows 10

Yeah, you should try again, feel free to contact us if you cannot install it again.

Done thank you. Posted from Windows Central for Windows 10

Very good app. Posted from Windows Central for Windows 10

Love the app! Thanks nPerf, so far it's working smoothly. Plus the network coverage you've thrown in there is just perfect.

Got premium. Gladly support an app like this on Win 10 Mobile.

As a side note, does anyone happen to know if it's possible to get a USB-C to network adapter working on the 950/950XL? I have some USB network adapters, but no USB-C. Having nPerf on my phone and being able to test wired connections as well would be amazing.(I work in IT)

I think Dan tried using a USB-Ethernet adapter in a video on the Lumia 950 and it didn't work. I could be wrong, though, because it's been such a long time since I've seen the video. I think Android might actually support USB-Ethernet adapters now, so if you really need to test networking over Ethernet, you could take an Android phone along with your Windows phone until Windows 10 Mobile/Windows Phone supports it.

This is indeed a wonderful App when compared to SpeedTest.net and Network speed test with lots of Info. Uninstalled both after installing this one. Thanks for sharing the info Daniel.

Like the Download App button, the View Links didn't work with windows store so well.

If the $1.99 was a one time payment, that would be fine. But $1.99 a year is a bit too much.

You've got to be kidding me, right? $1.99 a year is a bit too much? In all seriousness, if you can afford to get a Ring doorbell, this shouldn't be considered too much if you want to support the developer. Also, their free version is very good, or better yet, support them for one year.

App's not able to complete full test.. During browsing test, which has flipkart as one of the sites.. It's redirecting to the app.. Hence test is not completed

Does this allow me to walk around and find dead spots in my home wifi network to see where I might benefit from a second router?

Thanks Devs. Beautiful app. I hope I can buy it to get rid of these ads. Love this one.
Windows Central Newsletter
Get the best of Windows Central in in your inbox, every day!
Thank you for signing up to Windows Central. You will receive a verification email shortly.
There was a problem. Please refresh the page and try again.