NPR One lands for Windows and Windows Phone as a gorgeous universal app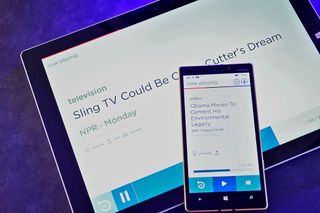 National Public Radio today has released their new NPR One app for Windows Phone 8.1 and Windows 8.1. The app is universal, appearing to use the same code across both platforms. It is also very minimalist, modern, and well done.
NPR One is not your standard public radio app. Instead, it is a new effort by NPR to create a more "personalised" experience based on your preferences. You get a combination of live radio from your local radio station, in addition to suggesting programs. You can also search things you are interested in, and the service will begin to cater to your tastes.
Features include:
A personalized stream of NPR and local station news and stories
Skip, rewind, pause and share
Search for your favorite shows, stations, and podcasts
International, national, regional and local content
A simple, intuitive interface
The app does require you to login, but luckily you can do that with either an NPR.org or Microsoft Account. Because of the latter integration, you get the feeling that Microsoft played a role here in the app's development.
NPR One is super clean with just a big play, pause, rewind and skip button. If you find something you like, just tap the "interesting" icon so the service can remember your preferences. You can also share the story through the new Share picker in Windows Phone 8.1.
Audio quality is excellent, and the tutorial, when you first launch the app, is smart. In short, this one of the nicest looking universal apps to come along yet. Both apps also feature a Live Tile to display the latest playing content.
Although Bank of America may be ending support for Windows Phone, the arrival of NPR One to both platforms certainly helps make up for it. The app launched on iOS back in May 2014, but at least it is here now on Windows Phone.
Note: Since NPR is a US-based and publicly funded organization, it is not clear how well the app will work outside of the US. We have been able to install and login from the UK, though, so if you're interested definitely take a look.
Via: Paul Thurrott
Windows Central Newsletter
Get the best of Windows Central in in your inbox, every day!
Daniel Rubino is the Editor-in-chief of Windows Central, head reviewer, podcast co-host, and analyst. He has been covering Microsoft since 2007 when this site was called WMExperts (and later Windows Phone Central). His interests include Windows, laptops, next-gen computing, and for some reason, watches. Before all this tech stuff, he worked on a Ph.D. in linguistics, watched people sleep (for medical purposes!), and ran the projectors at movie theaters because it was fun.
Awesome sauce! Been waiting for this

Oh boy! Been seeing this awesome sauce everywhere lately...where'd it originate? Lol

I believe it was from a Discover Card commercial.

I've been saying and hearing the term awesomesauce for ages now. I'm pretty sure it didn't originate in that commercial.

Then it originated from you.

No, I'm sure I didn't start it either. I picked it up because I kept hearing it.

Perhaps it originated from an 1yr old that mispronounced "applesauce". "The world may never know."

I think it is from an epasode of Parks and Rec but I could be wrong

Just what we need a liberal tax payer funded radio station. I'd rather have some banking apps.

Yeah, like there's a shortage of conservative radio...

Conservative radio pays for itself.

I bet the $1.35 you pay per year in taxes for public broadcasting is just hell on your wallet. Definitely something to complain about on the internet.

People always use that argument to continue funding bullshit programs. They add up. Plus, they almost always expand.

Great point. Plus that 1.35 probably adds up to millions. Imagine how much good that money could do if spent on a good cause or charity instead of a liberal biased radio station.

Haha, I want TD Bank to allow us in the US to use the app! And we're losing quite a few banks. Hopefully they return as universal apps for W10.

ALLY Bank has a great app!

Ally and wells Fargo are the two but neither has branches here.

Actually, you should do your research before you make ridiculous statements like that. NPR is listener supported only. Meaning it only survives on private donations from organisations and listeners. No government funding at all. And part of living in a democracy means everybody gets to make an app for their radio station. There isn't ANY legitimate way this affects your life unless you let your intolerance bed bothered by it. And no, before you go making assumptions, I'm not a whatever-derogatory-term-you-use-to-describe-liberals. I just think the world has enough intolerance and ignorance and i don't need to see it on tech blogs.

LOL , looks like your the one who needs to do research. Just look online, you'll see that up to 25% is government funded. Nice try... If the first part of your statement had any truth to it then the 2nd half would make sense.
I'm not sure what you're talking about, what term offended you?

25%. I call that a bargain since our big league baseball stadium was 70% funded by local add-on taxes.


It is an APP. To bad for some people EVERYTHING is first evaluated as "liberal" or "conservative."

Wait, so now NPR is a liberal organization? You obviously don't know what you're talking about considering NPR itself isn't a station.

Yes, good job microsoft! And NPR!

Cool! Two banking apps fall in a single week, but get something new, and very good looking. As a software dev, Universal apps are definitely intriguing. Any project manager that still won't develop for windows phone with Windows 10 needs to be fired at that point. A market the size of Windows Phone + the majority of Windows 7/Windows 8 machines and all new PCs/tablets going out the door... we're at much more than 3% of the market suddenly.

Yeah. This is like how Java claims it is on 3 billion devices. However that is only because of Android. 'N' Windows 10 users is actually an aggregate number that would mean something other than just a marketing number to make yourself still feel relevant after almost dying out. It would also be a number you can't ignore just because you baselessly hate Windows.

with the quality of their WP ... user base is never going to grow more than 5% ... rather its gonn shrink

any date when will they pull out? like Bofa and chase

Estimates put it at around the same time your comment becomes clever.

it's a question ... looking at trend this is very likely to happen. MSFT should start questioning their self why users not willing to buy. Because as a developer we can't provide quality apps on WP platform. Look at MSFT's apps in android store esp. lock screen question MSFT if they can write similar on WP

Sorry but this is stupid, all platforms has bad and good made apps. There are a lot of great apps on WP, it is not the platform, it is about the developer

Dude have you not seen awesome apps on WP?? Why blame the platform when many devs are just lazy??

Im Lazy to write. We are complaining > developers, Developers are complaining > SDK. Even VLC dav jokes on VS.

We get it, you're a whiny baby "msftguy".

it's a question ... looking at trend this is very likely to happen.

This happen only in US, for example in Italy, wher the adoption of WP in no so bad, doesn't happen that an app is pulled, but every month more and more italian companies support WP and release apps for their services. So the question in not about the quality of tools and development platform, but about user adoption rate of WP...

I actually found this funny. I'm not aware of his previous comments' tone, but this one qualifies as properly timed.

Microsoft should be investing more in apps that can be used internationally, especially since most Windows Phone users are outside of the US. Does look nice though.

Microsoft already dumped millions of motivational dollars into trying to get companies to make apps. They don't want to.

This app works OK (so far) in the UK. If you like the look of it definitely see if it works for you.

I'm convinced the banks will return as universal apps. Unless they don't want to be on windows tablets/phones.

They don't have much incentive to build them.

Agreed. They believe that kn Windiws 10, just use the browser. I feel like that one of Windows biggest holdups for apps. Why do things the "new" way?

Because those who make apps will have and advantage over those who don't. So you'll look old if you don't.

They aren't returning. If they cared for the platform to make a universal app, they wouldn't pull it and tell you to use the mobile site, rather they would replace the app. Windows phone needs to get 20% or more in the US for companies to care. Until then these bank apps are gone. 20% is my estimate, nothing to back it.

Good app news (haha) for a change! ;)

It's a gorgeous and clean app, I like it. And indeed, works pretty well outside of the US.
(.... An thanks to this app now I know that today is the National Kazoo Day in US. So, congratulations to everyone is celebrating this occasion ;] )

Pretty neat. I just wish we could access all of their podcasts and add the ones we want to our favorites. Right now if we search for a certain show we can only listen to the last episode. After you've listened to an episode other episodes might appear in the Suggestions section, but it'd be nice to have more control. ​And btw, if you're looking for an awesome show on NPR about the brain and thoughts and how the mind works and how perceptions and ideas can influence our lives, listen to Invisibilia, it's a new show that I started listening to this week and it's freakin' amazing!!!

Right on regarding Invisibilia. I heard their first show recently via This American Life. The one about echo location. Astonishing.

Download and support these people. Consider it a gigantic middle finger to all of the trolls on this site.

YEP!! It does even work in EUROPE!!!

Add in app purchases and maybe they could do away with fund drives

Been waiting for the NPR app, this is awesome!

Very nice as I am a NPR fan. I think I'll grab it. Thanks for the heads up Dan.

Oh good! More elegant government propaganda.

Those evil government figures and their music features, game shows and car talk!

I consider myself very much to the right, but these people are making an app, I'm going to support them. I wont listen to All Things Considered, but I will find something.

Love npr and now for kcrw in Los Angeles where is your app.

Cool, I've been waiting for this to come to WP!

I miss Click and Clack!
Will the app ever come to Xbox One?

Great looking app. Used to listen to NPR quite a bit in a carpool. Will be listening a bit more now.

Looking forward to them pulling this from the store next week!

Nice app, fresh UI, but unfortunately it doesn't manage to locate any stations in New Zealand, or at least not where I live (90 minutes north of capital city Wellington).

Probably because NPR is in the US.

You can use zip codes of USA to search for stations depending of the state you want to hear about. (This is USA app so it will only have USA stations). It works for me here in Costa Rica.

Awesome news! Downloading now.

BEEN WAITING SO LONG FOR THIS.

The animated tutorial synced with screen movements is awesome. Best app launch experience since I started using WP!

Minor issues: The signin screen (via NPR account) doesn't warn that you need to use your email address, not the user name. The 'continue' button just stays grayed out until you add an @ sign and a dot, with no error message. The feedback link sends you to a webpage, which is a pain to complete on a phone. The MS account signin has a list of permissions that seems too 'grabby' (wants too much access), so I used the npr.org account instead. Kind of a pain, why not lower the permission requirements.

You do realize that it isn't asking for any permission that basically every other app asks for, right? Pretty much a guarantee that you have already given other apps permission to do all of those things.

I've had the same app on my Nexus 5 and iPhone, so happy to have it on my 635. Looks great, sound wonderful, and I love NPR. One of the funny things about the app: It has different intros on each platform.

NPR? That's just about the most useless app after the fart apps.

Let me guess: you let politics drive your views on everything. Sounds petty.

I don't agree at all. Fart apps are at least mildly entertaining for a few minutes or so.

Yeah, I forgot. Information needs to be entertaining for a lot of people, how sad.

This one is a must have. Definitely! Two thumbs up!

Live it. Not a "liberal taxpayer funded radio station", just one that is not locked into one ideology". Guess this is to much for some people to handle.

Is this for when you want to be misinformed or lulled to sleep? In any case, I'm sure both NPR listeners will enjoy it.

Not likely to make me a democrat, but perhaps I'll lean a little to the left as a thanks for a nice app :)

Nothing wrong with listening and watching as many news sources as possible. Especially if they offer apps for WP.

So gorgeous. Too bad I don't listen to NPR.

As a contributor have berating them for not having any Windows apps. Only thing you could do it listen to the podcasts. Finally.

Nice. Get your head straight Banks. Others companies are making killer apps for the platform while you pull your already done ones.

No live stream, just short audio clips in random order?

This is a terrific app.I have heard of NPR on the internet but I did not (until now) that they are an American Govenmental organisation.
I like em anyway so I'll give them a listen.

Nice addition to the platform! Especially on a day where BoA announced pulling their app soon. I immediately installed the NPR One app on my 928 and my SP3 as soon as I 'heard the news'. Will now rely less on TuneIn for my favorite programs. Oh and btw, I am grateful for Ally Bank, great service and great app; I ran away from BoA last year and never looked back!

This will come in handy during my lunch time walks.

I'm using the app in Brazil, and loving it. I've been looking for a great app like that ever since we moved down to South America. I'm in love with it already.

Here in Brazil, we've been well served by some mainstream banks. Specially Itau Bank. The app is also available for my Surface. Interestingly enough, one of the most popular banks Santander, has yet to come up with something for our Windows, although their app runs well on Android and IOS for a while already. It seems as if they have a stake on some of these companies, otherwise, how could you explain such alienation. Windows is becoming more and more popular after Lumia 530 and 730 came into play!!!

Few apps drop support
Few get updates
Few apps get launched... Life wid windowsphone is amazing

Oh my gosh one can't even do a little reading on WC without hearing conservatives cry and moan. How come anything that benefits the wealthier class is the American way but if it benefits the working class why thats just socialism. Most conservatives are ticks that live off other peoples blood amd sweat. Im getting this app. Wasnt before but am now. Lol

Most Liberals are ticks that seek to destroy the great freedom and democracy we have in America, and are flat out stupid and brainwashed. The mixed Conservative-Liberal gov't system we have works pretty darn well, each party keeps each other in check (I am conservative)

I know. Like back in 1860 when the Liberals left the USA and formed the CSA to defend their right to own people. Oh wait, that was Conservatives.

Um, nope they were Democrats.
Abraham Lincoln was a Republican.
Way to prove my point bud.

That's an ignorant generalization and a flat out stupid comment.

So was the original comment

Why buttons at the top? WHY? -_-

Really nice, elegant app. Love NPR, love the MS login and universal nature.

Awesome, been waiting for an app for the longest time. Won't have to search through the podcasts app anymore. I laugh at the people who call NPR liberal, which is informative and relatively unbiased (at least what I listen to). If you think that, move on to whatever Conservative news outlet you use as this isn't for you.


Anyone else having issues loading content in this app? My SP3 just won't play (except for the opening, introductory content). It's working great on my WP and on Win 10 preview on my old laptop. Not sure what the deal is on the surface.


Anyone else have serious scaling issues with this app on W10M? This may be the same issue as post above.
Windows Central Newsletter
Thank you for signing up to Windows Central. You will receive a verification email shortly.
There was a problem. Please refresh the page and try again.