NVIDIA GTX 1050 vs. GTX 1050 Ti: Which is better value?
Two budget cards go head to head.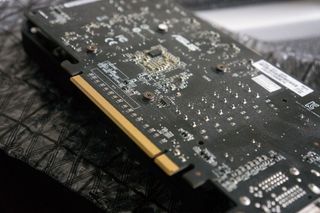 The graphics card (GPU) market has seen a lot of inflation, mostly due to cryptocurrency mining, and for many, the best graphics card options like the NVIDIA GTX 1080 or GTX 1080 Ti is simply unattainable. For others, that much power isn't needed, which is why NVIDIA makes lower-end models, like the GTX 1050 and GTX 1050 Ti.
If you're soon investing in a new PC, whether pre-built or custom, you might be wondering exactly which GPU makes the most sense. Let's compare the two to figure out which one is best for you.
Related: See the best recent deals on graphics cards
What do you need from your graphics card?
The comparison between the GTX 1050 and GTX 1050 Ti was much easier before May 2018, when NVIDIA decided to add a 3GB GTX 1050 to the mix. Like the GTX 1060 with 3GB and 6GB models, these are two separate products under the same name, differentiated on most product pages only by the amount of VRAM inside.
NVIDIA no doubt decided to add the 3GB GTX 1050 as a relatively low-cost option with a bit more power, and as an option that appeals more to gamers than crypto-miners. In a statement to PC World, an NVIDIA spokesperson had this to say:
There's still no word on price and there's still no definitive release date, but we do have exact specs from the NVIDIA website. It seems like the 3GB GTX 1050 will fill about the same role as the 2GB model, which is a low-end, low-cost introductory GPU. Neither should be used for VR in most cases, but it can provide a smooth 1080p experience with popular esports titles as well as some other non-intensive games. Note that the 3GB model is not SLI-ready, meaning you can't strap two together for extra power.
See GTX 1050 at Amazon (opens in new tab)
As for the GTX 1050 Ti, it does meet minimum specs for the Oculus Rift, though you certainly could do much better, especially if you're running an HTC Vive. When it comes to standard gaming, the 1050 Ti provides a superior experience over the standard 1050 models.
Related: Is the NVIDIA GTX 1050 good for gaming?
If you're building or buying a PC that you'd like to have last for as long as possible without requiring a GPU upgrade, the 1050 Ti is your best bet.
See GTX 1050 Ti at Amazon (opens in new tab)
Tech specs and benchmarks
Swipe to scroll horizontally
Category
GTX 1050 (2GB)
GTX 1050 (3GB)
GTX 1050 Ti
VRAM
2GB GDDR5
3GB GDDR5
4GB GDDR5
Memory speed
7 Gbps
7 Gbps
7 Gbps
Memory bandwidth
112 GB/s
84 GB/s
112 GB/s
Base clock
1,354 MHz
1,392 MHz
1,290 MHz
Boost clock
1,455 MHz
1,518 MHz
1,392 MHz
CUDA cores
640
768
768
Memory interface
112 bit
84 bit
112 bit
TDP
75W
75W
75W
Price
From about $150

(opens in new tab)

Uncertain
From about $180

(opens in new tab)
The table above shows some interesting specs. The new 3GB GTX 1050 has a smaller memory interface than the 2GB model, resulting in a memory bandwidth of 84 GB/s as opposed to 112 GB/s. Other than that, the 3GB model is closely matched to the GTX 1050 Ti, with the same number of CUDA cores, a slightly faster base and boost clock, and the same memory speed.
To get a better idea of how these GPUs stack up, let's compare real-world benchmarks. Since there aren't yet any available benchmarks for the 3GB GTX 1050, I'll stick with the 2GB model and the GTX 1050 Ti.
On UserBenchmark, the 2GB GTX 1050 averages about 61.8 frames-per-second (FPS) playing Overwatch at 1080p on Max settings. In DOTA 2, it averages about 81.6 FPS at 1080p on Max settings. The 4GB GTX 1050 Ti averages about 70.6 FPS playing Overwatch and about 107 FPS playing DOTA 2 with identical resolution and settings.
These esports titles are entirely playable on either GPU, but what about games that requires high performance hardware? The 2GB GTX 1050 averages about 38.2 FPS playing Grand Theft Auto V (GTA V) at 1080p on Max settings and about 43.5 FPS playing Battlefield 1 at 1080p on Max settings. Under identical circumstances, the GTX 1050 Ti averages respectively about 44.2 FPS and 44.5 FPS.
From these benchmarks, it's evident that while esports titles are within reach, you'll either have to live with lower FPS or lower settings to play the other modern hits.
Which GPU is right for you?
If you're shopping now for something new, I'd suggest waiting to see how the 3GB GTX 1050 fares in comparison to its siblings, and to see how much it will cost, especially if it comes inside a pre-built PC. Considering the price difference right now is only about $30 between the 2GB GTX 1050 and the GTX 1050 Ti, it makes most sense to go with the latter GPU if you're building your own rig.
Buying a new laptop with dedicated GPU will no doubt be a different story, as you might find a model with a 2GB GTX 1050 for far cheaper than one with a 1050 Ti. It'll also come down to temporary sales you find, but for the most part it's wise to go with the 1050 Ti for that bit of added performance, despite neither being able to propel you into a realm above 1080p.
More resources
Windows Central Newsletter
Get the best of Windows Central in in your inbox, every day!
Senior Editor, Laptop Reviews
Cale Hunt is formerly a Senior Editor at Windows Central. He focuses mainly on laptop reviews, news, and accessory coverage. He's been reviewing laptops and accessories full-time since 2016, with hundreds of reviews published for Windows Central. He is an avid PC gamer and multi-platform user, and spends most of his time either tinkering with or writing about tech.
My son got a GTX 1050 for his new build and he was ultimately very dissapointed in its weak performance. He ended up getting a used GTX 1060 6GB on eBay which works great (and it only cost him $25 more). I don't think the 1050 or the 1050ti are good choices for a gaming rig. The are both weak sauce cards.

I wouldn't say there weak as the article said above on how it works at 1080p I have the 150 ti 4gb and I play some games perhaps not the newest games but when I play like battlefield 4 at 1080p native on my tv I get about 80fps. Now would it be weak in performance over anything above 1080p? Then yes it would be cause the gpu isn't for anything beyond a 1080p. Do I feel the 1050 and 1050 ti are good choices for gaming rig? Sure as long as you not playing on anything beyond 1080p and as long as you don't have a cpu that going to bottleneck the gpu. Just my two cents. It works great on old games no doubt. :)

No frame times? Is it 2010

Doesn't matter. I won't buy another Nvidia graphics card until they get rid of the anti-competitive practice they are practicing now.

I'm sure they'll miss you. They own the market now. I'd like to see a stronger AMD too, but until the perform better it won't happen. It's likely too late for them without a major buyer
Windows Central Newsletter
Thank you for signing up to Windows Central. You will receive a verification email shortly.
There was a problem. Please refresh the page and try again.