What the inflated cost of GPUs means for VR — and what you can do about it
That beefy VR rig you've been dreaming of is harder to achieve than ever.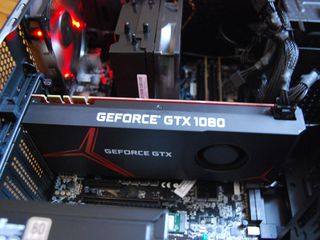 Some of the best VR experiences a person can have come from a system that's hooked up to a PC. Whether it's Windows Mixed Reality (WMR), HTC Vive, or Oculus Rift, the library of high quality, AAA titles available continues to grow, many requiring beefy hardware in order to run properly. The RAM and processor (CPU) are both important, but the main piece of a high-end VR-ready PC is the graphics card (GPU). If you've been shopping for a gaming PC lately, you've no doubt discovered that GPU prices are awfully inflated, often to the point of being prohibitively expensive. While high-end GPUs usually don't come cheap, there's a primary reason why you now have to re-mortgage your home to buy an NVIDIA GTX 1080 Ti ... if you can find one at all.
See Windows Mixed Reality at Microsoft Store (opens in new tab)
Related: Best deals on graphics cards you'll find right now
Cryptocurrency mining has taken off in a big way
If you look at where most GPUs are going these days, it's into the cryptocurrency mines. There's been a lot of press surrounding Bitcoin and its ups and downs, but for the most part, it's not being mined with the GPUs we've come to expect at a consumer level.
However, there are plenty more cryptocurrencies getting a start, and some, like Ethereum (opens in new tab), can be mined with GPUs that would normally drive a great gaming and VR experience. Buying a new GPU (or eight) isn't as big of a deal if you expect to get a massive return on your investment, so they're being gobbled up a lot quicker than ever before.
Even as prices rise, crypto-miners will continue to buy out stock since the return on investment remains high. Most gamers who are looking to upgrade an existing PC or build a new one from scratch generally take time and care to plan out a build, but when it comes time to pick a GPU, there's likely going to be a big letdown.
An average gamer won't be turning a profit by running a Vive or Rift, so it's much more difficult to justify a purchase. VR games and headsets are only going to become more GPU-intensive, and there doesn't seem to be much of a stopping point to crypto mining, at least until (or if) the bubble bursts.
Don't buy a graphics card right now unless you really have to
Can you still have a virtual good time?
If you were lucky enough to upgrade your PC before the crypto-GPU inflation, you're likely sitting pretty, enjoying an awesome VR experience. If, however, you were waiting to upgrade and are now stuck in limbo with an old GPU that can't quite break into the VR sweet spot, all hope is not lost.
Software updates, including asynchronous reprojection, asynchronous spacewarp, and asynchronous timewarp, have increasingly brought down the minimum system requirements for the Rift and Vive. You still need a decent PC to run the higher-end games, but at an entry level, you'll still be able to find some affordable GPUs. WMR, the lightest (on paper) of the VR systems when it comes to PC requirements, is still beholden to the requirements of individual games.
WMR system requirements (and how they compare to Rift and Vive
For a PC that's seemingly just on the edge of a decent VR experience, you might be able to eke out a bit more performance with some tweaks. Use our guide to your advantage!
How to ensure the best VR performance from your PC
Buy an interim GPU
While upgrading your PC with a new GTX 1080 Ti GPU likely won't happen for quite some time without seriously damaging your budget, there are still plenty of affordable options that sit lower on the performance spectrum. You might not have the best VR experience possible, but you'll still be able to have a lot of fun with a headset strapped to your face.
Be sure to check out our continuously-updated roundup of the best deals on GPUs for anyone who can't wait for prices to return to normal.
Best deals on graphics cards we could find
If you're curious about other GPU options and upgrading your PC, crypto-inflation or not, have a look at these other articles that contain way more information.
The ultimate GPU buyer's guide
Buy a pre-built PC
People without a PC that can properly power VR might also be interested in a new pre-built rig. You don't get the same satisfaction from powering on your creation for the first time, but ultimately it's going to deliver the performance needed to have a good experience.
Whereas you or I walking into a store and picking out a GPU will see a certain price, huge manufacturers like Dell, HP, and Lenovo aren't quite as beholden to the inflated market. If you don't mind buying a completely new setup, have a look at our collection of laptop and desktop PC roundups of devices suitable for VR.
Best desktop PCs for WMR in 2018
Best laptops for WMR in 2018
Your thoughts
What type of GPU are you using in your gaming rig? Are you stuck with what you have because of inflated prices? How soon do you think the cryptocurrency bubble will pop, if at all? Let us know in the comments section!
Senior Editor, Laptop Reviews
Cale Hunt is a Senior Editor at Windows Central. He focuses mainly on laptop reviews, news, and accessory coverage. He's been reviewing laptops and accessories full time since 2016, with hundreds of reviews published for Windows Central. He is an avid PC gamer and multi-platform user, and spends most of his time either tinkering with or writing about tech.
I've been running an Nvidia 1070 for some time, now, and I've enjoyed its performance without breaking my bank. It runs VR very well (even if Microsoft's implementation is bad).

Ufff, good thing I bought a 1080 before all this. Now I only have to find the time to play games which is the harder challenge 😅

I have the same problem and the same card.

Definitely get a vote here for buying a pre-built PC. I bought a 1080 Ti in September for £670, same card is now £200 more expensive. Meanwhile I just bought a second PC from Lenovo (on sale, but still) with a 1060 in it for £650. Not using it for VR, but still, it's proof if you shop around you can easily beat this market stupidity. Think outside the box a little.

Agreed, pre-made PCs will be the way to go or second hand parts in obscure computer faires. You can really pick up a bargain if you shop around. I am so glad that opted to get the XFX RX 480 8GB GTR Black edition when it was £245. The silver lining is that this could actually boost PC/Desktop PCs for OEMs. I am not sure how companies who make custom pcs will do (when stock runs low) unless they get GPUs directly from Nvidia or AMD.

I have a 970 and I'm hoping it gets me through another few years. I hope cryptocurrency bubble pops soon

I recently got a GTX 1060 to replace a GTS 250 for £218.99, seems to be a decent performer for the price. I am looking at VR but not sure what to get at the moment.
Windows Central Newsletter
Thank you for signing up to Windows Central. You will receive a verification email shortly.
There was a problem. Please refresh the page and try again.