Best desktop PCs for VR 2022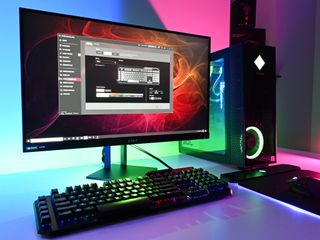 (Image credit: Daniel Rubino / Windows Central)
The best desktop PCs for VR need to have relatively powerful hardware, allowing you to fully enjoy your VR experience. If you don't want to go through the hassle of building an entirely new PC to get there, we've rounded up some tremendous pre-built desktop PCs, like the HP Omen 30L with 10th and 11th Gen Intel Core or AMD Ryzen 5000 processors (CPU) and NVIDIA RTX 30-series graphics cards (GPU). It's built from the ground up with performance and unique design in mind, making it your best bet for an ultimate VR desktop PC.
Best overall: HP Omen 30L
HP Omen 30L
Reasons to buy
+
Can upgrade in the future
+
Powerful, varied hardware options
+
Redesigned tower looks great
+
Plenty of ports
+
Reasonable price for what you're getting
Reasons to avoid
-
Can still find more affordable options
You'll often pay more for the luxury of having your PC built for you, but in the case of HP's Omen 30L, it's no doubt a close call. It's available with 10th and 11th Gen Intel Core CPUs up to an i9 or AMD's Ryzen 5000 CPUs for superb performance. Liquid cooling is available in a bunch of models if you configure it on the official HP website.
You can also get up to 64GB of HyperX DDR4-3200MHz RAM, a 2TB M.2 PCIe NVMe SSD coupled with 6TB of HDD space, and an NVIDIA RTX 3090 GPU with 24GB of GDDR6X VRAM. If you can't get your hands on the best graphics cards alone, a pre-built might be the way to go. In his HP Omen 30L review, Executive Editor Daniel Rubino said that "the Omen 30L is an excellent pick for mainstream audiences who want 4K gaming and no fuss."
Everything is contained in a snazzy 30L tower with a white rhombus logo (gone is the red tribal mask) and a streamlined design with a brushed aluminum finish. It's quite fetching, and it's not nearly as over the top as the Alienware option we love, which is preferable for a lot of people. Add Wi-Fi 6 for a few dollars more, and take advantage of many ports for easy connectivity.
If you have a larger budget and would like something just a bit more recent, the HP Omen 45L adds a unique "Cryo Chamber" that houses the CPU radiator for better heat management. You can get it with up to 12th Gen Intel Core or AMD Ryzen 5000 CPUs, and the latest NVIDIA and AMD GPUs.
Best for AMD performance: Alienware Aurora Ryzen Edition R14
Alienware Aurora Ryzen Edition R14
Reasons to buy
+
Powerful Ryzen configurations available
+
Tool-less access
+
Has the right ports for VR
+
Programmable lighting
+
Sturdy, unique chassis
Reasons to avoid
-
Can find cheaper alternatives
There are quite a few configuration options available for the Aurora Ryzen Edition, with a high-end model sporting up to an RTX 3090 GPU with 24GB of GDDR6X VRAM, a Ryzen 9 5950X processor (CPU) with 16 cores, 128GB DDR4-3200MHz RAM, and a 2TB M.2 PCIe solid-state drive (SSD) coupled with a 2TB hard-disk drive (HDD). Wi-Fi 6 is included for blazing wireless speeds, and you can even add water cooling with a 750W PSU. This is no doubt some serious overkill, even for a stellar VR experience, so a mid-range option is in your best interest.
Spending about $1,990 will get you a PC with Ryzen 7 5800 CPU, NVIDIA RTX 3060 Ti GPU with 8GB of GDDR6 VRAM, 16GB of dual-channel DDR4-3200MHz RAM, and a 512GB M.2 PCIe NVMe SSD. That's significantly cheaper than the high-end model, and you're still going to get a killer gaming machine that will be able to handle just about any VR experience. Of course, you can always jump up to an even more robust GPU for more power.
The hardware is all contained in a unique case that was recently redesigned for easier access. There's a boatload of ports for easy connectivity, including on the front three USB-A 3.2, USB-C 3.2, and 3.5mm headphone and microphone jacks. The rear has plenty more, including USB-A, USB-C, RJ45 Ethernet, and many audio inputs and outputs for setting up surround sound. Customizable lighting on the outside of the case accents the lines and gives you some extra style to boot.
Best customization: CLX Ra
CLX Ra
Reasons to buy
+
Absolutely sizzling performance hardware
+
Properly packed for shipping
+
Custom water cooling available
+
Big case with lots of room for upgrades
+
Tons of customization options
Reasons to avoid
-
Expensive
-
It takes up serious space
Executive Editor Daniel Rubino was lucky enough to get to pick out a custom build of CLX Gaming's Ra desktop PC, and he didn't take the task lightly. While prices start at around $1,950, he kitted one out with a final price tag closer to $7,000. That's not a typo, and you too can spend that much money on a custom PC. Best part? It looks like a pro job, without a lot of the cut corners you'll find from the big manufacturers like Dell and HP.
The number of configuration options available is overwhelming, and that's a good thing for enthusiasts. That's who the Ra is aimed at, and its aim is true. Along with the usual 12th Gen Intel Core and AMD Ryzen 5000 chips, get up to a 64-core AMD Threadripper or an 18-core Intel Core i9-10980XE CPU to quarterback the PC, then add up to dual NVIDIA RTX 3090 GPUs or single AMD RX 6900 XT water-cooled card. Everything else, right down to the cables running from the PSU, can be configured to ensure you're getting exactly what you want.
It comes packed properly to avoid damage en route, and it comes with a full labor and parts warranty for one year with a 30-day exchange warranty. If you're an enthusiast sick of waiting to find stock for your next build, this might be the way to go. Bring a fat wallet.
Great value: ABS Master ALI605
ABS Master ALI605
Reasons to buy
+
Great price for the hardware you're getting
+
Quality components inside with room for upgrades
+
Includes keyboard and mouse
+
Fancy case with RGB fans
Reasons to avoid
-
Hardware isn't customizable from the factory
Gaming PC prices, especially those for VR, can quickly get out of hand. If you're on a tight budget, something like Newegg's ABS Master ALI605 delivers a lot of hardware for the asking price. While you can still find cheaper alternatives out there, the combination of performance and add-ons makes this PC a great value.
Inside is an 11th Gen Intel Core i5-11400F CPU, an NVIDIA RTX 3060 Ti GPU with 8GB of VRAM, 16GB of DDR4-3000MHz RAM, and a 1TB M.2 PCIe NVMe SSD built onto an ASUS Prime B560M-A motherboard. That's some quality entry-level performance to get VR more than off the ground, plus it all comes in a fancy ASUS TUF Gaming case with built-in RGB lighting.
Extras include a 650W Gold PSU, three 120mm RGB case fans, and an RGB CPU cooler. All models come with a gaming mouse and keyboard for some added value. This PC is currently down to its cheapest price we've seen, though it's unclear how long this deal will last.
Well-built custom: Maingear Vybe
Maingear Vybe
Reasons to buy
+
Clean build
+
Awesome case design
+
Tons of configuration options
+
Excellent performance
Reasons to avoid
-
Stock fans can be loud
-
Wi-Fi doesn't come standard
If you're looking for a PC that comes built but feels like you built it, Maingear's Vybe should satisfy. In his Maingear Vybe review, Editor-in-Chief Dan Thorp-Lancaster stated that it's "an excellent option for anyone who wants to get their hands on a custom PC build without putting in the effort on their own."
Several pre-configured performance stages are available, but there's also a custom build option that lets you design a PC from the ground up. Choose case and paint, Intel or AMD CPU, RGB lighting, GPU, motherboard, RAM, storage, cooling, PSU, and more. As long as the budget allows, you can keep adding hardware to create something that will crush anything you throw its way.
The builds are clean with proper cable management, and there's always the option for user upgrades in the future to keep the PC relevant. The case has a glass cutout on the side to show off hardware and any optional RGB lighting, and there are plenty of ports on the back for connecting all your accessories, including VR.
Bottom line
When it comes to getting the best desktop PC for VR, sometimes you don't want to build a new one from scratch. Luckily, there are plenty of pre-built PCs on the market that can handle the power of VR. You generally need a great gaming PC with a powerful GPU ⁠— like one from our roundup of the best graphics card options ⁠— a mid-range processor, at least 8GB of RAM, and enough ports to handle the headset and any sensors.
The HP Omen 30L is likely the best pre-built PC for VR for most people. It has plenty of VR-ready configuration options up for offer, all contained in a stylish chassis with enough ports for all your headsets and sensors. You get a sturdy warranty, and support is available if needed.
Some cheaper options are available that will get VR off the ground, but we recommend a mid-range configuration for a much smoother experience. In any case, you'll be able to upgrade the PC to keep it relevant long into the future, thanks to an easy-access case that is quite sleek. For more options, check out our collection of the best gaming desktop PCs. And if you need something portable instead, have a look at our roundup of the best gaming laptops.
Cale Hunt is a Senior Editor at Windows Central. He focuses mainly on laptop reviews, news, and accessory coverage. He's been reviewing laptops and accessories full time since 2016, with hundreds of reviews published for Windows Central. He is an avid PC gamer and multi-platform user, and spends most of his time either tinkering with or writing about tech.
Windows Central Newsletter
Get the best of Windows Central in in your inbox, every day!
Thank you for signing up to Windows Central. You will receive a verification email shortly.
There was a problem. Please refresh the page and try again.