Best PCs for sim racing 2023: pre-built desktop options
The ultimate guide to desktop sim racing pre-builds.
Quick menu
1. The list in brief
2. Best overall
3. Best performance
4. Best for enthusiasts
5. Best laptop
6. Best budget
Realistic sim racing games have an enormous following on PC, thanks to the extra layer of customization and flexibility for spending budgets. Consoles have their fair share of driving titles, with some serious simulators on offer, but a desktop computer opens up a whole new world of possibilities for race fans. Not everyone has the knowledge or patience to build their rig, so what are your options?
Pre-built gaming PCs cut down on the effort needed to enter the sim racing scene, skipping the component shopping list and checking for compatibility. Almost any competent desktop aimed at gamers should be able to play racing games at varying levels of quality.
Still, some of my favorite ready-made PC vendors like iBuyPower and Dell will get you onto the virtual racetrack as fast as possible, so here are my top picks to pair with the best racing wheels and get you racing with a guide on how to set them up on PC.
The quick list
The best overall PC for sim racing
1. iBuyPower Intel 13th Gen Elite
Best overall pre-built PC for sim racing
Specifications
CPU:
Intel Core i7-13700KF
GPU:
NVIDIA GeForce RTX 4070 Ti 12GB
Storage:
1TB WD SN570 M.2 NVMe SSD
Reasons to buy
+
Vast customization options
+
2x front USB-A 3.0 + 1x USB-C 3.2
+
Onboard Wi-Fi + Bluetooth
+
Easy to upgrade
Reasons to avoid
-
Mandatory operating system
My favorite iBuyPower config: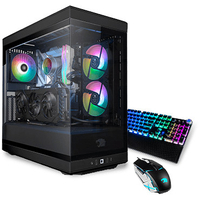 Intel Core i7-13700KF | RTX 4070 Ti 12GB | 32GB DDR5-5200MHz
No adjustments are needed on this ready-made machine. Featuring the latest Intel 13th Gen Core CPU paired with an RTX 4070 Ti means it's about as cutting-edge as it gets without going overboard, and 32GB of RAM is plenty for intense simulation titles.
iBuyPower offers an almost unparalleled level of customization on its pre-built gaming desktop PCs, and this ready-made spec is an excellent balance of high-performance components versus cost. Simulation racing titles naturally aim for realism, which demands powerful hardware to keep up with physics calculations and fancy visuals. Some games might seem like only a handful of vehicles on a track, but serious calculations are happening under the hood, and this Elite rig is ready for action.
Offering a variant of the Intel i7-13700K CPU, which is still our absolute favorite processor for gaming, the KF model drops the need for integrated graphics. If you keep the Elite at its default spec, you'll bag the latest NVIDIA GeForce RTX 4070 Ti GPU, which is essentially a re-released RTX 4080 with a lower price. Both are installed into a Gigabyte Z790 UD AC motherboard which supports onboard Wi-Fi and Bluetooth, perfect for connecting wireless peripherals if you're using a racing cockpit and don't want to reach over to a desk.
Check the recommended hardware specifications for your favorite sim racing title, and you'll likely be able to configure a 1:1 match with this vastly customizable rig from iBuyPower. It might initially feel like a high price, but the parts included in this pre-built desktop make sense for the cost. If it fits your budget, the basic picks on the Elite rig are future-proof for practically any racer, and the Hyte Y40 case has enough front-facing USB ports for easy access to peripherals. Perfect.
The best performance PC for sim racing
2. Alienware Aurora R15
Stylish performance
Specifications
CPU:
Intel Core i7-13700KF
GPU:
NVIDIA GeForce RTX 4080 16GB
Storage:
512GB NVMe M.2 PCIe SSD
Reasons to buy
+
Customizable components
+
3 front USB-A 3.2 + 1x USB-C 3.2
+
Onboard Wi-Fi + Bluetooth
Reasons to avoid
-
Styling won't be to every taste
-
Tight space to work inside
My favorite Aurora R15 config: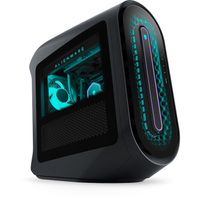 Intel Core i7-13700KF | RTX 4080 16GB | 32GB DDR5-4800MHz
The standard setup offered by Alienware on the Aurora R15 is close enough to our top pick to avoid any adjustments. The price might seem steep, but you benefit from gorgeous aesthetics and sublime cable management. Consider the alternative case colors, too.
Dell's Alienware Aurora is a fantastic PC for sim racing. Whether you want to run in VR, on a single monitor, a massive ultrawide, or triples, the Aurora can be kitted out to deliver high-quality graphics and high frame rates. What also helps set it apart is that it's fairly compact, considering how much is inside.
There are quite a few configuration options available for the Aurora, with a max-spec model potentially sporting the beefy RTX 4090 24GB GPU, a 13th Gen Intel i9-13900K processor (CPU), 64GB of DDR5-5200MHz RAM, and a 4TB M.2 PCIe solid-state drive. You can add Alienware's Cryo-tech cooling instead of the standard liquid variant, and there's a choice of case styles. Equally, the base-level model is still well-suited to sim racing, with the RTX 4080 16GB GPU perfectly capable of running titles like iRacing.
The hardware is all contained in a sleek and compact case available in two colors. It features 5x 120mm case fans regardless of your CPU cooling choice, keeping thermals under control during gameplay. There's a boatload of ports for easy connectivity, mainly for sim racing when you've got multiple devices that all want a USB connection to your PC.
The best enthusiast PC for sim racing
3. HP Omen 45L
Innovative rig enthusiasts will love
Specifications
CPU:
Intel Core i7-13700K
GPU:
NVIDIA GeForce RTX 4070 Ti 12GB
Storage:
1 TB WD Black PCIe 4x4 NVMe TLC M.2 SSD
Reasons to buy
+
User upgradeable
+
Powerful
+
Innovative Cryo Chamber cooling
+
AMD, Intel, and NVIDIA all options
Reasons to avoid
-
MicroATX motherboard limits expansion
-
No Thunderbolt
My favorite Omen 45L config: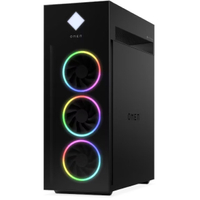 The HP Omen 45L is larger than its predecessor, but that's mostly down to an innovative new "Cryo Chamber" cooling solution. In an era where building your PC is so common, many manufacturers try to think outside the box with their desktop rigs, and HP certainly did that. The chamber is separated from other components so that internal temperatures can be up to 6 degrees lower, thanks to the lack of heated air inside the machine.
On the one hand, you might say the design is a little uninspiring, but to the PC gamer, this is a machine where function is the primary concern, and ease of access is paramount. Pull the glass side panel off, and you have free access to all internal components, all of which can be upgraded over time. It supports a full ATX motherboard, though out of the box HP used a microATX, which limits both built-in functions a little and how much you can expand.
The Omen 45L boasts the latest high-end NVIDIA RTX GPU lineup with the RTX 4090 as the top-end solution or AMD Radeon graphics, CPUs from Intel's 13th Gen desktop lineup, or AMD's Ryzen 5000 Series, DDR5 RAM from Kingston, SSD storage — it ticks all the boxes.
Absolutely everything is replaceable, including the radiator in the Cryo Chamber, and the bottom line is that this is a PC any enthusiast would be happy to use. HP did the hard work for you, though.
The best laptop for sim racing
4. HP Omen 15 gaming laptop
Awesome redesign
Specifications
CPU:
Intel Core i9-12900H
GPU:
NVIDIA GeForce RTX 3080 Ti 16GB
Storage:
2 TB PCIe NVMe TLC M.2 SSD
Reasons to buy
+
AMD and Intel hardware available
+
Competitive price
+
Up to a 300Hz FHD display
+
NVIDIA RTX GPU options
+
Great connectivity
Reasons to avoid
-
Quite chunky
-
AMD models more limited
My favorite Omen laptop config: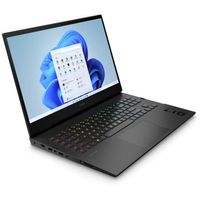 HP offers the Omen 15 as a laptop variant of its desktop range as a portable option for simulation racing or something more compact to attach to a cockpit rig with pedals and a wheel. Up to a 12th Gen Intel Core i7 or Ryzen 7 CPU can be paired with a mobile version of the NVIDIA GeForce RTX 3080 Ti graphics card. 32GB of DDR5 SDRAM clocked at 4,800MHz will handle most racing games just fine, even with plenty of cars on screen, AI-controlled or otherwise.
You can choose up to a 2TB M.2 solid-state drive, which might be a little overkill if you're planning to use this laptop solely for racing games, but the extra space is handy should you consider user-made modifications to add extra tracks and cars, etc. Onboard Wi-Fi 6E tech supports high-speed wireless networking, which is ideal if you want to keep your setup as cable-free as possible and still play online.
Display options include up to a 17.3-inch QHD display at a 165Hz refresh rate and 300 nits brightness. The display is arguably less important if you're looking at powering a sim racing rig, but it's still good to have a quality panel. You also get all the connectivity you need with multiple ports, including USB, HDMI, and Thunderbolt, for attaching all your racing hardware.
Read the full review: HP Omen 15 (2020) review: A generational refresh turns this gaming laptop into one of the best values around.
The best budget PC for sim racing
5. HP Pavilion gaming desktop (GTX 1650 SUPER)
Entry-level racing
Specifications
GPU:
NVIDIA GeForce GTX 1650 SUPER 4GB
Storage:
256GB PCIe NVMe M.2 SSD
Reasons to buy
+
Entry-level 1080p gaming
+
Easy to upgrade
Reasons to avoid
-
Lacking storage space
-
No ultra graphics settings here
An entry-level machine can be capable enough for an absolute beginner to get you up and running (or driving) with simulation racing. This HP Pavilion is about as low as you want for a starter computer. Easy to upgrade, this tower comes with the capable NVIDIA GeForce GTX 1650 graphics card that'll sit you somewhere between the minimum and recommended specs for iRacing. You can upgrade any component you like since it uses all standard parts, but this plucky GPU is a great starting place.
The 10th Gen Intel Core i3 CPU and 8GB of DDR4 RAM will handle basic simulation racing, but if you're planning to join giant races with more players, you will need to upgrade. 256GB of storage will be acceptable if you stick to a handful of games, but venturing into games like Forza Horizon 5 will require much more since they take up a hefty amount of space. HP generously includes a mouse and keyboard with the Pavilion gaming desktop, so the setup is ready to go straight out of the box.
It won't provide you with a hyper-realistic 4K gaming experience, but the HP Pavilion gaming desktop is a decent way to enter PC gaming. You'll either have to stick with low-to-mid graphics settings or play more basic titles at first, but upgrades are easy enough with a bit of research. It's a decent way to test the waters of sim racing on PC if you're unsure.
How we test PCs and laptops for sim racing
Getting started in sim racing is pretty straightforward, and though you can't engage without a decent PC and racing setup, it's easy enough to get going. You need a solid PC at the heart of your setup, and all of the PCs here can handle all the virtual racing you can throw at them with multiple monitors or even VR for high-spec models.
As a sim racing enthusiast, I can attest that the demands of each title can vary wildly depending on your tastes. For enthusiasts, more focus will be on accurate simulation, which generally requires a stronger CPU, as in the best overall and enthusiast picks. Anyone craving realistic visuals will want a more powerful graphics card, like in the enthusiast HP Omen 45L.
After building several custom gaming PCs and testing laptops, I generally test games like Forza to push visuals and iRacing to test physics simulation. Other titles focused on realism, like Euro Truck Simulator 2, usually don't push PCs to their limits and would run fine on lower-end hardware like my budget pick. As with all PC gaming, you should check the required specifications for your favorite game and compare it against a choice in this that fits your budget.
Get the Windows Central Newsletter
All the latest news, reviews, and guides for Windows and Xbox diehards.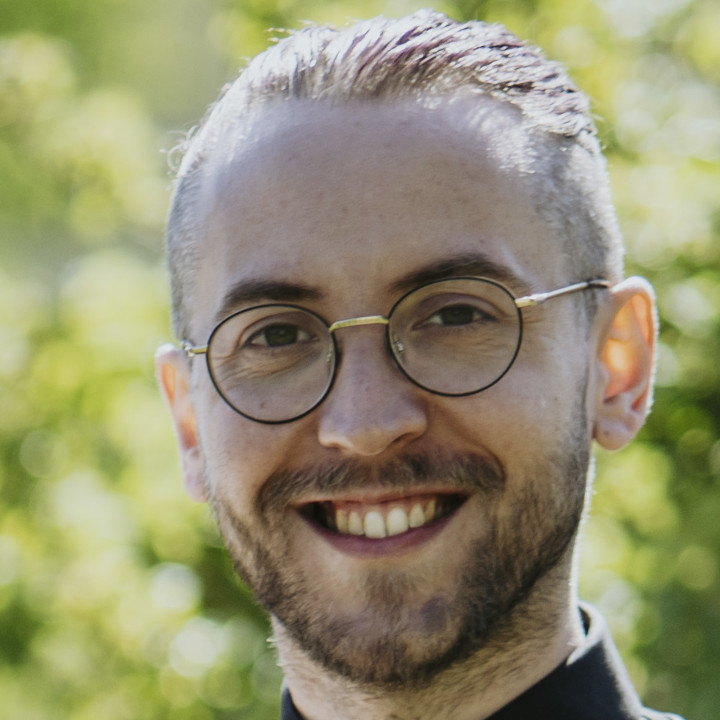 Ben is the channel editor for all things tech-related at Windows Central. That includes PCs, the components inside, and any accessory you can connect to a Windows desktop or Xbox console. Not restricted to one platform, he also has a keen interest in Valve's Steam Deck handheld and the Linux-based operating system inside. Fueling this career with coffee since 2021, you can usually find him behind one screen or another. Find him on Mastodon @trzomb@mastodon.online to ask questions or share opinions.