ASUS ROG provides the accessible gaming excellence it promises with this compact tower that can easily fit on your desk or media center. It's packed with a powerful RTX-4070 GPU and an Intel Core i9-13900KF to provide smooth gaming experiences. The fans tend to be loud, but they keep the system cool and working efficiently. Plus, you can customize this rig's RGB lighting for a fun vibe.
Pros
+

Excellent performance

+

Small form factor fits in more places

+

RTX 4070 GPU can handle intensive graphics

+

Great at keeping itself cool

+

Customizable RGB lighting
Cons
-

Fan noise is very notable

-

Compact tower makes it hard to upgrade parts
Why you can trust Windows Central Our expert reviewers spend hours testing and comparing products and services so you can choose the best for you. Find out more about how we test.
Whether the prospect of building your own PC is daunting or just seems like something you don't have time for right now, being able to purchase a reliable pre-built gaming PC is incredibly convenient. It's especially helpful if you purchase a configuration with a powerful CPU and GPU, like the ASUS ROG G22CH-DB978 desktop, that can handle the latest graphically intensive games.
Of course, providing all that powerful hardware in a compact tower also makes it so your desktop won't take up much room. But the tradeoff here is that compact towers tend to be harder to upgrade, so it's good to get one with components that will be valid for a long time. Overall, the ROG G22CH is a phenomenal gaming tower that will remain relevant for years, even if it isn't perfect.
Disclaimer: This review was made possible thanks to a review unit provided by Asus. The company did not see the contents of this review before publishing.
ROG G22CH: Price and specs
Pricing & specifications highlights
With an MSRP of $2,499.99, this pre-built gaming PC is precisely where I'd expect the price to be, especially for a compact desktop.
There are different configurations of the ROG G22CH to choose from, starting at $1,399.99 and going up to $2,499.99 for the beefiest model.
Value rating: 4/5
ROG G22CH-DB978 specs
Price: $2,499.99
CPU: Intel Core i9-13900KF
GPU: NVIDIA RTX-4070
RAM: 16GB DDR5
Storage: 1TB M.2 NVMe PCIe 4.0 SSD
Ports: 1x Ethernet, 1x HDMI 2.0a, 1x HDMI 2.1, 3x DisplayPort 1.4a, 3x audio jack, 2x USB-A 2.0, 4x USB-A 3.2, 1x USB-C 3.2
Size: 4.5 (W) x 12.7 (H) x 11.3 (D) inches (11.50 x 32.30 x 28.69 cm)
Weight: 18.5 pounds (8.4 kg)
The ROG G22CH series of compact gaming desktops currently comes in five different configurations, with prices starting at $1,399.99 for the G22CH-DS564 and going as high as $2,499.99 for the beefiest G22CH-DB978 tower that I reviewed. It's easy enough to purchase the ROG G22CH line since these compact gaming PCs can be purchased from several locations, including Amazon, Best Buy, and the ROG website.
Though their price points will set your wallet back, these ROG G22CH towers are well-priced and in line with similar offerings from other brands. This is especially true given the powerful hardware packed into these small form factor towers, making them easier to place in more locations without taking up a ton of room.
If you're specifically looking for a gaming computer that can handle more demanding games, it's in your best interest to get one of the G22CH desktops with an NVIDIA RTX 4070 GPU. Of the three options available, the slightly less expensive $2,199.99 ROG G22CH-DB779 provides the right balance of cost and power.
ROG G22CH Recommended Configuration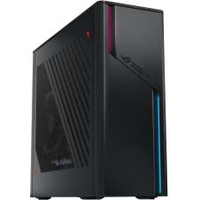 i7-13700KF | RTX 4070 | 16GB RAM | 1TB SSD
With its powerful processors, ample solid-state drive storage capacity, and port options, the ROG G22CH-DB779 is an excellent gaming desktop. Moreover, its small form allows it to easily fit in more places without taking up as much space as other options.
ROG G22CH: Design and build
Image 1 of 2
Build quality & design highlights
Sleek casing with minimal RGB lighting looks good in any room.
An optional see-through panel shows off RGB even better.
Comes with a keyboard and mouse.
Design rating: 4.5/5
The nature of gaming desktops makes it so that PC towers tend to be rather large and sometimes bulky, but that's not at all the case (pun intended) with the ROG G22CH-DB978. Despite housing some of the most powerful components available today, it comes in a compact and sleek-looking form factor that won't take up a ton of room on your desk, media center, or office floor. Being so much smaller than my main PC tower, it was much easier to accommodate and place where I wished.

Something to note is that the fans are pointed upward with their vents along the top of the tower, so you don't want to put anything on top of the casing or it will mess with the system's performance.
Rubber feet efficiently keep the tower from sliding or moving unintentionally, while the simple lines of RGB on the front and side add a fun touch without being too flashy (more on that later). The metal casing looks and feels good, too, but it isn't the most elegant thing you'll see. The G22CH has an optional see-through panel that can be swapped out for the default side panel so you can better appreciate the internal lighting effects. However, removing the default side panel and putting in the see-through one takes some tedious effort.
The ROG website states that the G22CH has a "tool-free design" for being "able to get into the internals quickly without turning a single screw," However, this isn't exactly true. To open the tower, I had to remove a rubber nub on the back of the rig and loosen a small screw hidden behind that. This unlocks the slider at the top that allows the top of the casing to be removed. After that, both side panels can be easily pulled up and off the case for upgrading purposes.
However, the tedious part now comes into play. To get that clear panel in place, you'll first need to remove all of the small screws holding the mesh to the panel, remove the unattached mesh, put the transparent panel in place of it, and then secure the see-through panel to the frame using the same small screws as before. It's not the hardest thing to do, but it will take some time. It would have been nicer if this task was a little easier, given that the RGB is one of the selling points for the tower and the see-through panel isn't an add-on. Plus, when people purchase a pre-built compact gaming PC, they usually don't want to do too much work to it themselves.
As far as ports go, the G22CH offers plenty of connections on the tower's top and back sides. Altogether, these include an HDMI 2.0a port, an HDMI 2.1 port, three DisplayPort 1.4a ports, an RJ45 Gigabit Ethernet port, four audio jacks, four USB-A 3.2 ports, two USB-A 2.0 ports, and a USB-C 3.2 port.
It would have been nicer if there were at least one or two more USB-C ports, but still, that's a ton of connections for a compact gaming tower. As it was, I could connect a monitor, attach my best computer speakers, charge several devices, and plug in the included mouse and keyboard without feeling like I'd run out of necessary connections. Of course, if you need more ports, you can always get one of the best USB 3.0 hubs.
Two antennas can be connected on the backside of the tower, and these allow Wi-Fi 6E as well as Bluetooth 5.3 to be utilized. I never had any issues connecting devices, such as my Xbox controller or best gaming headset, to the tower via Bluetooth or Wi-Fi. The antennas were easy to install on the back of the case and always provided a steady connection.
Now, the ROG G22CH isn't the most conducive regarding upgrades. This is partially due to the limited space that comes from the nature of being in a compact case but also has to do with the components that ROG utilized. For instance, the proprietary Intel B760 motherboard is designed to prevent overclocking. You can find ways to overclock this rig and install different components, but it will take more work to find components of the right size and shape to fit than it often does when working with a larger tower.
ROG G22CH: Performance and gaming
Performance & gaming highlights
Excellent performance with even the most intensive graphics.
The system keeps itself cool so it can run efficiently.
Fans blast at the slightest provocation, but they have a lower frequency so they aren't whiny.
It has lower reading and writing speeds than what would be preferred.
Performance rating: 4.5/5
Altogether, the G22CH does an exceptional job running even the most intensive graphics smoothly and manages to do a fantastic job keeping itself cool in the process. The tradeoff is that it, unfortunately, does produce a decent amount of fan noise. I will say that while notable, these fan sounds didn't really bother me all that much since they came at a lower frequency rather than being high-pitched and whiny. But if the sound of fans bothers you, you'll have a problem with this tower, whose fans blast at the slightest provocation.
I tested the G22CH-DB978's performance by using the desktop for over a week while doing basic daily work tasks, surfing the internet, listening to music, and of course, playing tons of video games. To really get a feel for the compact PC's abilities, I downloaded the latest NVIDIA Game Ready 537.42 driver so I could check out Cyberpunk 2077's new Ray Reconstruction option that, when combined with path tracing, provides some of the most accurate lighting effects I've ever seen in a game. Seeing light filter through palm trees or bounce off reflective surfaces in such realistic ways helped pull me further into my games.
Image 1 of 4
A quick word on the Game Ready driver. After updating and restarting the G22CH, I encountered some jarring choppiness, but this was a problem with the driver itself and not the PC. I fixed this by doing a clean install of the NVIDIA driver, and then my games were buttery smooth again. So if you encounter the same problem, you might want to clean reinstall the driver as well.
With all ray tracing graphics set to their highest settings, every game I played looked incredible and ran at least 60 FPS or higher. While playing Cyberpunk 2077 on the highest graphics settings, it averaged 111 FPS, and when I lowered some of those graphics, I even reached an average of 135 FPS. Now, it wasn't completely perfect, as there sometimes was a slight bit of stuttering, but it wasn't a frequent or distracting occurrence.
Image 1 of 3
In addition to my personal time spent using the G22CH, I also ran the PC tower through a gauntlet of benchmark testing to see how it compared to other devices. In many cases, it proved to have astounding power that outperformed many competitors. Though, there were a couple of spots where I would have expected more from it.
More PC gaming
- Best Windows laptops
- Laptop review and buying guides
- Lenovo Yoga Book 9i preorders
- Dell XPS 17 (9730) review
- Lenovo ThinkPad X13s review
In Geekbench 5, which tests the CPU's performance, the G22CH earned a very high score of 21,275, which impressively puts it above the 2023 Razer Blade 18 gaming laptop and just below the incredibly powerful Falcon Northwest Talon PC tower. Meanwhile, it also gained the highest CrossMark score of any device we at Windows Central have ever tested, with a score of 2,226, meaning it offers excellent overall system performance to keep it running smoothly.
When I ran PCMark 10's modern office test, which tests a system's ability to perform daily work tasks like running multiple programs, surfing the internet, attending video calls, and more, the G22CH didn't fair as well. Still, it did earn a respectable 8,733 score, which puts its performance between the Dell XPS Desktop 8960 and the Redux, which isn't anything to sneeze at. It was also beautiful to see how fast the CPU worked through rending pictures in the Cinebench test that I ran, which scored a high multi-core score of 28,694 and a great single-core score of 2,141.
Of course, the performance aspect that you're likely the most interested in for a gaming desktop is probably the graphics card, and I'm happy to say that the G22CH really didn't disappoint in this area.
While running the 3DMark TimeSpy benchmark, which tests intensive rendering abilities, the graphics came through beautifully and with hardly any stuttering or choppiness. Overall, the ROG G22CH-DB978 scored a high 17,460, making it one of the best scores we at Windows Central have ever seen on a TimeSpy test. I also took time to run stress testing, VSR testing, a storage benchmark, and an NVIDIA DLSS benchmark using 3DMark. In each case, the gaming desktop performed exceptionally well, hitting average scores for the G22CH's components but above average compared to most other hardware.
What you can pull from all of this data is that if you're looking for a pre-built gaming PC for intensive gaming that won't take up a ton of room, then the G22CH-DB978 is an excellent way to go.
ROG G22CH: Software and RGB customization
Software & RGB highlights
Can run diagnostics, view performance, and get help with included software.
Colors and effects can easily be customized in the Armoury Crate app.
RGB lighting can also be turned off.
Software & RGB rating: 4/5
Being an ASUS brand product, the ROG G22CH is compatible with the free MyASUS and Armoury Crate apps. MyASUS is excellent for running system diagnostics, troubleshooting problems, and contacting ASUS representatives for assistance. Meanwhile, the gaming center that is Armoury Crate allowed me to view system performance easily, look for new games to purchase, and even customize the G22CH's RGB lighting.
As previously mentioned, RGB lighting runs up the front of the tower and is also visible on the right side's ROG logo. RGB can look tacky if not done right, but it works well here, providing a fun vibe that adds to the G22CH's look.
Image 1 of 2
While within Armoury Crate, I can change to specific preset colors or choose from a color picker to get the exact shade I want. Additionally, there are several lighting effects, such as breathing on one color or filtering through all of the colors of the rainbow. What's more, if I don't want RGB lighting to be on, all I have to do is choose black on the color picker, and then the lighting turns off. It's straightforward to use overall and makes it simple to customize the look of my desktop in the way that I want.
ROG G22CH: Keyboard and mouse
Keyboard and mouse highlights
The tower comes with its own wired keyboard and wired mouse.
These things work beautifully and are very responsive when interacted with.
There is no wireless option for the mouse and keyboard.
Keyboard and mouse rating: 4/5
When you purchase the ROG G22CH, you only need to supply the monitor and an HDMI cable. A wired keyboard and a wired mouse are included in the box. ASUS doesn't give the option of choosing wireless versions of the keyboard and mouse peripherals. However, the included ones are very responsive and feel good to use. The keyboard has no flashy functions, but the keys press down nicely, and the shape doesn't occupy much room.
If you don't like having unsightly cables running around your desk or prefer a better keyboard and mouse experience, you might want to check out the best gaming keyboards and best gaming mouse.
ROG G22CH: Competition
If you're looking for the absolute best prebuilt gaming PCs, then please guide your attention to a genuinely dynamic rig. As you can see from our Falcon Northwest Talon review, this is a beast of a gaming tower that, according to our own Chuong Nguyen, is "powerful by design and designed to outlast you." Depending on how you configure it, it can be costly with options like the latest 13th Gen Intel Core CPUs and the most powerful graphics cards, including RTX-40 Series. But you can configure it exactly the way you want, even down to the customizable lighting effects.
Looking for something a little more affordable? It might not be a desktop, but the Razer Blade 18 is one of the best gaming laptops available right now, and like the G22CH, it comes in an impressively compact form factor. The Razer Blade 18 ranges between $2,900 and $5,000 depending on the configuration, but it also comes with a gorgeous QHD+ 240Hz panel to keep up with your gaming visuals.
If you're tight on space and looking for the best small gaming PC, you should check out the MSI MPG Trident, which packs a punch into a small form factor. Some might even mistake it for a gaming console, as it would look right at home in your living room media center area. Depending on the configuration, this small-but-mighty PC sells for $1,499.99 or higher.
ROG G22CH: Scorecard
Swipe to scroll horizontally
| Attribute | Notes |
| --- | --- |
| Value | 4/5 — Pricing is similar to other desktops with the same CPU and GPU. Fitting all this power into a small form factor adds to some of the cost. |
| Design | 4.5/5 — The metal casing is sturdy and relatively easy to open. There are also plenty of ports for connecting other devices. |
| Performance | 4.5/5 — It's capable of handling even the most intensive ray tracing features with smooth gameplay. Some stuttering can still occur, but it's great overall. |
| Software | 4/5 — It's easy to ask for assistance, check on the current state of the system, or adjust RGB lighting while using the free software. |
| Keyboard and mouse | 4/5 — The included keyboard and mouse work well, but they are wired only. |
ROG G22CH: Should you buy it?
You should buy this if...
✅ You're looking for a gaming laptop that can handle intensive games
With its powerful RTX 4070 GPU and Intel Core i7 processor, the ROG G22CH is ready to handle any current gaming scenario you throw at it. Make sure it's updated with the latest NVIDIA Game Ready driver, and it can even handle complex Ray Reconstruction in Cyberpunk 2077.
✅ You want a desktop with fun RGB
The colorful lighting on the front and sides of the ROG G22CH adds a fun vibe without being too flashy. You can easily customize the color and lighting effects using the Armoury Crate software.
✅ You need something with a small form factor
At only 12.7 inches tall, 4.5 inches wide, and 11.3 inches long, the ROG G22CH doesn't take up that much room. The rubber feet prevent it from sliding around, and the placement of the vents on top makes it easier to place on any surface, even if you're limited on usable space.
You should not buy this if...
❌ You don't like hearing fans
While the G22CH does an excellent job of keeping itself cool while handling more demanding games, the fan sounds it produces are very notable. They aren't whiny like some others thanks to their lower frequency, but they'll basically be going all the time.
❌ You want a desktop that's easy to upgrade
Being a pre-built gaming PC in a compact case means that the G22CH is not an easy desktop to customize with new hardware. As such, it won't be as easy to keep it up-to-date with the latest components, but it's also far more powerful than many other options out there. So the components it uses should be suitable for a long time.
❌ You want something even more powerful
While the G22CH-DB978 is a mighty gaming PC, it's not the most powerful option. If you're looking for the very top-of-the-line, then you'll want a desktop with an even stronger CPU and an NVIDIA RTX 4090 GPU.
Taking the time to gather all of the compatible hardware you need for gaming and then putting it all together in a tower that fits it all can be a daunting or time-consuming task. If you want something ready to go when you get it and won't take up that much room, then the ASUS ROG G22CH-DB978 is an excellent choice. Its powerful CPU and GPU can handle any intensive gaming tasks you throw at it while producing high FPS and smooth gameplay. The fans run a bit loud, which also helps keep the system running efficiently.
Tons of ports allow you to connect with any other devices or accessories you might want. However, due to the small form factor, upgrading this gaming tower isn't nearly as easy. But thanks to its powerful components, it will remain suitable for the latest games for a long time.
Powerful gaming in a small form factor is what the ROG G22CH-DB978 is all about. It offers fun RGB lighting on the front and sides, and there are plenty of ports for you to connect your favorite monitors, accessories, or other devices to.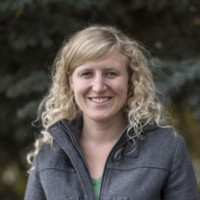 Self-professed gaming geek, Rebecca Spear, is one of Windows Central's gaming editors with a focus on Xbox and PC gaming. When she isn't checking out the latest games on Xbox Game Pass, PC, or Steam Deck; she can be found digital drawing with a Wacom tablet. She's written thousands of game guides, previews, features, and hardware reviews over the last few years. If you need information about anything gaming related, her articles can help you out. She also loves testing game accessories and any new tech on the market.