Lenovo's flagship pre-built gaming desktop is a hulking beast of a tower but packs incredibly powerful hardware in an attractive, easy-to-upgrade design, features ample customizable RGB lighting and plenty of ports, and stays quiet and cool while gaming.
Pros
+

Well-built, understated design with customizable RGB lighting

+

Plenty of ports on both the front and rear

+

Fantastic performance with latest Intel and NVIDIA hardware

+

Great thermal management with low, quiet fans

+

Easy to upgrade with removable side panel and standard parts

+

Overclocking support out-of-the-box
Cons
-

RGB lighting on the GPU isn't customizable right now

-

RAM runs at a lower speed than it supports by default

-

No USB Type-C on the front
Why you can trust Windows Central Our expert reviewers spend hours testing and comparing products and services so you can choose the best for you. Find out more about how we test.
Every year, it seems Lenovo gets better and better at releasing competitive, worthwhile gaming hardware across a wide variety of budgets. For those who desire the best power and future-proofing — and are willing to pay the price for it — Lenovo also has the perfect product. The Lenovo Legion Tower 7i (Gen 8) is a premium beast of a pre-built gaming desktop, and it combines an attractive and easy-to-access design with some immensely powerful standard internals and components.
The result is an excellent gaming desktop with a great feature set, fantastic performance, and no real misses. It's easy to upgrade and even easier to recommend, especially now that it's available in a variety of configurations (and can often be found on sale). I've been spending a substantial amount of time with the Legion Tower 7i as my primary PC, and I have a lot of thoughts on why this may be the new best mainstream gaming desktop you can buy. Once again, the Lenovo Legion brand delivers.
Disclaimer: This review was made possible by a review unit provided by Lenovo. The company did not see the contents of the review before publishing.
Legion Tower 7i review: Pricing and specifications
Pricing highlights
The Legion Tower 7i starts at $2,429.99 with a 13th Gen Intel Core i7, an NVIDIA GeForce RTX 4070 Ti, 16GB of RAM, and a 1TB SSD.
You can configure it all the way up to an Intel Core i9, RTX 4090, 64GB of RAM, and a 2TB SSD for $4,019.99.
It's not an affordable desktop, but it still offers solid value for the experience you're getting, especially with frequent sales.
Value rating: 4/5
---
Reviewed configuration
Price: $3,349.99 at Lenovo
CPU: Intel Core i9-13900KF
GPU: NVIDIA GeForce RTX 4080 w/ 16GB VRAM
RAM: 32GB DDR5 (2x 16GB), 5,600MHz
Storage: 1TB M.2 NVMe PCIe Gen 4x4 SSD
Power supply: 850W
Dimensions: 211 x 464 x 494 mm (8.3 x 18.26 x 19.44 inches)
Weight: 17 kg (37.47 lbs)
This is Lenovo's highest-end pre-built tower PC. That means it comes with a suitably high MSRP, starting at nearly $2,500 and rising to just over $4,000. That's a hefty chunk of change to drop on a gaming PC, but at least you're getting some impressive power in exchange.
In its lowest configuration, the Legion Tower 7i boasts a 13th Gen Intel Core i7-13700KF, a tried-and-true, powerful CPU well-suited to gaming. It also lacks an integrated graphics card, but it's naturally paired with a beastly gaming GPU. The NVIDIA GeForce RTX 4070 Ti with 12GB of VRAM handles matters here, while 16GB of DDR5 RAM and 1TB of PCIe Gen 4x4 storage finishes the basic specs sheet off. This configuration retails at $2,429.99, but I've seen it for as low as $1,819.99, which is a frankly fantastic deal.
In other configurations, you can equip the Legion Tower 7i with up to an Intel Core i9-13900KF, an NVIDIA RTX 4090, 64GB of DDR5 RAM, and 2TB of SSD storage. The most expensive configuration with the exorbitant 4090 will run you $4,019.99. The model I reviewed is more reasonable, pairing back the GPU to the still-powerful RTX 4080 and halving the RAM and storage to 32GB and 1TB, respectively. Everything else is identical, and that system retails for $3,349.99 (but I've seen it on sale for as low as $2,509.99).
Overall, I think Lenovo has perfectly priced the Legion Tower 7i. While there are more affordable pre-built gaming desktops out there, this offering strikes a great balance between value, quality, and power. Whenever it's on sale, the Legion Tower 7i (Gen 8) is practically unbeatable. In the box, you do get a basic wired keyboard and mouse, but you'll likely want to replace it with one of the best gaming keyboards or best gaming mice. Each Legion Tower 7i also comes with 3 months of Xbox Game Pass Ultimate in the box.
My recommended configuration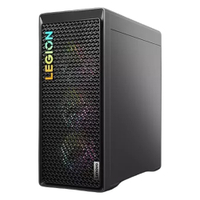 Intel Core i7-13700K | NVIDIA GeForce RTX 4080 | 32GB RAM | 1TB SSD
You can get the Legion Tower 7i with all the power in the world, but you'll be paying a lot to get it. This configuration is well-balanced with the excellent Core i7-13700K and an RTX 4080 for just $2,989.99 and is more than capable of playing all the latest and greatest PC games at the highest settings. I've seen it go on sale for as low as $2,349.99, too.
Legion Tower 7i review: Design and build quality
Design highlights
The Legion Tower 7i features a traditional design with rear, front, and top-mounted fans and a left-facing glass side panel.
It's large and heavy to accommodate the massive RTX 4080 and 4090 GPUs, but it's not the largest or heaviest desktop out there.
RGB lighting looks great and isn't too obnoxious, but you strangely can't customize the GPU lighting right now.
Design rating: 4/5
---
Design overview
Materials: Storm Grey metal chassis, plastic vents and front trim, glass side panel
Design features: Hexagonal front vent, Lenovo Spectrum RGB fans, liquid cooler, GPU, and "Legion" logo, ambient backlight
Dimensions: 211 x 464 x 494 mm (8.3 x 18.26 x 19.44 inches)
Weight: 17 kg (37.47 lbs)
The Lenovo Legion Tower 7i (Gen 8) is large. I mean, this is one chunky desktop PC. It's chunky enough that most people may opt to stash it under their desk rather than sacrifice precious surface area to proudly display it. Of course, it needs to be this large because the NVIDIA RTX 4080 and especially the RTX 4090 with which you can equip this tower are gargantuan GPUs that require a monstrous amount of space. So, while it is large, it is also roomy.
There are also larger and heavier desktop PCs out there, too. What's important is that the Legion Tower 7i is smartly designed with an easily accessible interior via your standard removable glass side panel. The layout is fantastic, too, from the placement of interior components to the rear and top ports. It all just makes sense.
Lenovo did not pursue an outlandish design for its flagship PC, though. The Legion Tower 7i is a very traditional tower constructed of a metal chassis, plastic trims and vents, and a glass side panel, all in a nice "Storm Grey" colorway. Lenovo's flourishes come in the form of its Legion Spectrum RGB lighting, which adorns all six of the internal fans, the CPU liquid cooler, the GPU, and the "Legion" logo embedded in the multilayer hexagonal grate that makes up the PC's front (I like this look, but not everyone might). A simple white LED strip at the top of the interior keeps everything lit and visible if you want it.
The Legion Tower 7i can look a little awkward with its off-center glass side panel (making space for the top and front fans), but overall I enjoy the look of this desktop. What's most important is that the construction is both intelligent and high-quality.
If I have one complaint, it's that you don't have full control over all the lighting. Sure, using Lenovo Vantage means you can customize to your heart's content the fans, liquid cooler, and logo (with millions of colors and multiple patterns), plus customize the white LED ambient light (or turn it off entirely). What you cannot do, however, is tweak the RGB lighting on the GPU. For whatever reason, this just isn't supported by Lenovo Vantage right now, meaning the GPU is stuck with its default rainbow wave effect. Rather than attempt a different theme that would immediately be disrupted by the massive rainbow GPU in the center, I just stuck with the default lighting theme, and many will do the same. That's a real disappointment, and I hope the ability to customize the GPU lighting comes to the Legion Tower 7i soon.
Legion Tower 7i review: Ports and connectivity
Connectivity highlights
The Legion Tower 7i features a plethora of ports, especially USB Type-A. There's only one Type-C port, and it's on the rear.
The ports are split between the rear and top of the desktop for permanent peripherals and quick connections.
Wi-Fi 6E and Bluetooth 5.1 are here out of the box, ensuring great wireless performance.
Connectivity rating: 4.5/5
---
Connectivity overview
Top ports: 2x USB Type-A 2.0, 2x USB Type-A 3.2 Gen 1, 1x 3.5mm headphone jack, 1x 3.5mm microphone jack
Rear ports: 1x USB Type-C 3.2 Gen 2x2, 1x USB Type-A 3.2 Gen 2, 4x USB Type-A 3.2 Gen 1, 2x USB Type-A 2.0, 1x RJ-45 Ethernet, 6x SPDIF audio connectors
GPU (RTX 4080) ports: 3x DisplayPort 1.4, 1x HDMI 2.1
Connectivity: Wi-Fi 6E, Bluetooth 5.1
Any gaming desktop worth its salt needs to be loaded with ports and boast impeccable connectivity, and the Lenovo Legion Tower 7i (Gen 8) doesn't disappoint on this front... Mostly. Starting with ports, you get a nice array split between the rear panel and the top panel (near the power button at the front). On the rear, you get a total of seven USB Type-A ports, one USB Type-C port, and another four USB Type-A ports adorn the top panel. These USB ports cover the entire spectrum of speeds and standards, but each one is labeled to help you identify them (I wish they were also color-coded, though).
It's a great number of ports and meant I was able to connect my headset stand (and USB hub), keyboard with a separate cable for its RGB lighting, mouse, monitor data cable, webcam, and wireless webcam controller without any issues, and still have all four top USB ports open for any quick connections. I do wish there was a USB Type-C port on the top, though, as that port is optimal for dongles should you require even more ports, like SD card slots. Elsewhere, you get two 3.5mm audio jacks (one for headsets and another for microphones) on top and six SPDIF-compatible audio connectors on the rear, including optical.
The display connections may depend on your configuration's GPU, but the RTX 4080 in my review unit features three DisplayPorts and one HDMI port, so there's plenty of flexibility for multi-monitor setups, too. Overall, I have few complaints in this department. There's plenty of room for any gaming keyboard or mouse you might want to hook up.
When it comes to wireless and internet connectivity, you get an RJ-45 Ethernet port for a wired hookup, plus Wi-Fi 6E and Bluetooth 5.1 support. No, it's not the latest Wi-Fi 7 or Bluetooth 5.3 (or even 5.2), but it's still an excellent wireless experience, and I encountered no issues during my extended time with this tower.
Legion Tower 7i review: Upgradeability
Upgradeability highlights
Lenovo used standard parts for the Legion Tower 7i, with toolless access and an open layout.
There are plenty of options to expand storage, RAM, and more, but the desktop is limited in some ways, like only supporting up to 2TB of M.2 SSD storage.
Overall, though, it's easy to keep this desktop up-to-date now and into the future.
Upgradeability rating: 4.5/5
---
Upgradeability overview
Motherboard: Intel Z790
Expansion slots: 1x PCIe 5.0 x16, 1x PCIe 4.0 x16 (x4 signal), 1x PCIe 3.0 x1, 4x M.2 slots (one for WLAN, three for SSD)
RAM slots: 4x DDR5 UDIMM (dual-channel capable, up to 64GB at 5,600MHz)
Storage slots: 2x 3.5" HDD (up to 2TB), 2x 2.5" HDD (up to 2TB), 3x M.2 (up to 2TB)
Purchasing a high-end gaming desktop like the Lenovo Legion Tower 7i (Gen 8) is a serious investment, and gamers want to ensure their investment lasts into the future. Custom-built PCs have the advantage of being built with upgradeability in mind, but pre-built gaming towers don't always have that guarantee. Fortunately, the Legion Tower 7i has no such limitation.
It's easy to access the internal compartment with no tools, just by loosening the glass side panel and sliding it off. From there, there's an easy-to-understand layout that makes it simple to access basically everything you might need to. Lenovo uses standard parts for the Legion Tower 7i rather than custom solutions (like with the Dell XPS Desktop), including an Intel Z790 motherboard that supports overclocking straight out of the box and features a solid number of expansion slots. Cable management is also fairly clean, considering the massive NVIDIA GPU cables.
The one limitation I can see is for storage. The Legion Tower 7i can rock up to 6TB of combined storage, but only 2TB of that can be ultra-fast SSDs. It's also worth mentioning potential frustrations with installing faster RAM using the four DDR5 UDIMM slots. My configuration includes 32GB of DDR5 RAM split across two 5,600MHz 16GB sticks in a dual-channel configuration, but they're locked to 4,400MHz in actual use. (CORRECTION) For a long while, there was no option to change this. Lenovo has since released a BIOS update that allows you to raise the frequency of the RAM, but that driver update isn't delivered through Lenovo Vantage nor does it appear in Lenovo's download center scanner. You have to manually track it down, update the BIOS (which isn't a casual thing to do), and then manually set the clock rate of your RAM in the BIOS. It's needlessly frustrating, but at least there is an option now.
Legion Tower 7i review: Performance and thermals
Performance & thermals highlights
Whatever your configuration, the Legion Tower 7i is well-equipped to dominate at 1440p and 4K gaming.
The tower performs well in benchmarks and even better in real-world use, with seamless loading and boot times, demonstrating stable performance.
Thermals are handled by multiple fans, with higher-end configurations also boasting CPU liquid cooling.
Performance rating: 4.5/5
---
Performance overview
CPU: Intel Core i7-13700KF / Intel Core i9-13900KF
GPU: NVIDIA GeForce RTX 4070 TI / NVIDIA GeForce RTX 4080 / NVIDIA GeForce RTX 4090
RAM: 16GB / 32GB / 64GB (DDR5, 5,600MHz)
Storage: 512GB / 1TB / 2TB (M.2 NVMe PCIe Gen 4x4 SSD)
Thermals: M.2 SSD heatsinks, six RGB-enabled fans (3x front, 1x rear, 2x top), 150W 120mm air cooling on Core i7-13700KF configurations / 250W 360mm liquid cooling on Core i9-13900KF configurations
Other details: Three performance modes via Lenovo Vantage, Legion AI engine to automatically optimize performance based on tasks (only on Balanced mode), CPU & GPU overclocking support via Lenovo Vantage / BIOS
The Lenovo Legion Tower 7i (Gen 8) makes no claims to being the most powerful gaming desktop out there. Custom rigs and one-off affairs can squeeze more power out of these internals, stuff in speedier SSDs, more and faster RAM — but all of that costs a whole lot more. Lenovo strikes a balance here, using modern and powerful internals with balanced pricing, like a PCIe Gen 4x4 SSD with fantastic read and write speeds... but not the very best on the market. Or some of the most powerful and consistent desktop processors... but without integrated graphics, which provide better efficiency in some tasks and can be a fallback if your discrete GPU dies.
The Legion Tower 7i is an excellent performer. It boots up in seconds, apps open reliably and quickly, and there's more than enough power to handle any workflow, from general productivity work to creative tasks like photo editing or 3D modeling. Aside from the usual Windows stumbles (Microsoft Edge has been having issues with sleeping tabs on all my devices), I never encountered any performance issues while using this tower. The Core i9-13900K in my unit is a proven monster of a CPU, and the KF variant is identical, apart from the lack of Intel Iris Xe graphics. On that front, everything is handled by the NVIDIA GeForce RTX 4080, another tried-and-true component that tackles everything you throw at it.
Image 1 of 5
Let's roll some numbers. In CrystalDiskMark, the Legion Tower 7i (Gen 8) managed average read and write speeds of 6,693MB/s and 5,009MB/s, respectively, an impressive performance that puts it among other high-end and powerful PCs. There are some computers with faster SSDs, but not at this price point. In Cinebench R23, which uses the CPU to render complex photos, the Legion Tower 7i absolutely smashed the Windows Central record previously set by the ASUS ROG Strix SCAR 17 X3D in multicore performance, and was among the very best we've tested in single-core performance, too.
In CrossMark and PCMark 10, both being productivity benchmarks, Lenovo's flagship gaming desktop fell just short of taking the top spot, with the ASUS ROG G22CH (DB978) squeezing ahead in CrossMark by a mere 13 points and the aforementioned ROG Strix SCAR 17 X3D besting it in PCMark 10 by just over 200 points. The margins here are slim, and it's not clear why the Legion Tower 7i fell barely behind specifically in these productivity tests, regardless of how many times I ran the test.
In Geekbench 6, though, the Lenovo Legion Tower 7i (Gen 8) trounced other high-end gaming PCs Windows Central has tested in both single-core and multicore performance, showcasing the combined might of this system's hardware and excellent thermal management. Finally, I encoded a 4K movie (Tears of Steel) to H.265 MKV through Handbrake, which took approximately 18 minutes and 44 seconds from start to finish.
Speaking of thermal management, how does the Legion Tower 7i do? Well, the configuration I reviewed boasts a combined six RGB-enabled fans spread throughout the front, rear, and top of the tower. The Core i9-13900KF is cooled by a 250W, 360mm liquid cooling system rather than the more modest air cooling adapted by Core i7 configurations. The RTX 4080 boasts its own cooling, of course, but also benefits from the strong, consistent airflow moving throughout this PC.
I have zero complaints about this system. The Legion Tower 7i stayed cool and performant no matter what I threw at it or for how long, with little noticeable throttling or slow down. The fans, while loud under heavy load, also run at a fantastically low frequency, making them barely noticeable when wearing a gaming headset or listening to music. During regular usage, you're hard-pressed to hear the fans running at all, no matter how close you get. It's excellent all around, and I have no concerns about long-term health due to high heat.
I will mention that the Legion Tower 7i does support both CPU and GPU overclocking out of the box. You can overclock this PC the old-fashioned way through the BIOS, but you can also do it easily and quickly through Lenovo Vantage, with a ton of options to finetune your performance. I did notice subtle boosts to overall performance, framerates, and benchmark scores with the default overclocked settings, but it wasn't anything spectacular, considering the increased heat. You can push the PC harder if you really need the extra juice, but the Core i9 under the hood is prone to getting hot when overclocked, so be aware of that if you start testing the limits of this system.
I can't attest to this chassis' ability to manage the GeForce RTX 4090, a monster GPU that can run hotter than the 4080 here. That configuration uses an identical cooling system, but I was unable to test it.
Legion Tower 7i review: Gaming performance
Gaming performance highlights
The Legion Tower 7i handled pretty much every game I tried at 1440p and over 120 FPS.
There's more than enough power here for comfortable 4K gaming at high-to-max settings.
Thermal management is adept enough to keep performance stable across hours-long playing sessions.
---
Lenovo's most powerful desktop PC is well-suited to basically anything you need to do, but it is designed for gaming first and foremost. I mean, just look at all the RGB lights. As you might expect, though, the best-in-class performance I saw everywhere else translated to an excellent gaming experience. Practically every game I booted up on this PC was more than happy to run at QHD 1440p and over 120 FPS with max settings.
In 3D Mark's Time Spy benchmark, the Legion Tower 7i finally dethroned the Dell XPS Desktop (8960) with a score of nearly 26,000, also besting the Razer Blade 18 (2023) and HP OMEN 45L. Benchmarks frankly mean little in the face of actual usage, though, so let's check the numbers I saw in a handful of games.
Forza Horizon 5: 172 FPS average — Extreme graphics preset, 240Hz refresh rate, QHD 1440p resolution, NVIDIA DLSS on "Auto," DLSS Frame Generation turned off, v-sync turned off

142 FPS average — All settings maxed, NVIDIA DLSS turned off, v-sync turned on, Temporal Anti-Aliasing (TAA) x5

Gears 5: 163 FPS average — All settings maxed, "Ultra" textures enabled, uncapped framerate, QHD 1440p, v-sync turned on, no variable resolution
Cyberpunk 2077: 157 FPS average — Ray Tracing: Ultra graphics preset, 240Hz refresh rate, QHD 1440p resolution, NVIDIA DLSS on "Auto," DLSS Frame Generation turned off, v-sync turned on

79 FPS average — Ray Tracing: Overdrive graphics preset, all other settings identical

Counter-Strike 2: 239-240 FPS average — All settings maxed, 239Hz refresh rate, QHD 1440p resolution, FidelityFX Super Resolution turned off, v-sync turned on, NVIDIA Reflex turned on
Let me tell you, Cyberpunk 2077 looks stunning running on this tower PC, with Update 2.0 installed and all the dials turned to the max. Even then, I still saw average framerates well over 60 FPS. Without the fancy, experimental ray tracing options, Cyberpunk 2077 absolutely flew. It was a similar experience with practically every other game. Both Forza Horizon 5 and Gears 5 ran at well over 120 FPS on the absolute max settings each game supports.
When it comes to competitive first-person shooters, both Counter-Strike 2 and Valorant are smooth as butter on the Legion Tower 7i. CS2 strangely locked the refresh rate to 239Hz rather than the full 240Hz my monitor supports, resulting in an endless rapid switch between 239 and 240 FPS in-game. It was entirely unnoticeable, of course, and the game otherwise ran flawlessly. Every game looked incredible, was responsive, and was able to live up to their fullest potential. I can only imagine the RTX 4090 configuration is even more impressive with full 4K gaming.
Legion Tower 7i review: Software
Software highlights
There's more than enough power here to ensure Windows 11 always runs great
Lenovo Vantage lets you manage all the PC's specific features and is very responsive, but the interface is a bit of a mess
Elsewhere, there aren't too many preinstalled apps, and they're mostly unintrusive.
Software rating: 4/5
---
Software overview
OS: Windows 11 Home 64-bit
Pre-installed apps: Legion Arena, Lenovo Vantage, Lenovo Welcome, McAfee LiveSafe, Nahimic, Nahimic Companion, Realtek Audio Console
This is going to be a short section, and for good reasons. The Lenovo Legion Tower 7i runs on Windows 11, and the experience here is great. Everything worked, and it seems to me that this desktop's drivers and firmware were polished and stable. Lenovo is preloading the Legion Tower 7i with the Home variant of Windows, but you can, as always, upgrade it to Pro through the Microsoft Store if you need to.
When it comes to preinstalled apps, Lenovo thankfully keeps the list short. I never like to see McAfee lurking around, but it's easy to uninstall. You also get Legion Arena, which is a rather barebones game launcher aiming to bring in all your games from multiple sources. Lenovo Welcome is your standard "Say hi to your new computer and look at these offers" program, also easily uninstalled. There are, oddly, three programs just for managing audio (even though this is a desktop with no standard audio output or input devices out of the box), with Nahimic, Nahimic Companion, and Realtek Audio Console all playing slightly different roles.
Finally, there's Lenovo Vantage. This is the cornerstone of the Legion Tower 7i (Gen 8) and is where you'll go to ensure your drivers are up-to-date, change performance modes, manage overclocking settings, customize your RGB lighting, and more. The Vantage program is incredibly responsive, loading far faster and running far less sluggishly than Razer Synapse, the Alienware Command Center, ASUS' Armoury Crate, and any other similar gaming hub I've used. I love the responsiveness, but the feature set in this app is a little on the light side, and the interface can be difficult to navigate at first.
Those are minor complaints, though. The Legion Tower 7i may lack a fully featured array of gaming-specific features (it's very nearly stock Windows,) and the Legion Arena may be a forgettable launcher, but many people will actually likely prefer this lighter touch. Lenovo Vantage is a solid hub, too, and stands out immediately thanks to its performance.
Legion Tower 7i review: Competition
There are basically endless options for gaming desktops out there. So many companies are offering their interpretation of what a high-end gaming tower is supposed to do and be, and there's a different model for every need and personal desire. Of course, you can always just build your own, hand-picking every part to build the perfect desktop PC for you and your budget.
For those who don't have the time, knowledge, or desire to do that, though, pre-built is the way to go. The Legion Tower 7i is a fantastic option, but there's plenty else out there. If you want something more compact and understated, for example, the Dell XPS Desktop (8960) is almost as powerful and flies under the radar as an enterprise-oriented tower. It's considerably less upgradeable and significantly more expensive, however.
The ASUS ROG G22CH (DB978) is another excellent option. This PC is actually very close to the Legion Tower 7i in terms of performance and capabilities, but it sacrifices a little bit of power, takes on a little extra cost, and dramatically shrinks down the chassis to create an impressively compact gaming PC. Elsewhere, other companies like MSI, iBuyPower, Alienware, and HP are all building highly capable pre-built PCs. If you want a great middle-ground between pre-built and custom-built, Falcon Northwest is a good place to start, as they'll build your PC to your exact specifications for you.