With its 240Hz refresh rate, 0.5ms response time, convenient OSD Game Mode controls, and adjustable stand, the Legion Y25-30 makes for an excellent gaming monitor. It produces a great color gamut and offers a good brightness range to make your games look how you want. However, people who like to multitask might find the screen a bit too small or might find the base a bit too large.
Pros
+

Excellent stand adjustment

+

Great image quality

+

Punchy 240Hz refresh rate

+

Fast 0.5ms response time

+

Easy OSD controls
Cons
-

24.5-inch screen might be small for some

-

Base is rather large
Why you can trust Windows Central Our expert reviewers spend hours testing and comparing products and services so you can choose the best for you. Find out more about how we test.
Over the last several years, Lenovo has held a strong presence in gaming with its Legion line of laptops, desktops, displays, and other devices. If you're in the know, you'll be familiar with the upcoming Legion Go gaming handheld release relatively soon. All of this is to say that Lenovo is no stranger to gaming and produces some of the most reliable PC gaming tech on the market today.
As such, I was excited to check out the Legion Y25-30 24.5-inch gaming monitor. After spending over a week using it, I can say that this is an excellent display that can keep up with even the most demanding video games. While not perfect, it offers plenty of conveniences at a reasonable price.
Disclaimer: This review was made possible thanks to a review unit provided by Lenovo. The company did not see the contents of this review before publishing.
Legion Y25-30: Price and specs
Pricing & specifications highlights
This gaming monitor has an MSRP of $339.99. It's possible it will go on sale down the road, but it hasn't dropped in price yet.
It's priced well within the usual range of gaming monitors with these similar features.
Value rating: 4/5
Lenovo Legion Y25-30
Price: $339.99 at Amazon
Display size: 24.5-inches 16:9
Resolution: 1920 x 1080p
Type: WLED LCD
Refresh rate: 240 Hz (280Hz when overclocked)
Response time: 0.5 ms
VRR technology: AMD FreeSync Premium
Brightness: 500 nits
Camera: No
Ports: 4x USB 3.2 Gen 1, 2x HDMI, 1x DisplayPort, 1x RJ45 port, 1x headphone jack
The Lenovo Legion Y25-30 has an MSRP of $339.99, which is about where I'd expect this monitor to sell, given all of the ports and additional features it offers. Anyone looking to purchase it can find it selling on the official Lenovo storefront and Amazon.
Since its release, this display has hardly ever dropped in price, and even when it did, it was only by a few dollars. Still, Lenovo and Amazon tend to have sales on Lenovo products rather frequently, so it's very likely that we can see the Legion Y25-30 going on sale at a decent discount sometime in the future.
There are technically two versions of the Legion Y25-30, with the configuration I reviewed being the WLED LCD panel with AMD FreeSync Premium. However, Lenovo also sells another version, an IPS panel with NVIDIA G-Sync. They both cost the same, so depending on your needs or preferences, either can be helpful to you.
My recommended Legion Y25-30 configuration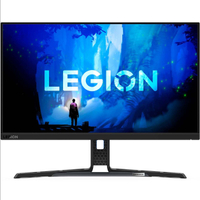 24.5-inch | Full HD WLED | 240Hz | AMD FreeSync
There is technically another version of the Legion Y25-30, which features an IPS display and NVIDIA G-Sync. If your rig or gaming laptop features an NVIDIA GPU, that version might suit you better. However, the version I reviewed is a better fit if you have an AMD GPU.
NVIDIA G-Sync model: $339 at Lenovo
Legion Y25-30: Setup and design quality
Image 1 of 2
Build quality & design highlights
Toolless assembly makes setup very convenient.
There are plenty of ports for connecting accessories and other devices, but there are no USB-C ports for some reason.
The stand adjusts vertically, rotates, and even tilts up, down, left, and right so you can find the perfect positioning.
The base protrudes relatively far out and might be awkward for some desk orientations.
Overall, the design isn't as classy as other options, but it still looks good and is sturdy.
Design rating: 4.5/5
More monitors
- Best computer monitors
- Best ultrawide monitors
- Best 4K monitors
- Depgi 14 Portable Monitor review
- ASUS ROG Swift OLED review
- Redmagic 4K Gaming Monitor review
I've come to expect toolless assembly when setting up any modern gaming monitors, and I was happy to find that the Lenovo Legion Y25-30 didn't disappoint in this area. There's a rather sizeable built-in screw on the bottom of the included base, and this needs to be turned while the stand is in place to secure them together.
I appreciated how big the screw handle is since this makes it easier to grab and twist, unlike some gaming monitors I've assembled this year that had tiny screws with little handles that were harder to work with.
Once connecting the base and stand was done, all I had to do was press it into the back of the monitor until there was a click, and then the monitor was ready to be positioned on my desk. As with many other gaming monitors, this one features a cable tidy hole, so I threaded all my wired connections through it to keep things organized and out of the way.
Image 1 of 2
I absolutely love the freedom with which I can adjust the stand. There's a rail that allows the monitor to be adjusted vertically, and two pivot points allow me to tilt the monitor up and down as well as left and right until I get it in the perfect position. The monitor stays steady at whatever height I leave it, but it also doesn't take too much force to get it to slide along its track.
When assembled, the Legion Y25-30 isn't the classiest gaming monitor I've seen since it is a bit too boxy to be elegant, but it does look nice overall, and I love the pattern that spans across the base and backside of the casing. What's more, the aforementioned stand makes it very convenient to use.
The only awkward part of the Legion Y25-30 is how far the triangular base reaches on the desk. This makes the monitor plenty sturdy but can cause space issues as well. For instance, I connected the monitor to a tower with two existing monitors during testing. However, the Legion Y25-30's base didn't fit well in the limited space left on the desk, which the other monitors occupied. That said, I could make it work by rotating the base and still having the monitor face out at the right angle I needed.
Image 1 of 2
As far as ports go, there's a good selection of options on here overall, though I was disappointed to see that there are no USB-C ports. Still, including four USB-A ports, two HDMI ports, a DisplayPort, an RJ45 port, and a headphone jack provides plenty of options when connecting my favorite accessories and devices to the monitor. As it was, I could easily connect my tower, Steam Deck docking station, keyboard, and wireless mouse without running out of space.
It's worth noting that two of the USB-A ports and the headphone jack are located on the left side of the display for easier access. So it's here that you'll likely want to plug in your best computer speakers or perhaps even your best webcam. Of course, the Legion Y25-30 does have two built-in 3W speakers, which work decently enough. Still, as is usually the common practice, you'll want to purchase something separate if you want the best listening experience possible.
Image 1 of 2
Reaching around the right side of the display allows me to access four buttons: The blue OSD (on-screen display) button, a game settings toggle, an input toggle, and a long power button. The OSD is easy enough to work with and allowed me to activate FreeSync for my laptop's AMD GPU, adjust FPS settings, tweak the refresh rate, or even overclock the monitor. Outside of more complex gaming settings, I can also change color settings, brightness, and contrast.
Legion Y25-30: Picture quality
Display highlights
Decent color gamut and picture quality.
It offers good contrast and gets plenty bright, too.
The refresh rate can go as high as 280Hz when overclocked.
0.5ms response time ensures the monitor displays the most recent imagery sent from your system.
Display rating: 4/5
To understand the abilities of the Legion Y25-30, I played a handful of the most graphically demanding video games I own, such as Hogwarts Legacy and Cyberpunk 2077. In each case, the imagery came through beautifully without stuttering or tearing. This is expected from a gaming monitor that offers 0.5ms response times and a refresh rate of 240Hz with FreeSync. When going into the OSD, I could even overclock the monitor and get it to reach 280Hz for an even smoother experience.
I also used the Legion Y25-30 for work, and it was here that I realized that the 24.5-inch display was a little too small for my multitasking needs. While I can put two windows up on the display, they feel squashed and don't give me the best view of either program (or window) I'm viewing. So, if you're like me and prefer to multitask, you might want to consider getting a slightly larger display or using multiple monitors.
Swipe to scroll horizontally
| Setting | Brightness | Black | Contrast | White Point |
| --- | --- | --- | --- | --- |
| 0% | 36.7 | 0.07 | 510 : 1 | 3200 |
| 25% | 51.7 | 0.10 | 540 : 1 | 3200 |
| 50% | 83.3 | 0.14 | 580 : 1 | 3200 |
| 75% | 129.1 | 0.24 | 540 : 1 | 3200 |
| 100% | 207.4 | 0.38 | 540 : 1 | 3200 |
Regarding color and picture quality, the Legion Y25-30 did an excellent job portraying visuals, although it was far from producing the best results I've seen. In my colorimeter testing, it produced 100% of sRGB, 80% of AdobeRGB, and 88% of P3, which is very admirable and within the color gamut range of what I'd expect a WLED LCD display to produce.
Colors come through vibrantly, and I never felt like imagery looked muted or muddled compared to what it should look like. My games were also decently crisp since the monitor offers a resolution of 1920 x 1080, but there are higher-resolution displays out there if that's important to you.
In my brightness and contrast testing, the gaming monitor also faired decently. It can reach a peak brightness of 500 nits, but the max 580:1 contrast it achieved is a bit low for my liking. Still, the imagery came through well enough, and unless you're sitting there comparing this screen to another one, you won't notice a difference since the colors, brightness, resolution, and contrast will serve you well.
Legion Y25-30: The competition
Anyone fixated on getting 240Hz or higher from a gaming monitor should read our own Ben Wilson's Alienware AW2423DF review. He states it as an "overclockable 1440p beast [that] owns the high-end IPS category." It's an LED-backlit LCD panel with 2560 x 1440 resolution and a very impressive color gamut. Plus, it supports AMD FreeSync and NVIDIA G-Sync to fit broader needs. This fancy gaming monitor sells for $549.99.
Earlier this year, in my HP OMEN 27k review, I talked about how this display's built-in KVM switch makes for a very convenient gaming setup. It might not have as fast of a refresh rate as the Legion Y25-30, but 144Hz with a 1ms response time is still very respectable. There are also fun RGB customization options to get the exact vibe you're looking for in your gaming PC space. Since it offers some extra features from the Legion Y25-30, the HP OMEN 27k also costs a bit more at a $549.99 price point.
If you want a display with a high refresh rate as well as plenty of space to multitask, then you'll be interested in an ultrawide curved gaming monitor. I personally conducted our HP OMEN 34c review a few months ago and loved playing games on it thanks to the 165Hz refresh rate and 1ms response time. The port selection isn't the best, but this monitor is very nicely priced at $479.99 because it's curved.
Legion Y25-30: Scorecard
Swipe to scroll horizontally
| Attribute | Rating & Notes |
| --- | --- |
| Value | 4/5 — It's slightly on the higher end for what it offers, but still well within the expected price range. |
| Design | 4/5 — Although not as classy looking as some other gaming monitors, this one offers plenty of ports and a very convenient stand to help meet your needs. |
| Display | 4/5 — With a very respectable color gamut, fast response time, and frequent refresh rate this display is excellent for playing video games. It would just have been nicer if the contrast was a little better. |
| Total score | 4/5 — Overall, this is a solid gaming monitor with a super fast refresh rate and a fast response time to match it. The large number of ports, included speakers, and adjustable stand also make it very convenient to use. |
Legion Y25-30: Should you buy?
You should buy this if ...
✅ You want a gaming monitor with plenty of ports
The Legion Y25-30 features four USB 3.2 Gen 1 ports, two HDMI ports, a DisplayPort, an RJ45 port, and a headphone jack to help you connect all of the accessories and devices you might want.
✅ You're looking for a gaming monitor with a high refresh rate and fast response time
These days, 240Hz is becoming the new standard for refresh rates, and the Legion Y25-30 can not only hit that but also go as high as 280Hz when overclocked. Combined with a 0.5ms response time, you can trust that the latest signals from your rig will appear on the display.
✅ You need a monitor that can be adjusted to different heights and angles
Since the Y25-30's stand can be adjusted vertically, tilted up, down, side-to-side, and rotated, it's easier to get the monitor situated in just the right spot for your personal needs.
You should not buy this if ...
❌ You're looking for a monitor with a built-in webcam
To be fair, most gaming monitors do not actually feature a camera, and the ones that do typically aren't the best. So, in most cases, you'll need to purchase one of the best webcams for PC separately, especially if you want to stream or come across clearly when in video calls with others.
❌ You specifically want a gaming monitor with USB-C ports
It's honestly a little strange that there aren't any USB-C ports on the Legion Y25-30. The four USB-A ports are handy, but sometimes, it's just more convenient to go with the smaller connection.
❌ You need a larger display
While the 24.5-inch display can view two windows at once, they are somewhat squished and don't show content the best. I'm a major multitasker, and so for me, it's imperative that I work on either an ultrawide monitor or a multi-display setup. Still, if you're only going to be using this monitor on its own, then 24.5 inches might be a little small for your needs.
Gaming monitors can be relatively pricey, especially when they offer higher refresh rates and response times. However, the Legion Y25-30 is a solid option priced decently for all its conveniences. It produces a lovely color gamut and can get plenty bright to meet your needs.
My biggest issue with the Legion Y25-30 is its bulky base, which takes up a lot of room. Depending on your multi-monitor setup, this might make it harder to place next to other monitors. The flip side is that the Y25-30 is very sturdy, with a stand that can be positioned just as you want.
With its conveniently adjustable base and impressive 240Hz refresh rate that can even reach up to 280Hz when overclocked, the Legion Y25-30 is an excellent gaming monitor to use. The base is a bit large, but this also makes the monitor more sturdy and adjustable.