Great color accuracy is only really reached in Gaming mode, but the solid contrast ratio beautifully brings out details in games. Speed-wise, the fast 165Hz refresh rate and 1ms response time allow the OMEN 34c to easily keep up with the latest and greatest games. Plus, the tool-less assembly, adjustable stand, and included VESA mounting bracket make it very convenient to set up and use.
Pros
+

Easy assembly.

+

Supports HDR and FreeSync.

+

165Hz refresh rate & 1ms response time.

+

Great contrast ratio.

+

Ultrawide curved monitor broadens gaming experience
Cons
-

No USB-A or USB-C ports.

-

Speakers aren't great.

-

No webcam.
Why you can trust Windows Central Our expert reviewers spend hours testing and comparing products and services so you can choose the best for you. Find out more about how we test.
For the longest time, HP has been associated with business devices providing laptops, monitors, and computers fit for the workspace. However, for the last few years, the tech company has been boldly stepping into the consumer space with its OMEN gaming brand.
The OMEN 34c is a curved gaming monitor that is one of the latest releases providing a fast, ultrawide display that's at a more affordable level than premium offerings. After spending a week with this gaming monitor, I can say that it is a very impressive display, but it does have a few limitations to be aware of.
Disclaimer: This review was made possible thanks to a review unit provided by HP. The company did not see the contents of this review before publishing.
HP OMEN 34c: Price and availability
HP OMEN 34c specs
Price: $479.99
Display size: 34-inch | 1500R | 21:9
Resolution: WQHD (3440 x 1440)
Type: VA
Refresh rate: 165Hz
Response Time: 1ms GtG
Brightness: 400 nits
Camera: None
Ports: 2xHDMI 2.0, 1xDisplayPort 1.4
Weight: 23.35 lb (10.59 kg)
The HP OMEN 34c sells for $479.99 and can be purchased at HP's official store or at third-party retailers such as Amazon and Best Buy. HP has a worldwide distribution network and is available in many areas around the globe including the United States and the United Kingdom. This monitor comes with an adjustable stand, a DisplayPort cable, a VESA mounting bracket, and a power cable in the box.
Overall, the HP OMEN 34c is on the slightly more costly side of curved gaming monitors, but it's around the price I'd expect it to be considering its high refresh rate, fast response time, and adjustable stand.
There are also several other gaming monitors available in the HP OMEN line, but the only other curved monitor from this year is the slightly smaller OMEN 32c, a 32-inch display that offers 165Hz, HDR, and 1ms response time for $379.99. Additionally, last year's OMEN 27c is available at $449 but has a higher price than you might initially expect since it offers an impressive 240Hz, 1ms response time, two USB-A ports, and a USB-C port as well. Of course, there are also several flat HP OMEN gaming monitors to choose from as well and they can all be seen on the HP website.
HP OMEN 34c: First impressions and setup
Image 1 of 4
More monitors
- Best computer monitors
- Best ultrawide monitors
- Best 4K monitors
- Depgi 14 Portable Monitor review
- ASUS ROG Swift OLED review
- Redmagic 4K Gaming Monitor review
The OMEN 34c has a commanding presence that looks good on my desk thanks to its sleek design. Getting it set up didn't take long at all. The monitor comes with a diamond shaped VESA mounting bracket included, which is different from the usual square shape but looks nice overall. Instead of attaching it to my own monitor arm mount, I decided to go with assembling the included stand instead.
I was very happy to find that HP has updated its assembly process by making it so that I didn't actually need to use any tools to get the OMEN 34c assembled, not even an Allen wrench. All I had to do was fit the stand into the base and then secure it by twisting the built-in screw on the bottom. After that, I simply pressed a panel into position on the backside of the monitor and then attached the stand and base to the monitor by pressing it into the proper spot on the backside until I heard a click. With that done, it was just a matter of carefully lifting the assembled monitor out of the box, setting it on my desk, and plugging the cables into place. Super easy. If you make a mistake or want to attach the monitor to a mount instead, you can press a button on the stand to release the monitor. Just makes sure that the OMEN 34c is face down on a flat, clean surface before doing this.
The base of the stand is 8.85 inches by 9.25 inches and is designed in such a way that it doesn't get in the way of my keyboard area like past OMEN gaming monitor diamond-shaped bases did. There are also useful clips in the box that attach to the stand in order to help keep cables under control for a tidier look. However, due to where the cable ports are and where the tidying clip attachment area is, this doesn't allow the cables to look quite as tidy as some other stands do.
Something I love is how easily the stand adjusts the height. I simply have to give a little pressure above or below to move it up and down on its track, but it remains in place otherwise. The monitor also tilts forward up to 20 degrees and backward up to 5 degrees allowing me to get it in just the right position for my needs. However, as is common with ultrawide monitors, it doesn't rotate left and right. Sideways twisting wouldn't really be all that helpful with how long the panel is, anyway, as it would just eventually hit the desk.
I made sure to download the proper HP OMEN 34c drivers shortly after getting things physically set up. This proved to be a very straightforward and simple process that didn't take very long.
HP OMEN 34c: Features
As far as ports go, there isn't a lot going on with the OMEN 34c. It offers a somewhat barebones connection area with two HDMI 2.0 ports, a DisplayPort 1.4 connection, and a 3.5mm headphone jack. There are no USB-A or USB-C ports, so you'll have to rely on your laptop or computer tower to connect any PC gaming accessories you might have. Granted, not everyone wants USB ports on their monitor but the complete lack of any on the OMEN 34c is somewhat odd when it's not uncommon for many people to connect a gaming mouse or gaming keyboard there.
This display is not a touchscreen, but that helps keep the price within a reasonable range. Speaking specifically of the screen design, the anti-glare 1500R curvature looks great overall and really envelops my view. However, anything within two inches of the sides starts to get a little darker than the rest of the monitor, which can change the look of some colors.
As is common with curved monitors, you need to make sure that OMEN 34c is angled away from or perpendicular to any bright light sources, otherwise, you'll see some pretty bad reflections. I have the monitor set up perpendicular to my office window, but if I rotate it toward the sunlight then the screen gets harder to see.
This display supports AMD FreeSync Premium, so anyone with a compatible AMD GPU can allow it to upscale graphics and reduce tearing for smoother gaming sessions. But even if you don't have an AMD GPU, HP has ways of boosting your system within the OMEN Gaming Hub.
The OMEN Gaming Hub app allows me to check on my system, adjust monitor settings, launch my games, optimize game performance in the Booster tool, clean my system, apply advanced RGB lighting effects to my compatible devices, and more. It's relatively easy to use as the page is laid out in an intuitive, clean fashion and makes it so my fingers don't have to go fumbling around for the OMEN 34c's back buttons when I want to change brightness or monitor modes.
Unlike some other gaming monitors out there, this one does include integrated speakers. These aren't the best as even my Asus ROG Ally's speakers sound better when playing the same games or music videos on YouTube. But this, unfortunately, isn't unusual. In-game sounds and music sounded distant and somewhat muffled on the OMEN N34c. They're not at all to the level I wanted them to be. You'll want to connect the best computer speakers in order to get the most out of your game audio as is the common practice.
As far as recording yourself for streaming goes, there is no included webcam. So, you'll definitely want to supply one yourself or purchase one of the best webcams for Windows PCs.
HP OMEN 34c: Testing benchmarks
Being a dedicated gaming monitor, the HP OMEN 34c offers eight different modes: Standard, Gaming, Native, HP Enhance+, Cinema, Warm, Cool, and Night. Each one changes brightness, color, and contrast a bit to reflect the desired mood. HP states that the OMEN 34c produces sRGB of 99% and DCI-P3 of 90%. However, I ran a colorimeter test for each mode and only the Native mode was really able to achieve close enough within a margin of error to reach this.
Swipe to scroll horizontally
| Mode | Colorimeter results |
| --- | --- |
| Standard | 94% of sRGB | 70% of AdobeRGB | 70% of P3 |
| Gaming | 99% of sRGB | 80% of AdobeRGB | 85% of P3 |
| Native | 100% of sRGB | 83% of AdobeRGB | 88% of P3 |
| HP Enhance+ | 93% of sRGB | 69% of AdobeRGB | 69% of P3 |
| Warm | 92% of sRGB | 68% of AdobeRGB | 68% of P3 |
| Cool | 92% of sRGB | 69% of AdobeRGB | 68% of P3 |
| Cinema | 93% of sRGB | 69% of AdobeRGB | 68% of P3 |
| Night | 92% of sRGB | 68% of AdobeRGB | 68% of P3 |
Standard mode is on the display by default, and it is much less impressive having only produced 94% of sRGB, 70% of AdobeRGB, and 70% of P3. This was after I calibrated the OMEN 34c and saw a decent color improvement from how the display looked out of the box. Colors are somewhat muted in Standard mode and don't pop nearly as well, so I preferred to press the buttons on the back right side of the OMEN 34c and change to Native mode where colors come through far more vibrantly. Gaming mode is also one that I liked since it is similar to Native but also makes imagery look brighter. If anything, it seems to me that Gaming mode's settings should have been what we saw in Standard mode.
The 34c's contrast ratio is rather impressive allowing darker areas and lighter areas of a scene to stand out. Typically, it's better for higher-end monitors and gaming monitors to reach a contrast ratio between 1000:1 and 3000:1, and the OMEN 34c was easily able to stay on the higher end of this range. This screen also gets decently dark and rather bright to the point that I started getting a headache after keeping it at 100% brightness for a few minutes. I ended up keeping the panel at 25% most of the time and it was plenty bright enough then.
Swipe to scroll horizontally
| Setting | Brightness | Black | Contrast | White Point |
| --- | --- | --- | --- | --- |
| 0% | 69.0 | 0.02 | 2930 :1 | 6500 |
| 25% | 127.6 | 0.05 | 2640 : 1 | 6500 |
| 50% | 186.4 | 0.07 | 2590 : 1 | 6600 |
| 75% | 315.0 | 0.12 | 2620 : 1 | 6700 |
| 100% | 446.3 | 0.14 | 3100 : 1 | 6700 |
In addition to running benchmark tests, I played a handful of games with darker aesthetics including Diablo 4 and Cyberpunk 2077 on the OMEN 34c to gauge how the imagery looked to my eyes. Colors popped nicely in gloomy scenes with a good amount of contrast allowing details within the environments to stand out. The darkest areas in my games came though looking a bit more murky grey on the OMEN 34c rather than true black, but that's expected in a VA panel. Really, only OLED and AMOLED panels can achieve true black, anyway, HP likely chose to go with a VA display since these monitors tend to exchange color accuracy for faster response time, which is what you typically want in gaming.
If you have never played games on an ultrawide monitor before, then let me tell you it is a game-changing experience. I can see so much more of the digital worlds that I am interacting with in each shot. In Diablo 4, this makes it easier for me to see where twisting paths lead off to or allows me to see distant enemies awaiting around a bend in the road. It's really nice and gives me a bit more time to prepare myself before getting to a challenging area.
Thanks to the OMEN 34c's 1440p resolution, everything looks crisp and clear. VA monitors used to be notorious for lag, but the latest models have really improved in this area. I personally never noticed any significant latency issues during my gaming sessions.
HP OMEN 34c: The competition
There are a number of curved gaming monitors that are similar to the HP OMEN 34c. Perhaps the Dell 34 Curved Gaming Monitor – S3422DWG is the WQHD VA gaming monitor that is most closely on par with the OMEN 34c. Like HP's gaming monitor, it offers a 1ms response time and FreeSync support, but with a slightly lower 144Hz refresh rate. However, unlike the OMEN 34c, it also offers five USB-A 3.2 Gen 1 ports to cover your gaming accessory needs.
Though not expressly listed as a gaming monitor, the SAMSUNG CJ79 Series 34-Inch ViewFinity Ultrawide Monitor is definitely capable of operating as an entry-level one. This QLED display offers a 100Hz refresh rate with a 4ms response time and AMD FreeSync support. Not the fastest option out there, but decent enough. Plus, it's got two Thunderbolt 3 ports as well as two Thunderbolt 4 ports so you can connect any compatible devices you want.
Meanwhile, the Samsung 34-inch Odyssey G85SB is a premium gaming monitor and as such it's a bit more costly than the OMEN 34c, it comes in either 34-inches or 49 inches with the option to choose between a refresh rate of either 175Hz or 240Hz with a super-fast 0.03ms response time. That way you'll never have to worry about lag. The gorgeous QLED allows the screen to get plenty bright and show off color to amazing effect. It also has two USB-A 3.0 ports for you to utilize.
HP OMEN 34c: Should you buy it?
You should buy this if ...
You have a compatible AMD graphics card for FreeSync Premium upscaling.
You'd like something with easy assembly and an adjustable stand.
You're a gamer or creative looking for a fast and reliable curved monitor.
You should not buy this if ...
You want a monitor with USB-A or USB-C ports.
You'd like a display with better built-in speakers.
You want a premium gaming monitor that's even faster than this one.
The HP OMEN 34c is on the pricier side of gaming monitors, but the fact that it offers that sweet 1500R curved screen, a 165Hz refresh rate, and a 1ms response time keeps it from being overpriced. Its speed allows it to keep up with your gaming needs while providing great color accuracy and solid contrast (as long as you have the display in Gaming or Native mode).
I would have liked the display more if it had at least one USB-A and a USB-C port. However, that's not the case so you'll need to rely on your laptop or computer tower for connecting your accessories. However, the tool-less assembly, included VESA mounting bracket, and adjustable stand also add a lot of conveniences that all work together to make this a great curved gaming monitor.
HP OMEN 34c Gaming Monitor
Offering a 165Hz refresh rate and 1ms response time this ultrawide curved gaming monitor is a great choice for playing your favorite games. It offers a fantastic contrast ratio, gets plenty bright, and features several different viewing modes. Plus, it's easy to adjust the stand up and down or tilt it forward and backward to get it in just the right position.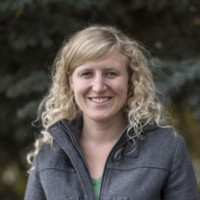 Self-professed gaming geek, Rebecca Spear, is one of Windows Central's gaming editors with a focus on Xbox and PC gaming. When she isn't checking out the latest games on Xbox Game Pass, PC, or Steam Deck; she can be found digital drawing with a Wacom tablet. She's written thousands of game guides, previews, features, and hardware reviews over the last few years. If you need information about anything gaming related, her articles can help you out. She also loves testing game accessories and any new tech on the market.