ASUS' most powerful gaming laptop also features AMD's most powerful laptop CPU, resulting in ultimate gaming performance. You're also getting a tanky design with fantastic thermals, and everything works as you expect it to. It's as close to a desktop PC replacement as a laptop can get, but it's costly, and not everything lives up to that price tag.
Pros
+

Ludicrous performance with the AMD Ryzen 9 7945HX3D and NVIDIA GeForce RTX 4090

+

Soft-sounding fans cap a fantastic thermal system keeping everything cool

+

The mostly plastic build feels very solid

+

No major faults with the hardware features
Cons
-

You're paying a lot for that power

-

I wish there were one or two more USB Type-A ports

-

Design, speakers, webcam, and mic are all just "okay" at this price
Why you can trust Windows Central Our expert reviewers spend hours testing and comparing products and services so you can choose the best for you. Find out more about how we test.
ASUS is no stranger to making impressive gaming hardware, and the ROG Strix SCAR 17 sits among the company's most powerful laptops ever made. But what if I told you there was an even more ridiculous variant of ASUS' aforementioned flagship gaming laptop? Enter the ASUS ROG Strix SCAR 17 X3D (2023), a laptop that is mostly identical to the more widely available non-X3D version but packs one of the most powerful laptop CPUs ever from AMD.
I already went hands-on with the AMD Ryzen 9 7945HX3D when I first got this laptop, but now I'm going in-depth to evaluate the complete product. You're paying a lot to put the ROG Strix Scar 17 X3D on your desk, so is it worth the investment? If the only thing that matters to you is power — absolutely. This laptop trounces basically every gaming laptop Windows Central has ever tested, at least for now. The surrounding laptop outside that ludicrous gaming performance and thermal management is one that mostly just feels okay at this price point, though.
Read on for my full thoughts and analysis of the ASUS ROG Strix SCAR 17 X3D (2023).
Disclaimer: This review was made possible by a review unit provided by ASUS and AMD. The companies did not see the contents of the review before publishing.
ROG Strix SCAR 17 X3D: Pricing and specifications
Pricing & specifications highlights
The ASUS ROG Strix SCAR 17 X3D starts — and ends — at $3,699.99.
That's because there's exactly one configuration of this ultra-powerful gaming laptop.
While my review model only had 1TB of SSD storage, the release model actually features 2TB.
Value rating: 4/5
Reviewed configuration
Price: $3,699.99
Display: 17.3-inch IPS LCD, QHD (2560 x 1440), 240Hz refresh rate, 3ms response time, non-touch, 300nits, NVIDIA G-SYNC, Dolby Vision HDR compatibility
CPU: AMD Ryzen 9 7945HX3D
GPU: NVIDIA GeForce RTX 4090
RAM: 32GB DDR5, 4,800MHz, up to 64GB
Storage: 1TB NVMe PCIe Gen 4x4 SSD, PCIe Gen 4 M.2 SSD slots (2x)
Battery: 90WHr, 330W charger
Size: 395 x 282.1 x 23.4-28.3mm (15.6 x 11.1 x 0.9-1.1in)
Weight: 2.8kg (6.1lbs)
There's nothing value-driven about the ASUS ROG Strix SCAR 17 X3D. This is a flagship laptop for a flagship price, requiring buyers to drop nearly $4,000 for the privilege of owning it. Of course, you're also getting one of the most powerful gaming laptops on the market, which does a fair job of justifying that high price tag. Unfortunately, you also don't get much choice in the matter, as there's only one configuration for this laptop.
With it, you're getting AMD's highest-end laptop CPU, the Ryzen 9 7945HX3D, paired with the NVIDIA GeForce RTX 4090. That's already a potent combination, seeing as this is the strongest CPU and GPU stuffed into one laptop chassis. The duo is supported by 32GB of DDR5 RAM, although you can upgrade it yourself to 64GB of DDR5 RAM. Those speeds will be limited to 4,800MHz, or you can enjoy a more modest upgrade to 32GB of DDR5 RAM at up to 5,200MHz. You also get a 2TB NVMe PCIe Gen 4x4 SSD, and there are two M.2 slots that can be upgraded by the user.
Elsewhere, there's a 17.3-inch, QHD 240Hz display, completing the chunky, heavy, plastic-clad package that is the ROG Strix SCAR 17 X3D. There's nothing too special or premium about this chassis, but it is well-built and provides ample room to keep those ridiculously powerful components cool. $3,700 may seem exorbitant, and it'd be understandable to believe that if you value fit and finish. However, the Ryzen 9 7945HX3D is, at least for now, exclusive to this laptop, and it goes toe-to-toe — and often outperforms — Intel's most powerful 13th Gen Core i9 CPU. Laptops equipped with that CPU are often a similar price or even more expensive than this one, as is the case with the Razer Blade 18. Compared to that, the ROG Strix SCAR 17 X3D doesn't seem like a bad deal.
As for availability, this laptop isn't going to be up for sale until the beginning of October, according to ASUS. Alternatively, you can also consider the non-X3D ASUS ROG Strix SCAR 17, which is available now. That laptop maxes out at $3,499.99 — $200 less than this one. For that price, you're getting essentially the exact same laptop, but with the regular AMD Ryzen 9 7945HX. It's still an impressive performer, but at this price point, most people may just opt to pay a little more for the X3D variant.
My recommended configuration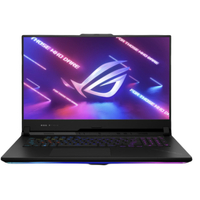 Ryzen 9 7945HX3D | RTX 4090 | 32GB RAM | 2TB SSD
The most powerful gaming laptop in ASUS' lineup also happens to be among the most performant laptops you can buy, period. It's also expensive, but it'll be worth it to many people just to obtain the framerates and graphical fidelity possible with such a machine. At least you only have to choose from one configuration.
Also see: ASUS ROG Strix SCAR 17 (2023)
ROG Strix SCAR 17 X3D: Build quality and design
Build quality & design highlights
The ROG Strix SCAR 17 X3D is large, thick, heavy, and built mostly of plastic... but it's built well.
You get a surprisingly large touchpad, decently thin bezels, and a solid amount of RGB lighting on the keyboard and around the bottom edge.
For such a large and powerful laptop, port selection feels a little limited.
Design rating: 3.5/5
Design overview
Materials: Aluminum lid, high-quality plastic chassis
Design features: esports-focused design, back-lit ROG logo, Aura Sync RGB lit keyboard and underglow
Dimensions: 395 x 282.1 x 23.4-28.3mm (15.6 x 11.1 x 0.9-1.1in)
Weight: 2.8kg (6.1lbs)
Ports: USB Type-C 3.2 Gen 2 w/ DisplayPort 1.4 & 100W Power Delivery (1x), USB Type-C 3.2 Gen 2 w/ Display Port 1.4 (1x), HDMI 2.1 (1x), Ethernet (1x), USB Type-A 3.2 Gen 2 (2x), 3.5mm audio jack (1x)
It's not a given to find attractive or premium designs among high-end gaming laptops, and that's not really the case here. The ASUS ROG Strix SCAR 17 X3D is a fairly typical gaming laptop in this regard, prioritizing the space necessary for great performance and thermals over a compact and slim chassis. You're also getting the infamous "gamer aesthetic" here, but it's at least toned down to a simple slash across the lid, a backlit ROG logo, and a wraparound RGB underglow.
To put it simply, this machine isn't even in the same league as the Alienware x16 R1, but that laptop manages to be almost as expensive in its most similar configuration while packing considerably less power and worse thermal management. Where the Alienware is refined, elegant, and premium, the ROG Strix SCAR 17 X3D is thick (23.4-28.3mm), heavy (2.8kg), and all-around unapologetically chunky. It's also primarily constructed out of plastic, with the only "premium" material being the aluminum used for the lid.
I will say, though, that this laptop is built very well. It's a tank, and it feels like it. There's very little flex in the keyboard deck and no concerning creaks; everything is tightly pieced together, and you just get this feeling that the ROG Strix SCAR 17 X3D could survive the toils of constant esports traveling with ease. The only flex I could find is a gently worrying amount of give on the bottom of the display in the center, but it's not anything 99% of people would ever notice. The design may not be anything special, but ASUS at least knows how to put a laptop together.
A brief note on the laptop's few unique design features: the ROG logo on the lid is backlit, presumably just using the IPS LCD display backlight, which is a subtle touch that helps your laptop stand out. Even better at that particular job is the Aura Sync-compatible RGB under-glow light, which wraps around the entire front bottom edge of the laptop. The translucent plastic lip doesn't look the best when viewed straight on, but I admit the effect is quite lovely when you're actually using the laptop and just see the lighting reflected on whatever surface you're using. The keyboard RGB lighting is also per-key with multiple brightness levels, and it's pretty good. No, it's nowhere near the refinement of the RGB lighting on Alienware or Razer laptops, but that doesn't mean it's bad by any means.
Finally, ports. This is a beefy, high-end gaming laptop meant to replace desktop rigs, so it must have a lot of ports, right? Well... it's okay. On the rear of the device (the best place for ports on a gaming laptop), you get the barrel plug for 330W charging, two USB Type-C 3.2 Gen 2 ports (one with 100W Power Delivery), a DisplayPort, an HDMI port, and an Ethernet jack. That's a solid start, but the sides disappoint a tad.
On the left side, you get two USB Type-A 3.2 Gen 2 ports and a 3.5mm audio jack. That's it. I really wish there was another USB Type-A port or two on this laptop, maybe with one on the right side, but there's not. It'd be easier to look past this, but — being an AMD-powered laptop — there's typically no Thunderbolt support here. That means there's no hooking up a powerful Thunderbolt 4 dock to get all the ports you need, although these Type-C ports do still support a number of USB dongles if you need them. Still, only two Type-A ports (and four USB ports total) with no Thunderbolt support is just too limiting and reduces the viability of this laptop as a true desktop replacement for those who want it.
ROG Strix SCAR 17 X3D: Display
Display highlights
Roomy display with a crisp resolution and appropriately high refresh rate
Max brightness and contrast ratio are average, but the display still looks quite nice
NVIDIA G-Sync is great to have, but Dolby Vision support is very limited and not a standout feature
Display rating: 4/5
Display overview
Display type: 17.3-inch IPS LCD w/ 16:9 aspect ratio
Display specs: QHD (2560 x 1440), 240Hz refresh rate, 100% of DCI-P3 color gamut, 3ms response time, 300nits max brightness, 1000:1 contrast ratio
Display features: NVIDIA G-Sync compatible, Dolby Vision HDR compatible, panel overdrive, MUX switch with NVIDIA Advanced Optimus support
The ROG Strix SCAR 17 X3D is unapologetically large, and that also applies to its display. ASUS elected to stick with a traditional 17-inch 16:9 display rather than the more modern 16:10 16-18" displays we're seeing from other manufacturers. This is fine for gaming, but the display does still manage to feel a little cramped when used for work — even when compared to the technically smaller Alienware x16 R1 — thanks to the shorter screen, leaving less room for web pages, documents, and beyond.
With exactly one configuration option, you're understandably looking at just one display. The ROG Strix SCAR 17 X3D features a QHD 1440p display with a speedy 3ms response time. That's pretty standard for a gaming laptop, but this flagship laptop joins others in the category with a very responsive 240Hz refresh rate. You're also getting NVIDIA G-Sync support to make full use of that refresh rate without screen tearing, plus Dolby Vision HDR support — although that's limited to supported Microsoft Store apps and isn't great anyway, thanks to the average 300nits max brightness here.
Swipe to scroll horizontally
| Setting | Brightness | Black | Contrast | White point |
| --- | --- | --- | --- | --- |
| 0% | 18.7 | 0.01 | 1,360:1 | 5,700 (0.328, 0.325) |
| 25% | 66.6 | 0.06 | 1,210:1 | 5,800 (0.327, 0.325) |
| 50% | 149.8 | 0.12 | 1,210:1 | 5,900 (0.324, 0.325) |
| 75% | 254 | 0.22 | 1,150:1 | 6,000 (0.322, 0.325) |
| 100% | 356.7 | 0.30 | 1,180:1 | 6,100 (0.320, 0.325) |
Visually, this display is pleasant to look at but isn't particularly special. It's pretty color-accurate (100% of the sRGB gamut and 97% of the DCI-P3 gamut). For an IPS LCD panel, contrast is just average, but the screen still looks vivid, and there's no glaring or sharp backlight bleeding to further deteriorate the contrast (there is soft backlight bleeding in two places, but it's only noticeable on pure black screens). Overall, it's a solid display that looks great whether you're working, consuming media, or playing games.
Its only major weakness is brightness, which caps out at just over 300 nits and, while bright enough for regular indoor use, will struggle in bright environments or with any HDR content. This display tends to lean more toward the warm side of the color spectrum, but it does slowly become cooler as the brightness increases. You can see this with an all-white screen if you're really paying attention, but it's not very noticeable and will really only matter to creatives that need a consistent panel.
When gaming, I never once noticed any ghosting. It was always smooth and responsive, keeping up beautifully with Valorant at 240 FPS. NVIDIA G-Sync support will help with variable refresh rates and prevent screen tearing. A built-in MUX switch will also make it easy to seamlessly switch between the integrated AMD Radeon graphics and the dedicated NVIDIA RTX 4090, depending on your task. NVIDIA Advanced Optimus means the ROG Strix SCAR 17 X3D can switch automatically, helping with efficiency and ensuring the right GPU is being used to push whatever you currently have on the display.
I was pretty happy with the display on the ROG Strix SCAR 17 X3D, but it's undeniable that other manufacturers in this premium price range are innovating with new screen technology and more impressive panels. There's no OLED or miniLED here, and while I enjoyed looking at and using this display more than the one on the Alienware x16 R1, I still couldn't help but wish for more. Of course, you can always hook up one of the best gaming monitors instead.
ROG Strix SCAR 17 X3D: Performance and thermals
Performance & thermals highlights
Ridiculous levels of power between the AMD Ryzen 9 7945HX3D and NVIDIA GeForce RTX 4090.
Fantastic thermal performance with soft-sounding fans gives plenty of overhead for overclocking.
SSD write speeds are a little low compared to the competition, but SSD speeds and overall performance are still fantastic.
Performance rating: 5/5
Performance overview
CPU: AMD Ryzen 9 7945HX3D (55W TDP, 5.4GHz boost, 16 cores/32 threads)
GPU: NVIDIA GeForce RTX 4090 (16GB VRAM, MUX switch + Advanced Optimus)
RAM: 32GB DDR5 @ 4,800MHz
Storage: 2TB NVMe PCIe Gen 4x4 SSD
Thermals: Conductonaut Extreme Liquid Metal on GPU, vapor chamber, four copper-finned heatsinks, 84-blade Arc Flow Fans with Anti-Dust Tunnels 2.0
Upgradeability: 2x SODIMM slots (up to 64GB DDR5 @ 4,800MHz), 2x M.2 PCIe 4.0 SSD slots
This was probably already obvious to you from the onset, but the ASUS ROG Strix SCAR 17 X3D (2023) is almost entirely focused on one element of the gaming laptop experience: performance. To achieve this level of consistent performance, it pairs the absolute best hardware from AMD and NVIDIA with solid RAM, SSD storage, and a thick chassis packed with the best thermal management system ASUS could muster. The result is one of the most powerful gaming laptops money can buy, full stop.
The headlining feature is, of course, the AMD Ryzen 9 7945HX3D, the most powerful mobile CPU AMD has ever designed and one of the most powerful processors you can find in a laptop in general. For the most part, this CPU mirrors the more affordable Ryzen 9 7945HX in that it has the same 55W base TDP, 2.3GHz base clock speed (with a 5.4GHz boost), 16 cores with 32 threads, and 5nm design built on AMD's Zen 4 architecture. Where it differs is the inclusion of significantly more CPU memory, thanks to AMD's exclusive 3D V-Cache technology. More CPU memory, or cache, means greater speeds and efficiency without making the CPU physically larger.
The result is incredible CPU performance, and the inclusion of NVIDIA's flagship GeForce RTX 4090 graphics card means the ROG Strix SCAR 17 X3D makes very short work of any task you throw at it. Of course, it especially dominates in gaming, but more on that later.
Image 1 of 5
In Cinebench R23, a render-heavy benchmark, the ROG Strix SCAR 17 X3D trounced every pre-built PC Windows Central has ever tested in multi-core performance, including desktops and any laptops with Intel's current mobile champion, the Core i9-13950HX. The single-core performance is no laughing matter, either, keeping ASUS' flagship machine close to the top of the charts. Geekbench 6 is a similar affair, with only the Razer Blade 18 just pulling ahead in multi-core performance. In single-core performance, though, the SCAR 17 X3D once again bested every PC Windows Central has tested.
With PCMark 10's Modern Office benchmark suite (which simulates an average workload with Microsoft Office use, web browsing, video conferencing, and more), the SCAR 17 X3D once again topped the charts, being the only pre-build PC on the list that broke the 9,000 barrier. The only CPU-heavy benchmark in which the ROG Strix SCAR 17 X3D fell behind the competition is in CrossMark, where it still stayed near the top but was bested by a handful of other laptops and desktops (all with Intel CPUs).
Benchmarks only tell part of the story, though. We all knew this laptop would be a performance monster when it was announced, but how does it run in day-to-day use? Flawlessly. General performance is excellent, with apps opening quickly and consistently every single time. My only complaint is that the SCAR 17 X3D can be a little slow to wake up from sleep sometimes, but I may just be spoiled by Intel Evo-certified laptops, and how good Intel CPUs are at getting the ball rolling quickly. No matter what I did on this laptop or how much I had open, though, it never slowed down.
A short note on SSD performance: the ASUS ROG Strix SCAR 17 X3D has a PCIe Gen 4x4 SSD, and it delivers stunningly fast read speeds (7,408MB/s) that compare to the very best Windows Central has seen. However, the write speeds (3,162MB/s) just aren't as high as they should be, comparatively. You can see in the benchmark above that the SCAR 17 X3D stands out in a big way because its SSD read speeds are so much higher than write speeds, while other PCs with similar read speeds usually have write speeds in the 5-6,500MB/s range. The Alienware x16 R1, for example, has read and write speeds of 7,097 and 6,459MB/s, respectively.
I tested the SCAR 17 X3D multiple times in every performance mode and with every possible app and background process closed, but the result was always the same. That is not to say the write speeds are bad. They're not. This laptop is still incredibly fast, write speeds included — it's just worth highlighting the little bit of strangeness here. It's also possible that the 2TB SSD that will actually ship in the laptop (my review configuration is 1TB) won't exhibit this behavior, but I unfortunately can't test that SSD.
ROG Strix SCAR 17 X3D: Gaming performance
Gaming performance highlights
Excellent gaming performance in every game I tested.
Thermals are awesome, even with the Turbo performance mode or overclocking.
Fans can get quite loud, but it's a softer noise that isn't too obnoxious.
As you might expect, class-leading performance and thermal management also translate to a fantastic gaming experience. The ASUS ROG Strix SCAR 17 X3D makes full use of its hardware to crank the dials all the way up to 11 in any of the best PC games I could throw at it. There are plenty of options to get the exact experience you want, with ASUS' Armoury Crate program giving you several performance modes for both the CPU and GPU, as well as overclocking options for the duo. Below, you can find benchmarks and my experience with multiple games.
In 3DMark's Time Spy benchmark, the SCAR 17 X3D wasn't quite able to reach the heights of the Razer Blade 18 or a couple of full-sized desktops, but it still performed very well. That gap between ASUS' AMD monster and the Intel-powered Razer Blade 18 seems to vanish when it comes to games, though, as the ROG Strix SCAR 17 X3D pulls ahead when it comes to actual gaming performance. Below, you'll find some framerate averages from several games, all done with the SCAR 17 X3D set to QHD resolution at 240Hz and in the default Performance mode. If v-sync was an option, it was turned on.
Forza Horizon 5: 138 FPS average on Extreme preset, QHD 1440p resolution, ray tracing set to high, no DLSS

143 FPS average with above settings and DLSS turned on

Cyberpunk 2077: 129 FPS average on Ray Tracing: Ultra preset, QHD 1440p resolution, DLSS on, no DLSS Frame Generation, Update 1.6

86 FPS average with above settings and Cyberpunk 2077 2.0

Starfield: 62-82 FPS on Ultra preset, QHD 1440p resolution, dynamic resolution scaling turned on
Valorant: Locked to 240 FPS, brief miniscule drops to 237-239 FPS, all settings maxed, QHD 1440p resolution, NVIDIA G-Sync turned on
Counter-Strike 2: 160-200 FPS average on Very High preset, QHD 1440p resolution, no variable refresh rate, NVIDIA Reflex Low Latency turned on
I also ran this laptop through its paces in a variety of other ways. Turning Turbo mode on squeezed 7 more frames-per-second (up to 150 FPS) on average out of Forza Horizon 5 with the above settings. Turning every setting to the max, including ray tracing, still netted a 135 FPS average in Xbox's flagship open-world racing game in Turbo mode.
In Cyberpunk 2077 (before the 2.0 update), I was able to get a 56 FPS average on the Ray Tracing: Overdrive preset with DLSS turned on and no frame generation. Starfield is a bit of a wild card, as framerates can vary wildly depending on how hard you're pushing the physics. In my time playing Bethesda's latest sci-fi RPG, though, the game ran buttery smooth on the SCAR 17 X3D.
Bonus! I spun up the brand-new Forza Motorsport on this laptop and played a couple of races. At QHD 1440p, with every single visual setting set to the highest quality (but resolution scale and anisotropic filtering set to "auto"), ray tracing turned on all the way, and v-sync enabled, I saw an average of 70 FPS. The game looked beautiful and played great, but performance was definitely less consistent than on Xbox Series X, which may be due to the game's various PC-related issues at launch.
Gaming performance will take a huge hit if you're running the ROG Strix SCAR 17 X3D on battery power, especially as the laptop, by default, avoids using the NVIDIA GPU as much as possible when away from the charger. The integrated AMD Radeon graphics aren't terrible, and the laptop still performs very well off the charger, but it's probably best to wait to game until you're plugged in. Or, you can force the NVIDIA GPU into the "Ultimate" performance mode that keeps it on at all times, in which case, expect to kill the SCAR 17 X3D incredibly fast when you're off the charger.
In general, you don't have to worry in the slightest about being able to play all the latest and greatest games with the ASUS ROG Strix SCAR 17 X3D. This is a beast of a gaming laptop, with more than enough firepower to do it all. I never once encountered severe thermal throttling during my time with the laptop, either, once again highlighting the impressive thermal management system ASUS has here.
ROG Strix SCAR 17 X3D: Battery life
Battery life highlights
Despite a beefy 90WHr battery, endurance is just not great, even with reduced power and features.
A 330W barrel charger keeps everything topped off even during intensive use.
Performance takes a hit (especially on the GPU side) on battery power, but the laptop still runs well.
Battery rating: 3/5
AMD may have made bold claims about improved efficiency with the Ryzen 9 7945HX3D CPU, but it hasn't translated to better battery life for the ROG Strix SCAR 17 X3D. This laptop is a tank, and it has the battery to match, but it simply doesn't last as long as I thought it would, given various options to improve endurance. The 90WHr battery here does better than the one in the Alienware x16 R1, but only just.
The above PCMark 10 battery test runs the Modern Office benchmark, noted in the performance section above, on repeat until the laptop dies. The ASUS ROG Strix SCAR 17 X3D (2023) managed just 2 hours and 24 minutes before biting the dust, and this was on the default settings that most users will have. That means 50% brightness (approximately 150 nits), the Balanced / Silent power profile (which limits NVIDIA GPU usage as much as possible), the RGB lighting enabled, and the default 240Hz refresh rate enabled. The PCMark 10 benchmark score was still a respectable 7,400, which is comparable to an H-series 12th Gen Intel Core i9 or i7.
I ran the exact benchmark again, but this time, I did everything I could think of to squeeze out more life. I lowered the brightness to 35%, set the power profile to Power Efficiency / Silent, disabled the NVIDIA GPU entirely, turned off the RGB lighting, and restricted the display refresh rate to 60Hz. I expected at least another two hours of life with these settings, but instead, the SCAR 17 X3D clocked out after just 3 hours and 22 minutes. That's... surprising. And not great. Performance also takes a decent hit, with the benchmark score falling to 6,100, closer to a U-series 12th Gen Core i7.
Generating a Windows Battery Report following a few weeks of solid usage returned an estimated longevity of 2 hours and 49 minutes, falling in between the two PCMark 10 scores above. The moral of the story — this hulking chunk of plastic has the power to compete with desktop PCs... so it doesn't last long when it's away from the desk.
ROG Strix SCAR 17 X3D: Keyboard and touchpad
Keyboard & touchpad highlights
The keyboard is solid, with good travel, responsive action, and per-key RGB lighting.
Programmable macro keys are nice to have, but they have icons on them for their default functions (one of which already exists in the function row).
The touchpad is nice and large, with a soft-touch finish and a satisfying, tactile click.
Other hardware rating: 4/5
Keyboard deck overview
Keyboard: Standard laptop keyboard with 2.0mm of travel, 5x programmable macro keys, compact arrow keys, compact tenkey number pad, per-key Aura Sync RGB lighting
Touchpad: Large, glass Microsoft Precision touchpad with soft-touch finish and reliable, clicky buttons
ASUS has equipped the ROG Strix SCAR 17 X3D with a keyboard well-equipped to take on all the rigor of intensive gaming, as well as a surprisingly roomy touchpad that's more than sufficient for regular usage when you're away from your mouse. There's no unique mechanical keyboard here, but you do get 2.0mm of travel and a consistent, responsive action that's great for both gaming and typing.
There's a decent amount of space between the keys, but I did feel like the physical keycaps were a little on the small side. That's probably due to the inclusion of a compact ten-key number pad off to the side, which will be a must-have for some users but a forgettable nuisance to others. I prefer a number pad with my desktop, but I usually don't miss it on laptops. Still, it's nice to have and makes this a great laptop for strategy games and MMOs.
What I don't love is the fact that the arrow keys are also compacted to half-size. At least ASUS brought the arrow keys down so they're not cramped by surrounding buttons, but I'm a firm believer that all gaming laptops should have full-sized arrow keys. WASD may be the default for most game movement controls, but plenty of games also rely on the arrow keys. This is overall a minor complaint, though — ASUS made a pretty good keyboard here.
You don't get dedicated media controls like on the Alienware x16 R1, but you do get five programmable macro keys at the top. These are great to have, except they're labeled with their default functions. Volume down and volume up are two, and they're not present in the regular function row. So is the button to change between performance modes, but that is in the regular function row, so you get two of those buttons. It's a strange layout and will quickly become confusing should you choose to reprogram these macro keys. Also, I can't see myself ever willingly reprogramming the only two physical buttons on the laptop for changing the volume.
You don't get the option to assign these macro keys to specific system actions, either, although you do get a decent amount of control. You're able to record up to 100 keystrokes and mouse clicks for each custom macro function if you really need it.
There are no such negatives or complaints about the touchpad. It's surprisingly large for a gaming laptop, has a lovely soft-touch finish on its glass surface, utilizes Microsoft Precision drivers, and has a reliable, tactile click to its buttons with no rattle or give. Honestly, it'd be a fantastic touchpad on any laptop, short of being a haptic touchpad. Still, you're better off using one of the best gaming mice for playing any video games and leaving the touchpad for when the mouse isn't nearby.