While it doesn't have the classiest-looking chassis in the world, the Acer Swift X 16 does provide solid performance thanks to its processor and RTX graphics card. Creatives and gaming enthusiasts will appreciate the gorgeous OLED display, which can help show off their projects or games to stunning effect while providing a 120Hz refresh rate and a super fast 0.2ms response time. This laptop is not a powerhouse but a well-rounded device that can reliably handle various tasks.
Pros
+

Beautiful OLED display

+

Great CPU performance

+

Solid NVIDIA RTX GPU options
Cons
-

Short battery life

-

Charging triggers a horrible beep when plugged in

-

No DisplayPort for external monitors

-

Somewhat bulky design
Why you can trust Windows Central Our expert reviewers spend hours testing and comparing products and services so you can choose the best for you. Find out more about how we test.
If you're like me, your laptop isn't just something you use for work; it's also where you express yourself via creative projects or wind down after a tough day by playing some video games. But in order to do all of that, you need a laptop that's just as well-rounded as you are. Thankfully, that's where impressive options like the Acer Swift X 16 (SFX16-61G) can shine.
With its powerful CPU and combination of a discrete and integrated graphics card, the Acer Swift X 16 offers solid day-to-day performance and can be utilized by creatives. It solidly handles Adobe Creative Cloud software, 3D rendering programs, video editing, and other graphically demanding tasks. However, while versatile, it isn't the foremost powerhouse in any specific area.
Disclaimer: This review was made possible thanks to a review unit provided by Acer. The company did not see the contents of this review before publishing.
Acer Swift X 16: Price and specs
Pricing & specifications highlights
Choose between two configurations rather than customizing components.
The RTX 3050 L version is $1,249.99, while the RTX 4050 L is $1,599.99.
Both versions are powerful, well-priced, and offer great value for money.
Value rating: 4.5/5
Acer Swift X 16
Price: $1,249.99 or $1,599.99 (reviewed at)
CPU: R7 7840HS or R9 7940HS (reviewed) w/ AMD Radeon 780M Graphics
GPU: RTX 3050 L or RTX 4050 L (reviewed)
RAM: 16GB LPDDR5
Storage: 1TB PCle Gen 4 SSD
Display: 16-inch 16:10 OLED
Battery: 6 hrs 10 mins
Size: 14.02 (W) x 9.81 (D) x 0.85-1.06 (H) inches
Weight: 4.25 pounds (1.92 kg)
Acer laptops are generally known for their quality design and fair pricing. They aren't necessarily the top of the line, but they tend to be very reliable purchases overall. The same can be said for the Swift X 16.
There are two configurations available. The first sells for $1,249.99 and utilizes an AMD Ryzen 7 7840HS processor paired with an NVIDIA GeForce RTX 3050 L GPU. The second is more costly at $1,599.99 and features a Ryzen 9 7940HS with an RTX 4050 L GPU. They're both well-priced and will serve well while performing a range of tasks.
The latest versions of these laptops are available on the Acer website and Best Buy. Acer ships to several countries worldwide with distribution warehouses in multiple locations to help with availability and delivery speed.
Acer Swift X 16 Recommended Configuration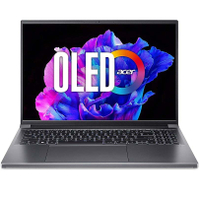 R7 7840HS | RTX 3050 | 16GB RAM | 1TB SSD
The RTX 4050 configuration is even more powerful, but the RTX 3050 costs less while still allowing this laptop to handle 3D rendering, video editing, and other creative programs. This configuration will serve you well unless you need the absolute best in graphics card performance.
Acer Swift X 16: Design and build
Build quality & design highlights
The thick chassis feels durable but somewhat bulky and heavy.
Good port selection for accessories but no DisplayPort for monitors.
A thin bezel around the display gives an elegant look to the laptop.
Design rating: 4/5
Overall, the Acer Swift X 16 is good-looking with a heftier build than many other laptops, thanks to its thick chassis. Of course, that doesn't mean you should go toting it around without protection, but it should hopefully withstand a bit more pressure or accidental bumps than some of its competitors.
Image 1 of 2
Regarding connectivity, the Swift X 16 features two USB-C ports, two USB-A 3.0, HDMI 2.1, and a microSD card slot. With this many varied connections, I could easily plug my smartphone in to charge, connect the laptop to a HDMI-compatible monitor, and open files from my microSD card. It really is an ideal setup for anyone who regularly needs to use PC accessories for work, school, or hobbies.
Plus, if you're working with some moderately demanding graphics programs, the modern HDMI 2.1 port supports higher resolutions, up to 8K, with fast refresh rates of up to 120Hz, which is great if you can harness it.
Considering all its other connections, the lack of a DisplayPort on the Swift X 16 is odd. So, if an HDMI port isn't enough for your video-out needs, this might be a significant problem.
Acer Swift X 16: Display
Display highlights
OLED display offers true black with broad color gamuts and contrast.
120Hz with 0.2ms response can appeal to gamers and some creators.
However, this is not a touchscreen display.
Display rating: 5/5
The moment I opened the Swift X 16 and looked at the vibrant default background shown on the OLED display, I was stunned by how the purple hues of the foreground popped against the black backdrop. I'm a huge fan of OLED displays since they produce much better color accuracy and contrast than other display types currently on the market.
For this reason, OLEDs like the Swift X 16's display are ideal for creative projects and gaming. As such, I love viewing my Photoshop digital drawings or playing the grittiest games in my library on this laptop since even the darkest scenes are shown off with excellent contrast and detail for optimal viewing.
Acer states that this OLED display offers "100% DCI-P3 color coverage," and I was more than able to believe it after spending just a few minutes with it. So when I finally ran a color gamut test using a colorimeter, it wasn't surprising to find that the OLED display produced an impressive 100% sRGB, 98% AdobeRGB, and 100% P3 accuracy for color gamuts.
Swipe to scroll horizontally
| Setting | Brightness | Black | Contrast | White Point |
| --- | --- | --- | --- | --- |
| 0% | 4.8 | 0.00 | 0 : 1 | 6700 (0.310, 0.323) |
| 25% | 28.6 | 0.00 | 0 : 1 | 6600 (0.312, 0.321) |
| 50% | 92.1 | 0.00 | 0 : 1 | 6700 (0.310, 0.322) |
| 75% | 204.9 | 0.00 | 0 : 1 | 6800 (0.309, 0.321) |
| 100% | 399.5 | 0.00 | 0 : 1 | 6800 (0.308, 0.322) |
Later, I used the same colorimeter to run a brightness and contrast test, and the results were also excellent. The Acer Swift X 16 OLED is True Black 500 certified, meaning that the pixels actually turn off when they're supposed to show black rather than producing a dark grey color. This results in better contrast and the ability to see more details in even extra-dim scenes. The 16-inch OLED display offers 500 nits peak brightness, which is plenty bright for more well-lit rooms, but it also dims a reasonable amount so you can use it in softer-light scenarios.
This OLED also offers a 120Hz refresh rate with less than a 0.2ms response time, which also makes it capable of keeping up with rendering programs, video games, or other software that benefits from displaying the latest colors and signals sent from the system. The only thing the OLED display might lack is a touch capacitive screen for easier navigation. But the lack of a touchscreen is by no means a deal breaker unless that's something you specifically want.
Acer Swift X 16: Performance and gaming
Image 1 of 4
Performance & gaming highlights
It's neither the best performer nor the worst within its price range.
Integrated Radeon 780M and dedicated GeForce RTX 4050 L GPUs.
The RTX 4050 L handles moderate rendering tasks or casual gaming.
Performance rating: 4/5
To get a feel for the Swift X 16's performance, I used the laptop as my primary device for a couple of weeks. During that time, I utilized it to attend virtual work meetings, write up assignments, work on Photoshop projects, and run various programs. Outside of work, I also used it to browse the Internet, watch videos, and play some video games. During all of these activities, the laptop performed well, or at least as well as I would have expected it to.
As the name implies, the RTX 4050 laptop graphics card can handle ray-tracing and some more moderate graphics tasks. However, it has limits and won't be the fastest option for the most demanding software. That being said, it's great for basic-to-average photo editing, specific rendering software, and some steady gaming. After using it in my daily routine, I ran benchmark tests to see how it stacked up to other devices on the market.
Image 1 of 3
More laptops
- Best Windows laptops
- Laptop review and buying guides
- Lenovo Yoga Book 9i preorders
- Dell XPS 17 (9730) review
- Lenovo ThinkPad X13s review
PCMark 10 tests the processor by running modern office tasks, and the Swift X 16's AMD Ryzen 9 7940HS earned a score of 7,569. This places it slightly higher than the Lenovo Legion 5i Pro (Gen 7) but below the MSI GE76 Raider gaming laptops. It's not anything extraordinary, but it's not a bad place to be, either. It also earned a respectable Geekbench 5 single-core score of 1,894 and a multi-core score of 11,736 — nothing to sneeze at.
As for graphics, the combined work of the RTX 4050 L and the integrated AMD Radeon 780M Graphics allowed the laptop to perform more graphically demanding tasks at a level that I expected. It isn't the fastest or most powerful laptop you'll see, but it does work consistently without any significant complications.
I ran a few Cyberpunk 2077 benchmarks on the Swift X 16, changing the settings each time to see how well the laptop performed. Visually, the game looked excellent thanks to the previously mentioned OLED display, great fresh rate, and quick response time. However, the laptop averaged around 35 to 37 FPS in each testing case. It's decent for a non-gaming system, but not the 60 FPS or higher that is considered ideal. Still, this is a great fit if you're looking for an all-rounder laptop rather than for gaming or intensive creative tasks.
Acer Swift X 16: Battery life
Battery highlights
Battery provides around 6 hours for modern office tasks with 50% brightness.
Uses a 135W barrel AC adapter rather than strictly USB-C and makes a horrible beep when connected.
Thankfully, the USB-C ports can also be used to charge the laptop.
Battery rating: 2.5/5
Perhaps the most disappointing part of the Acer Swift X 16 is its battery life. These days, you expect most of the best laptops to last around 10 hours on one charge when performing modern office tasks like surfing the web, running simple programs, and attending video meetings. However, the Swift X 16 could only run for roughly six hours and ten minutes while performing these same tasks with the display set to 50% brightness.
This isn't exactly conducive to scenarios where you might be on the move regularly, like when traveling for work or between classes in school. It's also good to remember that the battery drains faster when more demanding programs involve 3D rendering programs or graphically intensive video games. So, depending on what you're working on, the Swift X 16 might not last long at all.
There were two additional things regarding the Swift X 16's battery and power that I found off-putting. For one thing, many laptops today come with a charging adapter with a USB-C connection. However, the Swift X 16 uses an old-fashioned 135W barrel plug instead.
The use of such an old connection is odd to begin with, but I really hate that whenever I connect the AC adapter, a grating digital beep emanates from the laptop unless the sound is deactivated. It's very unpleasant to hear, and I've resorted to keeping the laptop's volume off for the most part to save my ears from the awful noise.
Despite this barrel plug connection, I was pleased to see that the laptop's USB-C ports can also be used to charge the laptop up as long as the cable has power delivery and provides the correct wattage. The loud beeping doesn't occur when the laptop is charged this way, so it's a better way to go.
Acer Swift X 16: Keyboard and touchpad
Keyboard and touchpad highlights
There are plenty of useful shortcuts for the function button.
The large touchpad makes navigation extra convenient.
Keyboard and touchpad rating: 4.5/5
I love the feel of the Swift X 16's keyboard and touchpad. The keys are all spaced in a way that I don't have any issues reaching the ones I'm after. Plus, they feel good to press down on with just the right amount of resistance and spring back. When working in the evenings or in somewhat darker areas, the keyboard's soft backlighting helps me keep typing without being distracting.
The laptop's power button is located on the far top right side of the keyboard, and unlike some other laptops I've tested, it's unlikely I'll accidentally press it. As with most laptops, the Swift X 16 has several function buttons along the top to make common controls easier, such as muting the mic, adjusting volume, changing screen brightness, opening the display settings menu, turning on Airplane mode, bringing up the Snipping Tool, turning off the touchpad, and more. They reduce the number of times I actually have to dive into settings so I can keep going about my business with ease.

Speaking of the touchpad, the relatively large size allows me to easily navigate around the screen without unnecessarily swiping too many times. Of course, if a touchpad doesn't provide the precise navigation you need, you can always connect an external mouse and take control that way.
Acer Swift X 16: Camera, mic, and audio
Image 1 of 2
Camera, mic, and speaker highlights
A distracting green light shows when the webcam is in use.
The FHD webcam offers excellent color accuracy and clarity.
Both the speakers and microphone are reliable, but if you want more depth of sound from either one, you'll want to go with external accessories.
Camera, mic, and speaker rating: 4.5/5
When it comes to virtual meetings, the Swift X 16 is more than ready to present me in a high-quality way. Of course, the imagery isn't nearly as crisp as what you'd get from the best 4K webcam. However, the FHD webcam does an excellent job of showing off colors and reducing noise for a clearer image and automatically adjusts in lower lighting to help display me better.
For instance, when writing this, a severe storm rages outside, making my office darker than usual. However, I don't need to turn more lights on to be seen better during my meetings because the camera automatically brightens the scene.
I'm a little torn about the green warning light in the top center of the display bezel when the camera is active. On the one hand, I always know if someone might be looking at me. On the other hand, the green light is not pleasant to look at and distracts me from what is on my screen during a call. It would have been nice if there had been some opaque covering over it to soften the shine.
Regarding the microphone and speakers, the Swift X 16 does a great job for a laptop. I was told that my voice always carried clearly in meetings. I also detected no issues when recording myself and playing the audio back. While playing music or watching YouTube, I found that the two built-in speakers could handle a decent range of sound, but don't expect them to really carry a strong bass beat when listening to your favorite music. If you specifically want the best microphone or computer speakers, you'll want to purchase external options that can be attached via USB-C ports, which is relatively standard.
Acer Swift X 16: Competition
As our Tech Editor Ben Wilson talks about in his Lenovo Slim Pro 9i review, anyone looking for the best creative laptop with powerful graphics abilities will be very happy with this purchase. It's rather expensive, but it features the same RTX 4050 laptop graphics card that the Swift X 16 does. However, this laptop differs in regard to the Intel Core i9-13905H CPU. It can handle graphically demanding tasks a little better but displays things on a min-LED display. If you want to learn more about display differences, you can check out my display guide, which explains the difference between OLED and mini-LED.
Another excellent all-purpose laptop comes in the form of Dell's flagship device. As explained in my Dell XPS 15 review, it "proves to be a high-end all-purpose laptop with respectable gaming laptop abilities." I love that it can last for roughly 10 hours on one charge. As with the Swift X 16, it features an OLED display, but it also has the option for the more powerful RTX 4070 laptop graphics card. You can choose the exact configuration you want at Dell's website.
Acer Swift X 16: Score card
Swipe to scroll horizontally
| Attribute | Notes | Rating |
| --- | --- | --- |
| Value | It's a very well-priced laptop considering its performance and what it can handle. | 4.5/5 |
| Design | The design is undeniably more sturdy-looking, but it's also thicker and heavier. | 4/5 |
| Display | With an excellent color gamut, true black, and amazing contrast this OLED display excels. | 5/5 |
| Performance | Though not the most powerful laptop out there, it provides steady performance. | 4/5 |
| Battery life | You'll run out of juice within six hours or less while using this laptop, which isn't ideal for all scenarios. | 2.5/5 |
| Keyboard and touchpad | The large touchpad and comfortable keys make navigation and typing a breeze. | 4.5/5 |
| Camera, mic, and audio | The webcam and mic are perfect for virtual meetings while the speakers provide decent audio. | 4.5/5 |
Acer Swift X 16: Should you buy it?
You should buy this if...
✅ You want a laptop with an amazing display
The Swift X 16's OLED display looks amazing since it produces 100% sRGB, 98% AdobeRGB, and 100% of P3. Plus, since it can provide true black, colors really pop in darker scenes, allowing you to appreciate your art projects, games, or shows better.
✅ You're looking for a laptop with solid performance
While by no means the most powerful laptop in existence, the Swift X 16 can handle a good range of programs and tasks, especially if you go for the RTX 4050 L version.
✅ You specifically want a laptop with a dedicated GPU
NVIDIA's RTX-Series GPUs are some of the most powerful options out there today, especially with the higher number of versions. The RTX 4050 L, while not the fastest option, is respectable and can handle more intensive rendering tasks.
You should not buy this if...
❌ You frequently need to use a laptop while it is unplugged
The Swift X 16 doesn't have the best battery life, so it might not be able to keep up with a day's work if you're often away from an outlet.
❌ You need a laptop with DisplayPort
While there is an HDMI 2.1 port for connecting to other video sources like TVs and monitors, the Swift X 16 does not feature a DisplayPort, so it cannot be connected that way.
❌ You'd prefer your laptop to come with a USB-C charging adapter
Most modern laptops come with a USB-C charging adapter, but for some reason, the Swift X 16 still uses an old barrel plug. Despite this, the laptop can be charged via its USB-C ports, but you'll need the proper cable to allow for this to happen effectively.
The Acer Swift X 16 is a great choice for anyone looking for a laptop that can handle day-to-day work, moderate graphics programs, or mid-level gaming. It's not a graphical powerhouse but will work steadily and smoothly while undertaking different tasks. The gorgeous 120Hz OLED display is especially useful to gauge how your creative projects really look. Plus, the true black helps even the darkest scenes in video games or shows to present plenty of detail.
The biggest downside is that the Swift X 16's battery doesn't last as long as some competitors, which might be a problem if you're often on the go and away from outlets. However, this laptop is an excellent all-rounder for the Renaissance user who needs a device for work purposes, creative projects, and even a little gaming.
Anyone looking for a well-rounded laptop with decent graphical abilities will find that the Acer Swift X 16 is a great fit. The R9 7940HS CPU combined with the RTX 4050 L GPU provides stable performance whether you're working on creative projects or office programs.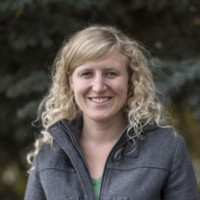 Self-professed gaming geek, Rebecca Spear, is one of Windows Central's gaming editors with a focus on Xbox and PC gaming. When she isn't checking out the latest games on Xbox Game Pass, PC, or Steam Deck; she can be found digital drawing with a Wacom tablet. She's written thousands of game guides, previews, features, and hardware reviews over the last few years. If you need information about anything gaming related, her articles can help you out. She also loves testing game accessories and any new tech on the market.