With its impressive all-purpose performance that utilizes the NVIDIA GeForce RTX 4070 graphics card, the Dell XPS 15 once more proves to be a high-end all-purpose laptop with respectable gaming laptop abilities. It offers excellent battery life and handles most work and creative tasks, but it does have port limitations and a lacking camera.
Pros
+

Excellent performance

+

Beautifully thin design

+

Gorgeous OLED display

+

Great battery life
Cons
-

Basic camera

-

No built-in USB-A or HDMI port

-

Expensive
Why you can trust Windows Central Our expert reviewers spend hours testing and comparing products and services so you can choose the best for you. Find out more about how we test.
Dell has released the latest model for its flagship laptop, the XPS 15 (9530). This has historically been a very reliable high-end device that showcases Dell's design aesthetic and grand performance.
After spending over a week using the XPS 15 (9530) for work and personal use, I can say that this is yet another quality product produced by the tech company. However, some slight design choices keep it from being the true all-purpose market leader it hopes to be. Still, it's an excellent option for anyone looking for a laptop that can handle work-related or creative tasks as well as gaming.
Disclaimer: This review was made possible by a review unit provided by Dell. The company did not see the contents of the review before publishing.
Dell XPS 15 (9530): Price and availability
This is Dell's flagship laptop, and as such, it doesn't come cheap. Pricing starts at $2,249. As is always the case, the cost varies depending on your chosen hardware configuration. There are a few important choices to make, like whether to go with the FHD+ (1920x1200) or an OLED 3.5K (3456x2160) display, as well as choosing between the Intel 13th Gen Core i7-13700H (5.0 GHz, 14 cores) or the more powerful Core i9-13900H (5.4 GHz, 14 cores) processor.
Dell XPS 15 specs
Price: $2,249 (starting); $2,800 (reviewed at)
CPU: Intel Core i7-13700H
GPU: NVIDIA GeForce RTX 4070
RAM: 32GB
Storage: 1TB
Display: 15.6-inch, OLED 3.5K
Battery: 10:16
Size: 13.57 x 9.06 x 0.71 inches
Weight: 4.23lbs. (1.92kg)
Besides processor and screen type, customers can choose storage ranging from 512GB to a massive 8TB (2x 4TB). RAM ranges from 16GB up to 64GB, and GPU options include either NVIDIA GeForce RTX 4060 or the RTX 4070.
Oddly, you can only get the RTX 4060 and 4070 GPUs with the Core i9 configuration, whereas the Core i7 only gets the RTX 4070.
Maxed out with a Core i9, 64GB of RAM, 8TB of storage, 3.5K OLED display, and the GeForce RTX 4070 GPU sets you back $4,649.00.
The XPS 15 (9530) is relatively expensive compared to similar laptop configurations from other brands. However, it also works well and is a reliable option.
The unit we tested has the above specs, including 1TB storage, Core i7, 32GB of RAM, RTX 4070, and the 3.5K OLED display, costing $2,800.
These hardware choices and more are available when purchasing the Dell XPS 15 (9530) on Dell's website. Dell offers a global distribution network, which means that the XPS 15 (9530) is available worldwide in several regions and countries.
Dell XPS 15 Recommended Configuration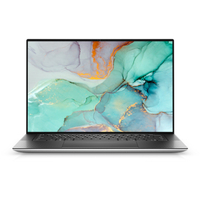 While the FHD display will get you much better battery life, the OLED 3.5K is the one you want at 15.6 inches. The Core i7, 16GB of RAM, and 1TB of storage with the RTX 4070 is a solid, well-rounded choice that is not extreme but still powerful without breaking the bank at $2,649.
Dell XPS 15 (9530): Design and build quality
To say the Dell XPS 15 (9530) has a powerful presence is an understatement. It was clear from the moment I pulled the laptop from the packaging that Dell's sleek design and thin chassis are designed to impress in an understated form of elegance. The screen bezel is less than a centimeter thick on either side, which allows the OLED display to take center stage without any distracting framing. What's more, when closed, the XPS 15 (9530) looks ultra slim and classy. It doesn't weigh a ton either at 4.23 lbs (1.92kg), making it easy to transport.
It's also important to note that the overall design of the XPS 15 has been the same since mid-2020 XPS 15 (9500). Dell tends to do major design overhauls every 4 to 5 years without much tinkering.
As much as there is to love about the XPS 15 (9530) build, there are also some things that I don't like. For instance, the limited number of connections that the XPS 15 (9530) offers. Let's start with the good. There are two USB-C Thunderbolt 4 ports on the left side of the laptop and a USB-C 3.2 Gen 2 charging port on the right, all three of which have PowerDelivery and DisplayPort. This right side also features a full-size SD card reader v6.0 and a 3.5mm headphone/microphone jack. So far, this gives us plenty of connection options with accessories and displays, but things get strange from here.
Image 1 of 2
As with previous XPS 15 models, there is no built-in USB-A or HDMI port. Instead, Dell includes an adapter in the XPS 15 (9530) box that features both of these connections, and it works by plugging into one of the laptop's USB-C ports. Part of me wants to say that it was good of Dell to include the HDMI and USB-A adapter for those of us that need it. But then again, if it needed doing, these ports should have been built into the laptop.
This exclusion seems a little too future-forward to me in an Apple-esque way since many PC accessories on the market, including many of my latest go-to accessories, still use USB-A. As an all-purpose laptop, you'd think these important connection points would still be built-in to the XPS 15 (9530). But as it is, the laptop can feel limiting. I had to connect this accessory even to plug in my best wireless mouse.
Of course, the other option is to purchase USB-A to USB-C adapters. At any rate, if you get this laptop and want to connect to other displays via HDMI or use USB-A accessories, you'll have to transport this adapter wherever you go.
Dell XPS 15 (9530): Performance
Image 1 of 6
To test the XPS 15 (9530)'s performance, I used the laptop for over a week while running various programs and applications. In addition to using it for work, I used it in my downtime to surf the internet, watch shows, and play video games. It never faltered or showed any issues during that time, even when working on large Photoshop projects or after being on for long stretches.
The XPS 15 (9530) has a 13th Gen Intel Core i7-13700H. This is a high-end mobile CPU which features 14 cores (20 threads), 45W power consumption, and can reach up to 5.0 GHz. It performs excellently in benchmarks and is perfect for this all-purpose laptop.
Thanks to the potent NVIDIA GeForce RTX 4070 processor, this laptop easily ran more demanding games with beautiful visuals. After updating the drivers, I played a few hours of Cyberpunk 2077. Then I ran an in-game benchmark, to which the laptop managed an average of 62.07 FPS while displaying high texture quality and 1920 x 1080p resolution (no, you don't need higher resolution as that's a common mistake PC gamers make). Not bad at all. However, the fans did go on blast shortly after initiating each gaming session.
The XPS 15 (9530) also scored a respectable 13,838 in Cinebench R23 and 7,446 in 3DMark Time Spy. While definitely not the most powerful laptop out there, these are both very good scores. You'll easily be able to view beautiful graphics and get excellent performance out of the GPU while gaming or performing creative tasks.
Image 1 of 2
When compared against other laptop and computer CrystalDiskMark benchmarks, the XPS 15 (9530)'s 1T SSD produced exceptional reading and writing speeds. This allows it to offer much faster boot times than average as well as higher bandwidth. Typically, quality SSDs allow a laptop to be more energy efficient since they're faster than hard drives and are less likely to get damaged.
In Geekbench 5 benchmarks, the laptop edged above the ASUS ZenBook Pro 14 Duo OLED but just under the MacBook Pro and Acer Predator Triton 500 SE, which are powerful devices in their own right. We've also got a meager sampling of Geekbench 6 results, which will grow over time. Here, the XPS 15 (9530) performed under the Razer Blade 18 (2023), which is one of the best gaming laptops out there right now, so that's no surprise. At a 12,695 multi-core power score on Geekbench 5 and a 6,660 score on PCMark 10, the Dell XPS 15 (9530) offers higher-than-average performance and is more than equipped to handle most creative and day-to-day programs.
Dell XPS 15 (9530): Display
The 16:10 3456x2160 OLED display looks gorgeous, pulling out darker hues and making everything look vibrant and crisp. After using a colorimeter, I was unsurprised to find that the laptop hit the 100% of sRGB benchmark that Dell states the laptop produces. It is a beauty to look upon and improves the creative or viewing experience. The only downside is the extreme glare. You'll want to ensure you're not seated with your back to a window.
I was also impressed by the XPS 15 (9530) range of brightness, which can get exceptionally dim and blindingly bright (392 nits) to fit any indoor or outdoor lighting scenario. While ~400 nits is not extremely bright by some standards, OLED brightness appears much brighter than it is. It's the reason why the OLED model hits 400 nits, while the FHD LCD goes to 500 nits.
As is common, brightness levels can easily be adjusted by tapping the proper keys on the keyboard or by going into the Settings menu.
Swipe to scroll horizontally
| Setting | Brightness | Black | Contrast | White Point |
| --- | --- | --- | --- | --- |
| 0% | 3.8 | 0.00 | 0 : 1 | 6600 (0.312,0.323) |
| 25% | 26.7 | 0.00 | 0 : 1 | 6600 (0.312,0.323) |
| 50% | 88.6 | 0.00 | 0 : 1 | 6700 (0.310,0.324) |
| 75% | 203.4 | 0.00 | 0 : 1 | 6600 (0.311,0.322) |
| 100% | 391.8 | 0.00 | 0 : 1 | 6600 (0.311,0.324) |
As previously explained, the XPS 15 (9530) does have a really good RTX 4070 processor that's more than capable of gaming. However, the 60Hz panel isn't ideal and a more modern 120Hz dynamic refresh rate would be better. Gamers who tend to play FPS games or online multiplayer will prefer panels with 165Hz or 240Hz refresh rates. Still, it's not a bad setup for people who primarily want the laptop for creative or work use and enjoy gaming on the side.
Dell XPS 15 (9530): Battery life
These days, the best laptops should last between eight and 10 hours, while a quality gaming laptop only tends to run between three or four hours when unplugged and running an intensive game. In my PCMark 10 battery testing, the XPS 15 (9530) lasted for ten hours and sixteen minutes when performing basic "Modern Office" tasks like running programs and video calls. That's plenty of juice to get me through an average workday.
As is always the case, the temperature and humidity of the laptop's location will always affect how long a battery lasts. During testing, the XPS 15 (9530) was kept in a dry and cool environment. However, results will vary when used in various temperatures.
Fortunately for do-it-yourselfers, the Dell XPS 15 (9530) does have a user-accessible design for replacing components like the batter and upgrading the SSD or RAM. So, if the battery gets damaged or something better comes along, you can replace it yourself after removing the casing.
Dell XPS 15 (9530): Keyboard and touchpad
There really are only good things to say here. The touchpad feels huge, allowing me to quickly navigate the cursor wherever I want without having to lift and swipe repeatedly and without compromising keyboard space. The keys themselves are perfectly situated in relation to each other, and all press down in a satisfying way.
The keys are also backlit, and there's an easy access button above the number keys for adjusting the brightness or turning the backlight off entirely. Additionally, a key located all the way to the right on the top row functions as both a power button and fingerprint reader as long as you take the time to set it up. This worked well and didn't give me any issues when I wanted to use it.
Dell XPS 15 (9530): Cameras and audio
Considering that this is an expensive high-end laptop, it's frankly ridiculous that it only sports a 720p HD camera (Dell separates our IR and RGB lens components, which it says helps improve the 720p's performance in lower light situations). While the front-facing camera functions well enough for what it is, the picture quality is rather grainy and muddled compared to what you'd expect on a laptop of this caliber. Still, after setting up Facial recognition with Windows Hello, the laptop camera was always able to help me log in quickly without any problems.
Now onto the speakers. I'm happy to report that the Dell XPS (9530) speakers (two 2.5W stereo woofers and two 1.5W tweeters) provide one of the best laptop audio experiences I've ever had the privilege of hearing. It's obvious that they were designed to amplify tones better when the laptop is on a surface, and it really delivers when this is the case. Even when turned up to their incredibly loud volume, the speakers are designed to angle in such a way that it feels like the sounds are in the atmosphere around you rather than blasting from the speakers on either side of the keyboard. It's a beautiful experience, especially for laptop speakers.
Dell XPS 15 (9530): Competition
There are dozens of 15-inch laptops on the market, but comparing the Dell XPS 15 (9530) against others is kind of tricky since it straddles that line between high-end regular laptops and mid-tier gaming laptops. It is a great choice overall, but there are ways that other brands outshine it.
The most likely (upcoming) challenger is Lenovo's new Slim 9i Pro. It comes in either 14.5- or 16-inch sizes, with up to a RTX 4070 GPU, up to Core i9 13th Gen H-series processor, and features a lovely 16-inch Mini-LED 3K display with 165Hz refresh. It also keeps a Type-A port, and has 6 Dolby Atmos speakers. It ships later in May 2023.
On the more general laptop side of things, the Samsung Galaxy Book3 Pro 14 or 16 inch is comparable in many ways. They both feature a 13th Gen Intel Core i7, USB-A ports, and the Intel Iris Xe Graphics card. Additionally, Samsung's laptop does provide a 1080p FHD front-facing camera, which is what I would have liked to have seen in Dell's highest-tier laptops.
The new 16" Samsung Galaxy Book3 Ultra bumps the CPU to the H-series (Core i7 or i9) and either a GeForce RTX 4050 or 4070 GPU and is a more 1:1 comparison to the XPS 15.
A more budget-friendly option that is also outstanding is the HP Envy 16. It still runs 12th Gen Intel (H-series, Core i5, i7, or i9), but don't let that bother you as there is not much difference between 12th and 13th Gen. You can also configure it with a gorgeous 16-inch 3840x2400 OLED touch display all for just under $2,000.
The Microsoft Surface Laptop Studio has a slightly smaller display and lower resolution, but it does support inking and has an overall great design with outstanding core features. However, it is perhaps better to wait until Fall 2023 as that is when we expect Surface Laptop Studio 2 to land with updated specs.
As far as the gaming side of things goes, the Razer Blade 15 (2023) is somewhat comparable to the Dell XPS 15 (9530), as they both feature the NVIDIA GeForce RTX 4070 processor and 13th Gen Intel Core i7. However, as a true gaming laptop, the Razer Blade 15's QHD 240Hz panel is far more desirable than Dell XPS 15's 60Hz one. Razer's offering also tends to cost a few hundred less, which wallet-conscious folks will find appealing.
By the way, if you like the look of the Dell XPS 15 but want something bigger, then you should check out the XPS 17, which also gives a choice between the 13th Gen Intel Core i7-13700H or the i9-13900H. Alternately, if you do want the XPS 15, but don't want it to ding your wallet quite as much, then you ought to look at last year's model — the XPS 15 (9520). It's a very reliable laptop that uses 12th Gen Intel Core CPUs and the Intel Iris Xe GPU, both of which are still very powerful, just not the latest. Plus, you can often find it on sale, saving you a lot of money.
You can see more in our best 15-inch laptops guide.
Dell XPS 15 (9530): Should you buy it?
You should buy this if...
You want a thin and sleek laptop.
You value a laptop with long battery life and strong performance.
You want a gorgeous OLED screen.
You should not buy this if...
You want a laptop display with a higher refresh rate.
You're looking for a high-resolution camera for video calls.
You'd prefer something less expensive.
The Dell XPS 15 (9530) is both awe-inspiring and far more limited than I expected it to be. It works very well performance-wise and can handle more intensive programs and gaming. In that way, it's more than capable of handling most work tasks and creative software. It has a simplistic design that still manages to impress, while the beautiful OLED display shows off hues and tones to a crisp and vibrant degree. Overall, it's a great choice for a work or personal laptop.
However, there are a few things that prevent it from being perfect. Considering the high price and the fact that this is supposed to be the most advanced of Dell's laptops, it really should have a better front-facing camera than the 720p one it has. You'd think it would have a 1080p one, at least, preferably around 5MP (which is where HP is standardizing these days).
Additionally, it's odd that Dell decided to produce once more laptops that don't have a built-in USB-A port. While it is nice for the company to include a USB-A and HDMI adapter within the XPS 15's box, that just seems to validate the idea that these connections should have been on the laptop to begin with. For those of us who still regularly use USB-A devices, this can make the laptop a little less convenient.
Self-professed gaming geek, Rebecca Spear, is one of Windows Central's gaming editors with a focus on Xbox and PC gaming. When she isn't checking out the latest games on Xbox Game Pass, PC, or Steam Deck; she can be found digital drawing with a Wacom tablet. She's written thousands of game guides, previews, features, and hardware reviews over the last few years. If you need information about anything gaming related, her articles can help you out. She also loves testing game accessories and any new tech on the market.