The Dell XPS Desktop (8960) is a gentle evolution of its predecessor, pairing an understated design with the latest internals from Intel and NVIDIA. The result? A supremely powerful, upgradeable desktop tower that can handle it all without begging for your attention.
Pros
+

Sleek, minimalist design with great build quality

+

Plenty of ports on the front and back

+

Latest and greatest internals with solid thermal performance

+

Lots of configuration options and upgrade potential
Cons
-

Occasionally very loud fans and some rattling noises during high performance tasks

-

A premium price tag for a premium product
Why you can trust Windows Central Our expert reviewers spend hours testing and comparing products and services so you can choose the best for you. Find out more about how we test.
It's often the case that the more powerful a desktop PC is, the flashier its "gamer" design. Not everyone that needs a monstrous tower is a gamer, however, and not all gamers desire the colorful aesthetic synonymous with the hobby. Dell's flagship desktop PC aims to cater to both groups with a sleek and compact chassis that happens to be packed with some of the most powerful internals you can get in a computer today.
The Dell XPS Desktop (8960) is a monster in disguise; I spent a few weeks with it as my primary computer to ascertain if it's worth the lofty price tag attached to it. Fortunately, Dell hasn't skimped on anything, with the XPS Desktop delivering best-in-class performance, respectable thermal management, and enough configuration options when buying and upgrade-potential after delivery to appease even the most hardcore PC enthusiasts.
Disclaimer: This review was made possible by a review unit provided by Dell. The company did not see the contents of the review before publishing.
Dell XPS Desktop (8960): Pricing and availability
The Dell XPS Desktop (8960) is a premium tower PC through and through, so expect a high price tag to accompany its high-end components. Being a Dell computer, it's available all over the world, although it's only readily available directly from Dell at the time being. As time passes, the Dell XPS Desktop will likely come to third-party retailers like Amazon and Best Buy and may also gain more affordable configurations, just like its predecessor.
You can view the complete specs for the Dell XPS Desktop (8960) at launch below.
Swipe to scroll horizontally
Dell XPS Desktop (8960)

| | |
| --- | --- |
| Processor | Intel Core i7-13700K (16-Core) |
| Row 1 - Cell 0 | Intel Core i9-13900K (24-Core) |
| Graphics card | NVIDIA GeForce RTX 4080 (16GB) |
| Row 3 - Cell 0 | NVIDIA GeForce RTX4090 (24GB) |
| Memory | 16GB / 32GB / 64GB (DDR5, 4,800Mhz) |
| Storage | 512GB / 1TB / 2TB (single M.2 PCIe 4.0 NVMe) |
| Row 6 - Cell 0 | Dual drive options (1TB / 2TB 7,200RPM SATA, 512GB / 1TB 2TB M.2 PCIe 4.0 NVME) |
| Operating system | Windows 11 Home / Pro (64-bit) |
| Power supply | 750W / 1,000W |
| Chassis color | Platinum / Graphite |
| Connectivity | Wi-Fi 6E AX1675, 2x2, 802.11ax |
| Row 11 - Cell 0 | Bluetooth 5.0 |
| Extra features | Optional optical drive |
| Row 13 - Cell 0 | Liquid cooling |
| Upgradeability | PCIe slots (3x) |
| Row 15 - Cell 0 | DIMM slots (2x) |
| Row 16 - Cell 0 | SSD slots (2x) |
| Row 17 - Cell 0 | HDD slots (2x) |
| Ports | Front: SD card slot / 3.5mm headphone jack / USB Type-A 3.2 Gen 1 (2x) / USB Type-A 3.2 Gen 1 w/ Power Share (1x) / USB Type-C 3.2 Gen 2 w/ Power Share (1x) |
| Row 19 - Cell 0 | Rear: Kensington lock / 7.1 audio 6-connector / USB Type-A 3.2 Gen 1 (2x) / USB Type-A 2.0 (2x) / USB Type-C 3.2 Gen 2x2 (2x) / Gigabit Ethernet / DisplayPort 1.4 (1x) |
| Row 20 - Cell 0 | GPU: DisplayPort 1.4 (3x) / HDMI 2.1 (1x) |
| Dimensions | 372.90mm (14.68in) x 173mm (6.81in) x 426.90mm (16.81in) |
| Row 22 - Cell 0 | Up to 12.34kg (29.40lbs) |
Dell's flagship desktop starts at $2,849.99, which nets you a 13th Gen Core i7, an RTX 4080 GPU, 16GB of RAM, and a 512GB SSD. If you max out every option, you can quickly raise the Dell XPS Desktop to a hefty $4,979.99, but you're obviously getting a far more capable PC with more power, memory, storage, and features.
In the box, you get the Dell XPS Desktop (8960), a chunky power cable, and Dell's entry-level wired keyboard and mouse. We highly suggest picking up one of the best PC keyboards or best PC mice alongside your new PC, as the included keyboard simply does not do the Dell XPS Desktop justice.
---
Our recommended Dell XPS Desktop (8960) configuration: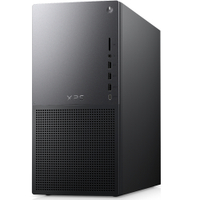 Intel Core i7 | RTX 4080 | 32GB RAM | 1TB SSD
The Dell XPS Desktop configuration I reviewed is the one I'd recommend to most people, as it upgrades the memory and storage to accompany the powerful internals better. It's more than capable of handling everything you can throw at it, from gaming to creation. This configuration retails for $3,149.99.
Dell XPS Desktop (8960): Design and build quality
Let's get this out of the way: the Dell XPS Desktop does not look like you'd expect it to, considering the power it's hiding within its simplistic chassis. At first glance, this tower PC may resemble the countless, disposable Dell desktops that occupy every office building and school (and have helped Dell become one of the biggest PC manufacturers). Upon closer inspection, though, you realize the Dell XPS Desktop does exude quality at every turn.
Dell went for a minimalist design with the XPS Desktop. This approach will undoubtedly appeal to countless people who aren't fans of the "gamer" aesthetic that dominates the powerful PC sector. The new generation features a very similar design to the previous version, with gentle updates to make the chassis even cleaner.
The Dell XPS Desktop (8960) employs a simple, mostly metal chassis (with some plastic), beautifully lined ports and vents, and a tastefully decorated "XPS" logo. It looks great, albeit understated, and I never once worried this desktop wouldn't last for years to come. The build quality is expectantly fantastic, with no glaring gaps or separations between the chassis panels. The Dell XPS Desktop's feet also do an amazing job of gripping onto surfaces, ensuring there's no sliding around on your desk.
Dell couldn't entirely avoid the lights of a gaming PC, though; granted, you'd be forgiven if you missed it. Tucked away behind the PC's side vent is the "GeForce RTX" logo of the powerful GPU glowing with a professional white light. Overall, Dell did a great job designing and constructing this computer — it's svelte, professional, and surprisingly more compact than my custom-built PC (running far inferior hardware).
Dell XPS Desktop (8960): Performance and thermals
As expected, the Dell XPS Desktop is an absolute powerhouse. Despite its simplistic outer shell, the XPS Desktop is packed with the most powerful hardware from Intel and NVIDIA. I didn't get the most potent configuration from Dell (equipped with a Core i9 and an RTX 4090), yet the XPS Desktop still excelled at every benchmark and scored among the best that Windows Central has ever tested.
A speedy PCIe 4.0 SSD meant very respectable read and write speeds of 7,140MB/s and 6,215MB/s, respectively, putting the XPS Desktop right in line with the best. Performance-wise, the Dell XPS Desktop (8960) impressed at every turn, with its 13th Gen Intel Core i7-13700K often trouncing 12th Gen Core i9s in benchmarks like PCMark 10 and Geekbench 5 and 6. Speaking of Geekbench 6, the Dell XPS Desktop earned a single-core score of 2,579, a multi-core score of 16,331, and a GPU (OpenCL) score of 249,959. We don't have a ton of Geekbench 6 data to compare and contrast yet properly, but the XPS Desktop still performed very impressively in this benchmark.
In every test I threw at it, the XPS Desktop was only beaten by the likes of the Razer Blade 18 (with a 13th Gen Core i9 and a mobile RTX 4090) and a handful of over-the-top custom PCs. Even the Razer Blade 18 couldn't keep up with the XPS Desktop when it came to 3DMark's Time Spy benchmark, with the superior thermal performance of Dell's desktop likely allowing its technically inferior Core i7 and desktop-grade 4080 to pull ahead of the Core i9 and mobile 4090 in Razer's flagship gaming laptop. The XPS Desktop also trounced the Razer Blade 18 in Geekbench 6's GPU test, suggesting the properly cooled 4080 in the desktop PC can go toe-to-toe with the mobile 4090 in performance.
Image 1 of 7
And the Dell XPS Desktop is certainly properly cooled. I'll be frank, I had to try to get this desktop's fans to spin up noticeably. Most of the time, Dell's flagship tower PC is so silent that you can barely hear it running at all, even when gaming or running some benchmarks. It wasn't until I began running more intense benchmarks like 3DMark (and performing more intense tasks) that I could get the XPS Desktop fans to turn up properly. Once I did, there was no way I could mistake that sound for anything else. These fans are loud. Even when pushing the computer to its utmost limits, though, the fans never spun up at max speed for more than a minute or so at a time, so the noise never lasted long.
At first, I was concerned that Dell was prioritizing silence over thermal performance too much, which may lead to unwanted throttling during extended gaming sessions or other tasks. Fortunately, that just doesn't seem to be the case. The CPU's liquid cooling combined with the two massive fans' quiet airflow seems to do the trick in most cases, with max fan speed rapidly keeping the computer cool during high-performance tasks.
It's a bit odd, but the numbers don't lie. I ran 3DMark's Speed Way stress test for 20 consecutive loops, and the Dell XPS Desktop maintained a cool 68-70 degrees Celsius (154.4-158 degrees Fahrenheit) most of the time, with a 98.6% framerate stability. There was one singular spike in the GPU's temperature to a whopping 96 degrees Celsius (204 degrees Fahrenheit). Still, it was so brief and random, according to the 3DMark monitoring, that I'm hesitant to believe it happened. These temperatures may not be entirely accurate, being reliant on 3DMark, but I can attest that the Dell XPS Desktop never slowed down, stuttered, or felt overly warm on any part of its chassis during multiple hours of benchmarks, stress tests, and gaming.
I've been using the Dell XPS Desktop (8960) as my personal work and gaming computer for nearly two weeks, and it has never let me down performance-wise. The fans may be obnoxiously loud at full speed, but it's never for too long. The only genuine concern I ever had was that, at some points during my benchmarking and stress testing, I could hear a rattling noise from within the Dell XPS Desktop, usually right before or right after the fans spun up. It didn't seem to affect anything and always went away as quickly as I noticed it, but it was definitely there.
Dell XPS Desktop (8960): Ports
As expected for a modern, high-end tower PC, the Dell XPS Desktop is basically dripping with ports. There are plenty of options on the front and rear of the PC, with a combined 7 USB Type-A and 2 USB Type-C ports, as well as a dedicated SD card slot and a combination headphone/mic 3.5mm port. Want to hook up multiple monitors? There are 3 DisplayPort 1.4 and 1 HDMI 2.1 port just on the GPU, and a fourth DisplayPort 1.4 separate from the GPU.
If I had to complain, though, it's that the USB ports on the back feel ever so slightly too close to each other, making it difficult to access individual cables and running the risk that something might not fit. I also wish one of the USB Type-A ports on the front was on the back instead, as my setup uses five (two for my headphone stand/port hub, two for my keyboard, and one for my mouse). That's a personal request, of course, but I doubt I'm the only one; two USB Type-A ports and a USB Type-C port feel like plenty to have on the front of the PC.
Finally, there are no Thunderbolt 4 ports on the Dell XPS Desktop. That isn't likely to bother many, as having Thunderbolt would likely mean sacrificing other ports, and most of the uses for Thunderbolt are to supplement laptops and compact computers with the capabilities desktop PCs already have, like dedicated GPUs and extra ports.
Dell XPS Desktop (8960): Upgradeability
Many pre-built desktop PCs aren't designed with future upgradeability in mind, which can limit the computer's longevity. It's one reason why many choose to build their own PCs, but Dell did a fair job ensuring the Dell XPS Desktop is easily accessible and upgradeable. The side panel is easily removed, and no special tools are needed to get inside. The Dell XPS Desktop does come equipped with a Kensington Lock, though, so you may need to loosen the screw on that before you can get inside.
Once in, you'll find two massive fans (one pulling cool air directly onto the GPU and another pushing the hot air out of the back of the device) and — at least in current configurations — a liquid cooling system for the Intel CPU. Only two fans may concern some potential buyers, but as I noted in the performance section, this desktop doesn't struggle to keep its components cool. These fans are big and loud when they're needed.
Near the top, you'll find two SSD slots and two HDD slots for your storage, and there are two DIMM slots near the CPU to expand your memory. Finally, there are three PCIe expansion slots for additional upgrades like sound cards, capture cards, and more. The power supply is at the bottom, with the Dell XPS Desktop supporting up to 1,000W. The layout makes sense, and nothing is annoying to access.
Dell XPS Desktop (8960): Software experience
In a shocking development, the Dell XPS Desktop (8960) runs... the 64-bit version of Windows 11. Okay, that's not very shocking, actually. Windows 11 runs very well on the Dell XPS Desktop (as it should, considering this hardware), and everything more or less works as it should.
The only issue I encountered during my time with this PC was a strange bug in the first few days where Windows 11 slowed to a crawl (OS elements like the Start Menu and taskbar not responding, even the Task Manager failing to load), eventually flashing black before coming back to its senses. There hasn't been a single hang since then, so I'm not sure what happened.
Aside from that, Dell does bake in a lot of different apps and programs onto the XPS Desktop, including (unfortunately) McAfee Antivirus and Web Advisor. There's also the Dell Digital Delivery app to reinstall McAfee. Other Dell apps like MyDell, SupportAssist, and Peripheral Manager are also onboard, as well as standard Intel apps like Command Center and Optane Memory and Storage Management. Finally, there's MaxxAudioPro, which can help fine-tune any speakers you plug into the desktop.
None of this is too egregious, and most (if not all) can be uninstalled should you wish to free up some space. Some of them are useful, like SupportAssist and Dell Update, which can help keep you updated with all the latest drivers. Dell, you get a passing grade for the XPS Desktop software experience.
Dell XPS Desktop (8960): Keyboard and mouse
Dell elected to send me a more premium wireless keyboard and mouse combo with the Dell XPS Desktop instead of the dreadfully boring set that comes with the computer by default. What I got was the KM7321W multi-device wireless keyboard and mouse, which retails for $104.99 (but often seems to be on sale). I figured I'd write a few words on the set, although they're still not the most exciting.
Both devices are typical battery-powered wireless accessories but can connect to multiple devices via a 2.4GHz wireless dongle and Bluetooth 5.0. Using the mouse, you can seamlessly switch between that dongle and two Bluetooth-enabled devices, making the set appealing to those who regularly use multiple computers. Quality-wise, they feel... Fine! Constructed entirely of silver, grey, and black plastic, both the keyboard and mouse feel well-constructed and are relatively compact.
Some quick highlights: the keyboard has helpful, customizable hotkeys at the top and a full 10-key number pad. The mouse has two programmable buttons on the side and a lovely texture around its sides that compliment the odd but strangely comfortable ergonomic shape. During my time with the Dell XPS Desktop, I never once encountered issues with connectivity or battery life. Both the keyboard and mouse worked exactly as I wanted them, and both were comfortable to use.
They're not fancy, but these seem to be solid, reliable accessories for those who want a straightforward, wireless duo that works with multiple devices. If you're interested, you can purchase them directly from Dell below.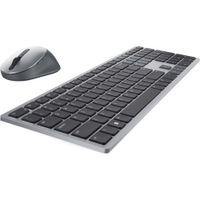 Dell Multi-Device Wireless Keyboard and Mouse (KM7321W)
These premium, productivity-focused wireless accessories are the most feature-packed or performant around, but it's a perfectly good keyboard and mouse pairing that works reliably and with multiple devices.
Buy from: Dell
Dell XPS Desktop (8960): Competition
You can always choose to build your own PC, which could save you money and let you customize absolutely everything about your tower, but this isn't reasonable for everyone. There are still many excellent options for those who want a great PC already built for them. The best pre-built gaming PCs are a great place to start, as many will offer the same focus on performance as the Dell XPS Desktop (8960).
One piece of advice is to consider whether or not you need the latest and greatest hardware. Part of why the Dell XPS Desktop reviewed here is so expensive is because it uses the newest 13th Gen Intel CPUs and NVIDIA RTX 40-Series GPUs. You can save yourself hundreds of dollars by buying a still very capable PC running last-generation hardware. The HP Omen 45L is a fantastic place to start, with a solid (more gamer-fied) design and endless configuration options.
You could even stick with the predecessor to this tower PC, the Dell XPS Desktop (8950). With a nearly identical, minimal chassis design and more options for lower-end configurations, the older Dell XPS Desktop is still an awesome choice. There's a reason it has dominated our list of the best desktop PCs for so long. Sure, the newer 8960 will almost certainly usurp it, but the 12th Gen Intel CPUs and NVIDIA RTX 30-Series GPUs inside the 8950 are still incredibly capable (and it saves you money).
Dell XPS Desktop (8960): Should you buy it?
You should buy the Dell XPS Desktop (8960) if ...
You need a powerful, premium desktop PC for creative work, extreme productivity, and gaming
You want a simple, understated design that's still high quality
You're willing to pay a premium for a high-end, pre-built desktop with the latest internals
You should not buy the Dell XPS Desktop (8960) if ...
You're looking for the best possible value
You want a flashy design with RGB lighting
You want a pure gaming PC packed with gaming-specific features
The Dell XPS Desktop (8960) is a phenomenal machine, full stop. It excels at productivity, creation, at gaming, and everything else you can throw at it. There are more impressive computers in a variety of aspects, especially hardware design, but the XPS Desktop isn't out to be the flashiest tower PC out there — it's a tool, albeit a very powerful and expensive one, and it's meant to do its job.
The Dell XPS Desktop accomplishes that with no complaints. Its demure design disguises the immense power stashed within, but it doesn't prevent the computer from smashing benchmarks and handling extended gaming sessions. Of course, you'll be paying a pretty penny for the privilege of having this computer on your desk, so consider how important design is to you and whether you actually need all this power (at least until Dell releases new configurations with this chassis).
---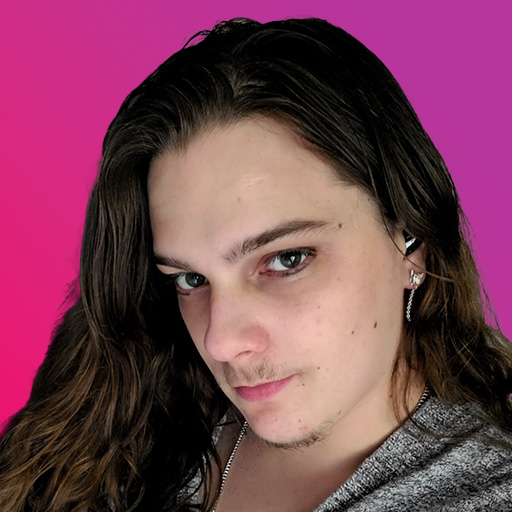 Zachary Boddy (They / Them) is a Staff Writer for Windows Central, primarily focused on covering the latest news in tech and gaming, the best Xbox and PC games, and the most interesting Windows and Xbox hardware. They have been gaming and writing for most of their life starting with the original Xbox, and started out as a freelancer for Windows Central and its sister sites in 2019. Now a full-fledged Staff Writer, Zachary has expanded from only writing about all things Minecraft to covering practically everything on which Windows Central is an expert, especially when it comes to Microsoft. You can find Zachary on Twitter @BoddyZachary.