NZXT N7 Z490 review: By far the best-looking Intel motherboard
NZXT made the motherboard for system builders.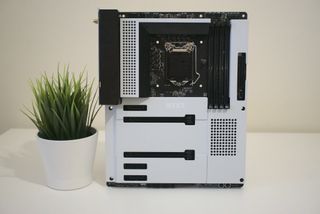 (Image credit: Rich Edmonds / Windows Central)
Motherboard reviews are interesting since most of the options available for PC building today are good enough for most people. They're also largely the same, aside from a few ports here and there, which can make reviewing a motherboard tough to make a compelling read. Luckily for me, NZXT decided to make quite the compelling motherboard, which made my job a whole lot easier.
The N7 is a series of Intel motherboards from the U.S.-based PC hardware maker and pre-build supplier. The latest iteration is version 3, rocking Intel's latest Z490 chipset. Unfortunately, for NZXT, breaking into the motherboard market isn't easy, and the first two boards (Z370 and Z390 chipsets) weren't received well. So, how does the Z490 hold up? Is it one of the best motherboards?
This review will run you through the design of the motherboard, what features NZXT has implemented, and all the improvements (if any) since the N7 Z390. If you're looking for a unique motherboard to act as the foundation for your next PC build and have your sights on an N7, read on to find out whether it's worth your money.
Bottom line: NZXT proved that it's possible to make a gorgeous motherboard without going over-the-top. There aren't any RGB lighting, nor are there any "gamer" accents. Just simple aesthetics for a clean-looking PC foundation. The best part? You can customize it as you see fit and enjoy great Intel performance.
For
Interchangeable metal shroud
Amazing design
Rock-solid performance
Hefty VRM passive cooling
Intel Wi-Fi M.2 card
Against
No PCIe 4.0
Just four SATA ports
Chipset incompatible with older Intel CPUs
No M.2 slot heat pads
NZXT N7 Z490 Specs
NZXT's latest motherboard comes rocking the Z490 chipset from Intel, allowing it to be used with either 10th Gen or 11th Gen processors. There's plenty to like here with the specifications sheet, including four DDR4 DIMM slots that can hold up to 128GB RAM with speeds of up to 4266MHz.
There are two M.2 slots, four SATA ports, two full-size PCIe x16 expansion slots, and a further three PCIe x1 slots. Whether you have the latest RTX 30 series GPU or a few older models in a multi-GPU configuration, you'll be able to install everything on the N7 Z490. There's even a pre-installed Wi-Fi M.2 card, which can later be upgraded if you want faster wireless.
Swipe to scroll horizontally
Category
NZXT N7 Z490
Size
ATX
CPU
10th and 11th Gen Intel
Socket
LGA1200
RAM
4x DDR4 DIMM (up to DDR4 4266)
Chipset
Intel Z490
Expansion
2x PCIe x16 slot (dual at x16/x4)
3x PCIe x1 slot
Storage
4x SATA (6Gbps)
2x M.2 (x4/x2 SSD support)
Audio
Realtek ALC1220
Rear ports
1x HDMI
2x SMA antenna connectors (2T2R)
2x USB 2.0
1x USB 3.2 Gen 2 port
1x USB 3.2 Gen 2 Type-C port
2x USB 3.2 Gen 1 ports
1x 2.5Gb
1x S/PDIF
5x audio jacks
NVIDIA SLI
-
AMD CrossFire
✓
Launch price
$230
There's a host of ports for hooking up all your accessories on the rear of the motherboard, including USB 3.2 Gen 2, USB 3.2 Gen 1, and even USB 2.0. The 2.5Gb LAN port is ideal if you're not a fan of wireless connectivity for your gaming rig, offering support for up to 250MB/s.
Image 1 of 3
Packaging-wise, NZXT does a solid job with its hardware range, and this motherboard is no different. It's tightly packed with plenty of padding around the board itself to make sure it arrives in one piece. Bundled with the motherboard is the necessary Wi-Fi antennas, SATA cabling, and a manual to get you started.
NZXT N7 Z490 Features and design
Image 1 of 3
Usually, a motherboard's appearance isn't the most critical factor in choosing one to purchase, but one has to take a step back and applaud NZXT for its design with the N7 series. These motherboards look incredible. I'm not talking RGB lighting either, since there are none on the board itself (strange for NZXT, right?).
The highlight of the design is the metal shrouding that covers large portions of the board. Instead of being able to see the PCB — which is a more appealing black— you'll see a white metal shroud that covers all the capacitors and other electrical components. The best part is this shroud can be removed with but a few screws on the board's underside.
It can be painted any color you like, allowing the motherboard to match the PC build's color scheme as a whole. And while I'm on the topic of removing metal from the mainboard, the massive VRM cooling solution can also be extracted and painted. This massive heatsink has contact with the hot power delivery system with heat transfer padding and plenty of surface area.
Image 1 of 2
Back to the removable shroud quickly. The best part is you can use custom designs NZXT releases like the excellent Fallout edition. You will need to make sure it's compatible with the newer N7 Z490, however, since this motherboard uses the new screws, instead of (awful) plastic caps.
The M.2 slots are located above the GPU and below the secondary x16 PCIe slot. They're both covered by removable metal plates held on by plastic clips, though you won't find any heat padding underneath, which is a shame. Even if you have M.2 slots populated, RAM installed, as well as a GPU and beefy CPU cooler, it's easy to create a clean look with the N7.
Referring to the specification sheet, we're looking at just four SATA III ports to join the two M.2 slots for storage. Most motherboards come with at least six SATA ports, which pouts the N7 at a slight disadvantage if you have more than four SATA drives. There are positives, however, including the Intel Wi-Fi adapter in the form of the AX200NGW with support for Wi-Fi 6.
Image 1 of 3
For the Z490, NZXT teamed up with ASRock as the vendor for the motherboard. This provides owners of the motherboard with a far better BIOS experience than the Z390 and prior. I'll go over some of the overclocking capabilities and other features of the board shortly, but it's clear the board's performance was a priority in its development.
Compared to the Z390, there are a handful of other improvements. While there's one fewer header for case fans, the CPU, AIO, and fan headers have been bumped to 2A each. There's also better support for RGB products, and not just those made and sold by NZXT, which should please anyone with an existing lighting setup.
Then you have the newer Z490 chipset and LGA1200 socket for Intel 10th and 11th Gen CPU support.
NZXT N7 Z490 Performance
Image 1 of 3
To test the N7 Z490, I put together a test rig using an NZXT H710i case, Intel Core i7-10700K CPU, 16GB of speedy RAM, RTX 2060 SUPER from ZOTAC, and an M.2 SSD. The Core i7-10700K should provide enough headroom for overclocking, so we can see just how far it's possible to push the motherboard without affecting system stability.
This entire review was written up using the N7 motherboard in this configuration. For overclocking, I was able to achieve 5.0GHz at 1.35V without encountering any form of crashing. The BIOS is easy-to-use and offers plenty of options to configure how the system performs and what functionality you'd like to have enabled.
Synthetic benchmarking put the N7 Z490 system at 6,979 for PCMark 10, and 5,698 and 581 for CPU-Z on single- and multi-core tests, respectively. Compared to the Gigabyte Z490 AORUS ULTRA, this is pretty good stuff, considering that the AORUS motherboard retails for $300.
To test the configuration in gaming, I fired up Path of Exile, Tomb Raider, GTA V, and Ashes of a Singularity. Results were in line with other motherboards using the same processor and GPU, which is great news for those who liked the NZXT N7 design but weren't fans of how the board performed with previous chipsets. The Z490 seems rock-solid.
The synthetic and game testing shows NZXT learned from its two previous attempts to create a motherboard for the masses and the N7 Z490 is a leap in the right direction. Priced a little more aggressively without losing much in the process, aside from a few USB 3.0 ports on the rear, I can see this motherboard being vastly more appealing to system builders.
Performance is key at the end of the day, regardless of how beautiful the motherboard design may be to gaze at. Thankfully, we've got a good mix of both here. Thermals are good too with the VRMs making full use of that large surface area for dissipation.
Image 1 of 3
The N7 includes some of the features you'd find in NZXT's RGB and Fan controller, so it's not quite absent of RGB lighting, but it's only there if you want to use it. Up to four RGB channels can be created, as well as seven fan channels, using CAM software to manage everything. Combine the N7 with an NZXT case, lighting accessories, and smart PSU, and you'd have quite the CAM experience.
Thanks to using standard headers, lighting equipment from other vendors are supported by the N7 Z490. So you can absolutely bring your own lighting (BYOL).
NZXT N7 Z490 Things I didn't like
The N7 Z490 is an excellent board from NZXT and ASRock. The two companies got far more right than wrong with the design and implementation. The motherboard isn't perfect, however. Very few are unless you're spending the big bucks. Firstly, there's no PCIe 4.0 support here.
While Intel won't officially support PCIe 4.0 until 11th Gen CPUs, some board vendors are working in support ahead of the launch. Unfortunately, NZXT didn't add such functionality, so if you eventually use an 11th Gen Intel CPU with the M7 Z490, it won't support PCIe 4.0. This isn't anywhere close to a deal-breaker, honestly, but is something worth bearing in mind.
There are just four SATA III ports for hooking up HDDs and SSDs. It's good that NZXT added two M.2 slots, but you may find these ports limiting if you have more than four drives to connect. While we're on the subject of M.2 slots, oddly enough, the brackets covering the two slots do not make any contact with the M.2 SSDs. This is strange as it would offer better heat dissipation using the metal shroud.
Lastly, and this may have been limited to the review sample we received, but the protection strip that covers the rear I/O was a pain to remove, largely due to it being applied below the two antenna ports. Care should be taken when removing it to note cause damage through brute force.
NZXT N7 Z490 Should you buy?
Image 1 of 3
Who it's for
If you need a gorgeous-looking Intel motherboard
If you plan on using a 10th or 11th Gen Intel CPU
If you want a motherboard that can handle overclocking
Who it isn't for
If you need PCIe 4.0
If you want a platform with the lowest power consumption
If you want to continue using an older Intel CPU
The N7 Z490 is the motherboard NZXT should have released initially. It's difficult to get into the motherboard business. After a few valiant attempts, NZXT has successfully designed and built (with the help of ASRock) one compelling motherboard for use in modern Intel systems. If you want something a little different from your mainboard, this is now a solid choice.
The design is exceptional in its execution. It's unique, simplistic, but beautiful to look at. Today, there are plenty of builds that focus on aesthetics, and NZXT has done a stellar job to tap into this market with the N7. The main metal shroud that covers most of the board can be easily removed and customized as you see fit.
The VRM cooling is more than adequate, so, too, is the array of fan headers for building a powerful, yet well-cooled PC. And it doesn't stop there as performance is right up there with other motherboards at this price. Using an Intel Core i7-10700K, it was possible to overclock it up to a point with stable results and enjoy a butter-smooth gaming experience.
This is the best motherboard NZXT has come out with to-date by a country mile, and it'll be exciting to see where the company goes next. Of course, we'd like to see an X570 offering since AMD processors are both performing and selling well. If, however, you're all about Intel, you should strongly consider this motherboard for your next PC build.
Amazing Design
The best-looking motherboard for custom Intel builds

If looks matter as much as performance, give the N7 Z490 from NZXT a browse for your next PC build. The unique design makes it possible to create some truly breathtaking builds, and the rock-solid ASRock foundations allow for considerable performance.
Get the Windows Central Newsletter
All the latest news, reviews, and guides for Windows and Xbox diehards.
Rich Edmonds was formerly a Senior Editor of PC hardware at Windows Central, covering everything related to PC components and NAS. He's been involved in technology for more than a decade and knows a thing or two about the magic inside a PC chassis. You can follow him on Twitter at @RichEdmonds.