NZXT H500 Vault Boy PC case review: A must-have for serious Fallout fans
By Rich Edmonds published
Your designated vault awaits, citizen.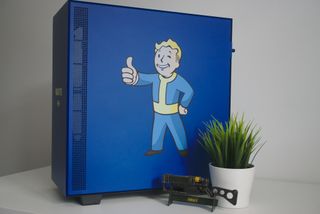 (Image credit: Rich Edmonds / Windows Central)
Fallout is one of the best RPG series around, and NZXT makes some of the best PC cases available. The game's developer, Bethesda, and the case maker teaming up certainly sparked our interest. The result of this partnership is the H500 Vault Boy mid-tower case, which is essentially the sleek-looking H500 but with plenty of Fallout flavor.
Costs $150Bottom line: This is a gorgeous mid-tower PC case for Fallout fans.
For
Fallout themed
Sleek design
High quality
Tempered glass side
Good thermals
NZXT's H500 Vault Boy PC case is simply stunning
The H500 is the older version of the new H510, which introduces a USB Type-C port on the front panel. Even though this may no longer be the latest model, you're not really missing out on much compared to the H510. And because the H500 Vault Boy isn't the version of the case with the Smart Device, you'll also not have any LED lighting or fan controls preinstalled.
Category
Spec
Motherboards
ATX
MicroATX
Mini-ITX
I/O
Two USB 3.1 Gen 1 Type-A
One Headset Audio Jack
Expansion
7 PCI
2+1 2.5-inch
2+1 3.5-inch
Fans
Front: Two 120 / One 140 mm
Top: One 120 / one 140 mm
Rear: One 120 mm
Filters
Front
PSU
Right panel
Radiators
Front: 120/240 mm and 140/280 mm
Rear: 120 mm
Clearance
GPU: up to 381mm
CPU: up to 165mm
Weight
6.8 kg
Dimensions
230 mm x 516 mm x 494 mm
Materials
SGCC steel, tempered glass, ABS plastic
Warranty
Two years
When looking at the H500 Vault Boy in its box, it's clear what makes this a limited version PC case. There's a huge picture of the Vault Boy on the side of the box, winking at you to ensure you know full well you made the correct purchase. Unboxing the main chassis is a similar affair, thanks to the custom blue paint job and subtle Fallout branding. It looks fantastic, as long as you're a Fallout fan.
The H500 rocks some pretty neat features for system builders. You get plenty of clearance for the largest of GPUs and CPU coolers, all intakes are filtered, and you can install up to four fans in total on the case, two for intake and two for exhaust. Throw in a 240mm or 280mm AIO cooler into this case, and you'll be sorted regarding CPU temperatures.
The main PSU shroud is also perforated, allowing you to see what's below while aiding a little with airflow — full PSU shrouds can at times reduce the amount of air you can push through, especially if you have a limited number of fan mounts on the case. Then you have the cable management you'd expect from NZXT, as well as the metal riser bar painted yellow for the Fallout theme.
What makes this case so appealing is how subtle the theming is, but not so much that you'd overlook the case when passing by.
If you really want to take things to the next stage, you'll want to pick up NZXT's Z390 N7 motherboard with the company's Fallout themed motherboard covers (opens in new tab) (see pictures above). You could also remove the covers on the motherboard and paint them yourself, creating a truly unique look, but NZXT has plenty of options available if you don't feel comfortable going that route.
Even if you don't go with the N7 motherboard and Vault Boy cover combo, any standard ATX to Mini-ITX board will look great in the H500. NZXT pre-installs two 120mm fans for you to get started, though you may wish to replace them if you have RGB counterparts. After throwing in power-hungry components and running a few tests, the H500 Vault Boy performed well enough for even more serious builds.
Using a 12-core AMD Ryzen 9 3900X CPU (opens in new tab) (with be quiet! Dark Pro 4 (opens in new tab)), ZOTAC AMP! Extreme GTX 1070 GPU, and 32GB RAM with a Seagate FireCuda NVMe SSD (opens in new tab), we found no issues when running games, or benchmarks or while leaving the PC for some time. Using NZXT's E500W PSU (opens in new tab) allowed us to hook everything up to CAM. Temperatures were well within expected ranges and matched those found with the H510 Elite.
It's not the best performer on the market for thermals and noise, and you can certainly find other cases out there at the same price with slightly better performance.
About that price ...
The only drawback to this great case from the Wastelands is the price, coming in at $150. The H500 is just $75 and the newer H510 commands a tag of $80. If you think the Fallout branding and license is worth double the price of the H500, this won't be an issue. For others, it may be a little offputting. That's really the only complaint we have.
So should you buy the NZXT H500 Vault Boy?
You should only purchase a branded component such as this case if you really appreciate the theming. Fallout fans will love this PC case. Not only is it highquality, but NZXT did a stellar job taking the Vault Boy and Fallout branding to create a case that can easily be themed around the popular RPG series.
More importantly, the H500 performs well enough in testing, with results showing strong enough airflow for even more demanding components like an AMD Ryzen 9 processor. Space may get a little tight if you want to pack inside your own custom water-cooling loop, but there are enough features to make putting together a PC build a breeze.
Brotherhood of Steel
Build in the Wasteland

Ready to venture outside after the apocolypse? You'll need to take this Fallout-themed case with you to set up a solid-looking PC, with Vault Boy giving the thumbs-up on the side. NZXT took what made the H500 great and slapped on some Fallout colors.
Editor's note: NZXT provided Windows Central with a review sample, which we used for in-depth testing and this review. We received a consumer package so our experience should reflect exactly what you'll receive if you purchase this PC case.
Rich Edmonds is a word conjurer at Windows Central, covering everything related to Windows, gaming, and hardware. He's been involved in technology for more than a decade and knows a thing or two about the magic inside a device chassis. You can follow him over on Twitter at @RichEdmonds.
You guys should really note some actual information about testing. Running unknown applications and games in unknown settings means nothing about the quality of the case. That, or don't present this as a meaningful review, rather than just product placement with ad links. The case looks like a nifty show piece, but the airflow looks like it would be absolutely terrible. There's no front ventilation, and only the right side of the case uses anything for side intake. On top of that, the right side opening appears to sit in line with, or behind, where you might mount fans. In that respect, calling that right side opening "intake" is a bit generous. Nice as this might look, I wouldn't even halfway look at it as something for a high-end system. I mean, you can get MUCH better cases for significantly less than the $150 price tag. You can get a top-notch case like the Lian Li 011 Dynamic for less than that, and it will do a substantially better job of providing airflow. This thing's more aesthetic than anything, even though NZXT generally does about as well as any company can with a closed-off front panel.
Windows Central Newsletter
Get the best of Windows Central in in your inbox, every day!
Thank you for signing up to Windows Central. You will receive a verification email shortly.
There was a problem. Please refresh the page and try again.