O2 UK offering Xbox One bundle with Nokia Lumia 1020, just in time for Christmas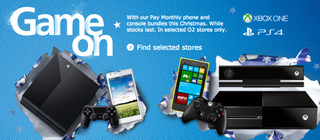 UK mobile operator O2 has revealed some video game console bundles for Christmas. Should you be a PS4 or Xbox One fan, there's a bundle to suit your smartphone requirements this festive holiday. The Xbox One offer includes not only the console itself, but also the Lumia 1020 Windows Phone from Nokia. Gesture past the break for the details and pricing.
The cost of the Xbox One O2 bundle is £99.99 upfront with a £52 /month 2-year contract. This may seem like quite the fee, but you're getting the two products, along with FIFA 14 and 12 months Xbox Live membership. Not only that, the contract provides unlimited SMS, call time and 1GB of data. Now that's not a bad deal.
We'll not highlight the PS4 deal since that includes an Android smartphone, but feel free to check out that offer should you know a family member or friend who would be thrilled with the bundled. Be sure to head on over to O2's website for more details.
Source: O2 (opens in new tab)
Windows Central Newsletter
Get the best of Windows Central in in your inbox, every day!
Rich Edmonds was formerly a Senior Editor of PC hardware at Windows Central, covering everything related to PC components and NAS. He's been involved in technology for more than a decade and knows a thing or two about the magic inside a PC chassis. You can follow him on Twitter at @RichEdmonds.
Xbox One with Fifa £430
SIM Free Lumia 1020 £550
24 months (not contracted) Tesco Mobile SIM Only £240
Total = £1220 O2 contract £52 x24 = £1296
Upfront phone cost = £99 (locked to O2 if/when you decide to sell/trade it)
Total = £1395 While I appreciate the O2 deal allows you to spread the cost, you need to remember to switch your tariff after 24 months or you're paying £42 more than you need to be.

Don't forget places like littlewoods allow you to spread the cost but add interest depending on the payment terms. The £42 could be classed as interest. If i wasn't locked in a 2 year contract with EE I'd go for that deal in a heartbeat, but i don't fancy my monthly mobile bill to be getting on for £100 tho.

Well Tesco's don't offer unlimited calls or texts :), although when you think about it not many people would be able to burn a 1,000 minutes + 5,000 texts a month. I know I wouldn't :P

Damn...I wish I was in the UK now. That PS4+Z1 bundle would be great (because I already have the L1020 and I prefer the PS)
I don't like contracts though...

The z1 is a cool phone definitely the best choice if you want an android phone

Yes, I'm aware of that ;) Sony is my choice of OEM after Nokia. And to whom I'll be moving once Nokia's out the door.

I guess we won't see you again here in wpc within the next 1-2 months.

You guess wrong. My Nokias won't stop working in 1-2 months.

...and I thought you were moving on to Sony and Android.

The UK does not wish for you, we have enough moaning people thanks ;-)

Luckily I know plenty of British people more educated and smarter than you ;)

I have a friend who has recently joined the Android brigade and after much deliberation and some advice from me he settled on a Sony handset. He is loving every minute of his Sony/Android experience and has said that he can't believe that he ever bothered to buy iPhone's before.
Sony is a good OEM to go with if anyone ever decides to give Android a whirl. I'm on to my third Samsung Android phone now and could never recommend anyone else to buy a Samsung.

Wish a deal like that would appear in the U.S.!

Its a great until you realise how unreliable the O2 network is in the UK Give it time and Carphone Warehouse and Phones 4U will do similar deals on a range of networks and handsets with unlocked devices :-)

Eh? O2 unreliable, where do you live, in a cave or on top of a mountain? ;)

Their 4g service for me has me so far pretty unreliable (near central london).. which is astonishing given there were no problems before the 4g roll out. Even getting dropped calls on 4g, 3g, H+ and edge plus distorted caller voice which can get very annoying.

Wow so jealous. Don't have that in the states. Good stuff though. I hope we get a similar deal!!!

In the word of our many friends from vine: DAAAAAAAAAAAAAAAAAAAAAAAAAAAAAAAAAAAAMN.

For shame America, for shame!

That's just not possible. We have no shame.

Maybe you don't. Maybe you're the problem.

Android and PS4 - glad I'm not getting that deal, but where's my 1020 & XBox One AT&T?

Not android and ps4. Sony and ps4 i bet the deal will be with a Sony smartphone not something like a galaxy.
Windows Central Newsletter
Thank you for signing up to Windows Central. You will receive a verification email shortly.
There was a problem. Please refresh the page and try again.