Office 365 Admin app continues to get quick updates and gets even better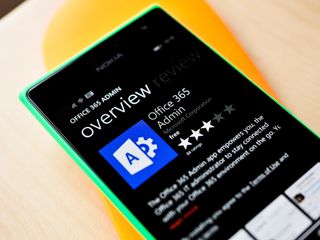 The Office 365 Admin app empowers an IT administrator, or even small business owners, to stay connected with their Office 365 environment on the go. The app allows you to manage users including resetting their passwords. You can also read the latest messages from Message Center and quickly view service health status and more.
The latest update bumps the Office 365 Admin app to version 2.10.0.0, and brings a better login experience. The last update of course brought the ability to sign in with multiple users and manage multiple Office 365 accounts.
There's also bug fixes aplenty as the change log suggests. After a pretty basic app early on, the latest updates have made the Office 365 Admin app a great way to manage an account on the move. You get more granular control in license assignment, and the ability to configure most of the things from within the app. There's support for Live Tiles as well as the ability to turn on and off notifications.
If you manage an Office 365 account for your business or organization, there's no reason for not having this app on your Windows Phone device. Of course, you need to have an active Office 365 subscription with administrator user rights to use this app.
Windows Central Newsletter
Get the best of Windows Central in in your inbox, every day!
My company is switching to office 365 soon, so ita good to know ill be able to manage it from my windows phone

not really much "management" going on in that tool though :)

It's a handy app that I use often, I just wish its performance were improved a bit. It feels rather sluggish on both a Lumia 735 (running the latest Win 10 preview) and on my Lumia Icon.

Runs well on my 930 and its a great little tool to have in my kit!

It's a good app. But I hate the fact that it stays in portuguese and don't give me an option to change it to english. It's a very poor translation.

Does it work with an Office 365 Home subscription, to manage your installs and/or who you've shared your account with (up to 5 people)? Or it's it for Small Business and Enterprise only? The article suggests the later but doesn't explicitly state it.

It's for businesses only.

Is this available on Android? I use Windows Phone but others at work are on Android. I've been using the Windows Phone version for a while, seems like the kind of app that could be easily built using Cordova cross platform
Windows Central Newsletter
Thank you for signing up to Windows Central. You will receive a verification email shortly.
There was a problem. Please refresh the page and try again.