All Office 365 users now have 1TB of free OneDrive storage space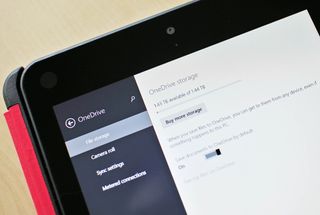 As promised a few weeks ago, Microsoft has now turned on the switch and given all Office 365 subscribers access to 1TB of free cloud storage space via its OneDrive service.
While business users of Microsoft's online productivity software service have been able to use 1TB of free OneDrive space since earlier this year, this marks the first time that the consumer Office 365 subscriptions can have the same amount of free space. That includes the Office 365 Personal, Home and University tiers, which are priced at $6.99 a month, $9.99 a month and $74.99 for four years, respectively.
While Office 365 users can now enjoy a ton of online cloud storage space, we are still waiting for Microsoft to increase the free amount of OneDrive space for non-Office 365 users from 7 to 15 GB, as it also promised to do last month. What do you think of Microsoft offering so much cloud storage for Office 365 subscribers?
Thanks to everyone who tipped us!
Mobile and,Cloud coming together better.

Waiting for update from 7gb to 15gb...

Yeah I had 25GB because I have a legacy account, then I had 45GB because of office, then I log in and I have 1TB. Me: "what the heck is this?"

Woot!! Yay! Now to fill that TB up!

Wonderful! I have a whole second HDD to start backing up now.

well, let's start backup and reset our PC! :D

Office 365 is really a boon fro enterprise users

Oh yeah...I forgot to do that.. "THANK YOU, MICROSOFT!"

i'm thinking of getting office 365, with that amount of space, you can't go wrong and have office on the go too

I hate windows phone and One Drive

I just hate cloud storage in general.

Why, its incredibly helpful. Just put pictures and documents that you want to be able to acess anywhere

Then why you come here?M?

Thanks. That was helpful.

Thank you for your comments, now kindly leave our party... U_U Lol, I'm joking... But seriously get out. ;) ;) Get it? It's sarcasm... Oh, me. =D

give this man a cookie. lol

Haahaaa haa......no seriously get out.

Lol sorry guys I actually love windows phone and one drive I am typing this on a Nokia Lumia 820 myself hahah I just wanted to see how you would all react ;)#socialexpirement

Too bad someone like mjrtoo wasn't on. Lol

How dare you conduct research on us without our prior knowledge #fakerage

Yes, just as facebook did hahah

Why are your in a WP forum then?

Then don't post.here anymore

Sweet. I also just noticed that I can open my One Note Notebooks at work using One Note Online where One Drive is blocked.

Didn't know that... that's verry useful, Thanks! OneDrive/Dropbox/etc are blocked by my company too, where Google Drive is not... biased IT department.
I could do so much with my brand new 1TB...


Saw it on my OneDrive too. It's cool having so much space even if I don't know why a normal student/person needs this much of space in a cloud. On a hard drive disk it's normal, but so much cloud storage...

Can we use it as a full laptop backup? Is there a backup program that will upload to OneDrive?

try fbackup it might be able to place copies of the files in the OneDrive Folder for upload http://www.fbackup.com/

I have 500gb of family photos/videos. Good place to backup them all (additionally to other places). There is also 1tb for my wife and elder son ;)

Oh yeah baby, 1TB of cloud storage XD

WOAH. Nice!!! Office 365 is becoming a good deal!

This is awesome! 1.1TB available!! WOO!

I have 1.02, that means you have more..? Not so good at the maths

Yes, 1.1 is more than 1.02

1.2 TB, wow. I'll never fill that.

1.3 TB FTW. xD I barely touched my 325 GB, now I'll never get close to filling mine.

I think I might need to set up a subscription! ;)

Gosh. This is so awesome.

I dont....... 25598,09 MB free of 25600,00 MB

Now if only they offered this for MSDN subscribers

They do. You just need to activate your developer license on the main page.

I've got Office 365 through my MSDN subscription but I can't find the 1TB OneDrive storage :'( I've a feeling that the MSDN Office365 uses the SharePoint based OneDrive though so idk help

Waiting for 15gb of space.

The price for Office 365 has become worth it just for the storage alone. The full suite of Office programs is icing on the cake!

This is great! Now if only they could make this more useful by removing the 2GB file size limit. :/ EDIT: Wait, doesn't this now mean that 1TB of OneDrive storage is cheaper than Google Drive? Indeed, it does! Because the $7 personal is cheaper than the $10 for Google Drive, and the 1TB can be shared with up to five people of the $10 Home plan! Even if you NEVER plan on using Microsoft Office + Office 365, this is still the cheaper way to go! The Office suite is now icing on the cake!

indeed you can use this mainly for storage AND still have ability to install Office on 5 different pcs, take that competitors, MORE BANG FOR THE BUCK!

Yeah, I hope this gets the coverage it deserves! Of the major cloud storage suites, OneDrive is now the cheapest option!

Also, that 1tb isn't shared. On the 10/mo O365 plan, it's 1tb PER PERSON. So for 10/mo you get 5tb storage, for the price of a single tb (sans office apps!) on Google. Switching my photo backups over to OneDrive tonight and canceling my 100gb google drive plan.

Awesome, just awesome. End.

I am in the US and have my 15GB for a few weeks now. Look forward to seeing how it works when I get my University 365 added in September. -SAB

Blimey! With the basic allocation, WP bonus, developer bonus, Surface 2 bonus and now this, I've amassed 1.25TB. That's mental. I'm only using about ten gig.

It's all still useless, unless you're connected. All hail portable storage!!!

SYNC is the key. We need access to our files locally when the internet is slow, expensive, intermittent, and when it is down or not available at all.

Yay. Now if they could just up the file size limit. I'd like to be able to backup my GoPro videos to the cloud.

Well, I don't think many will be utilise this on the go as not many have unlimited data plans. Never the less this makes office 365 a more enticing prospect.

That's a serious promo , good job MS !!!!

Lumia 925 have only 16GB storage and no expandable memory slot. It is not enough at all. To balance the same MS should give 15GB space instead of 7GB in non-office 365 OneDrive.

Just get office... On a plan for $10 or less a month and receive 1tb. No worries then.

That's coming by the end of October

1.07TB sweet mother of freedom

Nice. Just in time to still cancel my paid subscription.

100 dollars a year? How much is a TB HDD now a days, office 2013? I guess cloud sync is worth a convenience fee... What happens if and when you decide not to pay the yearly membership fee of 100 dollars? Do they take back the storage too your default amount (way < 1TB). What happens to your data? I am asking because I do not know. (documents, pictures, videos etc)

Make sure you download your files if you cancle your membership.....

Your files stay. You just cannot modify/add new files, only download what is there.

So everyone else has the 1tb now? I have only 25gb.... WTF M$...

Rollouts sometimes take time.

Rollout started weeks ago, I thought "now everyone has the 1tb"

I opened a ticket with MS about this. Im not actually too happy with OneDrive for Business. Havenet managed to sync a folder yet, with the desktop application or the modern app. Even if the folder would have two 1mb files in it.

is the upload limit still capped at 300 Mb? if so then this dont mean much lol

Look to comments above they say 2gb

Thanks MSFT! Much appreciated.

Wow! I'm wallowing in cloud space!

I have 30 GB of OneDrive storage. Not sure why people are talking about 7 GB and 15 GB respectively.

It is great! It will help keep there market share. I am a office 365 user and it will be very valuable for me! Frees up and speeds up my Surface 3!

Pulled a Google with our information

It's not about Storage, it is about encryption and be safe against thrid party acces aka NSA, etc.

Now I can backup pretty much every single important file that I have :)

Microsoft isn't pulling any punches, I hope this would be more useful in the Philippines soon.

When will they be raising the 2GB file size limit. Video's taken with the L1020 for more than 20 minutes go past that.

Great news - brings up an interesting problem though. If you want to upload via the mirror folder on your hard drive, you'd need 1TB free. So if you didn't have that free, you'd need to upload to OneDrive via the app or online or something. And then be careful to not have it sync back down to your hard drive. On win 8.1 you can control that by having some folders online only - not sure you can with the onedrive desktop app on win 7/8?

Awesome. That sub is a great deal. Glad I purchased it

Just checked my OneDrive. Have received the bump to free 15GB. Excellent! :)

I knew it was worth getting Office 365 :-)

Not seeing it. Is it only the account owner. Does it not apply to the participating family members?

When are the proposed changes to outlook.com rolling out? It was announced around the same time as this.

Just checked and my storage has gone from 10gb to 18gb :) Posted via Windows Phone Central App

Dam went down to 15gb from 25 I had before. Well least I have office 365 subscription and I have 1.27 TB so not complaining.

Mine shows a 10GB "Loyalty Bonus" (no expiration) to balance it out - 1.22TB in all.

It didnt roll out to me yet. I still have 115GB.

Kind big brohter. I don't dislike you any more. I hate google and apple.

Wow! Got my TB! I have been using Onebox for all my devices WP, android, iOS, phones and tablets on auto upload for pictures for a while now and it works great! Sent from my seriously HD G3!

This is still useless for storing music and movies. Get rid of the 50GB limit on the default music folder and start allowing uploads of at least 5 gb files.

Thanks MS,onedrive,and office 365 team! Now I don't have to worry about backing up those bigger files from my +1020

Seriously this is awesome. Getting Office 365 for $99 / year is great to start with, and that subscription allows up to 5 installs so my entire family can get in on the action. Getting an extra terrabyte is icing on the cake.

Not only do I not have 1TB, I don't have the old bonus allotment associated w/ Office 365 anymore. I've had an Office 365 Home Premium annual retail sub for a few months, and then a year before that. What gives? I asked Microsoft support and they indicated Office 365 annual subscriptions are phasing out in favor of monthly subscription in August, and this is why the storage is gone (temporarily, but it's been a few weeks already.) And this doesn't smell right, since O365 1-year with 1TB is advertised now, and I recall nothing about monthly being required to keep a OneDrive bonus back when I upped the annual O365 sub. There certainly is nothing in the fine print like that now. Anyone getting that particular runaround?

This is great! I already loved my Office 365 subscriptoin The 1T of OneDrive space is all gravy....

Activate daily backups for all selected users with office 365 domain. Backup for office 365 you gain all emails, daily automated backups and more. For further details : http://www.cloudally.com/office365/

if you need genuine office you can try this link, my office got here and works well,strongly recommend you, it is brilliant www.aakeys.com very good
Windows Central Newsletter
Get the best of Windows Central in in your inbox, every day!
Thank you for signing up to Windows Central. You will receive a verification email shortly.
There was a problem. Please refresh the page and try again.