Updated Office Lens can now save photos as Word or PowerPoint files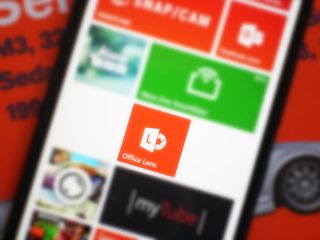 Office Lens for Windows Phone has just been updated. Today's update to Office Lens adds a few new features that make creating notes from photos even easier. With Office Lens you can save photos of whiteboards and docs to OneNote, but today's update allows you to create Word and PowerPoint files from those images as well!
Here's what's new in version 1.1.3306.0 of Office Lens:
Your pictures can be converted to Word or PowerPoint files and saved to OneDrive.
For Word files, the document layout is preserved and the text in your picture is converted into editable text.
For PowerPoint files, handwritten strokes are transformed into drawing objects that can be recolored and edited. You can also remove the background of drawings.
Bug fixes: Now Office Lens is more stable
Grab the updated Office Lens for Windows Phone and let us know what you think of today's new features!
Thanks for the tip everyone!
Windows Central Newsletter
Get the best of Windows Central in in your inbox, every day!
Wow. Editable text in Word docs is awesome.

Awesome app! Great integration with OneNote, Word, and PowerPoint! The automatic whiteboard photo correction is amazing. Microsoft innovation at its best!

The idea is awesome, however I can't figure it out in this app :/

This app has been a great help in school. I go to our bookstore and start snapping pages. Saved me tons of money.

You know what you're doing is basically stealing right? You could use a library to find what you're looking for.

LOL i was kidding. I did see other students use their camera to take pictures of math books

Stealing? You do know that a lot of schools let you make copies of books, right? At least here in Silicon Valley they do, SJSU and Stanford.

Stores that actually sell books let's you make copies of books? I didn't know that.

With "updated" versions every one or two years, some could say that the publishers were the ones stealing.

some would be talking out their ass, then incarcerated.

WoooWoooo. Warning. Douche Brigade is here!

Wow, this is way too cool! Now all it needs is that "scanned" look that CamScanner has and it'll be perfect!

Now this is awesome. No need to write in words...hmm keep it up microsoft

I still don't use it because its not integrated in OneNote like iPhone. I want to paste formatted pictures in the active document and not a new one everytime

Thats what you get for using Microsoft's second tier platform..../s

Seriously! WP OneNote features are terrible compared to iPhone version.

I like how you blurred out the other apps that's smart!

Yeah, how can you get that effect?

people here sometimes crack me up.

I guess they're using app like Nokia Creative Studio

Awesome. I wished they released this 2 days go tho when I had to snap some docs. Would have been better to share word docs instead of photos.

Tried OfficeLens and unfortunately it doesn't work any where near is good as CamScanner. Try that one out.

@herbertsnow, what app do you use for scanning? I've got Handyscan and HD Scanner on my phone now, but neither really does it for me.

I like this app but I can't use it before it stops saving photos in my gallery twice and on OneDrive. I ONLY want it to save the scan in one destination.

A work around is to not save the document. You have to share it to one drive and it will only save it in OneDrive and camera roll. Then you have to delete I from camera roll. This is a reason i keep my auto upload off so I don't get duplicated everywhere. It would be nice if you could trigger this direct from OneDrive. I like saving my documents to different folders in one drive. I only use OneNote for notes

One thing you can do (annoying but it's a workaround) is disconnect the OneDrive upload option via Settings before you take the picture, and then go through the process in Office Lens. After you've got your document saved, you can turn OneDrive uploading back on.

Awesome. I didn't even know about Office Lens before, I could have used it several times... will get it ASAP!

Oh my god this is huge! I will definately start using it now!

What I want is an option to save files locally without uploading to OneNote or OneDrive

This would be WAY more useful if we could actually CREATE PowerPoint presentations on our phones.

So how do I actually do this? I've taken a picture in the Office Lens, what are my next steps to actually get "text" in "text" format instead of as an image?

I've really liked this app for a while since it's excellent at recognizing documents but in playing with the update there are two things I think it still needs. I really want the ability to save a file as a PDF since I'd use this most of the time for savings important documents. And even though the update allows to save to OneDrive, it still forces you to save to OneNote at the same time and doesn't let you choose where in OneDrive. I would love the ability to save as a PDF to one specific location of my choosing. Like going through my OneDrive to find the folder I want to use. I do see how it's useful to lots of people, particularly students.

I was waiting for this for a long time!!!

Worst featured image I had ever seen on WPC! Sorry Sam!

Amazing App... Thank You Microsoft!!!!

I misread that as "edible text". Mmmm, words

Does the text recognition work for handwriting or only for printed text?

Awesome app if my phone had awesome camera

It's not like there ain't an abundance of windows phones with an awesome camera...

Not always online, useless without the option to save locally!

OMG I used to go to one drive then copy and paste the text to edit but this is even nicer.

This is what I thought it did originally when I downloaded it. Very glad to see this update.

Get the simple feature to export as image. Though this update make things a lot easier

I saw this announcement, and immediately walked to a coworker's desk to try it out. Did the entire conversion right there in front of him, and had him a Word docx about a minute after grabbing the sheet. Transcript was perfect. This is a killer app, and ought to be promoted. When business people see this.... Just wow.
Windows Central Newsletter
Thank you for signing up to Windows Central. You will receive a verification email shortly.
There was a problem. Please refresh the page and try again.