Office Online Chrome browser extension released, Skype integration to come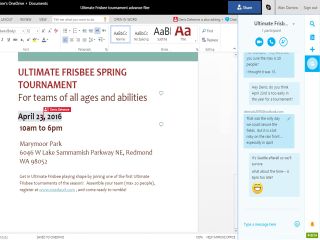 Microsoft will be rolling out a new update for its Office Online web-based app, along with the Outlook.com site, sometime in November that will add Skype voice and video integration features.
Microsoft says:
In addition, users of Google's Chrome browser can now download a new extension that will allow them to open and create Office Online documents from within the browser. Microsoft says:
Source: Microsoft (opens in new tab)
Windows Central Newsletter
Get the best of Windows Central in your inbox, every day!
Only if Edge supports AdBlock plugins.

Chrome rocks no browser can beat it!!

of course not, Google always does researches, the best browser. works so fast on my PC. The edge is still crashes, not fast as chrome..

Wonder how long will they work on extensions for edge

Can someone answer this question: I have noticed for me Office Online works very well and to my knowledge is for some reason free. You can edit and save all your workbooks / docs in the cloud. Should I be paying for this? Is this because I have the desktop apps installed? I am curious, as I got a new surface book and done want to install Office on it. I dont use it heavily, and the online editions seem to work well enough not to justify getting another office license

Online version is free, but it does not have all the features of the desktop application

Yeah, the lines between the full Office suite, Office 365, Office Mobile apps included in Win10, and the Office Web Applications. It is confusing but I'd say if the Office Web Apps are getting the job done for your needs, stick with them. No need to pay but when you do need the more premium versions, you'll know it.

If I were an avid Android and Chrome user, as apparently most people are, judging by how Microsoft is so focused on supporting these two Google platforms, I'd be delighted. But as a Windows and specially WP fan, this just makes me sick. As if there wasn't enough work to do with their own platforms, Microsoft happily releases a launcher for Android, extensions for Chrome, updates their apps first for iOS and Android and then for Windows Phone. Can you believe this? Meanwhile, extension support for Edge is delayed. Edge itself is still garbage. WP is an afterthought. My "Windows 10 ready" Lumia 640 is awaiting Windows 10 Mobile for almost 6 months! And apparently it will have to wait another month at least. Cortana, who knows when will it arrive at my country. Not to mention, Google couldn't care less about Windows users. Where are the official apps for pretty much any Google service? If this isn't Microsoft saying - just go Chrome, just go Android, I don't know what this means.

Isn't that the truth as I thought they were @ 1 point building a ie11 plug for Skype

I'd say: Just vamoose yourself to chrome and android instantly please. Joo, je a ri 'mu mi jare.

Microsoft the future office company... Lol

I have a serious question... Microsoft works for google or Microsoft??

Yes, Microsoft works for google and apple works for Disney and the moon works for the sun and by now you should have realized that I am being sarcastic

I can't sign in on the extension, it redirects to an invalid page

@Lusitanium:
It says: "I'm Satya Nadella and I don't give a rat's ass about dedicated users, who sustained and paid for our ecosystem for years. In fact I give so little about them, I don't even grant them the decency of on-par services and apps.

When Skype comes, chromebooks will rejoice