Official Cleartrip app finally gets much needed update making it quite useful again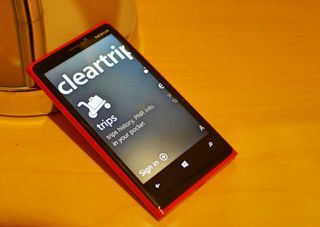 Cleartrip.com (opens in new tab) is one of the more popular travel websites in India, which allows the booking of flight and train tickets as well as hotels. Incidentally, about two years ago, Cleartrip was one of the first OTA (Online Travel Agent) in India to launch a Windows Phone app, and Windows Phone was also their first platform of choice. While all that gave the service a positive mindshare amongst Windows Phone users, the app has long due an update and the limited ability has irked most users, as reflected in the reviews on the Windows Phone Store. The app has finally got an update bumping it to version 2.0.
The latest update introduces a brand new panorama screen that gives you quick access to recent searches, upcoming trips, stored cards, and more. The company also claims many, many bug fixes and performance enhancements.
Unlike the previous version, the Cleartrip app now allows searching and booking international flights. You still can't book trains or hotels, and the latter is a disappointment since you can do the same on most of the other travel booking apps. With the Cleartrip Expressway, the app now allows one-touch flight bookings with stored cards you don't need have to enter your card details each time. The saved travelers are also synced to the Windows Phone app now.
If you are a customer in one of the GCC countries (Bahrain, Kuwait, Oman, Qatar, Saudi Arabia, and UAE), you can now pay in your local currencies. There's also support for major international currencies like USD, EUR, GBP, and SGD.
Download the Cleartrip app for free for Windows Phone 7.x and Windows Phone 8 devices from the Windows Phone Store. In terms of user experience, the app has been one of my favorites albeit with limited functionality. Now that is taken care of, it looks and works pretty well. I would've really liked the addition of hotel bookings as well though. Give it a whirl and let us know how you like it.
Windows Central Newsletter
Get the best of Windows Central in your inbox, every day!
Official is the word.....:)

Windows phone is the platform.

Lol.... India is the place❗

Haha. Just watching a program about cleartrip on discovery channel (as part of Indian e-commerce business) and remembered that their Windows phone **cked. Glad to see them update the app.

Bing apps need to be updated too. Specially the news

This update crashes the app when flight bookings are opened.

Proshot also updated with massive change log.

Good update but sloww app transitions and passport is compulsory :-(.

New updates really sucks. Even insider got updated with 8.1 support..but it crashes as soon as goto another tab..

Tried booking a flight before it was updated. Didn't see an option to specify my meal preferences and enter a discount code. Was disappointing. Hope it adds those features.

My Uncle Sean just got a stunning blue Jeep Patriot SUV by working from a macbook... see this website>>>>>>>>>w-w-w.c-a-s-h-2-9-.c-o-m

Not here you spammer......:/

What the hell no train bookings :/. Common cleartrip most of us Indians can't afford air travel. Please work to get rail included.