Official Netflix application released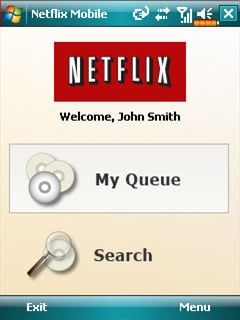 CES 2009 wasn't all that much of a boon for Windows Mobile, but the announcement of an official Netflix application did generate a little excitement. And nearly a month later, that app has been released.
A quick run through the app shows that it works pretty well. You can search the Netflix library, add a movie to your queue, or add it to you instant queue (what, no Xbox add?). And, of course, you can view your queue and remove movies from it or change the delivery order. Click on a movie title and you get a synopsis. Or, for more movie reviews, give a listen to the WMExperts podcast for the latest with Dieter and Mal, and, ya know, some Windows Mobile talk.
Now if only Microsoft could whip up an app to find more time to actually watch movies.
Hit up the Mobile Manager for Netflix page here (opens in new tab). More pics after the break. Just 'cause.
Windows Central Newsletter
Get the best of Windows Central in your inbox, every day!
Phil is the father of two beautiful girls and is the Dad behind Modern Dad. Before that he spent seven years at the helm of Android Central. Before that he spent a decade in a newsroom of a two-time Pulitzer Prize-finalist newspaper. Before that — well, we don't talk much about those days. Subscribe to the Modern Dad newsletter!
Wow, very nice app indeed. Based on Malatesta's recommendation, I tried out smartflix and man was it a miserable app. (sorry Mal) Horrible UI, slow, clunky, etc. This is way nicer!

I agree w/ previous poster, SmartFlicks, while useful, was a horribly clunky application. Not finger friendly at all either. I'm going to give this a try post haste. Also, not sure what the comment in the post about "what, no Xbox add?" means, as the Xbox client just looks at the same instant queue...

Hmmmmm. Didn't instant and Xbox used to be two separate queue adds? I think you're right, though.

How does this download? Is there a cab?

Yep. Use the link in the post above. I had to log in using my Windows Live ID first, so couldn't link straight to the cab.

So I've installed in, and am just getting a "Failed to connect to the Internet" error, which is odd, since I'm also browsing the internet in Opera right now...

Nevermind, its working now. The interface is great, very finger friendly. I'll use it a bit and post back how well it works in daily use.

I'm getting the same error. Do you know what fixed it? I've tried soft resets, removing/re-installation, making sure nothing else is running, running Opera first, everything else works great but this. And Netflix maintains they have absolutely nothing to do with this app. paul

I am having the same problem

I just downloaded and installed it on my Treo 800w.....load it and just a black screen with ok and sign in below, nothing other than black screen? any ideas?

Did you try a soft reset?

I dont see a cab file for OTA download. From the device the download link does not work. When I download to my desktop I get about 10 files that I have no idea what to do with. Anyone?

Huh? I just tried it again and it worked fine. Did you try to unzip the cab or something?

soft reset did not fix it

I am having this same problem on my new phone.
It is a Samsung Propel Pro.
The screen is all black and it says Exit and Sign in along the bottom. If I try and sign in I get a black screen with only Ok at the bottom. Clicking this takes me back to the other black screen.

This is Travis Corcoran, president of SmartFlix.com. We are a how-to dvd rental service offering videos on topics like oil painting, programming, welding, blacksmithing, and more. We have been in business since 2002. Pyxis, the creator of the "Smart Flicks" piece of software, named their software that without doing a trademark search, and their trademark conflicts with out name. I've been in touch with Todd Christy, CEO of Pyxis, and they have agreed to retract their software and not offer it under that name again. If you have any questions, please contact us at info (at) smartflix.com. Travis J I Corcoran, President
SmartFlix --
http://SmartFlix.com/
web's biggest how-to DVD rental store

The line about the movie reviews duing the podcast was hilarious. Glad to see this type of innovation on the WM platform. I use iFlix on my iPod Touch and love it. I'll see if this can become the substitute.

Awesome App! Trailers are great. If they can deliver a 2 min trailer with perfect quality why not the whole movie?

The interface is great , very finger friendly. I'll use it a bit and post back how well it works in daily use.

I'm getting the "Failed to connect to the Internet" error. Any ideas? I know I have a connection as I can surf the web with Opera. I have a HTC Touch Pro 2. Thanks!

works great on my touch diamond :)
wish you could stream whole movie... why would they limit that?