Official Trivago Progressive Web App (PWA) hits the Microsoft Store
Now you can find deals on hotels and book your stays with the official Trivago PWA for Windows 10.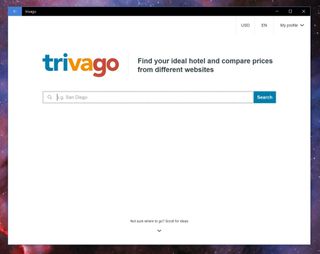 The steady march of Progressive Web Apps (PWA) hitting the Microsoft Store continues, this time with an official release from Trivago. A listing for the hotel comparison app originally popped up in the Store last week but it wasn't working at the time. However, the kinks appear to have been worked out, and the app is now available and fully functional (opens in new tab).
Unlike the previous waves of PWAs, which were published by Microsoft, Trivago is published by the company itself. And as with other PWAs, you can do everything with the app that you'd expect to be able to do by perusing the Trivago website in your browser.
You can easily and quickly search for hotels nearby specific locations, find deals, and book a room. There are also plenty of filtering options for things like price, hotel class, guest rating, and distance from significant landmarks. Reviews, photos, and information for each hotel are all easily accessible as well. Overall, the app feels pretty snappy and not all that different from using a native Universal Windows Platform (UWP) app.
PWAs are part of a push by Microsoft to get more apps on the Microsoft Store. Microsoft is relying on two ways to do this: developers can submit PWAs themselves, or the Microsoft Store will automatically index quality PWAs with the Bing web crawler and publish them itself. The ultimate goal is to provide native app-like experiences without requiring as much work from developers.
Progressive Web Apps (PWA): What they are, and what they mean for Microsoft
With the Windows 10 April 2018 Update set to arrive on April 30, it's likely we'll see more and more PWAs hit the Microsoft Store in the coming weeks and months. Expect to hear more about PWAs at Microsoft's Build 2018 conference in May as well.
See at Microsoft Store (opens in new tab)
Windows Central Newsletter
Get the best of Windows Central in your inbox, every day!
Dan Thorp-Lancaster is the former Editor-in-Chief of Windows Central. He began working with Windows Central, Android Central, and iMore as a news writer in 2014 and is obsessed with tech of all sorts. You can follow Dan on Twitter @DthorpL and Instagram @heyitsdtl.
This is worth trying out just to see what a well-done PWA site looks like/get an idea of how a basic one can work. This release is closer to the Twitter app than some of those auto-generated Microsoft ones we reported earlier. The way the app dynamically changes size, speed, and cleanliness/lack of chrome is quite impressive.

I've had this saved to home screen after it was cited at Google's PWA event last autumn. It is ace. Good work Trivago.

Hello! Is the goal of PWAs getting the web UI on an app?

The more I read about PWA the more I feel this is the future. The benefit to developers is they only need to build one "app" and it will be available to all devices (currently, they need to develop separate apps for iOS, Android, Windows UWP, Desktop, Web, etc...). Also, developers are having a very hard time drawing attention to their apps in the app stores - app over-saturation is a real problem. PWA's can be marketed similarly to websites, using SEO, etc.. Google likes PWA because suddenly apps are "searchable" in the same way traditional websites are - more search = more money for Google. Users benefit because they will get the best and most current features of a PWA at the same time as everyone else. And lastly, Microsoft benefits for obvious reasons since as time goes on the "app gap" becomes irrelevant. Seems like a Win for everyone.

"Seems like a Win for everyone."

Yup. There is some coding finesse that needs to happen on the site to make PWA good/efficient, but we see that too with native apps. Just because an app is native - even on iOS and Android - doesn't mean it's free from bugs, issues, poor design, etc. This will be a journey, but soon you'll see web designers who are fluent in PWA become high-demand.

"soon you'll see web designers who are fluent in PWA become high-demand." I happen to have a web design business and we are prepping our skills in anticipation of converting all of our clients websites to PWA so I hope you are right!

As usual, Apple slowed innovation for decades, latest with their closed minded ideas of just apps from their Store! Web was open, then came Apple, a decade later PWAs are open! Go figure!

Reading this article, I can't help but feel the same excitement for the future I did when devices like the 1020, 1520, and 2520 were coming out. It was a time where you were excited about what was going to be next. I really think with CoreOS, CShell, PWAs being front and center in the Microsoft Store, and focus on what comes after the smartphone, Windows 10 and Microsoft is going to be at the forefront of the next personal device and services paradigm.

Is the app just available in the US? I'm in the UK and I've clicked on the link in the article which has taken me to the Store page for the app, but it says it's not currently available.

I'm in the US and I see the same message

PWAs may be of benefit to mobile, but these websites can have a shortcut on the desktop instead. I access Strava and Facebook in this way. Works perfectly. Some may say, "But you won't get notifications this way." Which is just as I want it.

I mean I'm assuming you could also disable notifications if you don't want them too.

Okay now this cool! This is what I was hoping to see with PWA, quality built PWAs from companies themselves. MS should be doing everything possible to reach out to credit card companies, banks, Intuit (for Mint), government agencies, Starbucks, etc. to help them in any way possible to turn their iOS and Android apps into PWAs and try them out on the MS Store first. For example I have a great CitiCard app I use nearly every day on my iPhone. But with a PWA version available on the MS App Store I would be just that much more prone to fork out $1000 for Andromeda when it's released! Although I probably will anyway. :0) Companies would be wise to try out their PWA apps on a smaller store (as the MS store stands today) before releasing the SAME app inside a Google or iOS wrapper on those stores, if nothing else just so they can work out the kinks before releasing to a bigger audience.

Blank white screen that says Trivago.