More Progressive Web Apps (PWA) published by Microsoft come to the Store
Another wave of Progressive Web Apps is now available in the Microsoft Store, published by Microsoft itself.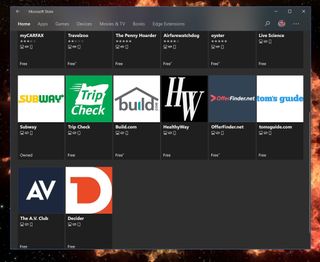 Following the first wave of Progressive Web Apps (PWA) to hit the Microsoft Store earlier in April, Microsoft has published another batch. In all, there are six new apps being added to the 14 previously published by the Microsoft Store.
Here's a look at what's new:
These PWAs are part of a new push by Microsoft to get more apps on the Microsoft Store. Microsoft is relying on two ways to do this: developers can submit PWAs themselves, or the Microsoft Store will automatically index quality PWAs with the Bing web crawler and add them to the Microsoft Store. The benefit, as Microsoft explained in a recent blog post, is that users get access to app-like experiences while lightening the load on developers.
Progressive Web Apps (PWA): What they are, and what they mean for Microsoft
Over time, and following the release of the Windows 10 Redstone 4 update, we'll likely see more and more PWAs hit the Microsoft Store over time. We Expect to hear more about PWAs at Microsoft's Build 2018 conference in May as well.
Thanks for the tip, Brent!
Windows Central Newsletter
Get the best of Windows Central in your inbox, every day!
Dan Thorp-Lancaster is the former Editor-in-Chief of Windows Central. He began working with Windows Central, Android Central, and iMore as a news writer in 2014 and is obsessed with tech of all sorts. You can follow Dan on Twitter @DthorpL and Instagram @heyitsdtl.
Microsoft should really update w10m once more to add full support of pwa.

Just one last feature please, call it bug fix f they have to lol

It won't help. The problem is that Edge Mobile doesn't support Service Workers and Offline cache. You can only get partial support of PWA.

That's why we want an update

Lol.. That's kinda the reason why he's saying update it. Which I don't agree with, but your comment is kinda irrelevant.

I have a Lumia 950, and I disagree.
......
I would rather MS put all their effort into Andromeda... Well, that's what they are gonna do anyways,,, if there is an Andromeda device coming.

Even Andromeda device comes out, it will be very expensive. W10M can act as low cost device

My parents need low cost w10m device, perfect for them, as is tablet mode on desktop

Well that's the thing, it's almost the same Windows? So what is the extra work? Flip the switch to include mobile to have the newer Edge. Ok sorry if that's a gross simplification

Why would anyone care about "Andromeda" as a WP user. Andromeda won't be a phone, and if it runs Windows of any flavor, it won't attract developers (that ship has sailed).

They did by accident but went back.

Strange solution for app gap. But it's ok. Now many big or small names coming to microsoft store. And it's a good thing for Windows Mobile for sure.

Are these pwa's available on w10m?

even if they were available edge on win mobile does not support Service workers

Just checked subways. It works. I guess it doesnt support notifications.
Which could be added by Microsoft.

Try to use the SubCard option, the main hook for getting the Subway app. Pretty broken I'm afraid.

But, their basic functions work, and there's Pinable tiles....

Yes, I'm using a few of them.

How are you finding these apps? EDIT: nevermind. by publisher.

For now the Publisher is "Microsoft Store" but someday the respective company of these PWAs will take ownership

Hello! Could you please answer these 2 questions? Are PWA avalaible in Fall Creators Update (1709)? And how do I know if an app is a PWA or a standard app on Microsoft Store?

PWA support is coming in the Redstone 4 update that has been delayed for the public.

Well, I reviewed the Subway app on the store as there's one outside my works: So the main reason to get the app is to be able to collect the SubCard points, but every time you hit that option it complains there's no internet connection and it just sits there trying to 'reconnect'. Of course, this is whilst every other app talks to the internet fine with a full 4G(LTE) signal. Nice idea, but the app just doesn't work yet. When it's finished I'll try again. For now, uninstalled. 2 stars for effort.

Can you even login to your account inside the app? It just opens the login page in a browser in my case.

are you on the Redstone 4 release (version 1803) or newer?

Any progress abt Abdromeda my newborn?

What's up with Starbucks? They already have a PWA so I thought this would be one of the 1st ones in the store. I use it on W10M, of course, just as a website, without the service workers, and it works just fine.

I think it's not there yet because it's still in beta or whatever form for now. Anyone can go access it of course independently, but probably won't be in the store until they give the official ok I'm guessing

Is there an approval process by the PWA owners themselves, or does Microsoft just find them and deem them good enough and just add to the store without notifying the owners? If I was in charge for apps/web presence for a company I would want the opportunity to approve this (and have our company be the publisher rather than Microsoft Store) before they go live. Also I remember MS did this with Windows Phone a while back with web wrappers, and they were bad and a lot of them ended up getting taken down because the companies had no knowledge and did not approve.

To my knowledge since these are public facing web sites there is no approval process. It would be like saying Edge needs its own specific approval to access the Subway site. That said, I think it would be in Microsoft's best interest to make sure that each PWA app they consume and publish is better tested. As everything that is public facing to a company matters to its image.

Will we see a pornhub app? 🤔

Probably. A PWA for that app will just makes that website faster.

While I'm not fundamentally opposed to MS mining the web for suitable PWAs, I'm happier to see MS collaborating with companies, like they are doing with Twitter, to bring HIGH-QUALITY PWAs to the store. Facebook, Starbucks, Instagram, Mint (from Intuit), major Credit Card companies, Banks, Stock Brokers, would all be good candidates to reach out to, for bringing high quality, substantive, PWAs to market. It's actually a really good option for companies to explore since MS is ahead of the curve for once on an emerging technology. And as these companies' IT shops can practice their PWA skills on a potentially smaller audience (as market share stands today) prior to bringing PWA to the Android and iOS stores, it's a good partnership for them too.

I hope that a lot of behind the scenes work is being done and showcased during the BUILD keynote. I still remember the Apple keynote when they released the first SDK and they had MLB show off the At Bat app and how powerful of an experience it was. Too many MS keynotes are limited to "partnering with, expect to see, and coming soon." Use BUILD to bring a major bank on stage, Twitter, and a type of service we wouldn't expect to be good as a PWA and demo a fully functioning PWA that is "now available through the MS store with more to come." Users and developers need to actually see these in person as awesome, not just talk about how they have the potential to be awesome.

Couldn't agree more! I get super tired of all the hype and buzzwords spewed at us at MS Build. My dream scenario would be for Satya to talk for about all of three minutes. Get the "Hybrid Cloud", "Intelligent Edge and AI", and "Internet of Things" poison out of his system in record time and then invite Twitter up to the stage for a demo of how MS and Twitter are collaborating on the best PWA to hit the MS store to date. Still talking dream scenario... would be for him to proceed to invite up Intuit to announce that during Build the Mint app was coming back to the store as a PWA. It was when Intuit pulled its Mint UWP app from the MS Store in 2015 that I first had that knot-in-the-stomach feeling that dark days were upon us. To see Mint come back to the store, at Build, would mean that MS' mojo was back. Still talking dream scenario... would be to do a Steve Jobs "one more thing" moment... and invite up Panos holding the Surface One (Andromeda) up to his ear on the phone with some backstage MS pal of his. Now that would be a show to remember. But yeah... less talk, more action, would be highly appreciated by devs across the world.

Is there a possibility of dark Fb pwa? Rest I would like to use are Aliexpress, OLX, Careem, Foodpanda, Emirates airlines and all the local banks.

You do know Google is also transitioning to these types of apps too?

Yes all these PWA articles when in fact the game changer is Web Assembly.

So who will update these pwas. Developers or MS itself?