The official Windows 10 NASCAR app adds Mobile support with latest update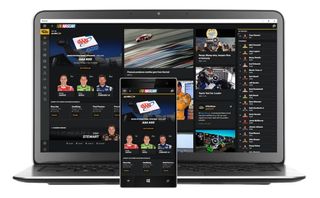 A few months after the official NASCAR app was released for Windows 10 PCs and tablets, it has been updated to support Windows 10 Mobile as well. The update comes just before today's running of the Daytona 500, the first race of the 2016 stock car season.
In addition to Windows 10 Mobile support, the NASCAR app also includes Live Tile support, so fans can pin news on their favorite driver, along with race results and race schedules, on the start screen. Here are some of the features available for free:
Live Race Leaderboards for all NASCAR Series
Lap by Lap commentary
Real-time News, Video and Social Media
Complete Schedule, Standings and Manufacturer Standings
A one-time in-app purchase of $24.99 adds a number of premium features:
Live Premium Leaderboard - Premium Leaderboard with exclusive data points
Live Driver Audio - Listen to the In-Race strategy between Drivers, Crew Chiefs and Spotters; Exclusive to Sprint Cup Series and XFINITY Series races
Live In-Car Cameras - Follow the action from the driver seat with Live In-Car cameras; Exclusive to NASCAR Sprint Cup Series races only
Live Broadcast Radio & Officials Radio - Listen to the official NASCAR radio for every race of the season: NASCAR Officials Radio is available for all Sprint Cup Series races
Download NASCAR app for Windows 10 at the Windows Store (opens in new tab)
Source: Microsoft
Just noticed this last night. Great news!

I heard about it Friday I think it was. How did the Windows 10 400 race go anyways?

I'm downloading and using today. Perfect time to check out their app since there is an race today. Don't ignore this one everyone. Let's check it out. Show them we exist and learn about a different pastime than you're used to.

Is it a universal app? I did not read it in the article.

Yes. It's been available on windows 10 for a while. Now its also available on mobile. NASCAR has been good to us. Their WP8 app was pretty nice as well.

It could be better though. The other OSs support logging in to a premium account for the live content. Windows does not and requires you to purchase again, which I am not doing. Hopefully it is updated soon.

Perfect timing before the big race.

NASCAR=Non Athletic Sport Centered Around Rednecks.

Easy to criticise something else and not open your preferences up to that same criticism, Internet Tough Guy.

Says who, you? Ha, yeah...ok.

I'll be watching Daytona today, but that's probably all I will watch. I gave up on NASCAR after they started trying to make political statements.

I just like the racing. Not a huge fan of the sanctioning body, but I like a few of the drivers. I sure do love the racing though...

Really great looking App.
Also added it to my 950 WOW Awesome Sauce.
#20 Go Matt Kenseth Go.
Windows Central Newsletter
Get the best of Windows Central in in your inbox, every day!
Thank you for signing up to Windows Central. You will receive a verification email shortly.
There was a problem. Please refresh the page and try again.