The official Windows 11 media creation tool, ISOs, and more are here
Get the files and get going.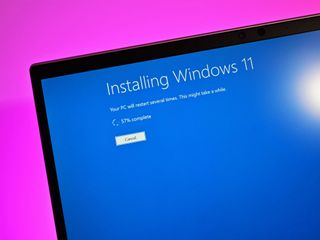 (Image credit: Daniel Rubino / Windows Central)
What you need to know
Windows 11 is now generally available.
Microsoft has provided three distinct ways to grab Windows 11 media and apply an upgrade yourself.
These options are the media creation tool, ISOs, and the Windows 11 Installation Assistant.
The big day is finally upon us: Windows 11 is generally available, meaning interested parties can hop online and get downloading the latest operating system from Microsoft so long as their system meets all OS requirements.
However, let's say you don't fall into the above camp and need another way to get Windows 11. Microsoft has readied options for your situation. Here are the three ways the company has provided for the creation and installation of Windows 11 media. Check out Microsoft's page (opens in new tab) on media installation and creation for download links to everything referenced in this post.
1. Windows 11 Installation Assistant
The Installation Assistant is a straightforward way to go, since — as its name would imply — it does all the heavy lifting for you. However, you'll need to meet Windows 11's system requirements for this option to be viable. There are also other situations where the assistant won't be of use. "If you need installation media to install Windows 11 on a different PC or an ARM64 device, see Create Windows 11 Installation Media," Microsoft says.
2. Media creation tool
Here's where you can take Windows 11 matters into your own hands. Download the media creation tool and you'll be able to stuff the OS onto a USB, external drive, or DVD with at least 8GB of space to take with you wherever. The only major requirement is that the PC you install the media on has a 64-bit CPU. So long as that's good, you're set.
3. Windows 11 disk image (ISO)
"This option is for users that want to create a bootable installation media (USB flash drive, DVD) or create a virtual machine (.ISO file) to install Windows 11," Microsoft says. "This download is a multi-edition ISO which uses your product key to unlock the correct edition." The ISO route is the same as the media creation tool method above in terms of system requirements; if your PC has a 64-bit CPU, you're clear to proceed.
You can find the download options, as well as detailed installation and creation how-to's, at the Microsoft link toward the top of this post.
Robert Carnevale is the News Editor for Windows Central. He's a big fan of Kinect (it lives on in his heart), Sonic the Hedgehog, and the legendary intersection of those two titans, Sonic Free Riders. He is the author of Cold War 2395. Have a useful tip? Send it to robert.carnevale@futurenet.com.
Would love to know if anyone has installed on 5th gen Surface Pro, trying to see if its worth it?

Yes! I just clean installed from USB media on my SP5 and was up and running in about an hour. I'll have to give it a few days to see how it's doing on performance, battery, etc., but so far I haven't run into any show-stoppers.

Media creation tool also creates bootable media. "English International", honestly Microsoft there's no such thing.

English International is English with "US-Intl" QWERTY keyboard, you know, the one with "Alt Gr" key as the physical right-hand-side Alt key, and "Alt Gr" combined with lots of other keys can produce some accented vowels like é or à.

There's no such thing though. There's broadly American English and British English, but English is spoken on every continent fluently and spans Canada to New Zealand. In Microsoft speak English Interntional is British English and English is American English. That's problematic on so many levels.

""If you need installation media to install Windows 11 on a different PC or an ARM64 device, see Create Windows 11 Installation Media," Microsoft says." This is wrong :(. I can't find information for this elsewhere? None of these apply to ARM64. The Media Creation Tool doesn't say whether it's for 64-Bit or ARM64, so we can assume 64-Bit only. The ISO is 64-Bit only. It's almost as if Microsoft want Windows on ARM to fail. How hard would've it been to set the Media Creation Tool support both 64-Bit and ARM64. The Windows 10 one has multi-choice 32-Bit or 64-Bit.

I have the same issue, it seems MSFT forgot to provide a tool to upgrade ARM64 devices such as Pro X. On the other side I upgraded to Windows 11 a Laptop 3, Intel, and a Huawei Matebook X Pro, Intel 8th generation, without any problem.

Yeah it sucks :(. I can't verify that statement because the Media Creation Tool for Windows 10 never supported ARM too.

My Surface 4 Pro is ok for all requirements but the processor 😢 is there a way to go to windows 11 without the processor?

Have you already tried the ISO? It might let you install regardless of requirements. You could also try signing up for the beta/dev channel.

Create a bootable USB and perform a clean install. It worked for me on my SP5 which also has an unsupported processor.

I don't think the ISO with or without registry edits will allow you to run the setup. There are workarounds but I would wait a little bit before doing so. As I tried every method from the site, media, iso, and others and it wont' let me bypass. You can try those other methods online but I wouldn't recommend . I have a pro 5 too

Can we install it without formatting data via ISO?

You will be able to upgrade to windows 11 only via Windows Update without losing any data

I don't have a compatible GPU to enable UEFI. So, no w11.

I'm downloading Windows 11 right now...I wish the "This PC can run Windows 11" notification in Windows Update provided the link to the Windows 11 Installation Tool. Thank you for providing this useful info!

Anytime; it's what we're here for.

I used a Pro X to run the Media Creation Tool and make a USB, all worked as expected during the creation process. The USB will NOT BOOT on the PRO X. I verified the USB will boot on an Intel Pro 8. I cannot find a Release version of the W11 ISO for ARM/ARM64

It's only a 64-Bit download for Intel or AMD. No ARM :(.

I downloaded the Installation Assistant. Downloaded fine, got to step 3 of 3 for installation, and has now been stuck at 0% for a couple hours. Booooooooo!!!!!!

Has anyone tried to install this build onto a VM? I've tried virtualbox and I get an error message saying the pc is not compatible, even though I've already enabled TPM in Bios (fTPM), enabled virtualization in Bios, etc.

how can you block windows 11 on a system that meets all the requirements? I don't want this bugfest to install for at least a year or two.
Windows Central Newsletter
Thank you for signing up to Windows Central. You will receive a verification email shortly.
There was a problem. Please refresh the page and try again.