Official Windows Phone Facebook page changing name to Microsoft Lumia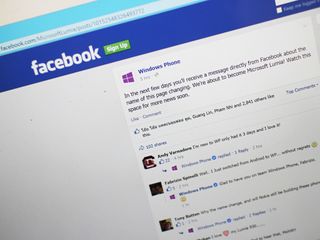 The official Windows Phone Facebook page will have a name change in the coming days. Earlier today we learned that Microsoft would be changing the branding on their smartphones from Nokia Lumia to Microsoft Lumia. Microsoft Lumia will also be the new name of the Windows Phone Facebook page.
A message posted to the official Windows Phone Facebook page reads:
What's going on here? It would appear that Microsoft is downplaying the Windows Phone brand, which is something we've seen recently. And really nothing to be too alarmed about.
Desktop, tablet and phone operating systems are already on a collision course which will result in Windows 10 next year.
Source: Windows Phone Facebook
Thanks for the tip Allan M!
Windows Central Newsletter
Get the best of Windows Central in your inbox, every day!
This post isn't really news...

You are correct... Your post is not news.

I think this is stupid. When people see Windows Phone they can understand what that is by the name. Microsoft Lumia probably sounds like software or something to people on the outside, or potential new customers.

I personally think it should be 'windows'

Hm... I thought that the Windows Phone was referring to the OS and not the phones... Wierd in my optics

Windows Phone page becomes Microsoft Lumia, and the good old Windows only page will cover everything. PCs, Tablets, and Phones. One OS, one page. They'll have a Windows page, a Microsoft Surface page, and a Microsoft Lumia page. At least this is how I see it playing out

And what about the Nokia international page (https://www.facebook.com/nokia)? Is it going to be merged with the Facebook page of Windows Phone? I think they could merge the Windows Phone page with the Windows page and rename the Nokia page to Microsoft Lumia.

Nokia as a company still exists.

Yeah, I know that. But social channels are "part of the acquisition" by Microsoft.

I was thinking the exact same thing and that this would only further alienate WP OEMs who would rather not compete with the makers is the OS they're manufacturing devices for....basically their partner is also their direct competitor..

Well.. If they make a good enough device, I dont really care personally.. But they should avoid everything that might jeopardize market share/growth.. Odin knows we need it to be heard...

Yeah, cause Samsung is really so supportive and happy with its Windows Phones.. Blah.

I was expecting them to merge the Windows Phone page with the Windows Page ...

That's what happened with the windows phone India page...got a notification from fb about it too... dunno why its different elsewhere...

Now I'm just waiting for a new flagship Device from Microsoft Lumia

The Lumia 135! Cheapest flagship with snapdragon 900 and 20 mp camera.

Huh? Wouldn't that imply that Microsoft doesn't care about Windows (phone) running on OEMs??

My thoughts exactly. It's a little strange.

No. OEMs are supposed to provide help and support with their devices.

Which they don't. Screw OEM's

Strange... So now Samsung Windows Phones are Samsung Microsoft Lumias?...

No, I think they're still Samsung phones running the Windows Phone OS.

Actually, they are Samsung phones Running Windows. The idea here is that "Windows Phone" is being merged with Windows, but instead of merging the Facebook page with Windows, they are going to rename it to Microsoft Lumia and make it specific to their own phones instead. It is very confusing because here in Canada we had a Nokia Canada page that is becoming Microsoft Lumia (Canada) as well based on this message on their page:

In the next few days you'll receive a message directly from Facebook about this page changing name. We're about to become Microsoft Lumia! Watch this space for more news soon…

It appears that the main Nokia page (Default US page) isn't doing the same because it remains somewhat controlled by Nokia as per the description:

A place to connect with Nokia fans around the world. News and updates on Nokia and Nokia-branded devices from Microsoft.

So, instead of that, they are just making the main Windows Phone page into a devices page, and Windows Phone will be covered under Windows as intended with threshold.

Thank you mate :D you cleared out my confusion :)

Samsung Microsoft Lumia phones running Windows (Update), search powered by Bing, errr, Cortana, with special 90's guest star MSN Live for your eHome. Network connectivity provided by Verizon 4, maybe 4.5G, Super XL-XLTE with HD-Voice and VoLTE. Just wait for Service Rollup Pack Update 3 (.1) !

EW that just sound wrong associating Samsung products with Lumia.

You're right, I would never want "Lumia" tainting my ATIV S Neo.

Cute. Enjoy the plastic and windows phone 8.1 official. Nvm.

Windows phone page = Windows page

You seem to understand so +1535 for you.

Eventually it will be Samsung Ativ. The operating system will just be Windows. All MS is doing is unifying all the Windows operating systems. Like HTC M8 with Windows.

Samsung Google nexus galaxy S5 of course no!

But what does that mean for Microsoft's partners? Microsoft Lumia doesn't include HTC and Samsung Windows phones, etc.

Maybe it only means that MS want to separate their PR teams into "Windows" (OS), "Lumia" and "Surface".

What does that mean for every pc manufactuer? Will it be the HP Envy Surface with Beats? No, Surface - tab/pc device. Lumia is specific to Miscrosoft branded devices, hence the Microsoft name and not Windows name on the devices. Samsung Ativ - OS windows. Samsung S5 - OS android.

Lol that's flow for you I need to start to read what I type

I don't get this either. Phones will be named MS Lumia but shouldn't this Facebook page be named Microsoft Mobile? Stop confusing people MS!!

It should actually just be called Windows, since they're all merging...

Hell they should bring back ms hardware & drop ms Mobile

Should have been called Windows ONE!

They are all under WINDOWS 10 Microsoft Lumia is the same thing as Samsung Ativ

This is strange. I could see a Nokia Lumia page being changed to Microsoft Lumia, but changing the Windows Phone page to Microsoft Lumia is a weird move.

Hope u know they are naming everything Windows 10 ? What do u want them to do to the page delete it ?

Until Windows 10's general release (still a year from now), they should've kept the "Windows Phone" site (because "Microsoft Lumia" is mot identical with all of "Windows Phone"), transfer the followers of "Nokia Lumia" to a newly installed "Microsoft Lumia" representation and then hand all the "Nokia" related stuff back to Nokia.
This would reflect the clear separation this topic deserves in the most adequate way.

Lol does this mean we are dropping the OEMs and making everything Lumia jk lol

Ehh seems weird to call it that. Why not just keep it until you can call it Microsoft mobile?

I think Lumia should be the brand for everything ARM based. Phone, tablet and even a watch. Surface for X86 and Lumia for ARM. Long live winRT and WP merged together.

They should have kept their WP page and made a separate Lumia page as not to alienate their hardware partners

Maybe their working with their oems to have separate marketing

I just want my phone updates!

They are just changing their Facebook page name. OMG it's the end of life as we know it. I'm sure Samsung has a page to push their phones.

They have for sure.
But does it include ATIV, I actually don't dare to call it "portfolio", because it's just the ATIV S and the Verizon variant.

What MS has done recently hasn't made much sense so this isn't surprising. I try not to think about it.

I just recently started inviting a bunch of friends to start using so.cl. Since Microsoft is doing such a great job (and by great I mean horrible) of promoting and pushing the platform...I figured I'd try to get some of my friends to know what so.cl is and go from there.

That's just the standard message that's been repeated by all the pages that will change to Microsoft. Changing the WP one seems to be a move to have a central page for their phones and then things regarding the OS will be moved to Windows. As is logic.

Not all windows o.s. Phones are Lumia. What happened to supporting other manufacturers using the windows operating system? I don't think the hierarchy care about the future of these phones. I am concerned about Microsoft's future.

They'll concentrate everything on the Windows page I'm sure.

What about "Nokia" page? I think it should be rebranded to Microsoft Lumia not the Windows Phone page. Also consider what will happen to country specific nokia pages.

Some of the Nokia social networking pages will return to the control of their rightful owners: Nokia.
The others are rebranded.

Guess I can unlike that and only follow the Windows page.

Microsoft change its name to Microsoft Lumia from WindowsPhone because in the near future their will be no WindowsPhone anymore so instead of removing it they rename it.... So the page for all windows will be Windows (including to date Nokia Lumia all others OEMs for todays WindowsPhone, PCs, All-in-ONEs, X-box, Surface and etc)... The Microsoft Lumia page will be only for Lumia Devices.. (only Microsoft not for OEMs)

Here was different. The official Windows Phone Brazilian Facebook Page mixed with the Windows Brazil Facebook Page.

I'm not sure how to feel about all this situation

I wish they would have changed it to"no the Icon is not getting the update."

Nice one.. but seriously the icon is still on 8.0?

What's the complaint about that!?!? There's Apple IPhone _______ (you mention the OEM) Android and now will be Microsoft Lumia!!! lol

I am confused as hell...is Lumia brand name for windows phone OS then as speculated?

As simple as i can type it: The facebook Windows page is now where windows phone fans will go as other OEM hardware will be there too. And this renamed Microsoft Lumia page is strictly for Microsoft's own hardware Lumia devices

I still think it's so weird ..changing platform page to one hardware name on FB page. Who knows ..Lumia may be the name of future windowd phone platform. :)

microsoft having identity crisis..

I love the signature; '..... more news soon.' Isn't beautiful?

I'm following that page since a long. Even yesterday got an update of that page which says that v r changing to "Microsoft Lumia"

Sounds stupid, Microsoft Lumia...

Cue the hysterical Nokia fanbois...

Microsoft Lumia doesn't sound right too me. Windows phone is what it should be called and the OS is called Windows phone you wouldn't say i'm installing an update for Microsoft Lumia it should like your updating an app or something....

Is it this one? So few likes, maybe it's fake: https://www.facebook.com/MicrosoftLumiaOfficial/timeline

this one https://www.facebook.com/MicrosoftLumia

I'm a little bit worried about the change of their former general WINDOWS PHONE REPRESENTATION to "Microsoft Lumia". This change could substantiate the notion that (Microsoft) Lumia is congruent with ALL OF Windows Phone. And Samsung and HTC have shown several times how easily ODMs are pissed off.

I am viewing this page in mobile I just read the news as we will launch "Microsoft Lumia ! Watch this page for updates " I was surprised that they announced watch!!​ ​

When are you gonna,WP central? Your fb page is windows phone central'

Nothing special, but thanx Sam :D

So are the Facebook pages of Windows Phone and Nokia (international version: https://www.facebook.com/nokia) going to become a single page?

This doesnt even make any sense....Will the facebook page feature other OEMs that makes Windows Phones? Windows Phone is suppose to be the name of the OS (Going to be called Windows 10)...now we have a Microsoft Lumia page that will only show off MS hardware?