OneDrive for Windows Phone to get offline file access in the future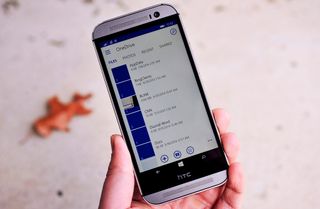 OneDrive for Windows Phone has gotten a series of updates over the last few months that brought forth a slew of new features as well as redesigned UI, and it looks like Microsoft is working on bringing an oft-requested feature to the cloud storage service: offline file access.
When asked about offline availability of files for OneDrive on Windows Phone, Casey Penk, Program Manager at Microsoft, had this to say:
There's no launch date yet, but those that wanted offline access will be glad to know that Microsoft is working on bringing the feature to Windows Phone.
Source: OneDrive Uservoice
Windows Central Newsletter
Get the best of Windows Central in your inbox, every day!
Harish Jonnalagadda is a Senior Editor overseeing Asia for Android Central, Windows Central's sister site. When not reviewing phones, he's testing PC hardware, including video cards, motherboards, gaming accessories, and keyboards.
That would ease the limited storage space devices without SD card option .. Like my L930!!

I think you're misunderstanding, you would need MORE space on your phone.

Oops!! If that's the case I will not enable the offline mode..

Pretty sure you will be able to select certain files/folders. Like in Windows 8.1

Yeah, this is a requisite. I mean with plans offering 100s of GB this would be a terrible PR mistake if OneDrive started synching everything and filling up peoples phones. Additionally, what I would hope is that the data that is selected for sync can also follow the rules of "SD" or "local" as well as sync when "wifi only" or "any".

Definitely. Hope its just like windows 8.1. There are just some files and folders that you want to have access to, no matter if you cloud store them. Can't wait!

Then what's the purpose of files app??

Maybe a hint that future model that replaces 930 may have card slot. If not my next device might be a 1530. I miss a card slot - mainly for music and backups.

When you click on save the space on pc, onedrive will make file online-only. Now, offline access for phone?Really?! If it is not updated real time, what is the point not just put file on your phone.

Opposite of what you say..

So, it would be stored in OneDrive and for offline access it would be stored on the device, as well as OneDrive? I seem to have that now anyway.....idk

No, you don't. Unless you've created that file on your phone. Otherwise, you have to download it before you use it. Thus, marking a folder or file for offline use downloads said folder contents or file to your phone when you're online.

Yes, but isn't that exactly what is being proposed...?

Missed the word "download" in my comment.
To me this is what we have already. Make it available offline, ie download, and its available offline.
Confused, what's the difference?

by making it offline it doesn't get downloaded to another folder, so if you update a file you don't have to download again to get the new file on your device, but it syncs automatically

If they don't make it any faster than the tab synchronization, it will be only marginally useful. Just like tab synchronization, if you need to use the information on another device anytime in the near future you're still stuck with manually transferring the information.

What is tab synchronization?

Think you mean mean IE tabs, in that case I agree with you, a tad slow!!

Yes, I meant IE tabs. Mostly useless in my opinion. By the time they show up, they're usually no longer needed. I usually use Kopy on my laptop and WP if a URL is needed quickly, if it doesn't have too many characters in the URL.

Why the fuck is that? It's USELESS. It's insulting. Email was instantaneous 20 years ago and Microsoft can't make INTERNET EXPLORER update immediately? Its faster to just EMAIL your tabs to yourself. Am I wrong that this is the height of incompetence, like that this is a basic feature a child could figure out?

Instead of having a separate copy of each photo you take on your phone hard drive and on OneDrive, it will be the same synced file. If you make changes on your phone, it would update to OneDrive instead of making a new copy.

Everything on OneDrive which I have made available off line, even though they where created by different devices and uploaded to OneDrive with my phone, tablet, laptops or desktops are on my phone and all my devices.

Microsoft is doing well!!!! Can't wait for offline access!!

What is meant by offline access? Just looking through OneDrive documents or making them available offline?

It would enable you to access files and whatnot with no net connection, just like on your PC by selecting files to keep a copy offline.

Man, we so need a way to upvote/recommend comments like this on the app.

I rarely visit uservoice sites but XBM uservoice site is an exemption.

Thank you on your reply sir, but isn't that the same thing as downloading files to phone?

no, when downloading you get 2 files, one on internal/sd storage, and one on onedrive, while making available offline it will still be one file

Instead of two separate copies, one file is synced, including any updates you make.

If more Windows Phones came with 16-32gb of storage, I could see this being a useful feature for OneDrive Music. Ideally, I think more Windows Phones need memory card slots.

Agreed, offline access requires much more free space.

Still, it is inteded as an option to have some needed files in Offline mode. In my case I would need 100GB storage on my phone.. Some people probably more. And I have 10TB OneDrive available...

You can use the SD card for this but still it will be helpful to have larger internal storage.

Or don't get a flagship phone ;)

Flagship phones should have external storage too.

They should make it a requirement tbh.

I think they should allow offline access just to the document file or something like that.... Don't see the point of having the whole cloud offline.

or maybe selective sync..

Agreed, just like I do on my Windows 8.1 machines. Select documents to keep offline and ignore the rest.

Too bad OneDrive for Business doesn't have selective offline, it's all our nothing and with 1TB of storage can cause problems.

It just has to be selective. Otherwise ie. backed up camera roll would be duplicated on your phone and that would be super ridiculous.

What does it mean offline access???"???

You can access ur files without internet connectivity

If so can You manage onenote documents which Are saved on The Phone?

Finally will get offline access for OneDrive .

Please just fix camera roll backup bug. Very bad to loose backups of photos due to Microsoft bugs. Edit : https://windowsphone.uservoice.com/forums/101801-feature-suggestions/sug...

Never came across that bug, I've not lost a single photo since I started using WP in 2010 from my camera roll.

https://windowsphone.uservoice.com/forums/101801-feature-suggestions/sug...

All photos were uploaded to OneDrive too. Maybe something's wrong with your connection?

Correct, go on vacation, take 500 photos, then connect to hotel Wi-Fi in costa Rica.
Most fail, then get lost forever and never retry. https://windowsphone.uservoice.com/forums/101801-feature-suggestions/sug...

Your much better off backing up via usb cable / Bluetooth onto a laptop then uploading to OneDrive. I found using the auto-upload still inflates the "other storage" pretty damn fast.

Yes, i​'m also not sure what offline means! In future, OP needs to explain terms rather than assuming everyone's knows what you're talking about.

"Cant edit... Unsupported content" I get that a lot from my OneDrive .docs so yea OneDrive and office are basically useless from my 730

That's not OneDrive's fault so much as the absolutely garbage version of Office MS have "graced" us WP users with.

Microsoft has really blessed us with an utter s*** Office. The only thing they got right was the office logo

Exactly, they gave us partial Office 2013 file format support and, wait for it, they renamed SkyDrive to OneDrive in the only update it's had since WP7!!!!

Office for WP is being revamped in February

How I wish I would lock my one drive app.

I don't want offline access...i want the log in log out...y the hell they removed it... Any one take the phone can do what ever they want with the stored things... Bring it back first....

Just like saying anyone who has access to my laptop can access my OneDrive files.... Your phone should be password protected. Also there are sharing apps like xim, kids corner, apps corner when you feel the need to give someone your phone. I don't know about you but these days I don't see any reason to give anyone my phone since almost everybody has a phone of their own.

That would be next to impossible seeing as you need to sign into a Microsoft Account to use the phone, unless you want to sign out of your phone as well!!!

Offline access would mean you could access your files without an internet connection. The files would be saved to your phone, and changes uploaded later when you are connected again.

Lumia camera classic updated right now!!! No release notes:(

What about Co-owner folders? Seems that's been forgotten again.

That exists still by sharing your folder or file in the app itself. I use it all the time.

So basically SmartFiles for Windows Phone? I approve.

How the hell is this even possible on a phone? Its ok for a pc. By the way Microsoft should stop all this bullshit and concentrate on developing a better video player for windows phone. No doubt Xbox video is the worst app ever produced..

Still better than email on WP.

Folder sharing. Only this. Once you get this feature, you can worry about other features. But without this one, OneDrive remains a second-rate service. With it, it is the best of all Internet file lockers.

But you can share folders...

Most every workgroup these days has a shared Dropbox in which they store all the files they want everyone to be able to access (and edit) from anywhere. If you mean you can right-click on a folder in a Web browser and click share, sure, but they don't show up in OneDrive in Explorer (on PC, that is) making them of very limited use (i.e., useless). Compare that to Dropbox or any other serious cloud locker and it's a shortcoming so severe as to make OneDrive impossible to recommend over these alternatives.

Exactly! The feature exists. Lol

If it already exists, then why did MS just announce that it's one of the most sought-after features and that it's coming in the future!! https://blog.onedrive.com/taking-the-next-step-in-sync-for-onedrive/

Isn't that the another way of downloading the files?

Let'# just hope it doesn't end up as messy as the OneDrive in Windows 10 TP. OneDrive is horrible now and doesn't update correctly half the time. Plus hen saving files from other programs such as Chrome or IE etc. You can't save to your OneDrive folder anymore. It's not in the explorer access tree. You have to dig through "recent folders" to get around to the OneDrive folders. I miss having the metro app available too. ​

To be fair, you are running pre-release software.

Yeah true.I'll give you that one. It still just seems like an unnecessary change to me. It used to work so perfect and as soon as my phone auto-uploaded a photo I'd be able to access it from my Surface. Now it takes a while to fully update. It's just annoying how it's not in the "save as" explorer tree anymore. Hopefully they can work out the bugs soon.

No question, OneDrive on Win 10 blows. Hopefully it'll get a lot better before next fall.

Now that's a good news, needed this from long tym

Selective folder is a welcome option, nice seeing the future though.

then how do you access anything when you are not connected (offline)? something is wrong here

Because it will be actually located in your phone and not only on OneDrive.

this was already possible, i have for example same document on phone as well as on OneDrive that if i edit it on either, the other would be updated when i am online, as for the videos i would just keep them on phone (& another copy on cloud) Maybe if i can get the link where this feature 'often' requested, i would understand better

Is this in any way like sharing folders over a local network? To the phone? That's what I'm talking about.

Nice! this is much needed for us that work away from cell service areas. Please have SD card support in ALL new Windows Phones so we can use this.

It hope it doesn't suck more internal memory.. And give us an option to store in SD card...

Huh, so they're going to make the Windows Phone OneDrive app work like the feature they just took away from the Windows 10 version? Or have I misunderstood this?

Brilliant. OneDrive is just so slow sometimes especially when it comes to videos, so this will be a very welcomed addition, and I might now actually consider a 128GB card

When asked about flying availability for their cars, George Jetson, Program Manager at General Motors, had this to say:

"Thanks for the suggestion. We know flying cars is important, and we intend to bring this feature to GM automobiles. We don't have a specific timeline yet."

Couldn't care less about cloud services

What is the use of that? Just save the stuff you want locally on your phone to your phone... And not in the cloud... Smh...

The use of that is when I have an Excel document that I want to work with on both my Desktop and my Phone at different times. I save it to the cloud. Before I leave the house, the phone gets the synchronized copy from the cloud from the WiFi connection, and I'm on my way. While away, I have my Data connection turned off, because perhaps I'm close to my monthly limit, or perhaps I've found a spot without a connection, like an office building whose structure tends to play havoc on cell signals. I don't currently have WiFi available, but am able to edit the document that I was working on using the Desktop before I left the house. This is the type of use it is quite handy for. Not everyone needs the cloud. Some do. Personally, I use it sparingly, or for backups. But there are several documents I need synchronized both on the cloud and on each device for editing.

If offline access is available then password encryption should be also brought to it

this app sucks....i am waiting for dropbox...where is it?

My one drive doesn't upload neither does it download, I am stuck for months

Cool, still waiting for denim

"we don't have a timeline" usually means they know its requested but isn't an active Task assigned to the team

So how long after the ios/android versions WP get this feature? ;)

I've got several files I'm able to work with "offline" access to now. I generally edit them on OneDrive, but it keeps a copy saved on my phone. If I'm not connected (offline), then it pulls up the local copy, and it seems to always be synchronized to my latest OneDrive save. I guess I just didn't know it wasn't available. Not sure how I'm doing this, then. But it seems to be working. At one point, I had trouble saving a file online due to some sort of connection error, and it saved it locally for me "until it was able to connect." Ever since then, I've been able to do offline editing of that file. Must be partially available now, just not "selectable" and on purpose.

Having your usual pictures folders and OneDrive folders available offline will just duplicate everything on your phone, unless they plan on merging both your phone folders and OneDrive app into one and be able to edit OneDrive folders directly from your phone... Did I say that correctly, not confusing right?

Yeah that would be better then. Else wasting of storage for duplicate files

After last update it's buggy.Pics won't load up in Albums.

I don't want to download my files from the cloud to access in offline. Requires a lot of storage.

If it comes . Then Daniel have write 8GB internal storage+ 128 GB expandable + 30/30< OneDrive storage. While reviewing phones

I would like offline preview of files. Especially photos. I have a lot and it's such a pain that it has to reload each and every thumbnail every time I access the camera roll folder! My mates iPhone handles it better. Once done, you go back to the folder and the thumbnails are just there. MS makes the apps on the iPhone so much better. Is it because of the 'power' of the iPhone compared to my 1020 or is it because the app is better optimized? Or a mix of both?

Better don't get flagship phone coz they don't have enough storage and SD card option

1520,830,M8 have SD card slots.

From skimming through the comments, looks like most people don't understand what this actually means lol... It is just file / folder sync.... Similar principle to "my briefcase".

It would be awesome not having to worry about data connection to view pics and documents.

I would really like to see this. Being able to sync specific folders, like on PC, was something I expected to already exist after they started relabelling everything to "one".

Why can't OneDrive just be built into the OS like Windows 8?

It's built in already it's just the app that's separate so it can get more frequent updates, coincidentally just like the Windows 8 version.

They need to update OneDrive for Windows 8.1 and bring it on par with this!

Uh,OneDrive on W8 already has offline viewing.

Now if only the OneDrive PC app could sync SHARED files, like it's predecessor could FIVE YEARS AGO.

Will it need phone's storage? If this is the case then I won't enable offline mode.

I may finally use OneNote & office le..

Why don't they just add a My Phone folder on OneDrive app for Windows Phone that will browse the folders like their Files app does? Two birds one stone. I already download local copies but being able to do it all in a single app (OneDrive) and toggle files, would make more sense. Should also allow us to store those offline copies to the SD card as an option.

First they removed this feature from OneDrive for desktop and now adding the same to windows phone !! What they want to do actually???

How about letting me know who comments on the links I share from SkyDrive. Offline.. Whoopee.. Platform is sucking so bad we are excited about post like this, nothing against Daniel and his post but I guess a person starving would be happy to have a crump.

I'll bet the IOS and android versions already have the feature.

The future is here!! At least according to BTTF....

Interesting, but what I really want, is for OneDrive to automatically sync my Music folder on the phone with the cloud so I don't have to manually upload my music to OneDrive. Off topic, but when are we going to get offline access for the Music app? (jk, I know that we have it but it never works on WP 8.1, but it seems to work when you have the Music Pass for some "odd" reason) Google Play Music does offline access for free users, and it does it well, long overdue that this comes to the Music app for free users.