A week with Xbox One X: Five perspectives, one beastly console
After one week with Microsoft's new Xbox One X, we've rounded up the initial impressions of our team at Windows Central.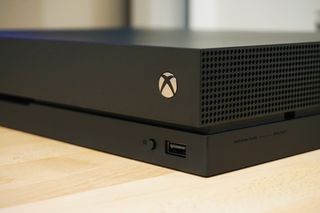 (Image credit: Windows Central)
Microsoft's Xbox One X recently hit store shelves across the globe, delivering an improved level of graphical potential to the console family. While maintaining compatibility with the existing Xbox One library, 4K resolution, HDR output, and other visual improvements are all among its capabilities, with superior versions of experiences frequently delivered on the device. As the most powerful console on the market at launch, the Xbox One X undeniably shows a lot of potential.
With a week having passed since launch, our team at Windows Central has had the opportunity to spend some extensive time with the console. Getting a chance to fully experience the new hardware, it's now clearer what Microsoft has achieved for its launch week – as well as what's to come for early adopters. We've rounded up some early opinions of our editorial team, seven days after the console's public debut.
Jez Corden, Xbox senior editor
Matt Brown, Xbox editor
Zac Bowden, senior editor
Richard Devine, reviews editor
Al Sacco, managing editor
What do you think of the Xbox One X?
If you picked up an Xbox One X on launch, we want to hear your impressions over the launch week. Are you happy with the $499 investment (opens in new tab)? What do you think could be improved? Make sure to drop your thoughts in the comments.
Windows Central Newsletter
Get the best of Windows Central in in your inbox, every day!
Matt Brown was formerly a Windows Central's Senior Editor, Xbox & PC, at Future. Following over seven years of professional consumer technology and gaming coverage, he's focused on the world of Microsoft's gaming efforts. You can follow him on Twitter @mattjbrown.
Anyone of you care to put Netflix on and see how a 4k film looks when played through the X

Content like that should be the same as the Xbox One S tbh.

I watched Stranger Things season 2 on netflix on the my X and it looked great. Yes the netflix app has an issue where it trigger HDR when launching the apps but when playing actual HDR content it looks fine. This is a Netflix issue since it does the same thing on the PSPro.

I started watching Stranger Things 2 on the Xbox Netflix app as well and the image quality was crap. It triggered HDR10 but the blacks were all grey for some reason...which shouldn't happen on an OLED display. So I experienced the opposite problem. I ended up shutting down the console and just using the Netflix app from the LG Smartworld which uses DolbyVision instead and got me far better image quality. Didn't try the PS4 app tbh.

I love mine, completely blows away expectations, Really the best consumer products MS has put out in years. I wish other MS consumer divisions would copy what Xbox is doing since Phil became head of Xbox. It is the only division in MS I feel comfortable buying as a consumer. Everything else consumer realted from MS I'm afraid Satya will kill off at a moments notice.

xbox division also need Satya's approval no?

I upgraded from the original Xbox One to the X. It really did feel like a generational jump. The inclusion of HDR makes colors pop in a way I never knew could happen. I found it to be more than just, for lack of a better word/phrase, eye candy in Halo Wars 2. The color enhancements helped me visually identify various things on screen faster. Or at least it seemed faster. The improved textures bring a level of detail I didn't know would be possible. Firing up the Forza 7 demo, rocks look more like rocks and less like items covered in sandpaper. Leather looks more like leather. Carbon fiber looks like carbon fiber and less like a grey surface with some gloss. It's downright beautiful. Then when games don't care much about a pretty picture and instead focus on high frame rates, holy smokes. It's so smooth. And that versitility is awesome. Developers can do what they need to. As I mentioned, this feels like a generational jump, but it's without all the generational jump drawbacks. I'm playing Call of Duty WWII with my friends who are all using either the original Xbox One or the One S. In previous generational shifts, that wouldn't happen. I didn't have to buy new controllers or adapters. My Xbox TV tuner still works. The pain of buying new gear for a generational transition is gone. I haven't even touched on the media improvements over the original One which as significant and much appreciated. It made the upgrade for me worth the price of admission. I don't know if I would have gotten the One X if I was coming from a One S. There have been comments about the lack of a launch title, but I argue that Forza 7 was a launch title. Did it come out the exact same day? No. But it's still a pretty new game and serves as an excellent technology demo of what the One X is capable. Same could be said of the new Assassin's Creed. The benefit though of those coming out before the One X's release is we got to see the before and after to help us understand what's so awesome about this console. I personally appreciate that. I remember Battlefield 4 came out shortly before the launch of the One and EA/Gamestop had a deal where if you bought it on the 360, you could trade it in and upgrade to the One version for like $10. I totally jumped on that and I was glad I did. I could see the extra power the One brought to the table. Now I'm seeing the same thing with the One X but without the $10 upcharge. If there was just a game that came out right when the One X was released and my only experience with it was on the One X, I wouldn't have gotten the same apples to apples comparison. Like many, I would have appreciated a larger hard drive or at least an internal hard drive that I could upgrade. 1TB isn't enough. I've got an external 4TB WD MyBook which helps with the storage concerns, but it's another item I have to have in my home entertainment setup, another item I need to give power, another item taking up a USB port, and given its size, it takes away from the awesomeness of the One X's small size. The power brick is gone on the One X but the storage brick is real. All said and done, the positives far outweigh the negative. I'm happy with my purchase.

Y'all editors at windows central that contributed to this article should be greatly ashamed of yourselves. Why you asked? fair enough. My kids read all your summary and and pretty much shoved it in my face that they told me so. We have 1 XBOX One Day One edition, 1 regular xbox one, and a third xbox one S console, Now they want an XBOX ONE X and their mom, my lovely wife that should be on my side (To not spend too much on these kids point of view) is siding with them. I said to enjoy it, you need a good 4K TV with HDR and we don't need to be buying that right now, Y'all article, the whole lot of yous said you can enjoy it even with current TV at 1080P at good 60fps even describing how awesome that looks, and that enhanced current games library are stunning too, as such y'all just cost stingy me $500 plus tax. So, I repeat, should be ashamed... That is my story and I am sticking to it.

I believe this is an attempt at humor. Yes? Hehe. Well, no you better go sell some of those consoles and buy the new XBX. I gave my XBO to my youngest nephew, as that is my tradition i.e. I gift hand-me-downs to prove to me that they know how to take care of expensive products. Now, I await the right time for an XBX. My hubby has a PS4Pro and god I hate it. I just have to figure out a way to delicately ask him to remove it for an XBX, or buy another 4K (projector?) and create another media room. LOL.

Absolutely a humorous attempt... Yup, 1 or 2 of those XBOX One got to go - I totally agree

Hahah, well you're going to hate the article I have going up tomorrow :P (I apologize in advance for your wallet)

Oh??? Then you're really gonna hate me... http://tinyurl.com/ya5eugnd This is the best value 4k HDR TV around! Don't be afraid of the name "TCL" They've been around, give them a look. See what people are saying. The TCL 55P605 looks amazing with my XB1X!

Yes, this is a very nice TV. Once you figure out how to switch on the HDR feature for gaming ,( thanks YouTube) this TV really delivers.

TCL P607 series here, love it with my X...

I'll have to see about getting a 65". I'm 4K HDR TV shopping right now but I plan to buy shortly after tax season next year. Going to see my options. Also looking at a Hisense brand at my local WalMart. Not doing Vizio because you have to hook up their TVs via Ethernet to update them. Can't go with Samsung because they're too damn expensive. Considering LG though. Besides Hisense, know of any other brands that are very affordable but have very good quality?

XBOX One S also has HDR right? Are any of these games going to upgrade to HDR for the S or does it have to go hand in hand with 4k?

It shouldn't but it'll be down to the developers how they package assets presumably. No reason HDR added in One X enhancements can't also be given to the One S. Forza 7 and Horizon 3, for example, do HDR on the One S.

In some regards, it's actually been underwhelming. As mentioned in other comments, there are no obvious hiccups or "gotchas" in this upgrade. It's all of the same games and accessories as the old XB1/XB1S, only with more horsepower. So far there are no issues with backwards compatibility, no missing apps, no incompatible accessories. It all "just works" or better. I've loved playing Super Lucky's Tale (let's be honest, that's not at top of the list of must-play games in 4K), Recore had minor issues displaying HDR levels properly until options were recalibrated (but still looks better in my opinion on my high-end PC at 4K), and Final Fantasy XV looks a little nicer in 4K (but nothing too obviously different from what I could tell). The jump between 1080p and 4K isn't as dramatic as the one from SD to HD was. Then I loaded Rise of the Tomb Raider back up again... and OH. MY. GOD. The visuals are stunning, and the three different options available will tweak the extra horsepower towards whatever is more important for you: better resolution, better graphics fidelity, or something in between. I was also hoping for a minor boost in load times--especially for FFXV--but those are at least in the same range as before. Now I'm seriously considering picking up Assassins Creed: Origins just to wander through ancient Egypt, even though those types of games don't normally appeal to me. When done right, the games look unbelievable. Was it really worth $500? Probably not since I already had the Xbox One S, but it's a REALLY nice upgrade if you can afford it, and especially if you have a 4K TV and are coming from the original Xbox One. And I'm sure in time, that opinion will change as more titles are released which can take full advantage of the increased performance.

So far, I like it. Gears 4 looks like a movie, it's incredible in 4K HDR. I do wish there had been a must have, really tuned, launch title to go with it. Forza 7 looks great, don't get me wrong, but it doesn't have those cinematic OH WOW moments like a good shooter or RPG can have. Too bad they couldn't have worked the dev cycle to bring us Halo 6, or even used the One X to launch new IP as the "must have" fully optimized first party game. Fortunatly, my life is so busy that I have a large backlog of now optimized games to play through...

Cars 3 looks amazing in 4K HDR on my Samsung QN65Q7F and sounds amazing on my Samsung K950 Dolby Atmos soundbar. Forza 7 looks and sounds great, too.

After playing some gears 4 day one HDR 4k on my X, I somehow stumbled upon a free to play game called Crossout and I can barely put the game down to enjoy anything else. On the X, Crossout looks like a high-end PC game running on a 55" 4k TV. The amount of detail and game play keeps you hooked. This thing is a BEAST!!

hi guys, i came across some YouTube video saying that the xbox one x couldn't turn on after 2days, has anyone facing that issue?

Mine is still working fine. There are always some consoles with issues that test ok in QA but then fail shortly after. Generally with technology if it doesn't fail in the first month it won't fail for 5 years....

Works like a champ. Tomb raider is STUNNING! HALO 5 IS ACTUALLY PLAYABLE IN MULTIPLAYER. I couldn't stand the jaggies. Good on ya MS!

I wish the high resolution would catch up in the PC world. I want choice and more resolutions. Gimme 3:2 panels with 4K and up at low cost. On the PC side, we're at a stand still.

I'm having a lot of fun with my X after it was delivered by Amazon. I was playing The Division with two of my British mates. The guy also had the X, but the gal was on the S. We loaded up a mission in The Underground DLC. My male mate and I loaded in at the same time, but our gal friend on the S came in 15 seconds later! He and I noticed that the issue never happened when we were on our S systems. About to try this on The Evil Within 2 and come back with better call in a bit. On a side note: Off topic but has anyone noticed that we have a troll watching these comments and downvoting everyone's comment? I know mine will get downvoted just for calling the situation out in the first place. I upvoted a few comments to to "reset" the counter, so to speak.

GREAT JOB MICROSOFT NOW UNLEASH SOME OF THE REAL POWER OF THE ONE S/X WITH WINDOWS 10 AND GAMING AT THE SAME TIME. FOR ME THE S IS PERFECT CAUSE I DON'T PLAY THOSE HIGH END GAMES. I DO USE A SAMSUNG 4K TV AND EVERYTHING IS AWESOME ON THAT. HOPE YOU START ROLLING OUT UPDATES TO SEE THE HOME ENTERTAINMENT HUB ABILITIES.
Windows Central Newsletter
Thank you for signing up to Windows Central. You will receive a verification email shortly.
There was a problem. Please refresh the page and try again.