OneNote picking up cloud attachments, tag search, and more this month
Microsoft revealed a slew of new features coming to OneNote on Windows 10, Mac, and on the web over the next few weeks.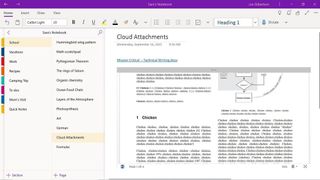 OneNote fans are in for some handy new features headed to the note-taking app over the rest of October. Microsoft this week announced several updates (opens in new tab) coming to OneNote for Windows 10, Mac, and on the web this month, including cloud attachments, tag search, and even an Emoji keyboard (via MSPU).
The biggest functional addition here is cloud attachments, which is headed to OneNote on Windows 10 and Mac. Essentially, cloud attachments allow you to ensure any file you add to a note will stay constantly updated to its latest version. Once enabled in OneNote's settings, attaching a file to a note will automatically upload it to OneDrive. Any changes made to the file will then be reflected on your note. And for Office documents, your OneNote notebook will display a live preview, showing updates in real time.
Also coming to Windows 10 and Mac is the ability to search tags in OneNote. Available by clicking the search button next to your notebook name, tag search will let you easily hone in on specific pages, sections, and notebooks that have been tagged with your search query.
On top of the Windows 10 and Mac tweaks, OneNote Online is getting its own set of enhancements. You'll now be able to insert pictures from your camera with the web version of the app, and the addition of an Emoji keyboard will help keep things playful. OneNote Online is also adding options to customize how autocorrect functions, and a new addition to the right-click menu will let you copy and share links to specific sections.
All of these features are set to roll out across OneNote in "the coming weeks."
See at Microsoft (opens in new tab)
Windows Central Newsletter
Get the best of Windows Central in in your inbox, every day!
Dan Thorp-Lancaster is the former Editor-in-Chief of Windows Central. He began working with Windows Central, Android Central, and iMore as a news writer in 2014 and is obsessed with tech of all sorts. You can follow Dan on Twitter @DthorpL and Instagram @heyitsdtl.
This is great, but my complaints about stability and other functionality still stand. OneNote is unique and brilliant, but only the 2016 desktop version is stable enough for the amount and kind of work I put into it.

I agree. I LOVE OneNote but like u said, the Desktop version is the only consistently reliable version & I have ALOT of work on OneNote.
The UWP vers. isn't as reliable, especially with it always saying it needs a login password

UWP version works fine on my devices tho (Alienwares & Surfaces) and I think I'm... quite a heavy user. I have it on my Nexus too.

No issues here with the UWP/O365 version of OneNote. I live in OneNote.

Just curious as to the problems you are having. I have been using OneNote daily for years - multiple devices, up to date versions, Android, Windows, etc. The only problem I ever have is the occasional syncing conflict (rare) which is easily solved by viewing the conflict. I am only asking because if there are some serious stability issues which I haven't yet seen, I want to know what they are since I consider the work I have in OneNote absolutely critical in my life.

I've also been using OneNote for years and even completely switched to the UWP version at this point. I've probably been on the UWP version for over a year now. It's one of Microsoft's products I love the most and use everyday. Not trying to discount your use cases and needs, but I'm wondering what are the functionality/stability issues you're encountering?

Just to reply to everyone's questions about my problems using OneNote: The biggest problems is syncing audio between UWP and desktop, which corrupts the audio and it's lost forever. Other things include: Drawing shapes in one place, but having them show up at the top-left corner; hyper-aggressive shape recognition that turns letters into shapes; pasting from the rest of Windows to OneNote never works as it should - it pastes the previous thing in your clipboard, even if you re-copy the new thing you want to paste; hyper aggressive automatic scroll lock (which is just annoying, not a bug); resetting my pens; randomly creating new pages, which subsequently won't sync; squishing handwritten notes vertically, so that you can't even disentangle them with cut and paste ... These are just the problems that persist. (They've fixed lots of other problems, thankfully.) I use UWP OneNote right now because it's lighter than the desktop version and it's gotten a lot better and more stable, and also because I am taking fewer notes these days - but also because I'm afraid opening the desktop version will result in corrupted files. But that also means that I'm painfully aware that the problems are still there. This is across several installs, a couple of big Windows updates and complete resets, and two devices (Surface 3 and Surface Pro (don't call it 5) 2017), going on about two years now.

Main missing thing for me is drag and drop of files into UWP version.
Great to get tag search, that was main reason for using desktop version.

Seeing serious development for OneNote lately. I sense Andromeda.

Will not use until its on pair with desktop version. Still can't use locally.

Am a fan of oneonote. Cloud sync sounds cool, but emoji and tagged search was not on my wish list. Must be different kinds of fans Microsoft is talking about? Meanwhile as a fan and daily user of the app on windows and windows mobile still these basic issues are still not adressed: 1. inline live ink-to-text conversion, as good as he Nebo app 2. being able to asign and save a template page as a default design. Now personalizing pages is limited to a few curated options, but every new page starts as a white blank page (:() 3. being able to asign the surface pen to open a specific template page in a specific section by default. Right now the default is a blank white page in the quicknotes section. This is annoying when using the app on a more professional level. 4.After more than 3 years of windows 10...it is still not possible to edit and rotate images in one degree increments. This is possible in office apps. Weird.
Windows Central Newsletter
Thank you for signing up to Windows Central. You will receive a verification email shortly.
There was a problem. Please refresh the page and try again.