OneNote's refreshed design is now rolling out to everyone on Windows 10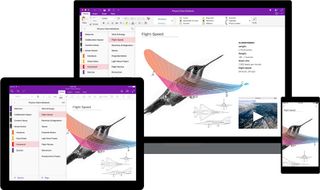 After a bit of testing with Windows Insiders, the latest big update for OneNote is now rolling out to everyone on Windows 10. This update packs a number of new features, but its biggest highlight is a full redesign meant to maintain visual consistency across platforms.
Here's a full look at what's new (opens in new tab) according to the release notes:
OneNote Reimagined: It's easier than ever to organize your notes with an improved layout. All of your notebooks, sections, and pages can be found in columns on the side of the app, efficiently navigable with screen readers, keyboards and more.
Resolve page conflicts: Page conflicts sometimes happen in shared notebooks. We've made it easier to find and resolve the differences. Pages with conflicts will be marked with a triangle icon.
Your pages, your way: Page previews provide a glimpse of what's in your notes by showing the first few words of text on the page, and a thumbnail of any pictures.
Hide subpages: Create more room in your page list by collapsing your subpages. Select one or more pages, and from the right-click menu, choose Make Subpage.
Find text on a page: Use Ctrl+F to quickly search for a specific word or phrase on the current page.
You're the expert with Tell Me: Click the light bulb in the upper right corner of the app window, and simply type what you want to do in OneNote using your own words. Tell Me will guide you through the process as well as offer additional resources such as Help or Smart Lookup.
See what's changed: When someone else changes content in your shared notebook, we'll make the page or section name bold so you know.
Nickname your notebook: Add a nickname to your notebook to make it more personal and easier to find.
Change the notebook color: Red for work, blue for personal? Change the color of your notebooks to keep things organized.
That's quite a bit of new stuff that should come in handy if you're a particularly heavy OneNote user. More importantly, using OneNote across platforms should be much more of a cohesive experience thanks to the updated look. If you want to check out everything that's new, you should be able to grab the latest update from the Windows Store now.
Download OneNote from the Windows Store (opens in new tab)
Dan Thorp-Lancaster is the Editor in Chief for Windows Central. He began working with Windows Central as a news writer in 2014 and is obsessed with tech of all sorts. You can follow Dan on Twitter @DthorpL and Instagram @heyitsdtl. Got a hot tip? Send it to daniel.thorp-lancaster@futurenet.com.
why they removed the preview of the images? T.T

they didn't. it's an option under View - Navigation Pane

Oh thank you very much MrKhaki

Pen support is gonna be awesome on my Surface Phone.

I'm not seeing the update on my 950

just came to lumia 950 and laptop, now i'm waiting for android tablet and maybe office 2016 (?)

I really like the way the navigation window works now. Starts out showing notebooks then when you choose a tab from a notebook both of those columns automatically slide away so you can start working. Really streamlines workflow for me. Then, if you need a different notebook or tab, click the back button on top of the page list, and voila, everything shows up again.

I didn't see any update in my lumia 540w10
what to do

I'm waiting for the companion piece "five alternatives to one note for your iPhone."

I like the new OneNote, but I wish you could do a find while on a page when using the app on W10M

The apps for Windows 10 desktop and mobile received the update but I didn't see the new navigation UI. Went to Settings > Options and saw OneNote Preview: Enable Experimental Features was turned off. Switched it on, restarted the apps and the new features finally appeared. Didn't know you had to turn that setting on to receive these kinds of updates.

That means you do not have the actual update then because it would be the default layout

I received the update and I need to turn it on. (Actually, I left it on. I've been using the new UI for weeks now.)

This is pretty amazing...they've now covered most of the features in the desktop version. I may actually switch as they've also got a couple fun features that aren't in the desktop version. I think OneNote is a poster child for creating powerful desktop caliber programs as UWP apps. Good stuff!

Still requires log-in to use, still useless as day 1 to me...simply screw off with that skynet account requiremen, then it'll be worth using.

OneNote is largely designed to sync with the cloud, it's a very powerful function. Seriously, the cloud capability is awesome, makes using OneNote across multiple devices seamless and stress free - I use my notebooks across at least about 8 PCs, signing into your ms account it's hardly an issue imho, we already use email and Windows anyways..

I don't need nor want to be putting all my notes in the hands of fkn microsoft. My notes is my notes, and should be kept in my local storage. Windows 10 is already privacy-invasive more than enough ( https://sck.pm/AH6 ) even without a microsoft account tied to it, plus, don't want to be worrying about internet connection when I want to access my notes.

As far as I know, OneNote allows you to use it offline and still access any notes you've made on or synced to that device.

The desktop version - which is also free - does indeed let you have local files. But some people just want to be angry about stuff for no reason.

You newbies simply can't tell the difference between the Desktop app and UWP app...

Then just don't use it, no harm no foul.

They do sell notepads at the local dollar store. You might be able to get a few pens for cheap too!

Works just fine without an internet connection. If you need to sync notes (OneNote or other) across devices your notes will be in someone's cloud, whether that be Microsoft, Google, Amazon, or whoever else. Everything involves the cloud one way or another. If you don't want that, your only real option is to go totally off grid.

This update already came out like a week ago i sent an email to them about it back then. Surprised it took them this long to make an article on it.

It was a little over a week ago and that was only for Fast ring. And we did write an article on it at the time. Today's update (as is stated in both the title and the article) is for everyone - i.e. non-insiders. Can you time travel, bro?

Sorry but i am on Release Preview not Fast Ring. "Bro"

Sorry I'm not an insider bro so it was helpful for me

FWIW, I am not on the insider program, and I've had the new look since the previous update. Not sure why some didn't have it sooner, other than perhaps enabled only for people with the Creators Update? Edit: Anyone could enable the new UI in settings (Experimental) weeks ago. Insider participation not required.

Yes, but the features were still not on par with this new update

Nice! Makes me glad that Microsoft is always improving it.

I'm surprised they released, because there're stability issues, the app on my SB crashes every time I try to create a new page. Tried unlinking account and resetting the app and didn't work.

Nice,but if you set a PIN to login to Windows, OneNote throws an error when it tries to sync. Same on phone (950) btw.

I've always had a PIN and not had a problem.

i uninstalled onenote from my windows 10, I do not see the use of it and yet we still have to go through hoops to get rid of it because MS decides that we all need it. i hope now I got rid of it Ms do not decide to put it back on my computer. i will never use it and if i did need some software like this I would find an alternative.

NEED PASSWORD PROTECTION, how many times one needs to request you guys for it!

Password protection is already there, just right click on the section header.

I'm sticking with OneNote that comes with the desktop version of Office.

A hand written note appears at the bottom of the page

Don't see draw function on Lumia 950 xl and taking audio notes doesn't work.
I give them 3 out of 5.

Ok, I like the new design/navigation. If you've finally finished tweaking those (few) apps that already work, how about building a decent UWP app for your $26.2 billion toy, called LinkedIn.

Now that this is done, can they synchronize the looks for their other apps?

Keep the office improvements for Store app versions coming. I would like to see the replace thee desktop versions and be just as robust.

OneNote has gotten pretty close as is. I have a feeling this is their "example" for others to follow. That said, while updates were frequent, they took a long time to get to this point of near parity.

Aside from the fact that the splash screen closing button is outside of screen frame and cannot be scrolled onto screen, it's really nice.

This new layout is amazing, it's made the app so much more use friendly

Notebook Class Tools: What's that? I can't figure out what is that... :/

One Note vs Google Keep. Which is better? thanks

I would say OneNote because of its availability on all devices. Google keep is not so well integrated with Windows. OneNote is available as an app on all devices and contains more features. Although if you're really into the Google eco-system, Keep is more integrated and simpler then.

OneNote is much more capable; best in class. Google Keep is very good if you are deep in the Android system and need to capture basic notes.

How about borders around notes, without resorting to inserting text into a cell or some other workaround? Has that been added yet? David

Anyone noticed that the live tile is a more vibrant shade of purple? In fact, not only the live tile but also the title bar and splash screen. It's awesome
Windows Central Newsletter
Get the best of Windows Central in in your inbox, every day!
Thank you for signing up to Windows Central. You will receive a verification email shortly.
There was a problem. Please refresh the page and try again.