OneShot for Windows Phone 8, the first indie app to show off the power of the Nokia Imaging SDK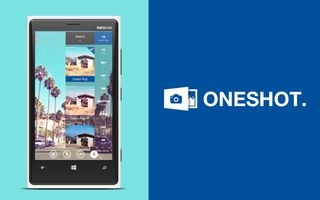 Nokia unveiled their Imaging SDK back when the Lumia 1020 was unveiled in New York City. The Nokia Imaging SDK allows developers to easily integrate photo editing capabilities into their apps, kind of like Aviary but with a slightly different approach.
The Imaging SDK from Nokia gives the power to developers, leaving them to build the UI for the app. OneShot is one of the first apps in the Store that uses the Nokia Imaging SDK and it is pretty dang awesome. Let's check it out.
Our first sneak preview of what the Imaging SDK would do when we saw the Nokia Developer sample apps in the Store. If you remember those sample apps you'll see that OneShot looks like those, but you might see a few similar filters. That's because with the Nokia Imaging SDK developers get the raw power of editing photos, but build the UI and experience around how users interact. In addition to that, the SDK allows developers to quickly process high resolution photos. Something we'll be seeing a lot more from as the Lumia 1020 and future devices sell.
OneShot takes the power of the Nokia Imaging SDK and gives it a beautiful camera UI that an app on Windows Phone deserves. With OneShot, you get real-time filter effects (Vintage, Nashville, Green Pop, 1977, Lomo, etc) and the ability to control a variety of camera and image settings. Here's what you can control with OneShot via a fly out slider.
Contrast
Brightness
Saturation
White balance
Shutter
Scene mode (Auto, Macro, Sport, Night, Night Portrait, Backlit)
ISO
Manual focus
Auto focus mode (Macro, normal, full, hyperfocal, and infinity).
The filters are particularly fun. There about 15 available in OneShot. What's really nice is how the effect of the filter is applied in real-time through the viewfinder. You can quickly cycle between them and the effects take hold nearly instant. This is a strong showing for the power in Nokia's Imaging SDK.
Folks who have a good grasp of photography concepts will appreciate the granular controls you get with OneShot. Changing the contrast or ISO is a tap and slide away. What's really neat is the ability to select the shutter speed. You have variables ranging from 1/2000th of a second to 4 whole seconds. You'll need steady hands that only a dead man can give (or a tripod) to take advantage of a 4 second exposure, but it is control in an app that we can appreciate. Tripod + night + OneShot = results we can't wait to get.
In addition to everything listed above, the app has a few small touches that go a long way in making it a very strong app for version 1.0. For example, you can toggle a setting called "steady detection". This displays a bar at the top of the viewfinder that goes varies in color between green, yellow, and red. Hold your phone steady and the bar will be small and green. Add movement to the mix and the bar grows turning yellow then red. If the phone has any shake it will be either yellow or red depending on the intensity. This can help you avoid those blurry pics.
You can also show a grid and virtual horizon to help you get those balanced and level shots. Right now the grid is only available in the "rule of thirds" format, while that's all you might need. It would be fun to cycle through a variety of grids.
Last but not least is a fun "favorite button" that you can select the function of. You can set it between three settings right now:
Focus to tap and manual shutter release
Switch to next filter
Select random filter
Right now I have it set to quickly switch between filters so I can get more familiar with the effects in the Nokia Imaging SDK. But I can see myself appreciating the ability to manually focus by touch and then select when the photo is taken.
What could make this app better? It would be nice to create custom scenarios, name them, and add them to the scene mode. Other than that, this app is great! Future updates will include frames and more filters. We've heard that the Imaging SDK gives developers around 40 of them.
This is one of the first apps in the Store (that we're aware of) that take advantage of the Nokia Imaging SDK. IF this is what is coming out now I can't wait to see what else is in the future. We've heard on Twitter you can look forward to future updates from apps like Rowi and Instance to include some of this SDK magic.
The app is available for Windows Phone 8 devices and comes in at $1.99. Although you can fully trial the app and all the various settings. You just can't save pictures in the trial. Grab it here in the Store, use the QR code below, or swipe to the right in our app to get it.
PS. Want to learn more about the Nokia Imaging SDK? Go download it (opens in new tab).
Windows Central Newsletter
Get the best of Windows Central in in your inbox, every day!
Forgot to add this is the developer who made Hello Friends. A fun app we've covered in the past that fills your lockscreen with the faces of all the beautiful people in your life. OneShot is cool. I've been using it on my Lumia 925 this morning. Can't wait to go out and play with it more around town tonight. Worth the two dollars, wish I could add this app to launch with the physical camera button.

Controlling the default for the physical camera button comes in Amber, doesn't it?

Afaik that only applies to Nokia's camera apps, not all camera apps.

It does. But we've only seen Nokia Smart Cam and Pro Cam show up as options. Not third-party apps like OneShot, ProShot, etc.

Damn. I wonder if that's a limitation set by Nokia or if other apps simply need to update.

Fun app Im up for supporting Devs 1.99 isnt a bad price but the app offers similar if not identicle filters to free apps, not sure if the additional features are worth paying for

As more and more photography apps come to the store, you'll be seeing a lot of overlap in features between the high quality ones. What will set them apart is the work flow. I'm digging how the design / how the controls are laid out here with OneShot.

I paid for it i had to I support the "cool apps" devs need to eat too right ;-) . Im enjoying it and like you said the UI is nicely laid out

+1, I will buy it for the same exact reason. Great app = great developer !!

app name and tile design makes me feel like its designed and named by microsoft :S anyway looks like a decent app

I thought the same thing!

i was hoping for manual white balance adjustment... this cannot be done on Lumias with any camera app.... patiently waiting on Pro Camera + Amber

Oggl Pro was first actually.

Good point. Oggl/Oggl Pro were built using parts of the Nokia Imaging SDK. I'll have to find out which parts since Hipstamatic has their own "filters" via their camera and film "gear".

Not fair though, they had early access. This is the first indie app without Nokia's assistance.

This was the first to run on 512MB devices. ;)

Does it work on the 8x? I would guess not.

why? i thought Nokia said the imaging sdk was device agnostic?

Crashes on startup on my 8X.

Proshot vs Oneshot = filters difference?

Yeah we want a comparison :)

Proshot needs a level though.

I am not sure this app is all about filters. It also seems to have a ton of controls you don't get in anything but the Pro Camera app, so far.

Nice! Count me in as a customer. I can't wait to see more apps that use the SDK, heck, has someone paired the Nokia Photo SDK with the HERE SDK, yet? Let's get some location based photo awesomeness going.

What makes this better over apps such as Pro Shot?

the app is amazing, getting error in the time to get pics, *send logs* in the L620

There's a way to save photos, just Screenshot the saved image while using the App and then just crop it to get rid of any toolbars.

You loose the full resolution, and c' mon, that's 2$...

I don't want the App, just saying that there is a way. Obviously resolution is going to be lower but for a SMS its fine.

Once I turn on Manual Focus I can't seem to be able to switch it back to Auto Focus unless I reboot the app.

Those filters are actually built in the SDK haha

crash when opening app , HTC 8S

I'm sorry for that, but I'm definitely working on that problem!

I have thumba cam. And waiting for they big update.

awesome app. With shutter control feature. I just shot a rotating fan of full speed., where the photo shows the blades of fan without blur., has some noise content. since i shot it with 1/1000 s

It seems like other camera apps don't use all 41mp. Am I nuts or will that get addressed?

Nice app!!! My first purchase app!!

any issues with this app for 512 MB RAM devices, Im planning to purchase for my L720..

I tried it for a few minutes on my Lumia 521, worked fine. But it doesn't allow saving, so I just messed around with the settings and filters.

Didn't even think. Bought. Support the developers!!!

yeah, that is what i am planning to do...i just want to know if it works so I can use it as well...bought proshot already and i find it great as well...planning to get this app...the UI is awesome btw...

Stealing office styled icon?

technically, this apps icon is wider than the office icons, but it does look like them (to which i like that)

I like the layout, nice. Wish it had tilt/shift effect (my favorite effect), and why can't I zoom in and out?? (noticed that annoyance with several camera apps actually)

Do we have any word on when the Nokia Pro Camera app thingy is coming out to other apps?

Just Great! Works well on my Lumia 920. Just love the "steady bar" on top.

I think an option to apply the filters to the pictures allready taken would be nice.

you can save images created by the app by using screenshot (windows key + lock/unlock/power)

Yes it's thats true for any WP8 however I much rather support the efforts being made. time it takes to design and code an app one must remember when the price says $1.99 the deve doesn't see all of it. I rather not cheat some one's hard work if I have to do that I'll uninstall the app.

That UI... its... awesome. Want to check it out just for the UI alone.

This is really a nice app I did the try first then went and bought it. Piff it only took me 30 min of playing with it and went for the buy really $2.00 I blow that much in a flash every time i hit a store for a diet coke...jeez I call this a great buy. but hey think of it like this the deve doesn't get the two bucks MS takes 30% support the apps.........

Seems as good as camera360,but it doesn't work on my 8x

Wish my HTC 8X could set default camera

Nice App, tried it on my Lumia 920: Phone get's really hot, 16:9 format is missing like Cam360 too. What's the deal with these two things?

Might be a good default camera app to use when I get the Amber update on my Lumia 920.

The only app I've used on my 920 that has Shutter Speed (and it works) I think I may have to purchase this as that was the feature ive been looking for. Although I may wait until others are released on the new SDK and see which is best


Bought and like it. However it does not appear to save exif data for shutter speed, ISO, etc. When I open photos, go to edit, and use the Picture Details App, it states "no exif metadata found".

Anyone notice on the "other apps" page in settings has the app "Hell Friends" listed? Bit of a typo :S

nice app! works great on my samsung ativ s.

perfect guys. Buy this amazing app and support developers for Windows Phone
Windows Central Newsletter
Thank you for signing up to Windows Central. You will receive a verification email shortly.
There was a problem. Please refresh the page and try again.