OnStar developing app for Windows Phone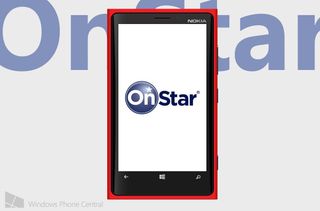 If you're rolling around town in an OnStar (opens in new tab) equipped vehicle (think vehicles made by GM – like the Chevy Volt) you'll be happy to know an official app is in development. There was a popular third party called Volt Link that was pulled from the Store because of a cease-and-desist from General Motors. Now it looks like we'll get an official offering!
OnStar is a subscription service available to nearly any car made by General Motors. Brands include Chevrolet, Cadillac, Buick, and GMC. You get in-vehicle security, hands free calling, turn-by-turn navigation, remote access to diagnostic systems and more. There is an iOS and Android app that lets users interact with their vehicles through their smartphones. But since Volt Link was pulled from the Windows Phone Store, there has been nothing for Windows Phone users to use with their vehicles. Patrolling their support forums, a reader alerted us to the fact that a Windows Phone is in development. This is what Lisa from the forums told users:
While we don't have a time table for when the app will be ready, it's worth nothing that it will work with Windows Phone 7 and up! No Windows Phone left behind. Also Lisa mentions that they've opened up their APIs to developers. Could Volt Link make a comeback?
We'll reach out to OnStar/GM and see if we can get any more information on the app. And of course, we'll update you guys with what we learn and when the app is available.
Source: OnStar Connections
Thanks for the tip Qngo!
Wow, this will rock on my Camaro

You have my dream car -_-

No the LT w/ rs, but it has a moon roof :)

+1 was thinking the same thing.....we have the same car..probably different color. Silver with black racer stripes. Can't wait for this app.....must have.

One word Nissan 350z. End of discussion

One word: 2002 Off White Toyota Camry

Great news but still won't work with my 2010 Camaro as the Onstar app only works with 2011 and later models.

Well i really dont have the onstar subscription on my 2013 but even without the app i am able to do what i need, the most used is the music via bluetooth and my l810 does not lack at all

They said this about 3 months ago to me on Twitter. Still waiting. One app I've been anxiously waiting for.

I asked on Facebook but could not even get them to commit to a quarter.

More official apps!
I'm still waiting on that Wells Fargo app! That's a big one!

Just go to wf.com- not everything needs an app. Also, screw Wells Fargo. I left them a few months ago for a local credit union and couldn't be happier. I wish I had switched years ago.

Did the same and love the credit union!!!

Also read that snapchat is talking with WP about a future app.

They said it on their twitter about a month and a half ago, so if they managed to do it i would assume it would come out in like 2 weeks

I'd give it 3 months time

Funny how this happening but Ford Sync is still not compatible with Windows Phone even though Sync is made by Microsoft.

I feel your pain. I'm still waiting for Entune support.

It is pathetic that Synch doesn't work with WP. I can say most hands-free features work out-of-the-box between WP7.8 and 2013 Lexus ES350 via Bluetooth.

My Lumia 710 on 7.5 pairs flawlessly with our 2013 Honda CRV. Even reads incoming text and lets me reply by voice, no need to hit any buttons. And this was without having to change any settings! My partner's iPhone 5 on the hand... ;)

I can't get my phone to play through USB on an aftermarket radio. They all say USB not supported, while my brother in law plugs in his shitty android and it plays right away. Or am I missing something? Also everytime I plug in on SYNC on my mariner it has to re sync my music. L920.

Just like my Zune software!

You guys really need to learn the difference between supplying the underlying operating system and making the actual product that runs on it. Sync itself is not made by Microsoft. Sync is a software application, developed by Ford, running on an OS supplied by Microsoft. Would installing Microsoft Office on a Mac mean Microsoft makes Macs?

Cool now we need Viper car alarm, ADT, Comcast with an Xfinity app, Hulu+, Tango, better Skype, more of desktop experience with Office, MORE DEVS, a built in notification screen & then we'll be all set!

+1 on viper smart start. They had a demo on build 2011 and still nothing

This would make me start my OnStar subscription back up! Now, hopefully it works with 2010 models.

Tango and instagram need to come

Always nice to see more official apps jumping on board

The more official apps the better!

Awesome because I have onstar

I'm going to be in the market for a vehicle next year and official apps like this will definitely help narrow the choices down.

Yay!! Was very disappointed when the issued the cease and desist for Volt link. I'll take away a couple bastard points once the app comes out. ;)

I never trust this onstar service. They can always unlock your car door for you remotlt. Gives them the burgulars get in your car when who knows who you can trust that works in that company

I'll dig a hole in the backyard to put my money in while we're not trusting people.

Only if they have tour pin code as well. Believe me it's not easy to hack. Out of the millions of OnStar equipped cars how many have been hacked? The more likely case is your keys will be stolen.

If they want in your car, there are dozens of other ways to get in than using Onstar. Have you ever watched a tow truck driver or locksmith open a car? With a thin strip of metal between the door and the window, they can unlock and open your door in about 10 seconds. A car is not secure at all my friend so stop worrying about Onstar.

I am waiting on Entune for my girlfriend.

It is about time been waiting for this for a longtime

The more these classy apps appear on Windows Phone, the more I believe Microsoft made a good call moving from WP7 technology to Windows Phone 8. I expect once Instagram officially hits WP8, MS Marketshare will cut into a lot of Android and IOS marketshare. This is what its all about.

Glad to see that they listen due to I have emailed them about getting a App for WP since I have a new Chevy it will be nice to be able to use the App. :)

Now I just need a new car.

OnStar is useless in my car thanks to GM not supporting CANBUS worth a damn.

FINALLY! Every time I get one of their surveys on the web I specifically asked for this. I'm guessing all that time filling out those survey just paid off.

Hopefully next will be Mercedes MBrace app.

I contacted GM last year when Volt Link went away. I complained rather bitterly that they were not supporting WP like they should. Hope to see the app soon!

When? Its May 2013. Been waiting for 2 years now

Now late June. Was this an April Fools joke? Or was that just coincidence when the story was released?

Just got reply from on star. Not a joke. App supposedly on the way.

All I can hear are crickets.... chirp chip. Cancelling my Onstar until this is rectified

I talked to OnStar on July 1. The reply was the application was a long way off. I don't know wether I'm going to kill off OnStar or my Windows phone Lumia 710 running 7.8. I'm not happy with either company.
Windows Central Newsletter
Get the best of Windows Central in in your inbox, every day!
Thank you for signing up to Windows Central. You will receive a verification email shortly.
There was a problem. Please refresh the page and try again.