Opera can now help save you some battery life on laptops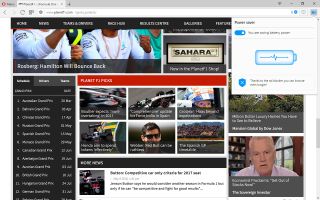 Opera has announced the company's web browser can now help you save battery life on laptops. The new saver mode will also aid in keeping your mobile PC cool too, according to Opera test results. During the summer months, the company states Opera will be able to keep laptops more than 3 degrees Celsius cooler.
How the company is able to achieve the aforementioned is by optimizing various parts of the browser, including the reduction of non-essential system tasks. Opera found in its testing that the battery saver and ad blocker combination meant the laptop was able to run for up to 50% longer than competing browsers on Windows 10.
You'll be able to activate the battery saving mode by hitting the battery icon that appears next to the address bar. This should show up when the cable is unplugged. The browser will also recommend you activate the mode at 20% battery.
In Why you should consider switching to Opera's latest browser for Windows 10 we reviewed the latest features by Opera and came away impressed.
Windows Central Newsletter
Get the best of Windows Central in your inbox, every day!
Rich Edmonds was formerly a Senior Editor of PC hardware at Windows Central, covering everything related to PC components and NAS. He's been involved in technology for more than a decade and knows a thing or two about the magic inside a PC chassis. You can follow him on Twitter at @RichEdmonds.
Why so many articles on opera lately? Apparently the Chinese are better at marketing.

Is this new opera an app? I hope so

No it isn't due to the limitations UWP still has regarding browsers ;)

No it isn't due to the limitations UWP still has regarding browsers ;)

Aww man. I really hoped this was an addition to the app store. Lumia 928 on build 10586.338

Actually, no, those limitations are no longer there. E.g. Facebook's apps use a different browser engine (Chromium-based) and JavaScript engine (V8-based). Posted from Bikini Bottom via my Pineapple PineBook XPS 13"

Yaay!! I hope it's an app. So other browsers will compete, this building the app store Lumia 928 on build 10586.338

have nothing with opera being sold to a Chinese consortium per se. Not that they will be spying or sort (please, the western governments are not less innocent), but Chinese software makers are known for piggybacking tons of other unnecessary (dubious) software that only gets remove superficially once they are in. And they can really interfere with the operating systems.

Opera can save even more on Windows 10 Mobile by not supporting Opera Mini on this platform anymore. And of course who wouldn't want to use a browser owned by Chinese investors and which is developed by a company which has ad serving and collecting user data as its main Business? Might be a great alternate for WC stuff, since they don't mind using Chrome, but for everyone else?

The saltyness is strong with this one.

What version are you using? I'm on 37 and there is no such thing to enable...

42 Posted via Surface Pro 4 or Microsoft Halo Phone

Will there be any testing to validate their claims? Just an adblocker alone on any browser will make a big difference, since the ads take additional CPU cycles to load, and they are often are resource hogs. Heck, on WC alone, the video ads can be so bad that I can't even type a comment without significant lag on a Surface 3.

I've been using it on the beta channel for a couple of weeks now and I'm not 100% sure how much extra I'm getting, but I do think it's helping. Opera has been pretty thirsty in the past, though not as bad as Chrome. I was away all last week and didn't feel like I was having to recharge as quickly.

The saver works by reducing video framerate, scrolling framerate and by disabling some background tab processes. Not sure it's a lot, but it is doing some stuff.

I tried using Opera few days ago, and uninstalled it in 2-3days tried it for few hours but don't like it at all.

your choice. Posted via Surface Pro 4 or Microsoft Halo Phone

I switched to opera a few months back. It took me a few weeks to get used to it, but I prefer it to chrome now. Looking forward to the VPN stuff coming soon.

I used Opera for few hours! And I get 23 malwares because of Opera. I hate you opera! EDGE IS BEST!!!!!

Opera is garbage, Opera Mini is garbage, their rendering is horrendous, and it is no wonder they need Windows Central to run sweepstakes like, "use Opera and win a tablet!" to get people to use it. I know preference is subjective, but yuck. Opera can hike itself off a cliff in my opinion. Can't make a UWA my ass.

I dunno, I use it all the time now over Chrome. Edge has a ton of potential, but still has a lot of areas to catch up.

Opera is pretty cool, nice clean and logical UI. However, as opposed to some months ago, EDGE seems now more fluid on an older machine (Athlon 5050e) than Opera. I'm on Slow Ring, i.e. I have the improved EDGE with Add Ons. It runs really well now. It happens that after some weeks with Opera, I tend to reuse more and more Edge.

I really like Edge's rendering.

Which Version has this feature? I am using 37.0 but do not see power saver!!

Scrolling on Opera is horrible for me. My touchpad's sensitivity takes a toss only on Opera. On other browsers and other places like Explorer, the scrolling is fine. I have searched for settings inside Opera, but found none to correct this. You guys got anything to help?

Get an extension called 'SmoothScroll' and configure away.

I actually switched back to Opera again and I am loving it so far. Some few minor problems with some websites, but other than that a nice synchronisation (including open tabs), easy organisation when it comes to bookmarks and a nice windows 10ish design. Only downside: No Opera for Windows Mobile.