Opera Mini browser taking sign ups to beta test Windows Phone version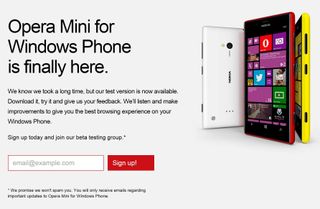 Opera may be about to launch its long awaited Windows Phone version of its Opera Mini web browser, as a page has now gone live on its site asking for people to sign up to beta test the browser.
The page states:
However, don't get too excited as we have already sent in our email and, aside from a confirmation that we are signed up to beta test the browser, we have yet to receive an actual download link. However, if it goes live we will post up an update.
There was an unofficial Opera Mini browser released way back in 2011 for Windows Phone 7 but it has since been discontinued. What do you think of Opera finally preparing to launch its Mini web browser for Windows Phone?
Thanks to our anonymous tipster for the alert!
Source: Opera (opens in new tab)
Windows Central Newsletter
Get the best of Windows Central in in your inbox, every day!
Finallyyy!!!!!! (and read that in Rock's voice lol)

Finallly! Opera has come to wp..

Knowing that Opera makes money from their user's browsing I keep my fingers out of it... good or not.

IT DOESN"T MATTER WHAT YOU KNOW!!!!!! (In the Rock's voice as well) Just kidding about it not mattering what you know but it was the perfect Rockortunity to type that.

Boots 2 asses you jabroni!

Lol, like every other browser?

I used opera browser on the MTK devices years ago, and I still love it.

Btw we don't require it now ... We have UC & IE

Btw there are a ton of people that want Opera.

Chrome,IE,Firefox or opera? Which one is your favourite browser sam?

Chrome is a big battery eater opera a big data eater. So of your on cellular data ie 11 is the best.

idc about cellular data... we in Finland have unlimited cellular data bandwith... even with the lowest connection 1Mbps or the 3G or the 4G LTE and are u sure opera eats alot data? it has the turbo booster that lower ur data up to 90 %

IE causes a lot of problems while viewing youtube videos which is it's biggest disappointment. :/ otherwise it is very good

IE reloads all the time, even after CYAN. IE is shit

It got WORSE in WP 8.1.1. I really liked it before that but it's crashing so much now on my Lumia Icon.

yeah WP8.1.1 dev prev. IE11 was told to be good, but some how its worse lol, cant change from desktop to mobile anymore after change it to desktop... i shouldnt have do that for the first place

Yeah it seems like it works but try to go to mobile version page and it will redirect you to the normal page(desktop)

Don't you know WP8.1 Update is about an alpha release yet? @.@

Yes. The only gripe with IE is that it keeps reloading even if I looked at the other tab for 5 secs.

Aashish13 - Given the only browser engine available on Windows Phone is still Trident (IE), Opera Mini will be nothing more than a shell for IE that offers Opera Mini's features.

The rendering is fine and hopefully they can take advantage of APIs and build more stability and functionality into it.

UC Browser and Nokia Xpress uses a custom engine to save data.

We want opera but not opera mini

Ever since they made a new webkit browser with 10% of the features of the previous version Opera I see no big deal for existence of this browser. I am saying this as big Opera fan I once was.

Agreed. Once they changed rendering engine - it was game over. The other browsers added mouse gestures and tabs also. No need for it now, shame, but time moves on. IE 11 is perfectly adequate. Absolutely no need for another browser.

IE11 in WP8.1.1 is rly bad

No, not it's not. Your spelling however is ;-)

I'm using UC browser because of IE11 is horrible in WP8.1 update 1 preview for developer

Could you be even less specific?

I have used Opera mini on all my previous nokia phones and believe me there are a whole lot of people who want it on thier phone. Its going to do Windows Phone a world of Good.

Hmmm, besides it doesn't look good for a platform not having a popular browser

Actually just two really heavy chicks.

Surfy is great, and much more stable on 512 phones than UC

UC is my daily browser but sometimes it works weird. It can't save some picture, so I have to open it in IE and save. On some websites YouTube videos don't work (says update adobe flash), again open it in IE and it works

@umangpop777 I think its a good thing more options are coming for users, as WP fans we require all the first party apps, pls don't say we don't need it.

Speak for yourself umang, IE is much better on WP8.1 but I've been waiting for opera..... Even though link isn't possible on the current desktop browser

I think a lot of people are waiting to see Opera Mini. I am waiting since 2011 after I got a WindowsPhone.

YAAAAY FINALLY Opera!!!!!!

Biggest thing that sucks on wp is facebook app does not show any update from my friends.....even the biggest problem is facebook does not work on ie11...so I would welcome opera to use facebook

Finally p**n for windows phone...

You had a problem using IE11?

Yup. I can't open as it blocks through my network on ie. so yeah...in opera mini it wont.

School or work network blocking? No problems here with IE.

if you open IE and then go to google.com and search from there you can still search.

isn't there nokia xpress...? or any other browser?

Yay..finally a few options :D

It's not Android. It's WP, every app is best from MS... IE rocks...

finally someone showed interest to create browser ..

Certainly interesting. I like competition. For now I would be happy if Microsoft lets us use the same method of blocking ads in the Windows Phone IE as it does in Windows IE.

Really, I'm sick and tired of websites wanting me to visit their site via their app. We need adblocking desperately.

It would be great.,and option to hide navigation bar...

and im w8ing MS add an option to change default browser

Coming in Windows Threshold maybe? :)

WOW! I wonder if my sync still works.

Please can you give me the link??
Thank you

Click on links option from the app.

http://www.opera.com/wpbeta

Have signed up now how do I get to opera beta still time.

I reckon it's on the Trident engine? If so, useless.

yes, but you can synchronize your history on opera desktop

No, it should be using the Presto engine just like Opera Mini everywhere else. Opera Mini elsewhere renders in the cloud.

Agreed. Really curious what engine it runs. They really should get rid of that silly restriction of third party engines.

I don't think it exists anymore, at least that's what I heard from a developer at UC.

It's as they say: the more, the merrier.

I would be happy to discuss that in more detail. ;)


Hey, finally and nice comment section :D

Finally!I still can't believe. Thank you opera!

I'd be excited to try opera. Wonder how well it will tie in with the desktop version.

Great. It means WP is finally getting the developers attention. Let them come.

Will it still use the IE engine? I can only assume its still built in html5/JavaScript with the usually proxy compression.

If it's like Opera Mini elsewhere then it renders the page in the cloud using the Presto engine.

Who cares? As long as it works OK. that's surely the most important thing. More apps equals more exposure for WP. Surely that is the long term goal here....

I care, because I can no longer access my production tracker website for my business using IE. They changed something and now it doesn't work, I'm hoping ill be able to with Opera.

It's just signed up , no links and no app until now

http://www.opera.com/wpbeta
Go to this link and sign up for the beta if you wish to.

So we have to wait for another email with the link?

What the piss? This comment system changed.... It's freakin me out! SOMEONE HOLD ME! Nah I kid, it's actually really nice :) As for the Opera Mini, well my past experience with Opera weren't so great but maybe they've improved since then. I wouldn't mind giving it a shot.

Come soon Firefox.. And let's hope someday chrome would arrive too on windows phone

Not likely to happen, Google doesn't want WP to grow, and will do anything to avoid it, Firefox, on the other hand, could be a different story

yup like they didnt allow MS to publish their youtube app

What about Maxthon, I find its alot more stable than UC. I use both Opera Moble and Opera Mini on my Kindle Fires and they work just fine. Opera Mini uses less resources than any browser I have tried. I also use Desktop Opera (also Firefox) on my two Windows 8.1 machines.

Bring it on! i love Opera :D

WP app store is growing extremely fast especially official ones ! Hoping in mid 2015 WP will be considered as android and IOS and competing them ! All the way WP forever !

Actually, there are more signs that WP is doomed

If you go by the market share yes there are signs. But the coming days will be good as 730,830 launch is expected and also the 530 might bring some good numbers and if the recently launched HTC one M8 for wp goes global the market share will definitely improve.

Yup, hopefully it will, 3 people out of 6 in my job have windows phones and it had nothing to do with me telling them, market share mustn't be as bad here in Ireland

What about ads we need good and creative ads.

Saras112 , what signs? , I know that. The market share dropped. For WP but no other signs please explain

Wow Nice :D Can't wait to see this interface.

This is great news ! Finally Opera arrives on WP. Signed up for the BETA before it gets full.

Hopefully not just another IE skin.

I don't see how it won't be.

Well if could be you know... Opera.

It's not possible, if you mean "Opera" like it is on Android.
Microsoft currently only allows browser apps using the Trident rendering engine which is in only IE.

I've heard that policy has been reversed...

Good. In tune, windows phone 8.1 is more stable and mature enought. Lots of apps signups and developers gave us variety of apps this year which commandable! Thank you so much Microsoft's developers. Please work hard that we align ourselves with itune and google store.

Sweet. In addition to mobile, I'm going to use the desktop version as my #2 browser now. IE still #1, but it sometimes runs into issues. Out with Chrome and in with Opera.

I eagerly await Opera however, if we are not allowed to use it as our default browser the point is kind of mute.

I think there is some options on choosing defaults (like SMS, etc) on early version of WP8.1? They removed it including auto hide navigation bar. I think it will be present on WindowsThreshold :) *cross fingers*

We don't need it opera... You use to batch windows phone when UC browser have been steadily improving their browser.

What's The email to sign up

After Opera launces on WP i hope Microsoft removes all those fake opera apps in the store

http://www.opera.com/wpbeta

http://www.opera.com/wpbeta

Same exact link as the guy above you that you posted 7 minutes earlier? Why?

Because people don't know to click the "source" link in the article and then rush to post without reading any previous comments...

Do not dream so big... It's yet to release!

Me too. Let's hope it arrives soon.

They wont coz they go into operating systems now with intex.

What happened to Modern Firefox? :(

Didn't see this coming but ill test.

how about a full opera mobile browser?

Got subscribed to the list now waiting for official release

yeeeeeeey WOHOOO been w8ng for this one!!!!!

O.O
Colour me surprised..

Still no download link. Waiting for it !

Done. I guess we all get the download link at the same time

And now only if MS would allow us to change the default browser :(

Finally a +1 button! But still, Disqus >>>>

Already signed up bt not yet received the download link..how to download..?

You do know how the internet works, right? You'll get an email when they are ready to let you test it.

is opera worth using anymore? since it became chrome wrapper.

Well, here it'll be an IE wrapper.

Not true. Opera renders through cloud so it'll be the presto engine while passing through their servers.

Actually, Blink/webkit. At least at desktop and Opera Mobile. I don't know about Opera Mini.

While using Symbian belle, I used to have opera mobile and it was the best browser ever. I tried opera mini too but gave up on it early. Now that opera mini will be available for WP, I look forward to opera mobile.

Yea, I loved Opera mobile on the N-series. Wasn't a huge fan of mini but that was 5-10 years ago

Opera Mini is a start, now hopefully they're going to bring Opera Mobile over too. Don't get me wrong, IE is pretty rock solid, but having some alternatives that do NOT use the Trident engine is great.

Maybe it'll help you. http://en.wikipedia.org/wiki/Trident_29

Sorry, it'll still use the Trident engine.

It shouldn't. Opera mini renders on the server and passes you the image from server. The server is rendering with presto. So that's doubtful.

Haven't had problems with IE. Just wish for such apps as Instapaper and Pocket so I can save for offline reading. I mean real official app, not knockoffs. But any app coming to wp, welcome

Or, you know, the app called reading list from Microsoft.

@seraphX2, Reading List doesn't work offline and not cross-platform. My tablet's android

Poki is approved by pocket

Already an Opera - Mini browser available in the Store; not from the official developer I suppose, but how come MS accept it in the Store then...?

Check out android pro or ios pro and tell me why they are there... Then you will know why we have opera mini :)

Finally its coming but still far away lol..

Finally .... Just hurry up

It's still opera mini, but opera anyway, I'll just wait for the stable version, why not full opera mobile? :-(

While opening any file, option for choosing browser should be given unlike now which by default chooses IE

For people asking whether it will still use the trident engine, there answer is NO, as like Nokia Xpress browser, the rendering will be done on opera servers instead of on your phone and a rendered version of the website will be shown on your phone. The app on the phone won't even have an html engine or use IE's in all probability.

@Daperinha... Its whatever your email id is :)

YESSS!!! (long-time Opera user here, since v7).

Yes! An alternative to internet explorer. The version we have isn't half bad, but options are needed.

Useless if you can't choose your OS to launch.

** Ppl say it'll use the IE Trident engine... This is false. You clearly haven't used Opera before. It is rendered on their servers and then the cloud servers send you the site pre-fabricated. They have a nice little picture to show you if you still can't understand online... Thanks! **

Opera mini is a beautiful and solid browser

I use Opera mini on my old feature phones where it's way better than those built in browsers. Will be interesting to see how it will be on Windows phone.

Interesting... Are they using Trident Engine?

The biggest quetion is: will this be an IE wrapper/skin or a full browser?

It would be good, less data usage on page display is the biggest adavantage to have opera mini.. But ie10 currently very good

Hello, Google Chrome. Where are you?

Inside Droid eating their battery.

Question is: "Can we make Opera a default browser?"

Nice, we need more options.

Was using it occasionally on windows until they gaveup on their own engine.

The most beautiful Lumia.
+720 \o/

I wish Microsoft would let us choose a default browser.

It says in already signed up so ill be testing this thing asap as the link is up. Hope it has a download manager

About time, I loved using opera in my old WinMo 6.5 phones.

+1520 I don't know why, but I strongly prefer Opera on a phone... It just always "felt good" on a small screen.

Woo hoo! I can hardly wait!

Will there be Bookmarks? Desktop is weird without them. Using UC and happy with it. Opera is a bit too late, IMO

Where is the bloody link for the beta sign up? :)

This is a good backup browser.

So Opera Mini. Just signed in ans give it a try ...

http://www.opera.com/cs/wpbeta?subscribed=success

I have to signt up, but when this apps release in wp?, i think after as to sign up this apps any in store for tester

Thanks for the heads up. I used to love Opera back on my Windows Mobile phone. I do also have Opera installed on my Windows 7 laptop but almost exclusively use IE11. I'm look forward to helping Opera improve on Windows Phone.

Ha,finallyyy....i looked for download link right away....facepalm :/

IE 11 works fine but it will be nice to have some other decent options except UC or Maxthon.

I use opera on my PC. I just signed up for the WP beta!!! Woohoo!

Hope they release it soon.

Curious if this will be a wrapper for IE considering the desktop browser just implements webkit in the background.

Until someone give a browser I can use with proper lastpass plugin I'll stick with IE

Will try this one. Thanks Opera showing some support !

IE is amazing but opera is welcome to

Wow! Lumia 720 forever ;)

I think it is linked with the decision of Microsoft to make Opera as the default browser in Nokia X line.

Is it Nokia X or Asha? I think it is Asha, but I could be wrong.

Yeah, you are right! Thank you for the clarification.

Oh, thank you. Now, is it going to use a different rendering engine than IE 11?

That's great. Opera is my favourite browser on mobil.

Looking forward to testing Opera Mini, hopefully it'll be a well done alternative to IE (my current preference).

Kinda bummed its "Mini" and not "Mobile". Data compression is nice though.

Yeah its kinda pointless for people already using datasense

I'm excited to see what they can do. UC browser is okay but can feel sluggish.

I'm glad with IE. I don't need more.

My biggest hope is it is allowed to use their own engine (webkit). Please be!

Saw this and immediately signed up. So excited!

Meh...I've gone this long with out it, so I'll pass.

Didn't expect this! This is excellent as yet aother example that the WP ecosystem isn't totaly floundering about. I hope more and more official apps begin to come over to the Windows/Phone Store(s). Its nice for these official apps apearing, but its another to maintain the app the be on par with others.

Finally.... The only browser I used on my NokiaE63 (after they shut down SkyFire with its awesome flash support). See ya'll in the beta!

This is good news! Opera mini browser is the only carrier approved browser that lets the subscriber continue to surf net even after exceeding data limit here in Malaysia for Digi network.

This is great for me since DIGI Telco customer can have unlimited browsing with Opera Mini.

I'm pretty happy with IE but I'll sign up for this anyway

Do you know if Microsoft will allow users to set what the default browser should be?

Finallllly... But I think because of the limitation of wp it will use the IE engine :(

Thats not so bad if you have dp enabled

So when will we get a link to download it?? I signed up... and the page said we can test it..

Plz do not compare opera mini with UC browser. Opera is miles above

i thought they will not support wp haha , opera mini was my first 3rd part browser in a phone since symbian days :) i miss it. thanks opera!

Can't wait to get this to WP. I used a "feature phone" for many years with Opera Mini on it, and I gotta admit than in mnay ways it was better than what IE is NOW on WP... if they can pull off the same feat on WP, I'll be thrilled.

Nokia Xpress is using its own engine and not Trident, is it not? Then there might be a chance Opera Mini will be using its own engine too.

Too little (haha) too late..

OH MYYYYYY.....That's big news!Many people really miss Opera Mini due to its stability and performance. Mostly on slow networks....UC with its "speed mode" seems like an amateur browser if compared to Opera Mini when it comes to data savings versus working web pages... For a full featured browsing, Opera Mini can't stand, I agree. But when browsing "mini" version of the pages, its data compression and web page's compatibility is unbeatable...

I say, Yes. Lets do this.

IE is the best out there.....but having more options is better for platform...just to shut mouth of haters....

I've signed up but I'm not able to download it somebody help

It's not yet out they wil mail you once its out

If it's still a beta it's not "finally here". I don't get how people get excited over unreleased, unfinished products, especially when it comes to software. I'd rather see MS further improving IE for WP and use the stock app instead of downloading another app that does the same and only takes up space (unless Opera turns out to have more features and is more convenient to use).

Finally some experts will shut their mouth after opera arriving on WP.

I'll stick with IE for now. Opera never has excited me that much.

Please be better than IE mobile! Posted via Windows Phone Central App

Can someone help me. How do I download it :/

When beta version is available they sent you mail.wait for this like other and me ;-)

Opera mini is a waste browser.
Any way, v LL welcome it to Windows phone eco-system.
Welcome home.

Finally opera mini comes my favourite browser

This is good adition to IE and UC and now we can say that windows phone has some good browsers but i also hope that opera will also release full web browser opera mobile.

I'm in the camp of, "so what?" I used Opera years ago on desktop and found it not to my liking. It was also installed on various Windows Mobile devices years ago and the same thing. Ho, hum. IE 11 is great on WP now, and I only use Chrome on my desktop when necessary. Don't get me wrong. I have tried various other browsers on WP 8.x Most were underwhelming to say the least.

I wa actually waiting for it and finally it's here ....glad to c it!!! :) I already signed up hope will get it soon

Waiting for it for long time, IE is very good on windows phone and I always use it but still it's good to have more in family.

neat. hopefully we'll get our first browser that isn't just a wrapper for IE

The more the merrier... YAYYYY!!

The opera link just downloads the cab file and if we extracts, it is showing the XML files etc., there is no xap file

We need a browser that works well wth lastpass.

Why not to use disqus? About the subject, I sent them the question what engine they are going to pick up.

I want opera mini too for Windows 8.1 PCs rather than only for Windows Phone 8.1

too little, too late. A lot of people wanted Opera because of the interoperability between the Desktop version and the mobile browser. Ever Since Opera decided to fork or use the blink engine and basicaly create a chrome browser with the opera logo that has gone. People still using Opera 12.x (like myself) might still be able to sync, but more and more people switch to other browsers (most "veteran" Operas users ironically don't switch to Opera 14+ but either stay at 12.x or choose an entirely different browser). Starting with Opera 14, Opera has since removed the sync abilities so what's the point of opera mini now? IE has a data-saving mode, UC Browser does. EDIT: What's worse: It's Opera mini, not even opera mobile.

Opera browser has been my default browser since version 4.0 back in 2000. I just love it. In the feature phones era (java phones) Opera Mini 3.2 and 4.4 were my default browsers, then in WM6 era, Opera Mini 5.1 and Opera Mobile 10. Now on WP i missed Opera for phones, I still use the desktop version as my default browser tho. This is like a holiday for me seeing Opera finally paying attention to WP. Go to their official forums, there are numerous threads from Opera users asking about Opera for WP. This is good news one way or another. So let's see what the Norvegian giants can bring to the table :)

Cool i finished my inscriptions.

Finally a solution to our problems! A phone without opera is having sex with a stranger without condoms.

Anyone downloaded it yet?

I don't think its gonna be something crazy and different from IE. Just different UI like UC browser. After all it won't support more than IE does because all browsers for WP are actually based on IE.

Still no fucking download link

I am fucking pissed off waiting since confirmation email. Why the fuck they wont send a download link??
Windows Central Newsletter
Thank you for signing up to Windows Central. You will receive a verification email shortly.
There was a problem. Please refresh the page and try again.