Original Microsoft Band gets a price cut down to $129.99 at Microsoft Store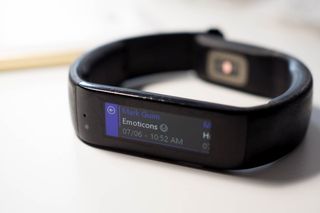 The Microsoft Band 2 may be available for pre-order now, but the company is still selling the original Microsoft Band fitness wearable on its official store site. The price of the Microsoft Band has now been lowered, most likely on a permanent basis, to $129.99 on the Microsoft Store site.
While we have seen the Microsoft Band sold at lower prices in the recent past, those were for temporary sales events. This new price on the Microsoft Store means that the Band is now being sold for $70 off the $199.99 price it had when it first launched just under a year ago. Meanwhile, pre-orders for the Microsoft Band 2 are being taken for $249.99 with shipments to begin on October 30.
Buy the Microsoft Band at the Microsoft Store for $129.99 (opens in new tab)
Windows Central Newsletter
Get the best of Windows Central in your inbox, every day!
My old band's plastic torn off, yesterday they changed it the new one, I asked them if it's possible to exchange it with new band if I pay the difference, they told me they can change it with same model. At least until they have band 1 in stock which there are a lot :)) But I really liked the band 2, it's lighter and much nicer, lcd is much nicer.


I'm glad to know I'm not the only one this has happened to. Not being in the US it's unlikely I'll be able to get it replaced which will likely drop its value.

Target is also selling band 1 for $129.99

I got mine a couple weeks ago for $100 at best buy. Worth every penny, completely changes the way I interact with my phone. I highly recommend anyone who can't get the band 2 to jump on this.

So when are the price cuts coming to the sp3? Posted via the Windows Central App for Android

I wish they would do a deal where you can get the Band 2 for $150 when you give them back your Original Band, I would jump on that in a heatbeat! $250 is jsut too much to stomach for the new band. Also why dont they update the band 1 to include alot of the software enhancements of the band 2 (Always on UV detection)

Has anyone hear any reliable info on this being a thing? I would love that.

Second this. Recycling old band sensors would be such a good idea.

Exchanged my original band for a new one, sold it on eBay for $105 a couple of days ago. Waiting for Band 2.

That's a great idea....But I replaced my like three months ago, and now it definitely worthes less than $100

They should do that with the Lumia 950/950XL if they want them to sell like crazy. Return any Windows phone to a Microsoft store and get a discount towards an unlock 950/950xl

daaaamn I recently bought one for £150 :'( although I don't regret it, its been really helpful at tracking my fitness, and has even now replaced my alarm =)

SOLUTION: Pay it forward! Give the one you just bought to a family member, friend, or co-worker and 'make their day, week' or whatever. Then reward yourself for doing a good deed by getting a new Band 2 for yourself.

Hey I heard this thing was BAND! OK sorry. terrible I know. :) Seriously though. Would looooove to get a Band 2. But I can't drop $250 on a smart watch when I'm about to drop $650 on a smart phone. I'll be holding out till till we get a price drop or two. No rush. :)

Heres hoping for the rumored bundle. I would pay $550 for the L950 if it came bundled with band2.

That's not until next year when the Surface Phone and Band 3 are released

Go to Best Buy if you're in the US, and get their store card. You'll be able to pay the Band over 6 months. Problem solved!

Is it worth getting the Band 2?

Not sure. It's nice looking but I'm worried about the clasp looking clunky and odd. For $130 I'm going to get a backup Band 1 & wait til the 2 moves to the $200 range.

For its features and sensors you are wrong. Name another GPS wearable at $130 or below. Or even $99.

Hide this!!! Trying to sell mine on eBay for 150.

$99 this morning, free shipping. Just bought one.

Dont waste your money. I've had one for a year and the clasp is weak and the paint is chipping

My Band is a peice of garbage. Been through four of them. Maybe quality control will be a thing this generation.

With the most recent update to the Microsoft Health app, my band haptic alerts stopped working. Did anyone experience the same problem?