This is our first look at Fitbit's next smartwatch
It'll have a lower price, smaller body, and no GPS.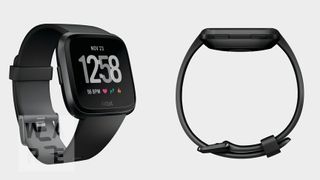 During Fitbit's latest earnings call earlier this month, CEO James Park said that the company is working on a "mass appeal smartwatch" following disappointing sales of the Fitbit Ionic. Just about a day later, we now have multiple renders showcasing what that smartwatch will look like.
Wareable obtained multiple images of Fitbit's upcoming smartwatch, and while we don't have an exact name for it just yet, it's possible it'll be marketed as either the Fitbit Blaze 2 or something else entirely.
Just like the Ionic, this new smartwatch will run the new Fitbit OS platform that allows for app support, notifications, and more in addition to Fitbit's standard fitness-tracking suite. The new watch is expected to be quite a bit smaller than the Ionic, and it'll come in black, silver, rose gold, and charcoal colors with a variety of different bands.
The smartwatch will be water-resistant up to 50m and comes with the Ionic's SpO2 sensor that'll eventually be able to track sleep apnea, but one thing it won't have is built-in GPS. I'd expect NFC to be on-board so Fitbit can keep pushing its Fitbit Pay platform, but there's no word on this just yet.
Lastly, to ensure Fitbit's next gadget can "appeal to a larger, more general smartwatch audience", Wareable's source says that this watch will also come with a lower price than the Ionic which currently retails for $299.
We'll need to get more details from Fitbit before making any real judgments, but at first glance, I really like the aesthetic Fitbit's going for here. I personally don't have a problem with the Ionic's physical appearance, but this new watch does look a lot sleeker and more polished.
Windows Central Newsletter
Get the best of Windows Central in your inbox, every day!
So... it's basically an Apple Watch. Kinda figured FitBit would be more innovative with the design. Nice that it is water resistant but it needs GPS. I wonder if it can piggyback off a smartphone's GPS.

If you want GPS then just buy the ionic? Based off the article it doesn't sound like it's meant to be a successor of the ionic (not that they would have one already at this point). This is supposed to be a less expensive version

The Pebble acquisition finally bears a little bit of fruit—design-wise, that is.

and the Vector Smartwatch purchase as well. Vector had some really amazing designs and a great developer base.

If only they come out with a round display.

it's a matter of preference, but square watches relay more information than round ones...

The ionic looks a million times better according to my 'pretty awesome look' scale

I liked the look of the Ionic too but I'm very small framed (for a man) and all these macho watches with their over-sized screens are too much for my skinny wrists. A smaller version is very much welcome in my books.

the Ionic isn't all that "chunky"
have you tried wearing one?

at first, I thought it might be on the "big" side, but now im used to it and everything else looks puny

Anyone knows the SpO2 sensor in Ionic is now active with the latest firmware?

I was a Fitbit user for years and liked their products a lot. I was looking forward to their watch (the Ionic) but when I saw the price was $300 I ended up just getting an Apple watch. I figured if I was going to spend that much money I might as well get a more feature rich device. I wish Fitbit would have come out with this cheaper device instead.

I'm assuming you have an iPhone then? Personally I wouldn't get one just for the fact that I don't use or like iPhones.

Maybe eventually they'll make a watch that actually looks like a watch.

Hope they fix the wifi issues. I like my ionic but wifi is sad. The app store needs serious work.

Is SpO2 active in your ionic?

What Wi-Fi issues? Like it just doesn't stay connected?

"new Fitbit OS platform"? I wonder why they bothered to sink resources into developing this rather than going for (licensing) an existing platform, like Android Wear or Windows 10 IOT? Is it just about clipping the ticket on app development and sales, or do they want to do things with their new products that are not supported by these platforms? I guess they figure they can somehow overcome the inertia of getting developer support for yet another platform, albeit with a much smaller target audience than either Android or Windows.

No GPS. The ionic would have mass appeal if it wasn't priced at $300, should be priced at $150 at most.

They really need to work on the software. Too buggy, slow and inconsistent.

I already have a Blaze, which is why I didn't buy the Ionic. Kinda waiting for it to break or for a much bigger Fitbit upgrade to motivate me to get a new fitness watch. I have an iPhone X now, so maybe I'll even go with an Apple Watch instead.

What CPU/SOC does this thing have? Arstechnica recently published an article about how Qualcomm hasn't developed any new SOCs for this purpose for a couple of years, and as such, they're not bringing anything worthwile to buy a new device