Our special Build Edition of the Windows Central app going live in the Store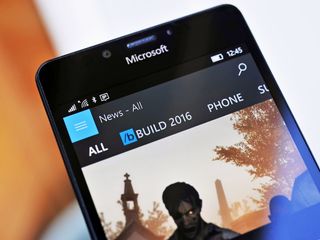 Microsoft's 2016 Build developer conference is starting tomorrow and we're packing our things now. As a special surprise, albeit a small one, we're pushing a quick update to the Windows Central app for Windows 10 and Mobile.
Build 27 of the Windows Central has one small but useful change: a dedicated feed for all our Build coverage. You can find the same stream on main Build hub here for the web, but for those using the app on mobile or PC you can just navigate over to get the straight scoop on all that is happening without missing a thing.
Of course, sometime next week once the Build news and momentum dies we'll remove it. Speaking of, we are exploring ways to let you pick and choose which categories to show on the navigation bar. It requires some configuration on the backend, but it is on our to-do list along with other improvements and features for comments, forums, etc.
Look for the Build Edition of the Windows Central app in the Store real soon (it's live for us). Need a primer on Build and what to expect? Head to our main FAQ page to learn more right here
Note: You may need to close out the app first then re-open it for the feed to refresh and for it to show the Build category.
And don't forget to keep voting for features and fixes on our Windows Central UserVoice page!
Download Windows Central for Windows 10 and Mobile (opens in new tab)
Daniel Rubino is the Executive Editor of Windows Central, head reviewer, podcast co-host, and analyst. He has been covering Microsoft here since 2007, back when this site was called WMExperts (and later Windows Phone Central). His interests include Windows, Microsoft Surface, laptops, next-gen computing, and arguing with people on the internet.
Sick! You guys are absolutely great! Zachary Bowling - ZAD Apps

:'( m missing such great feature .!! -720

I still have no idea what is /build

Build is MS's annual conference for developers. There was a whole article a few articles back on what build is/isn't.

http://www.windowscentral.com/microsoft-build-2016-what-to-expect

Yeah, it is a good idea. It's pretty well finished to me. They just might intend to fix a few things or add a few various new features.

I'm saying I know I can do better, but It's good for what it is. Zachary Bowling - ZAD Apps

I have submitted feedback and suggestions myself, but I'd say that the state it's in is a pretty good stable release candidate. Zachary Bowling - ZAD Apps

Thank you! You are all the best!

Wow. I like that dedication. Keep it up guys.

Just updated. Thanks for this. And the app is getting sexier with each update!

It's very nice +640/Win10

This is great! Amazing effort! Thank you very much!

When You made a joke that you are creating a snapchat app,bad joke

Camera app is also updated- Rich Capture changed to HDR

Choosing categories will be very much appreciated!

Just wondering why the pictures are missing in the comments section??? Nokia Lumia 1520
~The Power of Windows 10~

Awesome. The ability to edit comments in the app would also be great, as autocorrect often makes me seem like some kind of idiot.

Loving it already and Build didn't even start yet! The effort is much appreciated guys.

Loading comments are still buggy . Whats new in this update Who among us is without sin.

Do there happen to be any small bug fixes? +640/Win10

I have issues when I try to install the windows Center app it gives me an error I have a Lumia 640 am on slow build. Any one else having this issue I don't know what do do to get it. Stuck on 8.1 windows Center

Good to cover all the build related news flows one by one. Awesome Sent from Windows 10 Mobile

Very nice update. Doesn't seem to crash much since build 26.

Noice, thanks guys! Looks great!

Hey guys I'm using Lumia 730... I've been trying to switch On push notifications from many previous builds, but when i reopen the app again it's going of! Can anyone please help

That's a common issue. You're not alone.

Ya, I haven't gotten any notifications since the update before this one Posted from Crappy Old Laptop

Mr rubino, I know this is off topic, but where did you get the cool Microsoft coffee mug?

Thanks for the frequent updates. Loving this app. Only negative thing to say is the change log seems to have halted at Build 22.

After installing the latest app build it crashed 6 times consecutively when trying to open the app. I was going to do a re-install but it worked on the 7th try. It always crashes for me when opening from a notification too. I like the app though... when it isn't crashing.

I wonder why I cant read the news on Win10 version, text is fone and the app just show the comments =|

Got it on phone and desktop, great thx guys!

Just curious. Why does the mobile download link have to open Edge to load the online store for it to launch the actual store. Why can't it just launch the store direct? W10 limitation?

The app from another Microsoft fansite open the store directly so... Who knows why.

1)App login through phone crashes
2)App itself crashes when I try to open
3)live tile still without unread articles
Build 29 still with problems...

Crashes for me, too, whenever I tap "sign in". Lumia 640 on Win 10 slow ring.

Another post with the store non link in the body and no link in "more" I'm on a mission now editorial team...

Windows Central Build Edition 2016 Universal App. Now thats a title Posted from Windows Central for Windows 10

I am so excited for //build/. Greets from Germany! Sent from Lumia 650.

I am getting error 0x8007001 when trying to install on a Winbook TW700 Windows 10 Tablet. Anyone else get this?
Windows Central Newsletter
Get the best of Windows Central in in your inbox, every day!
Thank you for signing up to Windows Central. You will receive a verification email shortly.
There was a problem. Please refresh the page and try again.