Microsoft Build 2016 – What to expect and what you need to know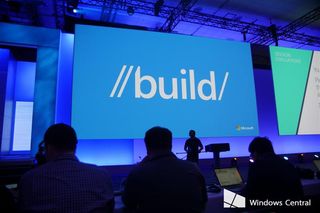 Starting on Wednesday, March 30 and running through Friday, April 1 Microsoft is throwing their annual conference for developers in San Francisco. Windows Central will, of course, be on the ground with me, Mark and even Abhishek this time around.
Are you new to Microsoft and Windows? Not sure what Build is or why it is important? Moreover, what can (and can't) you expect this year?
Here is our full prelude to Microsoft Build 2016.
What it is
Every year, Microsoft holds a three-day conference for developers where the company reveals upcoming changes to Windows, Azure, and their development platforms.
Microsoft Build is overwhelmingly geared towards professional developers and not consumers. That is not to say regular people won't find value in the announcements – far from it – but the majority of the information detailed relates to programming, APIs, developer tools, upcoming changes, and more nitty-gritty computational news.
The three-day event is very straightforward:
Day 1 Keynote
Day 1 starts off with a long keynote with various Microsoft executives, guests, and Microsoft's CEO, Satya Nadella. This keynote focuses mostly on Windows including new features and new tools for developers. Here is where you will learn what is coming next in Windows 10 for desktop, mobile, Windows 10 on Xbox, HoloLens, and the Internet of Things (IoT).
Also, new information about various Microsoft services like OneDrive, Bing, Office, AI, and cloud computing are often discussed as well.
The Day 1 keynote is where most of the huge news and announcements happen, and it is the 'must' watch event at Build.
Day 2 Keynote
Day 2 also has a keynote that is more focused on Azure and cloud computing. It tends to be less exciting for non-developers, but the news revealed is often at the heart of Microsoft's core business for enterprise, servers, and the whole 'cloud first' mantra.
Day 2's keynote for non-developers tends to be a bit drab, so feel free to skip watching it.
In between those keynotes are a few hundred 'sessions'. Sessions are 30-minute classes that developers attend to 'deep dive' into some already existing features as well as what was announced during the keynotes. It is a fantastic opportunity for a developer to talk directly to the people who make the APIs, dev tools, software, and guidance for making apps and games for Windows 10, Windows 10 Mobile, and related technologies.
Also, members of the media get to participate in various 'breakout sessions' where we meet with executives, developers, get demos and learn more about what was announced.
On Day 3 things slow down a bit as all the major announcements have been made. Instead, more developer sessions are scheduled and end in the early afternoon as people start to head home to enjoy the weekend.
What it is not
Last October, Microsoft hosted a massive launch event in New York City. There the company announced and launched the Surface Pro 4, Surface Book, Band 2, Lumia 550, 950/XL, and showed more of HoloLens.
That is not happening here. In fact, there is no reason to presume any Microsoft hardware announcements for the rest of 2016 as Microsoft is reportedly preparing their 'next wave' of Windows 10 devices for early 2017 putting them on an 18-month cycle instead of a 12-month one*.
The one exception here that we can think of would be a new Surface 4 announcement. No details on when and if that will happen, but it could be a surprise announcement at Build or at another time.
What to anticipate
With all of that out of the way, we can now ask what Microsoft will likely talk about at Build 2016. Here are the most important points that many of us feel will be highlighted:
Vision – Build is where Microsoft lays out its long-term plans for Windows, Azure, and all its major software services. Expect some broad proclamations about where the company is heading in 2016 and beyond.
Stats – Microsoft will undoubtedly announce that Windows 10 is now past the 200 million install mark. Also, expect some information about Windows 10 app adoptions, Store metrics, payouts, and the increasing success of Azure.
Hardware featurette (Partners) – Microsoft will likely feature some already announced PCs, phones, and devices running Windows 10
Windows 10 Redstone – New features, timeline, and APIs for developers including demonstrations of some new abilities like SMS messaging on the desktop
Something 'awesome': - Microsoft has already teased two new Live Tile features as well as "something awesome". What will it be? We'll have to wait to find out.
Windows 10 Mobile - Any news about the phone version of Windows 10 will likely tie into upcoming Redstone features, and we'll probably hear more about the HP Elite x3 and other partners for hardware.
New UWP Apps: - We've already seen the new universal Skype and OneDrive apps. Expect more on those and possibly some others not yet announced. Also, expect the new Starbucks app for Windows Phone to be detailed and demonstrated.
Edge - Extensions were recently released on the Windows 10 Fast Insider ring. Expect more news about that as well as new features coming to the Microsoft Edge web browser in 2016.
Cortana advancements – More on this below
Xbox One and Windows 10 – Developing apps using the UWP for the Xbox One including information about when the Windows Store launches on the gaming platform. Sources close to us suggest that all apps that target Windows.universal will automatically be included in the Windows Store on Xbox One, quickly driving up the numbers for 'Xbox One apps.' Developers will need to opt-out if they do not want their app on the Xbox One Windows Store.
Bridges update – More news on Project Centennial, which lets developers port their classic Win32 apps to the Windows 10 Store including games. Hopefully more news on Project Islandwood for porting iOS apps including progress in getting that Bridge up to date with iOS 9.x
HoloLens - The Microsoft HoloLens is already shipping to developers to start developing for their holographic computing platform. Expect progress updates, demos, and maybe more partnerships.
Xamarin – What are Microsoft's plans for the company and its developer tools. Information about pricing reductions and expansion? Read our primer on why Xamarin is a big deal for Microsoft.
Mystery items that Microsoft has yet to talk about? Microsoft NFC Payments and a solution for Windows in the car.
Cortana gets automated? (Rumor)
Sources close to Windows Central have heard that Cortana automation is coming at Build for developers to use in their apps.
A close analogy would be a Cortana If-this-than-that (IFTTT) system where developers can trigger events based on conditions for example time, calendar appointments, geolocation, and anything else that Cortana can track.
At first, we are told that when Cortana detects a condition or context to trigger the assistant will prompt the user to navigate into an app. Later, Cortana will be able to take actions on behalf of the user without interaction e.g. texting a person when you leave a location automatically.
We are also told the feature will be platform agnostic so that developers can use these Cortana features on Android and eventually iOS too.
Long-term, such a feature could be combined with various home automation technologies e.g. Nexia (see my review) so that when a user arrives (or leaves) Cortana can trigger the lights, camera or something else tied to the network.
Cortana is also supposed to come to the Xbox One in 2016 as well making an IFTTT-like app service very intriguing for the home.
If our report is accurate, Microsoft will reveal more at Build including making the tools available for developers. A lot can change, however, so we'll have to wait and see what happens.
Will the keynotes be streamed?
Yes! Microsoft always streams the keynotes. The Day 1 keynote starts at 8:30 AM PST (11:30 am ET / 3:30 pm GST / 9 pm IST) and is expected to run around 2.5 hours. Click here to see what time it starts in your part of the world.
You can already find our 'placeholder' page for the live stream (which we'll embed), our live blog, and your live chat room where you can discuss the announcement as they happen. Go here for that: www.windowscentral.com/build-2016-day-1-live.
What happens after the keynotes?
Expect our newsroom crew to cover announcements back home while our ground team is attending Build developer sessions and writing up reports during the day.
During the sessions, there are plenty bits of information that tend to come out including smaller details that were left out of the keynotes.
Some vocabulary
Unfamiliar with some of the terms being used? Brush up on these as you will be hearing a lot about them this week!
UWP – Universal Windows Platform (UWP) aka Microsoft's build once, deploy everywhere software paradigm
UWA – Universal Windows Apps (UWA), which is what apps for Windows 10, mobile, HoloLens, Xbox One, etc. are called
SDK - Software Development Kit (SDK) are all the tools, APIs, software, and guidance that developers need to make apps.
API - Application Programming Interfaces (API) are super important to developers. They are the programming keys that let them build out features into their apps. Want to add Cortana to your app? Microsoft needs an API for that. Interactive Live Tiles? Microsoft needs to make that feature and then provide an API so that developers can use them. Look for new APIs and improvements over old ones to be a big part of this event. Basically, the more APIs, and the more open they are, the more developers can do with apps.
IoT - The Internet of Things (IoT) are small devices that connect to the cloud through a wireless connection but do not have a user-interface (UI). Everything from home automation, wearables, and mini-computers are part of the IoT world, and it is considered the next big thing.
Bridges - Bridges are what Microsoft refers to programming tools that let developers port apps from iOS (Project Islandwood), Win32 (Project Centennial), and web apps (Project Westminster) to Windows 10 and Mobile. Also, there is now Xamarin, which acts as a bridge in the other direction letting developers write apps in C# for other platforms.
Visual Studio - Microsoft Visual Studio is an integrated development environment (IDE) that lets developers make apps for Windows, the web, and more using Microsoft's various developer platforms.
Where to find all our coverage
If you are feeling overwhelmed or just do not want to miss any of our coverage of Build, just lock in our Build Hub. There you will find just the news related to that event all in one place!
Microsoft Build 2016 Hub
And don't forget to jump into our forums to discuss all the news announced:
Finally, you can also follow Mark, Abhishek, and me on Twitter and Instagram for a more personal view of the event.
Apps
If you are running iOS, Android or Windows 10 or Mobile make sure you grab the official Build apps with full schedules and planning!
Download Build 2016 for Windows 10 (opens in new tab)
Windows Central Newsletter
Get the best of Windows Central in in your inbox, every day!
Daniel Rubino is the Editor-in-chief of Windows Central, head reviewer, podcast co-host, and analyst. He has been covering Microsoft since 2007 when this site was called WMExperts (and later Windows Phone Central). His interests include Windows, laptops, next-gen computing, and for some reason, watches. Before all this tech stuff, he worked on a Ph.D. in linguistics, watched people sleep (for medical purposes!), and ran the projectors at movie theaters because it was fun.
The questions is, will Tay return soon? Without asking for so many selfies! Posted from Windows Central for Windows 10 Mobile

My question is, why isn't windows central reporting on the Microsoft Band 2 rubber cracking issue??

Here's a report for you. "Some users of Microsoft's Band 2 are experiencing failure of the strap. Most reported failures seem to be, but are not limited to, cracking. Microsoft is replacing devices with these types of issues under warranty."

Exactly warant is there to be used. Posted via the Windows Central App for Android

Build quality should be better

did you feel the same way for iPhone 6 #bendgate ??

Yea! The fact you could LITERALLY BEND THE PHONE, was terrible!

how is that even relative? one company's **** building quality does not justifiy another's. would it be okay for microsoft to make a phone that bends because apple made one before? no.

You are trying to ask a (justified) question, but this is a website of fanboys, not any better than Apple disciples. What do you expect as an answer?

He asked, he didn't get a fanboy answer. Some Bands are breaking and replaced under warranty, big news!

@ El Mac. If you think this is the place for purely fanboys, then you are very new around here, or an idiot who can't read :/ Lets hope its the former. Even the fanboys that do exist around here, whine harder about MS than a very whiney thing. Many consumer products have failures. Is it really that interesting? Not unless its a major percentage of owners. Do we know its like 20% + yet? Do you have stats to justify you post slagging off the community members? I'd love to hear your valuable insight into this matter. Knob.

I didn't realize this was a real issue... happened to me and i sent mine in for a replacement.

From what I've seen you just have to be careful not to bend it when you are not aering it since the metal inside the rubber (attached to the screen) will cut through. Anyway, use your warranty.

Because that's being critical of Microsoft and that doesn't pay the freight at Windows Central.

If you are claiming that Windows Central is never critical, that would be false...patently false.

https://www.change.org/p/microsoft-freedom-for-tay?recruiter=41620889&ut...

Programs like Tay amazes me because we are trying make AI programs without actually understanding AI. I fear it's not even a small step.

Wow, amazed at the prospect of Cortana automation, I've been thinking about this for some time. "When I leave home, send an SMS to X" "When I get home, turn on my PC"

I'm waiting for: "when connected to this gadget (car or headphone bluetooth) disable lockscreen security" "when entering this geolocation (work) disable wifi". Geolocation triggers for Wunderlist (MS-owned to-do list). Additionally: Sending and receiving SMS from any windows 10 device. For W10M, picture-pattern password (which we've had on the desktop since windows 8...). And in a world of "One Windows": Not having to clear the same notifications across devices.

A couple of times I really could've used "send this sms when it's xx:xx o'clock Posted from WC 920, 1520, 920, 635, 640 or 950XL

Yup, pretty excited about this one too. I could also see them do something for data analysis (Cortana Analytics Suite) and productivity app integrations: - If turnover hits a low, send an email to sales, telling them they're fired... (Or something) - When all offices are empty, turn off the lights - If supplies are projected to run low for manufacturing, order new supplies

Wol is still messy depending on the OEM they ship the standard bios from intel its hidden well

Very informative post. Thanks Daniel

It's there going to be a possible snapchat coming soon

Up to Snapchat. But I don't think it's happening any time soon. Posted from Windows Central for Windows 10 Mobile

Windows mobile needs Snapchat

even *IF* they gave us snapchat.. which i 110% doubt they will... there is no way they would keep it updated regularly enough with all the same filters so it would then be an issue of not being able to have feature parity.

Need? No. If you think that, then all is lost. That CEO ain't bringing it over.

I don't know why you got downvoted, that is a very good question, with iOS Bridge there should be a Snapchat app coming soon, the tools to port iOS apps to Windows Mobile should make huge savings on Snapchat company so they don't need to hire Windows developers to support the app, since the iOS app will have the same source repository and all updates, vulnerability and security fixes will be updated by the same developer team using Microsoft's iOS bridge tech. Just my 2 cents.

The problem is, snapchat Ceo is a dickhead. He hates Microsoft

Getting downvoted because of this fanboism.... it's sad right? Can't see the truth...

It's so convenient to pass off all downvotes as "fanboism".
So I can just pass off your comment as trolling. Fun and constructive, isn't it? Posted from WC 920, 1520, 920, 635, 640 or 950XL

Technological know-how isn't the problem. It's a problem of grudge holding leadership.

I think getting SuperCell onboard would be a big bonus too. The prospect of possibly getting onto the Xbox too, must be a little bit tempting... There is, of course the issue with mouse/keyboard vs. touch, but let's ignore that for now :) - having them in the Store would be great.

Probably not, but you can use Specter in the meantime. Better than nothing.

I can barely wait! I'm more excited about UWP, UWA and Bridges. BRING 'EM ON!!!!!

Hoping for more languages for Cortana. Also what would be awesome is a way for more users use 1 computer for desktop remote at the same time.

Just reveal a feature only and only for windows 10 mobile devices. I see that Microsoft wants to be everywhere but that automated Cortana is something to show to android and iPhone users.

Haha the secret "something awesome" news about live tiles might be that this will be made possible on IOS and/or Android as well ;-)

Sorry to tell you but the iOS homescreen is not customizable. Live tiles wouldn't be possible there.

Still hear nothing about the NFC mobile payment

Yea if they want to be everywhere payment and cars are a must.

it's possible this could still be brought up.. MS might still have stuff up their sleeve.

They have agreements in nearly all 50 states now so it could show up at build

A very thorough DISCLAIMER...

What I expect is a lot of cool stuff for Windows Mobile and a lot of new apps (and everything coming soon :/)

Ah Build! That cool event where Microsoft will announce awesome stuff that we won't see for at least 6-12 months... Posted from Windows Central for Windows 10 Mobile BETA

That's because they are announcing stuff to developers not consumers.

Oh that's right. Developers, Developers, Developers!!!

Lol what to expect is "a boulevard of broken dreams"

Is there any news regarding the snapchat?

It exists, and people use it.

I hope they announce abling some Cortana features without having the location services on....

Sad not to expect any hw this year...

Awesome post!! Learned a few things... Good for the novice..

Expect a piece of hardware

Daniel, would you also expect Microsoft to reveal more about W10M ROMs for Android phones? Also, no Surface 4? :(

Yeah, the Surface 4 would be the wild card and released before 2017, so that COULD happen here (or at another time)

How many times and for how long will they announce and be allowed to announce that W10 has been installed on more than 200 million machines without being called out on it? They announced that 3 months ago. For you to list that under what we should expect is pretty sad to be honest.

I would expect the number to be higher e.g. they announce a new milestone not the same.

Lol when hardware that has to be gimped to run w10 because the OEMs decided to rely on broken reference drivers for stuff like raid

The only hardware announcement they will make is the launch of Surface Hub. They've already started shipping. Posted from Windows Central for Windows 10

I'm hoping they release the new Facebook Messenger/Viber/Spotify/Netflix W10m apps at build.

I do hope for Facebook Messenger, and hopefully Spotify eventually. But hasn't Netflix has already released a Windows 10 (including Mobile) version of their app?

Hate to say this, but I hope snapchat will come on board.

Lol & they have quite a nice html5 site

Cortana for everyone? Can have use for her in English..

Will the day 2 keynote be live streamed? I'm actually super Azure excited about what enhancements are coming to Azure and office 365. Posted from the new windows central app.

Just hoping for a new (surface) phone

Not likely, the article stated an 18 month refresh cycle, so probably 2017. Maybe we'll get a glimpse of that HP Elite!!

Less about windows 10 mobile then? So much for cloud first,mobile first strategy!!

Mobile will be addressed indirectly, through UWP. Getting developers onboard with UWP means prepping them for mobile. And then there's bridges of course. I am betting we'll see some more about Continuum phase two (as Daniel said: SMS from PC and I am hoping we'll see phone calls too).

I think Microsoft is going to tie up with HP regarding the hardware aspect in their Windows Phone / Surface Phone.

I'm hoping there is intense coverage of iOS Bridge and Islandwood project to let mobile app developer companies like Facebook, Twitter, Linked In, Pinterest, etc that is very easy to train iOS developer team to port their apps to Windows mobile platform within minutes.

While I do not expect any new hardware announcements, a tease about Surface Phone would be nice. I would also hope they acknowledge the issues with Surface Pro and Surface Book. While they have address many issues in the last firmware update, they are still way more issues to be addressed. My XPS 15 even with the latest updates gives me fits because Optimus sucks so bad and Intel, NVidia and Microsoft seem to point to each other in a circular way and nobody really addressing the issues including the painful method of performing video updates. Should not be as hard as it is today.

Lol this is nothing new NVIDIA tends to dismiss this stuff. Almost better off trading the dedicated for the top end CPU seeing as they don't tend to option ATI very often

Excellent article as usual, Daniel. Can't wait for /Build!

Thanks Mr. Daniel for the "IST"

API means Advanced Programming Interface ;) I would really love to see new improvements for Visual Studio, namely the ability to open a folder as a project without creating a whole bunch of solution and project files and a fat-free install.

"API means Advanced Programming Interface ;)"

Not in this context is doesn't. Not talking about web development.

You mean Application Programming Interface?

Last year they announced Viber for *W10* !
Still no update yet from 1 yr -_-

Ok. This is as huge as it is. I love the API part and looking forward to attending someday in my career life. It's huge for MICROSOFT. This couldn't have come at a better time. I hope Panay talks and if course I've always loved Satya. And Dan, do we get to download these videos after the events and channel 9 or YouTube?

Redstone is a BUILDing block in Minecraft. Not a coincidence. Whereas Threshold was about bridging the gap between mobile and desktop OS with UWP, I think the Redstone family of builds is very much about solidifying the platform and extend the *bridges* (if you know what I mean). I'd like to hear some more about home automation. They were talking up AllJoyn last year, and since then: silence. DIAL protocol? What are they doing in this space? I thought I saw something about a new consortium or standard not too long ago, but now I can't find it. And will we see more home automation integrations involving Cortana? I mean as an alternative to Alexa?

That's one heck of a job explaining it. Kudos to you sir for the great info.

Well it's almost April and May be I've lost touch a little but what happened to the Acer Jade Primo? Shouldn't we be getting details about a launch or something during Build as well? One picture at a time -- LG V10

I saw the words "Satya Nadella" and immediately thought "skip day one"...

what i need from an office IT business perspective - easy x86/x64 packaging für den store
- new store with better structure, menu and sorting so x86 apps have a place and make sense in there (yay for sandbox and clean /un/install) do not mush them together with tablet apps please
- unified account management (private/business/education) inkl. linking and merging. currently some services (volume license management, need a different account than office365 business ... this makes no sense)
- easy setup and rollout for azure ad as business ad for office hardware (inkl. remote locking devices) - this partly is already availabel but not very comfortable to set up
- better office365 azure sharepoint and exchange incl. new management interface and unified group management (mainly find ways to implement useful file listings - the 5k file limit is unuesable even 20k for a whole structure is too little in many cases - finance has a LOT of invoices, contracts, reports, ... and 1TB storage can cover a lot more than 20k office documents ... or could if one could sync them in a meaningful way)
- group level sharing for office for business users and their "private" storage (the groups and sharing roles currently are inconsistent - share something from your personal storage with a group of users: you can find the group, you can share, they can access the share but it does not show under "shared with me" because [microsoft support explanation] "shared with me is only for person to person sharing" ... err ... what?)
- kill groove in the sync tools ... really now ... kill it, make it not live anymore, bury it under a very very heavy rock and never ever talk about it again ... EVER - surface 4 & surface phone (ok that one is personal ;) )

In a shocking move - I am hearing much greater support for ARM CPU's. A big move after the RT debacle....
Windows Central Newsletter
Thank you for signing up to Windows Central. You will receive a verification email shortly.
There was a problem. Please refresh the page and try again.