Build 2016 panel listings tease Live Tile improvements and 'Something Awesome'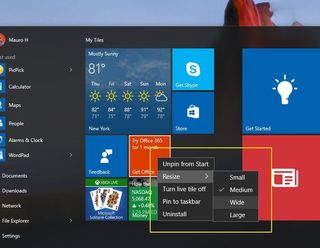 Microsoft's Build 2016 developer conference in San Francisco is just a few days away. However, some of the event's panel details have been revealed by the company's Channel 9 video site, which will offer live streaming of many of the panels, and will post on-demand videos of all the events.
The site's Build 2016 pages (via MSPoweruser) shows panels like, "What's New for Tiles and Toast Notifications" which is scheduled for April 1, the final day of the conference. It states:
There's already some speculation that one of those surprises could be the reveal of interactive Live Tiles for Windows 10, but again we will have to wait until the final day of Build to find out.
A panel that doesn't have a description yet will be held on March 30 and it's called simply "Something Awesome This Way Comes!". There's no description of what will be announced, but it does show it will be on the Channel 9 stage, which likely means it will be live streamed.
Windows Central will be attending Build 2016 and will have first-hand reports on what will be discussed at Microsoft's biggest conference of the year.
"Something awesome this way comes" seems like a reference to Star Wars. Only HoloLens is "out of this world", so it has got to be associated with that....?

That is a Jakob Dylan reference. Something Good This Way Comes.

Or Shakespeare. Something wicked this way comes. Posted via the Windows Central App for Android

I'm glad you changed the Macbeth part of your comment cause I know for sure that was wrong. Maybe Hamlet?

"By the pricking of my thumbs, something wicked this way comes." I studied Macbeth in grade 11

So did I. I don't remember that line.

I always think of Harry Potter and the Prisoner of Azkaban when I read "something wicked this way comes"

There was a movie a long time ago called Something Wicked This Way Comes. A very long time ago, that movie title was a line from a Shakespeare play called Macbeth.

This is the origin, the other replies in this thread are referencing this.

The film was based on the novel by Ray Bradbury. The title itself is, yes, from Macbeth.

It's also a line I say after I get done eatting Taco Bell.

Reminds me of the Ray Bradbury book Something Wicked This Way Comes.

Wonderful Posted from Windows Central for Windows 10

Finally some details! Excited as gets but will probably miss the live stream :/ we can expect Windows central to do a liveblog as usual, right?

I hope to see big changes on the apps store thats all im interested in!

Store doesn't even have a proper sort and filter, so depressing

Aint it just not been really keen on the store , well the way it runs anyways :/

I'm hoping they improve action centre drastically like it seems. It works well so far but more dynamic notifications (for more apps than just the odd few like WC and Facebook) with more functionality. Also the highly requested transparent action centre would be awesome! So many things in hoping to be announced in build. Also hopefully they'll announce an up to date fb messenger (which is continuously updated) :p +640 on Win10Mobile

Yes, like showing images along with notifications (eg. WhatsApp or Facebook images) and media controls in the action centre. *Translucent action centre.

Exactly. And honestly it would be nice to have similar settings to what we have for tiles transparency. Then you can either have it as translucent or transparent :D but either way, if they make it more appealing to loo at and have more functionality in notifications and in the action centre itself, I'll be happy. +640 on Win10Mobile

Coming soon, no doubt.....

Can't wait to find out! Hopefully this change is user friendly but adds convenience, some style and usability. Posted from my 1520 running Windows 10

Exploding tile thingies...

Ok you have my attention now MS!

I'm trying to hold back my expectations, but YES MICROSOFT WHAT IS IT

All the three event of MS in 2015 were awesome. Hope they continue the trend this year too. Apple on the other hand is going boring year after year.

*yawn*
I hate to be a cynic, but I'll believe it when I see it - and by that I mean see on my phone, not some conference where they announce things that MAY come out in a year.

The BUILD events are for developers. Developers need time to learn and implement things, so of course it's not immediately available.

Awesome! Posted from Windows Central for Windows 10

Xamarin acquisition will result in a deluge of iOS and/or Android ported apps. Instagram was the test and it's full steam ahead now. /prediction

Instagram was ported using Facebook's own tools and not related to Xamarin

OK so Candy Crush? I know nothing, just predicting for fun. It's certainly related to Xamarin in some way. Microsoft didn't buy them for fun.

Xamarin has nothing to do with islandwood

Xamarin is not for porting existing apps but creating new platform agnostic apps from scratch.

Something awsome waiting for that like hoe Microsoft surprised everyone with surface book and Microsoft hololens.

What I really want to hear about is Win10RT!!

Then I think you will be disappointed...

some shade of light is more than enough (a recent report)

There was a recent report that W10 may come to RT devices?? Do you have a link? I would love to get W10 on my Surface 2!

Let me guess, 3D live tile and transparent action centre lol, just my thoughts waiting to see what microsoft wants to wow us with Sent from windows 10 mobile

bro think about interactive live tiles (which is possibly not gonna happen)... 3d tiles will come in future as in win 10 pc..

I hope we can get interactive live tiles!!!!

Just like every other year, really looking forward to build. Here is hoping that the live tile interaction takes live tiles to another dimension(wink hololens). Aside from this, did the lasted RS build break Cortana's ability to set up voice reminders? All I get is bing results???

Very similar to 3d touch in ios. That would be awesome.

Yes but that would also require capable hardware (pressure sensitive screen), not just software.

I believe it would be the opposite of 3D Touch. McLaren was supposed to include live tiles that "explode" when you hover over but not touch the tile... On iOS, it feels more like "Press and Hold" Posted from Windows Central for Windows 10 Mobile

I meant it would be opposite of Force Touch. 3D Touch is for Windows Posted from Windows Central for Windows 10 Mobile

Ya, but I don't know if we'll ever see that technology. They gave up on it for a reason. Mimicking what Apple has done should be far simpler.

Damn, it'll be April's 1st will be very difficult to know if its true or not.

Lol. That's true. Hope it's not an April fool joke Posted via the Windows Central App for Android

Lol. That's true. Hope it's not an April fool joke Posted via the Windows Central App for Android

Dead tiles... No, no... Zombie tiles.

Been waiting for then far to long
YAAAAAAAAAAAAAAAS

that was the right size for context menu for live tile..now its looks aweful with unnecessary width

I wonder if the action center notifications has to do with that insider survey we took about whether or not to change the notifications to app icons and the positioning of the notification icon +Lumia 929

Ooh I forgot about that survey.

I've seen you post this in every article. It's not funny anymore.

Kids don't get bored of what they like.

Would love music controls on action centre...directly reply for what's app and facebook
And more improvements Posted via the Windows Central App on Limited edition Lumia 950 or Lg g4
Surface pro 4 lumia 1020, 535 moto e

Direct reply type functions depends on the developer.
Whatsapp can implement it right now.
- Posted from a Still beta Windows 10 Mobile!

They should add an option to choose what sound we want for each notification, just like in mobile.

Hope current hideous start menu goes away and we get proper tablet interface.

What am iOS lookalike??? Posted via Windows Central app for Windows 10!
Proudly rocking my Lumia 1520!

What proper tablet interface you mean? Tablet mode is available on Windows 10 already.

I want to hear about MixView of exploding live tile on mobile, not PC. I'm fine with windows 10 on PC now since we don't use the home screen like in Windows 8 - 8.1 anymore. Posted via Windows Central app for Windows 10!
Proudly rocking my Lumia 1520!

You will be able to plug your devices into your Segway

Landscape mode?
Interactive tiles?
Custom size tiles? Can't wait! - Posted from a Still beta Windows 10 Mobile!

Highly requested surprises? If it is highly requested, I don't think it will be surprise feature but it will be greatly appreciated :) looking forward to it.

Soo maybe that will be in Mobile? I want this on mobile. I guess that something awesome maybe HoloLens or Interactive Tiles, like Groove Music tile with pause button? Posted on Lumia 930 with
Windows 10 Mobile

Its Interactive Live tiles hopefully...

Hopefully vertical tiles !!!

I want exploding tiles when you force push it.

Something awesome? Surface Phone reveal?

Well, interactive live tile and a centralized download manager integration into action center will be highly welcomed. Fingers crossed. Bring them on Microsoft.

I'm still waiting to hear what this thing is that's supposedly going to "blow users' minds". So far, NOTHING about W10 or W10M blows my mind...other than the fact that it sucks compared to 8.1.

Some Hololens Star Wars thing I guess. Posted via the Windows Central App for Android

Interactive LIVE tiles? Bring it on Microsoft. It's 2016 already!

John Callaham, are you going to Build?

Large tiles on mobile please!

Hope they bring back the large square tiles as part of the improvements.

Don't tell me that something awesome is the surface phone. :-o

Interactive tiles please and bring back horizontal scrolling!

Full aero-transparency-gloss-glass effects please! And before the haters *****, please include option to turn it off or on! Also include material design effect like android lollipop and marshmallow!

Hopefully it's more apps and more OS features.

I know what would be awesome, a W10M OS that works with their MS Band 2. So tired of the inconsistent pairing issues and having to reset the watch and uninstall/reinstall the MS Health app several times a week.

What I don't like about these interactive tiles is that when one tiles gets bigger ot throws around other tiles and everything seems fuckedup. I hope they found a solution to that fundamental problem.

Mix View Lumia 630 DS W10M

I hope they include interactive tiles for dialing/texting/email within the phone app. This going to the contacts name, then having to go to another window and then selecting phone, text or email is too many steps to do a simple task. Plus, I would have it so that I could at least text from within the People app.

I think one of the live tile features could be that we will now be able to pin them to our desktops directly. Like widgets in Windows 7.

So I hope it would be Interactive tiles and of course Live tiles that actually work again, but I know it will be 2 more tile sizes shown in a 3 hours stage demo :D

Idk, live tiles still feel like a glorified yet crappier version of android widgets Posted via the Windows Central App for Android

OK, didn't we saw "android N "notifications bar and multitasking. None will buy a windows phone if Microsoft will give full access to an app via live tile. This might be an answer to iPhone's 3d touch. windows was made for multitasking, still no split screen function is available on windows phone. Neither. fingerprint scanner nor "Hello" available on lumia 650.

It's about time (vid from 2014...): https://www.youtube.com/watch?v=Dq2rWa2Ztn4

And no Live Tile improvements to be seen during build.
Windows Central Newsletter
Get the best of Windows Central in in your inbox, every day!
Thank you for signing up to Windows Central. You will receive a verification email shortly.
There was a problem. Please refresh the page and try again.