Out Of Memory, a management styled puzzle game for Windows Phone 8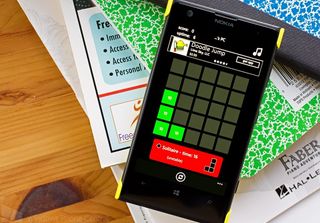 Out Of Memory is a strategy oriented puzzle game for Windows Phone 8 devices that has you managing computer memory. You are tasked with allocating computer memory to a variety of computer programs. The goal, manage your computer memory for as long as possible.
Out Of Memory is a simply drawn up game for Windows Phone but does not lack challenge. There are several types of programs that will impact your memory grid in different ways. While we have plenty of puzzle games for our Windows Phone, Out Of Memory offers a unique style of gaming that has a certain amount of appeal.
When you first launch Out Of Memory, you will be taken through a series of tutorial screens on game play. Once you have completed the tutorial you will jump into game play. If you need a refresher, the tutorial can always be launched from up under the three-dot menu.
Out Of Memory Tutorial, Gaming and Scoring Pages
The game screen has a five by five grid that represents your computer memory. Every few seconds a program will appear at the bottom of the screen that you will need to place on the memory grid. The program will require a short period to run on the grid, after which it will close and free up the memory for another program to use. The goal is to place and run as many programs as possible without running out of memory.
To place a program, just tap on the adjacent memory grids or tap/drag your finger across the grid.
To help keep things interesting you will run into a variety of programs that will affect your memory differently. You have the standard program that stays in place while the timer runs out. You also have an unstable program that will shift around the memory grid and a corrupt program that will expand on the memory grid. You can box these programs in and contain their movement and growth with the stable, stand programs.
Out Of Memory has an online leaderboard for bragging rights and support for both dark/light Windows Phone themes. The game has a bit of a casual pace and is not a bad gaming option to pass the time with. I found that the more I played Out Of Memory, the more the game grew on me.
Out Of Memory is an ad-supported game available for Windows Phone 8. You can get rid of the ads through a $1.29 in-app purchase. You can find Out Of Memory here in the (opens in new tab) Windows Phone Store.
George is the Reviews Editor at Windows Central, concentrating on Windows 10 PC and Mobile apps. He's been a supporter of the platform since the days of Windows CE and uses his current Windows 10 Mobile phone daily to keep up with life and enjoy a game during down time.
Look good. Downloading now...

Looks interesting, but had enough of the real thing back in the DOS EMM/EMS days
(reveals age.....)

Managing memory was more fun on an Apple ][+ with 48K and hi-res graphics turned on. :D

My first computer too! Remember, you could get that big 16k "Language" card for a total of 64k of RAM, but it had to swap memory in and out out because it occupied the same memory space as the 16k of ROM. I think it was called that because you needed it for most of the programming language add-ons, like Pascal (not for built-in Applesoft Basic or 6502 Assembly). I think HGR was the command to go into that hi-res graphics mode you mention (vs GR for lo-res brick graphics), with 4 lines of text at the bottom below the graphics screen. Ah...

The game is simple but nice... really it grows upon you.
Now I understand how the lagdroid works :P

Too bad it doesn't have the WP7 version.

This is surprisingly fun.

Dang. When I initially saw the first part of the title, I was hoping it was some new program or solution for the Other Storage memory issues. My 8X lags so bad with 1.5GB of space left.

Exclusively for 512MB devices. :'D

Hello everyone and thanks for your feedback! I just submitted an update for the game - you will be able to switch between local and online high scores - the local one is always kept with you, but it was diplayed only if there was no internet connection - now you will be able just to switch between them - somebody wished for this functionality when giving rating on the store - thanks! I tried to investigate the reason why the app is not available on the 512 MB devices and hopefully with this update you will be able to get it, as the game on avg. use 25 MB, so there is no reason why it shouldn't be available for the devices with lower memory. I'll keep you posted if this will be resolved, I was unaware of this restriction. The update should be available within couple of days, thanks again and I really appreciate the feedback. :)

This game is great but it needs more depth there has to be some kind of progression for example, maybe you can upgrade "your computer" and this somehow effects the gameplay I'm sure you can think of something = )

Hello, I just wanted to let you know that a new version just appeared - I hope you will enjoy it even better - there is huge change in visuals and now you are able to unlock 6x6 mode with slightly different set of blocks to make it balanced (no 2-block pieces). Also, now you will be able to see the incoming application, so you might avoid some Out of Memory exceptions if you play strategically. Next update might provide some more power tools that will, for instance, speed up the execution of the applications or let you heal infected apps. However, I don't want this to be a pay-to-win game, so I have to think about it really carefully how you will obtain those power tools. Have fun and I wish you long uptimes! ;)
Windows Central Newsletter
Get the best of Windows Central in in your inbox, every day!
Thank you for signing up to Windows Central. You will receive a verification email shortly.
There was a problem. Please refresh the page and try again.