The Outer Worlds only features '4K textures and resolution' on Xbox One X and PC (update)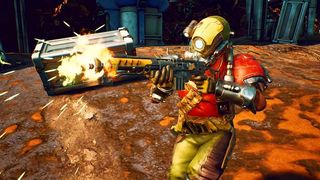 What you need to know
The Outer Worlds is an upcoming first-person role-playing game from Obsidian Entertainment.
The game is coming to Xbox One, PC, Nintendo Switch, and PlayStation 4.
According to a spokesperson, the title is only Xbox One X Enhanced, even the PlayStation 4 Pro version hasn't received an upgrade.
The Outer Worlds is part of Xbox Game Pass

(opens in new tab)

.
Updated October 16, 2019: Private Division clarified that the statements made by their public relations team beforehand were incorrect. The game only runs at 4K resolution on Xbox One X and PC, and 1440p on PS4 Pro. Furthermore, only 4K textures are available on Xbox One X and PC. It's unclear if the textures on PS4 Pro are 1080p or 1440p.
The @OuterWorlds is enhanced for both Xbox One X and PS4 Pro. It includes 4K textures and resolution on Xbox One X and PC, and upsamples to 4K from 1440p on PS4 Pro. It looks great across all platforms and we're excited for players to experience The Outer Worlds on October 25th.The @OuterWorlds is enhanced for both Xbox One X and PS4 Pro. It includes 4K textures and resolution on Xbox One X and PC, and upsamples to 4K from 1440p on PS4 Pro. It looks great across all platforms and we're excited for players to experience The Outer Worlds on October 25th.— Private Division (@PrivateDivision) October 16, 2019October 16, 2019
The Outer Worlds from Obsidian Entertainment and Private Division lets you to navigate Halcyon, a futuristic space colony, in a visually-lush single-player role-playing game. The title lets you develop a character over time based on your playstyle. The game can apply features to your character based on reoccurring traits and or flaws. The end result is someone who has unusual quirks.
When a major AAA game launches, buyers want to know how it runs on Xbox One X and PlayStation 4 Pro (PS4 Pro). We reached out to publisher Private Division and a spokesperson for the company said that the game was "4K on Xbox One, no enhancements for PS4 Pro." We followed up for further clarification and shall update you as soon as we receive a response. Hopefully, the public relations agency isn't mistaken because this is quite unusual for a major AAA game.
https://www.twitter.com/JezCorden/status/1184577601140068352
This is definitely surprising because, usually, the PS4 Pro also gets some enhancements. This is similar to the situation with We Happy Few and Gearbox Publishing. The game ran at 4K resolution on Xbox One X, but only 1080p on PS4 Pro. This gave it a muddy presentation on Sony's machine.
If you aren't playing this game on PC, be sure to check it out on Xbox One X, as it promises to be the best experience from a visual standpoint. It's always great to see developers taking advantage of the additional power, even in PS4 Pro users see none of that benefit.
Best of the best
(opens in new tab)
It'll last you a couple of months

Xbox Game Pass gives you access to over 200 games for one monthly fee. Xbox Game Pass Ultimate also adds Xbox Live Gold to the package so you can play online with your friends.
Xbox
(opens in new tab)
Main
Windows Central Newsletter
Get the best of Windows Central in in your inbox, every day!
Asher Madan handles gaming news for Windows Central. Before joining Windows Central in 2017, Asher worked for a number of different gaming outlets. He has a background in medical science and is passionate about all forms of entertainment, cooking, and antiquing.
What does that even mean? If you are referring to Obsidian being a 1st party studio now, remember that this game was basically made before MS bought them.

It wasn't complete though it was being made at the time of the acquisition so it is just highly likely although they agreed to let them continue the project on PS4, it was highly unlikely they were going to let them enhance it in any way. Especially as they want this to become a flagship RPG for Xbox and PC with sequels only on those platforms. It makes sense and Sony would have done exactly the same thing if the tables were turned.

Yeah, I'm fine with it if that's the avenue they took, different systems need their differentiators. But I can also stomach the PS4 getting extra content in certain situations.

Same people make too much out of mp maps getting 1 month access over another. Unless it is something really detrimental to single player gaming i could care less. I am still trying to find out if Outer Worlds is still 60 fps or has a 60 fps mode for Xbox one X though.
Perhaps the engine doesn't support checkerboard rendering for Pro? In any case the Pro is just not all that powerful. Look at Dirt Rally 2.0 it is 4k 60 on Xbox one X and 1080p 60 on the Pro.
It is odd unless it is going to be 60 fps that Pro is not at least 1440p though.

I'm sure if MS could have done so they would have. Probably already done before they acquired the studio

That is a low blow and if Microsoft had anything to do with it's a rather cheap move for them to stoop so low. If you're having the game on the PS4 platform, then have it properly made available on both systems.

It is available on both systems, and so what if visuals are better on the One X (which they would be anyway) it's not like they are withholding part of the game.

At least it's the full game . Are we forgetting that Sony pays developers to have exclusivity in parts of their base game ?

why you are lying?
"When a major AAA game launches" this is AA game nothing more.

It costs $60 and is a AAA RPG. This was made clear from the start. Not sure why you're saying it's AA.

No issue here. This game won't be setting visual fidelity alight. The next game however with full MS money and backing, you can expect to push the envelope of all areas. This will be a good game. From a great RPG Dev. The next will blow us away.

Wait, a Microsoft company only polished it for the Microsoft console? What a shocker? Them publishing it on PS4 was only because of the existing contract. I'm willing to bet if Microsoft could have found a way, even that wouldn't have happened.

I'm fine with this. Whether it's intentional or not. The game seems to be pretty dense, so the PS4pro may not be able to handle it. Or the team just didn't feel like it was worth their resources to optimize both consoles for 4K.

There are dozens of games that are 4K on X and 1080p on Pro. I agree.

Well the team probably weren't able to optimise it for 4K on the pro without it impacting frame times, fps and playability as after all the PS4 Pro... is not much of upgrade in terms of hardware compared to the OG PS4. I'm curious would they allow mods if so how are mods going to be handled on the console versions?
Windows Central Newsletter
Thank you for signing up to Windows Central. You will receive a verification email shortly.
There was a problem. Please refresh the page and try again.