Outlook embraces the notch with iPhone X support
Microsoft has added support for the iPhone X with its latest update to Outlook on iOS.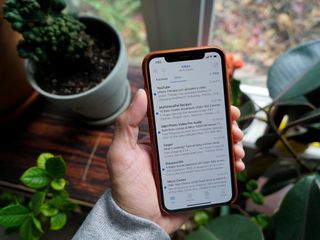 Apple started shipping its new iPhone X on November 3, but, as anyone who has managed to get their hands on one can attest, a number of popular third-party apps have lagged behind in updating to support the device's signature notch. Outlook was among those ranks, but Microsoft has remedied the issue with the latest update to the mail app.
The update means that Outlook now extends to fill the entire screen on the iPhone X, giving it more vertical space, while eliminating the ugly black bars previously present above and below the app.
Aside from iPhone X support, the update to version 2.51.0 doesn't include any further features. However, hopefully this signals that Microsoft is also ready to update its stable of other iOS apps with support as well.
See at the App Store (opens in new tab)
Windows Central Newsletter
Get the best of Windows Central in in your inbox, every day!
Dan Thorp-Lancaster is the former Editor-in-Chief of Windows Central. He began working with Windows Central, Android Central, and iMore as a news writer in 2014 and is obsessed with tech of all sorts. You can follow Dan on Twitter @DthorpL and Instagram @heyitsdtl.
I love my iphone...but the X is downright terrible looking...most of the extended screen where the bezel was is taken up by "notch" terrible design by apple. TERRIBLE.

Agree wit you on this. Had a chance to check out the X in person yesterday. The notch is terrible. Personally, the iPhone 8+ feels and looks more premium. At 5.5 as opposed to 5.8 in on the X, the 8+ screen appears to be larger due to it being wider. Anyway, think I'm gonna pick up an S8+ at the MS store on BF. My L1520 battery is dying on me.

I have been using an S8 for a while now and any phone with bezels feels outdated, especially the iPhone 8. Even the Pixel XL2 is kinda lame in comparison. I thought the iPhone X looked great overall. The notch isn't ideal, but it is noticeably smaller than the GS8 with the same sized screen. This is the first time I have actually wanted an iPhone. The buttonless, gesture interface is also nice. I hope Samsung copies it ASAP.

Correct, screen area wise the 8+ is bigger. The problem with narrow phones is that the diagonal length can be very deceptive. And having a non-16:9 aspect ratio means lots of the screen will be wasted with black bars on the sides during video play.

I love my 8+. It is solid, works fast, has plenty of apps, battery life is as good as any phone I've ever had (comparable to L640X). And it cost enough without paying more for this. I also love finger ID. Not so sure about face though I guess it will ultimately replace finger.

Agreed, glad I went with the 8 Plus. I don't know why, but the notch drives me crazy. I do not like it.

Got my order in, should be here early Dec. The notch is not biggie for me. Just got my Spigen case yesterday. Been using 6s for 2 years...Verizon giving me $300 for it so I'm Good.

So app developers have to explicitly build in support for every screen size on iOS but for Windows they can pretty much design once and it scales. Yep, I can see why devs love iOS so much.

Because people are on the platform. A whole lot of people. More people will buy the iPhone X than WP ever had.

Supposedly if apps were developed using the proper layout system then changes weren't needed. But if you chose not to follow the developer guidelines then you will have to update your application. At least that is what I read, I haven't developed an iOS app in a long time.

Yes. I agree Pepper...However, to bad Nadella did not feel the same way about ANYTHING consumer related. Windows is going to be business only soon enough!

As I've said before, kinda like IBM.

Do you have plans to update the WC Forum app?

the apps will no longer be updated. Didn't you hear that Daniel Rubino himself back in August???
.
If there is something broken then they may release an update otherwise be happy with what you have or the website.

The app is being updated. The issues tie in with the backend changes to the website. As it stands there plenty of work happening behind the scenes.

Weeeeee...fanbaby downvotes...keep it children!

as always, you are wanting a downvote!

RohanRonQM....they only show that 1. I am right....and 2. The average microsoft fanboy has the mental equvialancy of a 3 year old.

The apple ipod phone ten is one fugly mother of a device. They really outdid themselves this time...

Iphone is for sheep people

Nope, just for people who like to enjoy the apps the rest of society is using along with top notch hardware and performance.

Just as the lumia was for winsheep.

Just imagine if MS had shown the same dedication to their own platform....

Or even Android...Outlook on Android is still not as good as the iPhone version. We still can't customize the quick actions in the notifications we're stuck with Archive and Reply..

I still use Outlook on my Lumia 640 XL with Windows Mobile 10 😎

To be fair, they are just following the developer guidelines mandated by Apple. I personally think apps should have a toggle to set the areas to the sides of the notch to black if the customer chooses. I also think that area should be reserved for the battery, time, and signal information and any app display area should start below it. I know Apple is trying to make the notch one of the recognition factors of the iPhone X, but they are pushing it too far when they let things like video display with part of the display blocked by the notch.

"Microsoft has added support for the iPhone 10". Not like Outlook didn't support the iPhone 10. It worked fine, it just wasn't visually updated.
Windows Central Newsletter
Thank you for signing up to Windows Central. You will receive a verification email shortly.
There was a problem. Please refresh the page and try again.