Outlook gets some handy new calendar features on iOS and Android
Outlook is bringing some handy new calendar features to both iOS and Android.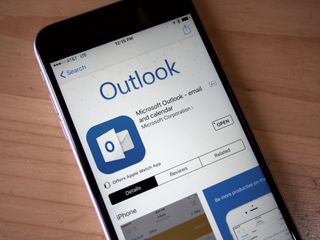 Microsoft has announced (opens in new tab) a big update to the Outlook apps on Android and iOS, bringing along some of the most requested calendar features. There are some major additions here, particularly around shared calendars, but there are some smaller tweaks that should please Outlook users as well.
Most notably, Microsoft says Outlook users on both platforms will now be able to sync shared calendars. You'll be able to view and edit shared Office 365 or Outlook.com calendars. Outlook will also let you share your own calendars and accept invites. Microsoft says it is in the process of upgrading existing shared calendars so they can start syncing, so you may not see this show up right away. Support for managing delegate calendars is also rolling out, allowing you to manage someone else's calendar on the go.
Outlook also now supports a new calendar app called Meetup. "Now, when you connect your Meetup account to Outlook, you can see your upcoming Meetups directly on your calendar," Microsoft says.
In terms of smaller tweaks, both iOS and Android now support creating events with daily, weekly, monthly, or yearly recurrences. Both platforms also support RSVPs to a single occurrence of a recurring event. And while iOS already had the ability to see coworkers' availability when scheduling meetings, Android users can now do the same.
Lastly, iOS users have access to the following new features, which are set to come soon to Android:
Add a message when responding to a meeting invite (e.g. explain why you are declining a meeting invitation.)
Set an event as private, to keep the details to yourself when sharing your calendar.
Mark your calendar events as Busy, Free, Out of Office, or Tentative.
If you're a heavy Outlook calendar user, these updates are likely a good sign. You can grab the latest version on Outlook on Google Play (opens in new tab) and on the App Store (opens in new tab) to check out all of what's new.
Windows Central Newsletter
Get the best of Windows Central in in your inbox, every day!
Dan Thorp-Lancaster is the former Editor-in-Chief of Windows Central. He began working with Windows Central, Android Central, and iMore as a news writer in 2014 and is obsessed with tech of all sorts. You can follow Dan on Twitter @DthorpL and Instagram @heyitsdtl.
What about contacts on the phone syncing back to outlook.com (and the ability to create an icon for the seperate elements in outlook)? Plus, have they sorted the folder sync options between an imap account and Outlook app? Duplicates perfectly with gmail app, but Outlook has trouble matching the folders. Without those, Outlook is over for me on android.

Contact sync is part of it now. It was a feature I was waiting for as well, but in one of the last updates it now gives you the ability to add a contact in the app and have it sync back to Outlook.com, and be available in the Contacts app. You're also supposed to be able to add a contact in the Contacts app and have it sync back to Outlook too. I haven't tried any of this yet, I want to refresh my phone first, so haven't had time.

Hmmmm.... still ways to go when comparing to what I am using on my Lumia.
MS, you need more work to get me off the platform ;-P

And a ways to go compared to Live Mail 2012. :( some nice features, but I still cannot Search my Calendar.

What I really want for Outlook on Android is a calendar widget that replicates the functionality of a live tile on Windows Phone

That's a system feature not an application function. Unfortunately Microsoft is doing its best to kill its own mobile platform so if that wasn't the case maybe you'd be on a different kind of platform but we never know... when i read recent news on windowscentral about what the Lumia 435 could have been due to how it looked in its prototype stage or how things could have gone if the company put effort to actually promote their products and take risks with futuristic products, it just makes anyone think "are these guys even really trying at all ?" and perhaps some people would like to jump in and dish out the usual brandishing (goats/sheep/lambchop/beef/chicken/robots'with'extremly'short'legs'or'none'at'all) hate to make themselves feel better but lets just face it, system wise these things had some pretty nifty inbuilt features and those are still reliable(like livetiles) except when microsoft decides to screw their customers over by removing certain features like the "windows apps corner"(a safe mode that allows users to give someone else access to certain apps they allow like a guest account on windows pc) , another day another time eventually someone will come along who really cares about the company hopefully cause the current leadership could be the worst kind for microsoft and its innovative future then again we never know until its clarified to us that this is the case cause microsoft can be quite secretive when they want to.

Android is more than capable of supporting a Live Tile. The thing is, when you have the full feature set of a widget, a Live Tile is pointless. Microsoft has a very nice Outlook widget available.

Edit: okay, after this morning's outlook update, I do have an agenda widget. Cool. I'm using outlook on Android 7 on my LG G6. There's no Outlook calendar widget.

You have an option for a calendar widget or email widget. At least I do on my S8.

I do now. I literally had zero widgets for outlook available until this morning's update. Weird.

It's not pointless. When I was in WM all I had to do was glance at my start screen and I get a good amount of info. If I wanted all the info a widget shows I might as well launch the app. I don't need to waste time swiping pages of widgets to get info. They take up so much space and when you try to minimize their size they either can't or have bad font flow. You can't even add an icon or widget for different outlook folders, always have to launch the outlook app to know what mail you have. I'll take live tiles over widgets any day. The arrow launcher helps but they should incorporate live tiles into it.

How long did you have to stare before it might show you something interesting? You don't have time to look at widgets but you have time to stare at random Live Tile information? Please. Live Tiles are just featureless widgets. If they were really a good experience, people would have learned to love Windows 8 and Android app developers would have created widgets that work exactly like Live Tiles. There is NO advantage to Live Tiles. They are a terrible experience and as such, every single product based on them has been a huge failure.

You have no idea what you're talking about. The calendar tile ALWAYS displayed the latest appointments. You never, EVER have to sit and stare at it while waiting for pertinent information. That is simply false. Contact tiles, too, were handy because they immediately showed if you had contact from the people most important to you. I used to pin my wife, mother, and various friends and coworkers, so all I had to do was glance at my home screen to know if one of them had reached out to me. Another very useful feature was the ability to "deep link" to specific functions or data inside apps, creating a tile that leads directly to them. For example, from outlook on Windows Phone 8x or 10, I could pin specific folders to my start screen and IMMEDIATELY know if something came into one of those folders. So I'd set rules to sort email for, say, incoming payments, financial alerts, or emails sent to one of my aliases for managing business functions. When emails came in to those categories I INSTANTLY knew upon glancing at my start screen, no need at all to sift through a column of emails where I might miss something, or manually jump from folder to folder to check. For music, in any music app on Windows Phone, I could pin specific artists, albums, songs, playlists or stations straight to my start screen, so with a single tap, exactly what I wanted to play would launch. On both iOS and Android, I have to launch the app and manually navigate to the content I want. With OneNote, I could pin shortcuts to create different kinds of notes straight to my start screen: picture, text, audio. With a single tap, I was creating a new note. Easy.

Jesus Christ, get over it people. They tried all of that and failed. Consumers and thus devs were just not into you.

You mean a widget without any functionality? The current Outlook calendar widget looks nice, let's you scroll through your calendar, allowed you to directly select any appointment and also add appointments directly. In what world would a Live Tile be useful? You want random information with no interactive features?!

A widget with a monthly view would be handy though.

I mean a widget that displays the upcoming events. Which, incidentally, never showed up for me until this morning's outlook update :P

Given that shared calendars in Google Apps has worked for years in the native iOS calendar app, we must almost be up to the decade Microsoft decide to implement that too. As a business user, it is so frustrating that basic features like shared calendars don't just work in Office 365. Adding this to Outlook, while good for me (as I'm an Outlook app user), doesn't help my employees who want to use the built in mail and calendar apps.

I waited a long time for Outlook for Android to do everything I need. I eventually tried some other apps. I found Nine mail and it works great, although it costs like $15.

Still need a separate Outlook calendar app on Android.

App is completely useless if there are no time notification numbers.

Ohhh i cant wait til my Lumia will die, so I can make the switch and again get updated apps!

Outlook is terrible.
Download Nine. So much better I every way shape and form.

Exactly. Nine is awesome. It works with whatever email provider really well to

How about transparency for the calendar widget? This is why I use nine instead. Wonderful program and it works great with outlook.com

The app is still heavily compromised if you travel. There is no way that I can see to set time zones. BTW in the W10M app for Windows Central why, even though I am logged in and can write a comment, will that comment not send?

A proper month view would be a good place to start

Dan, you should always provide the version number on each platform of the updated app in such articles.

My name is David. I work as an analyst of an App Promotion company in the business engaged in marketing and analytics of applications that are cell. I suggest to visit our site app search optimization for cooperation that is possible. We will help you make your program better, get more profit from it and enhance it.
Windows Central Newsletter
Thank you for signing up to Windows Central. You will receive a verification email shortly.
There was a problem. Please refresh the page and try again.