Shared calendar support comes to Outlook on iOS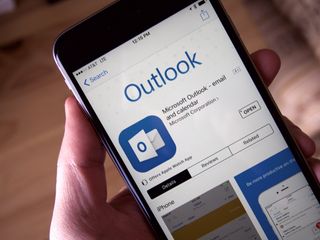 A pretty significant update is now available for Outlook for iOS, adding support for shared calendars. With shared calendar support, Outlook users can not only share their calendars from the iOS app, but they can also edit permissions while on the go. And while that's the extent of new features in this update, but it should prove a fairly big addition for anyone who relies on Outlook to handle their calendar duties.
Here's a look at all of what's new:
See who you're sharing your calendar with by tapping on the settings wheel next to your calendar's name. You'll also see the default permissions that others in your organisation have.
Share your calendar with other people, edit permissions or remove them without heading back to your computer.
If you want to check out the Shared Calendar features for yourself, you can pick up Outlook version 2.16.0 at the App Store now. Shared calendars themselves are currently available to Outlook.com users and are in the process of rolling out to Office 365 users.
Download Outlook at the App Store (opens in new tab)
Get the Windows Central Newsletter
All the latest news, reviews, and guides for Windows and Xbox diehards.
Dan Thorp-Lancaster is the former Editor-in-Chief of Windows Central. He began working with Windows Central, Android Central, and iMore as a news writer in 2014 and is obsessed with tech of all sorts. You can follow Dan on Twitter @DthorpL and Instagram @heyitsdtl.
Windows mobile and android already have this, correct?

Nope. I have an exchange online account shared with family members through delegate access. Works fine in outlook on a PC but not on mobile

I can't believe that Outlook for iOS still doesn't support any sync settings other than push. Having 4 mailboxes set to push notifications is a battery killer. Apart from that, it's great.

Windows Mobile 10 outlook has shared calendar access??? If so please tell me how. I cannot even edit an appointment invite. We cannot even click a phone number and launch the dialer. I love my windows ecosystem but the phone recognition function is really painful. They need to fix that. Not sure why a basic function is so hard to implement.

Yes, Windows 10 Mobile does support shared calendars as of a couple months ago. I beleive you have to use the web interface on your PC to share the calendar instead of outlook desktop app otherwise it won't work.

Satya Nadella will enjoy his iPhone Pro even more.

It's a joke name for an(y) iPhone running Microsoft services and apps.

Lol. That's hilarious.. So, iDroid devices are i, and Droid, Pro,, if the have MS services?? 😂😂😂😂😂

Actually Satya Nadella called it an iPhone pro with all the MS apps on it during a conference in India (available on YouTube)...so that's where it really started...

How come we get articles about MS services on IOS all the time and never on android? Not that I am interested in either, but its kinda of strange that its all about IOS.

Because Android is hated here by both writers and many readers.

It's kinda strange that Mobile Nations HAS sites dedicated to iOS and Android and WINDOWS Central runs these articles, anyway. Maybe if they changed to Microsoft Central, it would make more sense for some, even though the division of jurisdiction seems to have always been OS based.

Good point... So, if Google makes a YouTube app for Windows will Android Central run an article on that??????????🤔🤔🤔🤔🤔🤔🤔🤔🤔🤔🤔🤔🤔🤔

No, because it doesn't make sense. Nor does this article.

No, they won't.. That's my point. So why is WC??????

Cortana preview for Android gets a new look in India Groove Music picks up personal playlist sharing on Android Just two Android articles from the last couple of weeks that I could remember off the top of my head. Point being, it's not just iOS.

Yeah, but why? Mobile Nations has always been OS specific on each site. I go to Android Central for Android news and Windows Central for Windows news...and I've never been to iMore, but I know where to look for those stories.

Sorry - I meant to expand on this earlier but got busy. I definitely see the concern given MoNa's traditional lines of separation. Essentially we're trying to expand a bit more into covering Microsoft's services wherever they are from a Windows and Microsoft enthusiast's perspective. Think of it less as Android coverage and more as coverage of Microsoft's popular services as a whole. We've done a bit of this in the past, but it hasn't been comprehensive by any stretch.

As a former (and hopefully future) Windows Phone user and current user​ of Microsoft services on both Android and iOS every day I am very happy to see these articles. There's no way I'm wading through all of the other stuff on iMore or Android Central.

So, Dan, the question I asked earlier,,, since you represent all of mobile nations.... If Google, or Apple, makes an app for Windows Mobile,, will that app be represented on those sites, respectively??????
.......
I doubt it.

Does this mean they can view other shared calendars now too? I've been trying to share my calendar on my wife's iPhone but couldn't in Outlook.

See, that would be interesting. I was looking for that too, but it doesn't seem so. You can only share your calendar with others and that is less interesting to me.

Exactly. I can add her calendar to my Windows Phone but not mine to her iPhone.

If only they brought this capability to Outlook 2016 also...which is a PAID for app...(smh)...

All I want to know is when you can sync Outlook contacts to iOS from the Outlook app. Stupid missing functionality. I can from my O365 work account, but not from my personal account. Makes using an iPhone and managing contacts with Microsoft very difficult. Of course then there are the dupliocate Skype account issues... but that's a whole other nightmare Microsoft can't fix.

I find this interesting as I have always been able to sync from the app. Are you adding your personal account in mail, contacts and calendar?