Outlook Mail adds option to disable colorful contact icons and images for Insiders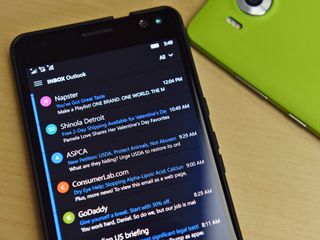 In a response to negative feedback on the addition of colorful contact icons in the Outlook app for Windows 10 PC and Mobile, Microsoft is adding an option to turn them off. As spotted by one Reddit user who is on the Insider Slow ring, the new setting, listed as "Show sender pictures in message list," simply toggles contact pictures on and off.
To recap, a previous update made it so that a colorful, circular icon would appear with either the initials or contact picture next to each email in your inbox. While the change had the effect of brightening the app up a bit, there was no option at the time to move back to Outlook's previous, icon-less look. It's a minor change, but one that should come as a welcome addition to many who were turned off by the app's recent changes.
It looks like this new setting is at least available to those on the Slow ring right now, but it's unclear if it's rolling out on a wider basis. That said, it shouldn't be too long before everyone will see the option pop up in Outlook's settings.
Download Outlook Mail and Calendar from the Windows Store (opens in new tab)
Dan Thorp-Lancaster is the Editor in Chief for Windows Central. He began working with Windows Central as a news writer in 2014 and is obsessed with tech of all sorts. You can follow Dan on Twitter @DthorpL and Instagram @heyitsdtl. Got a hot tip? Send it to daniel.thorp-lancaster@futurenet.com.
...but...but...I like it.

Then keep it on. I like it too, but a lot of people don't like the extra space they take up. Options are great.

It drives me a little nuts. I run a business so 99.999 percent of my emails come from people I don't know. So I never see an actual picture there. Just a bunch of colored dots representing people I don't know, and frankly don't care much about.

Yeah. A little color is always nice.

Me too. I moved from outlook 2016 to mail app because I like the visuals better.

Honestly, I love it. Its been a great little 'fun' addition. Nice to have the option though!

Wow, people hated it that much that they wanted to turn it off? I didn't like it at first but it's grown on me.

Yes, I still hate it. I also don't like how it shortens the email preview text just to fit in a useless colored dot. The dot serves no purpose, but I'm glad they gave us an option to use it or not so everyone gets what they wanted in the end.

Jesus it is no wonder MS find it hard to get anywhere when they have to spend their time looking after all the whiners out there. The app looks so much beter with the new colours and they couls have spent this time developing some cool new feature instead of adding moaning betty toggles for the forever displeased..!!

Or they could have just included the toggle to begin with. It is not necessary, if you like it great, leave it on. I find it distracting and annoying.

You mean you don't like pointless neon pink circles in your email box?

How can these colored dots me more colorful than actual profile pictures?

I luv it.Btw outlook is the only app MS is updating after all they forgot about WM10.

So many people hate any change. Good grief. I love the pictures and the color. I just wish the People App would keep up.

Then you're welcome to keep using and keep enjoying it. Change for the sake of change isn't good, and for many that is what the colored daots are. They're random colored circles with a letter in them. How helpful is that? I rarely get emails from my contacts. Most just text me, and texts show the contact's photo. A photo is much more useful.

It's working stupidly here, doesn't uses contact picture at all, so yeah, I'll just disable it.

Use the feedback app and give them feedback

If only they could make the option to automatically download external content automatically work. It's frustrating for me and my staff to have that set and yet when you open an email you have to tap or click download external content.

This. For some reason, the download external content automatically only works selectively, even when enabled. I think it has to do with the content source.

Focused inbox, off. Colored icons, off. Allowing for icons / photos of those in your contact list only would be nice, but very nitpicky of me.

I would like to see icon only if there is an actual picture, not if it is only icons. I think this would make it look cleaner and less confusing.

One of the reasons Microsoft collects telemetry. They can see who keeps it on and who turns it off and then base future decisions on the result.

Default should be off, with the option to turn it on. Personally I find it harder to discern read vs unread messages with all the colors.

Yeah that blue text is hard to notice ay *eye roll*

Good. Now I wish they would add an option in Edge to turn off the stupid swipe to the left or right!

Mine is Version 17.7920.40502.0 and I don't have it. :\

Some people would b**ch if you hung 'em with a new rope.

That was fast. Choice is a great thing though.

Excellent. I'm not a fan of them

I'm just glad they did not remove it altogether and left it as an option. Would have been really sad to see it go!

Thank you!!! I hate those colored dots. They're so distracting.

Short attention span? The world must be so distracting out there with all those colours.

I would like the ability to apply separate font colours to differentiate separate email accounts. I also like the colour icons.

I like the colored contact icons and photos. I also like the option to turn them on or off. Great.

Was childish to begin with.

I like them. Won't turn them off.

Although being a fan of clean no-nonsense design, I love it after working with it. It's a tremendous help for me in keeping track of things.

How about an option to add/edit a contact's profile pic?

The problem is that it doesn't link to contact pictures at all, making it much less useful.

Mine still doesn't have this. :(

Mine still doesn't have this :(

Cool. Totally useless for Enterprise users.

When will messaging synch between Mobile and computer??? Or bring back messaging Everywhere??? As a business user synching PC and phone is critical!

It's there but you have to use Skype Preview :/

I have tried twice. Works fair but I lose synch between PC and Phone, PC wondispaly messages or something else goes wrong. Don't kn ow if user error or being on Slow preview on phone and no preview on PC??? Just wnat basic fuctionality for work wherer at my PC or out of work on my phone. Simple messaging between the PC and mobile is all I hav ebeen waiting for? Will it be in Creators update???

I like them, but the colors are too bright. If they were toned down a bit, I would be fine with them.

I want to see different color for different account on linked inbox

I just wish they would fix the white background (dark theme) when you open, close, or rotate while in Outlook Mail/Calendar. It really makes the app look slapped together.

Glad to see they made this an option.

Does the image of the contact actually show up for anyone? Or was this only intended to show colored dots and initials? If it is supposed to show images of the contact then how do you fix it if it isn't?

Ha! I know for a fact some in the forums complained and we, ambassadors pushed them to use the feedback app. Go team! XD.

I like and dislike it at the same time so I'm glad to have the option.

Ah yes. Typical boring Windows mobile crybabies. Heaven forbid Microsoft try and put a bit of life into their apps...Come on.

Should have been optional like this from the very start. Stop trying to dictate every little thing to your users like a bunch of sheep microsoft, if we wanted that, we'd switch to crapple's ecosystem.

Ubelievable that people would complain about a little color in a really dull UI.

I like the coloured circles, and I like that you have the option to them off when you please.

Now get it off the Android app.

OMG we're surrounded by conservative aliens that are allergic to any and every change...
Windows Central Newsletter
Get the best of Windows Central in in your inbox, every day!
Thank you for signing up to Windows Central. You will receive a verification email shortly.
There was a problem. Please refresh the page and try again.