Outlook Mail updated for Fast ring Insiders with colorful contact icons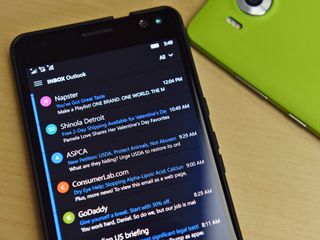 A new version of Outlook Mail is rolling out to Fast ring Insiders on Windows 10 PC and Mobile with some colorful new UI tweaks. In particular, Fast ring users will notice that there are now colorful contact icons next to each email along with the first letter of the contact name.
The colorful icon pops up next to any contact you don't already have in your phone. If you do have the contact already stored with a picture, you'll see the image instead. It's a relatively minor change, but one that makes the app look much better overall.
If version numbers are your thing, this feature is included in version 17.7906.42007.0 of the app. If you're on the Fast ring on either PC or Mobile, the update should be available now. Be sure to chime in if you happen to notice anything else once you've installed the update.
Thanks to Kyle and Jona for the tips!
Download Outlook Mail and Calendar from the Windows Store (opens in new tab)
Dan Thorp-Lancaster is the former Editor-in-Chief of Windows Central. He began working with Windows Central, Android Central, and iMore as a news writer in 2014 and is obsessed with tech of all sorts. You can follow Dan on Twitter @DthorpL and Instagram @heyitsdtl.
This is something I've been asking for since it came out. It just makes it look nicer and easier to quickly notice who the emails from.

Finally, someone who mentioned more than just how it looks. Yes, it allows you to easily determine which emails are from the same and different senders. That is presumably the point and it succeeds well at that.

I am more interested in color coding by account. That's not in there, is it?

Exactly. It looks nice. Only complaint i have is that It's aligned next to the name instead of the center of the box. Just my preference.

Nice, but needs filtered mail ASAP :D

(Release preview ring) In Outlook > Settings > Reading, at the bottom there is a heading 'Focused Inbox'.
I hope they'll add the functionality soon.

Yeah, also saw that, but says it doesn't work with any of my accounts. But at least they're working on it :D

They are rolling it out to select accounts, for instance I got selected today. It has a little notification saying "You are in the first way of the rollout"

Yayyy, good to hear that :D

I didn't realize it was a slow rollout. I received it a couple of weeks ago. Hope you get it soon, it is very nice. I also hope to see it on mobile soon.

I wonder if Outlook.com accounts are first. I still use a Google Apps account with my private domain name. I'd switch my domain to Outlook, but I'm grandfathered into Google Apps for free.

I have both set up, but none of them work yet. But I guess outlook accounts will be the first ones

Meh... To me it's a waste of space and bright colours don't go well with overall Mail design.

My only complaint is the space as well, they should offer an option to expand an additional line for subject/message preview.

Does anyone know what the colors represent, how they are chosen, or what they are related to?

Generated based on name. They stay consistent with your contact list and across devices AFAIK.

Any idea it this update utilizes any of the features from the email client ms bought last year? It was some client for ios, I believe.

Hate it please make a setting to turn them off, very distracting for email!

And it doesn't look that nice on dark mode.

Absolutely delighted when I noticed the difference this morning. Great job guys.

How very Gmail. It does look nice though

This, though not sure about the look..

Yeah, it made me think of Gmail too. Hopefully this doesn't affect contact messaging, as that's one thing that drove me crazy on Android phones with the Google Now Launcher.

They should let us customize account colors and sounds in unified inbox mode. Real features that are actually useful

I like it. It works better on the Win10 outlook with the dark theme than the Android outlook it's been in.

Got mine this morning. Opened Mail, and bam, gorgeous colours. Looks terrific. And I had an email from a company with pink in the name, made theirs pink, oddly satisfying.

No. Its ugly and there better be a way to turn if off. It looks exactly like the android version, which makes everyhting look so un-uniform.

Will this show your contact pictures if they are defined for the contact?

​"If you do have the contact already stored with a picture, you'll see the image instead.​"

Additionally, if the pictures are stored in your Enterprise mail system (Exchange, Office 365, etc.), they'll show too.

I'm surprised so many people seem to like this. It takes up a lot of space without bringing any new information. And looks like a gumball machine vomited on the email.

I just want more space for the first line of the email. Sometimes the spam blocker accidently lets a clever junk email through. But opening them and having the attachments download is a major security risk, as ransomeware is on the rise. This takes up space I would rather use to help me determine whether or not I should open the email...

I kind of agree but I think this could be expanded with an option to add an additional line of preview data...

Turn off auto download of images. IMHO, for safety this should be the default setting.

Hundreds of Android Outlook users have asked to remove the badges. And MS pushes them everywhere... If there is no picture, better show nothing. Initial letters of companies is just insane ;)

Now if only they were consistent with being able to select a picture for our Contacts. Still can't do it (how many years later) in Outlook.com Ridiculous.

Not bad, but the colors are tooooooo bright, there should be an option to reduce the brightness on them

I would be happy if outlook stopped crashing on my L950 half the time I launch and supported Wireless printing like OneNote and Word do.

Wish you could add a background image on Mobile as same as on the PC version.

But still doesn't support attachments from @mail.mil or @mail.civ accounts. Useless for federal employees or military.

I actually like it. It does remind me of Gmail, but still looks better in my very humble opinion. They also updated the Maps app a few days ago. Nice update with some topographical detail. Though the grey background(dark setting) now has a bluish tint. Sorry a bit off topic but just mentioning mods to colors...

What about focused inbox?!

Can we get the win10 pc colors for mobile? It's about that time!

Ok, a new version. Thats why it now dont work any more. Just freezes and crash. Thanks.

Thought new version had biffed my.hotmail connectivity. Seems there is an outage.

Tell me phone numbers are recognized as links in mail and calendar appt!

I like it very much, even went so far as to copy the colour splash background! thanks for the inspiration Dan!

It works great with the Android Outlook app using the same email address. Emails coming from those domains work with the desktop version of outlook and if I access my email, Hotmail, account online through the browser. The email shows up but the attachments don't show up. The outlook calendar and Mail app on my Surface Pro 4 doesn't work either. I have done full resets on both my Icon and Surface in hopes of fixing this. I have tried multiple accounts and only this app causes the issue.

How was it before, just gray? Makes a lot of sense and I don't think it was that hard to implement. Should have been done earlier.

Downloaded & installed OK. Damn Outlook won't open! Just goes straight back to start screen tiles...

This is so colourful. Awesome update guys.

I still have not been upgraded..

Option to put it away? Or to out back non-colorful colors?

Why is it that I have to use Internet Explorer in order to type anything in the forums? Posting on WindowsCentral has always been a painful process because it has never really behaved with Edge, but now it's absolutely impossible to even enter a post. I don't get a cursor in the comment blocks even after switching to Text format instead of HTML. Quite literally, NO other site gives me problems. But, if I switch to IE11, the site behaves just fine. Is there some setting I'm missing? BTW, it doesn't matter whether I'm using Edge on my studio computer, my server, my Surface Pro 3 OR my Lumia 950.

Colorful icons are such a waste. What would be USEFUL is actual avatars of the contacts. I mean, SERIOUSLY, we have our Contacts populated with their picture, yet Microsoft can't seem to figure out a simple process for INCLUDING THEM IN OUTLOOK AND OTHER MESSAGING APPS? Good grief.

Actually it does show the picture when it's available; for me all my work colleagues are showing with their pictures (same pictures in the outlook desktop version). which is really nice.

Hey! I have that too, but just some of the contacts... It seems badly done as Skype, some contacts work as expected and so.e just do not... Do You have all of them working correctly (i. e. if a picture is available, mail shows it)??

Will this make adding our own contact pictures even more impossible? As of 2/8/17, I can only identify one place you can add a photo: the People app. You can't at Outlook.com (people.live.com), you can't in Outlook 2016. Only the wretched People app. Now, I challenge ANYONE to go on their desktop Windows 10 setup to pull up the People app and add a photo to a contact. Let me know how *great* that experience is.

Cool ill have to check it out

This looks like some android ****. I guess windows phone is just a phone to have for a hobby. Would be cool if I could trade all my windows Phones back in for a refund and as well with all the apps and games I paid for that no longer exist and not supported. I dred going to android or iPhone but fk.. Hard to function using this Windows phone **** anymore. Windows phone with an iPhone or Android phone as a companion. If you're offended tell your mom

Now my phone is crashing. Lumia 950. This is happening to me since the update of the outlook-app.

Cool, although I wish they would finally fix the people app when adding a picture. The selector (on PC) is totally broken.

Looks nice. Unfortunately cannot update apps anymore after upgrade to 15025 Mobile..... have now already 9 in the queue. It's there on my Android phone. L830 on 15025 no updae possible, Getting error 0x80246016

I hope they fixed the bug that resulted in the body of one e-mail being attached to the header of another after downloading full messages. This is a very serious issue that has been around for way too long on mobile and has in many cases made important e-mails un-replyable for me.

Nice feature, but the most important thing, task management still missing!

This feature had been on Android years ago. Sad...

Have been asking for this background wallpaper for ages! Can anyone provide a link please?

I use a dual SIM unlocked 950XL. Is anyone else having the problem of Outlook notifications no longer appearing in the action center since the colorized/avatar photo update? I've tried fiddling with the notification settings but so far no joy. Thanks in advance. We are the few, the brave, we have to stick together!

sorry to hear this - here's hoping 15031 puts it right

sorry to hear this - here's hoping 15031 puts it right

It's bad, really, really bad. Unprofessional looking. At least on gmail you can remove these things. At least make it just an option.

At least the UI had caught up with the iOS and android version!

I have that now looks good, now all I need is for the notifactions to work on boith email & sms and I will be happy Cheers Crackers

My Outlook Mail app just updated to 17.7906.42258.0 on my Lumia 640XL slow ring, a higher number number than the one cited in the article, but I don't have the colorful icons. Anyone else?

I need an option to restore the envelope icon(s). I receive pelnty of emails from non contacts and now my Company e-mail looks like DIPPIN DOTS on windows 10 mobile (outlook v 17.7906.42008.0. Please allow a way to turn it off!!!
Windows Central Newsletter
Thank you for signing up to Windows Central. You will receive a verification email shortly.
There was a problem. Please refresh the page and try again.